Peanut Cake with Caramel Buttercream
Also known as Bolo de Ginguba, this sponge cake filled with crushed peanuts and topped with caramel buttercream, is a traditional cake in Angola. It's certainly something different to serve for afternoon tea!
In the last of my Angola-inspired recipes, I've finally baked a cake! I'm so happy with how this cake turned out in the end, as baking it was not the easiest task! One BIG reason for this was my oven breaking during the bake. I'm still not entirely sure of the cause but here's what happened…
The electric went off when I was mixing and as the oven was pre-heating, it turned off. I turned the electric back on and as expected the oven continued pre-heating. I put the cake in the oven and baked it for the normal time of 25 minutes.
Now, our oven is usually TOO hot, so I was keeping a close eye on it. When the time was up, I noticed the batter was still raw. I had a feeling something was up during the halfway point as it would usually be browning by then. It turns out that the oven wasn't even that hot and I expect it's what caused the electric to blow. Anyways, cut a long story short, I ended up using our top oven which was still working, but as I wasn't too familiar with baking cakes in it, the sponge did burn slightly as you'll notice in the pictures. I was happy with the end result though, and I haven't got the time to make it again, so please excuse that!
If you're a regular, skip the next bit! If you're new and are wondering what the hell i'm on about; basically I'm cooking a dish from every country in the world, just to mix things up a bit, and…
Why, you might ask?
I truly feel that each and every country has a culinary delight hiding within it. I don't have the time and money to travel to every country right now, and even if I did, I'm really impatient!
Each food post will be accompanied with either a travel post, written by me or an experienced traveller. Do let me know if you're a traveller and want to be involved! If the country of choice is best not travelled to then i'll accompany it with something a bit different.
I'll be asking each week on Twitter if you have any recipes from the country i'm working on, so if you want your recipe to be included in one of the posts, then follow me on Twitter to be updated.
If you're a brand and want to be involved then drop me an email so we can discuss how we can work together.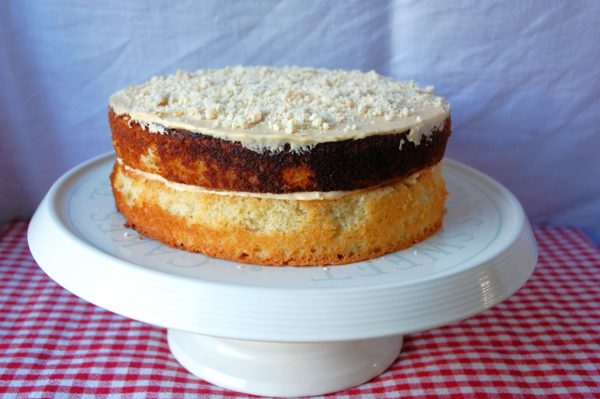 It was pretty hard to find an Angolan dessert as fresh fruit is the most common thing to eat after meals, but I came across this Peanut Sponge Cake and thought I could definitely adapt it! As you'll know from my previous post, a lot of the food from Angola has been heavily influenced by Portuguese cuisine, and peanuts feature a lot in most Angolan recipes (also see previous post!)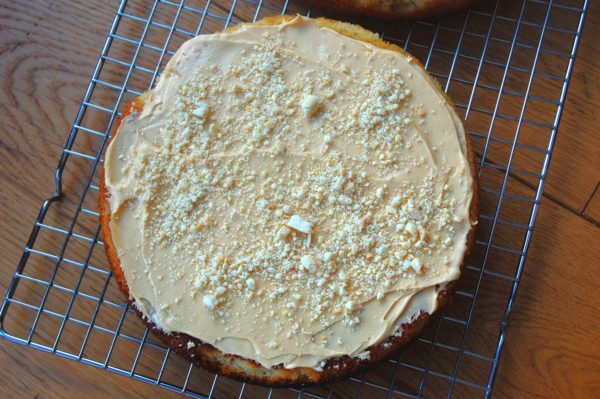 I did change the recipe quite a lot. The sponge was meant to be made with peanut butter and also yeast, which I thought was a bit strange. I decided to make a classic Victoria Sponge recipe and instead of coating it with condensed milk, which the original called for, I opted for a caramel buttercream and crushed peanuts to give a similar look to the original. The end result wasn't over-powering and the caramel paired really nicely with the peanuts, which also gave some added texture!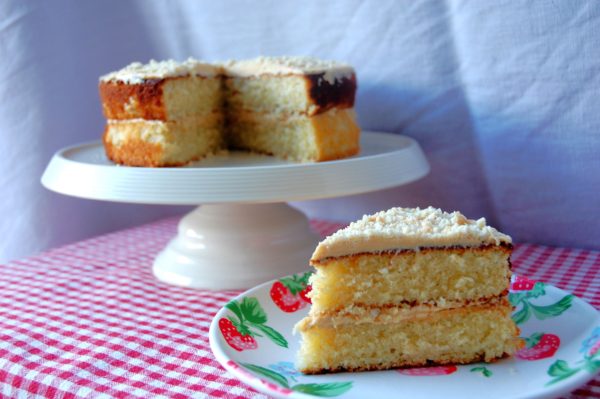 Things to consider before cooking –
*this is an affiliate link meaning I'll make a small profit if you buy from it.
The Recipe
Peanut Cake with Caramel Buttercream
Serves: 8
Difficulty: Medium
An Angolan-inspired cake full of crushed peanuts and topped with caramel buttercream. Perfect with served with coffee.
What you will need
The sponge
225g self-raising flour
225g caster sugar
225g unsalted butter
2 tsp baking powder
4 free-range eggs
The caramel sauce
50g granulated sugar
30g unsalted butter
50ml double cream
The buttercream
100g unsalted butter
100g icing sugar
All the caramel sauce
45g crushed peanuts
Method
1

Begin by making the sponge. Pre-heat the oven to 180 degree/160 Fan/gas mark 4. Grease the inside of your tin with butter and line the bottom with greaseproof baking paper.

2

Add all the sponge ingredients into a mixing bowl and mix until you have a smooth batter. Divide the mixture evenly between the tins and bake in the middle of the oven for 25 mins.

3

Meanwhile, make the caramel sauce for the buttercream. In a wide pan, add the sugar and on a medium heat wait until the sugar begins to melt. You can now begin to tip the pan until all the sugar has melted. Do not stir. Once melted, take off the heat and add the butter, stirring to combine. Back on the heat, add the double cream and mix until smooth. Pour into a bowl and leave to cool.

4

Once the cake is done (it should spring back easily when touched), leave to cool for 5 minutes in the tin and then until completely cool on a wire rack.

5

Once the caramel has cooled, begin to make the buttercream. In a mixing bowl, add the butter (at room temp) and mix with a mixer until soft. Gradually add the icing sugar and mix until well-combined.

6

When light and fluffy, add the caramel sauce and mix until combined.

7

Time to assemble: Spread a thin layer of buttercream on one half of the sponge. Sprinkle over a handful of crushed peanuts. Sandwich the two sponge halves together and spread the remaining buttercream on top. Coat with the rest of the peanuts. Serve!
MORE CAKE RECIPES
Need more cake inspiration? You could also try my very popular, No-Bake M&M Cheesecake or my clafoutis-style Apple and Blackberry Cake.
PIN ME! PLEASE?
Linkies
This week i'll be linking up with Recipe of the Week, Cookblogshare, CookOnceEatTwice and Kitchen Clear-out.