Bahraini Fish Ragout with Rice
Plaice fillets lightly spiced in the Middle Eastern baharat, slowly cooked in fresh tomatoes, onions and parsley. This Bahraini dish is perfect served on a light summer's evening.
Bahraini Fish Ragout with Rice
Being an island, Bahrain is famous for its fish! You'll be able to find more than 200 species, from parrot fish and barracuda to clown fish and grouper. It seemed only right to include a fish dish when celebrating Bahrain on the blog. Since I'm in the UK, I opted for a more common fish: plaice. Plaice is a reasonably-priced fish and is easy to find in most supermarkets/fishmongers. I want my recipes to be accessible to all and so I'm obviously not going to choose a species hard to find! Plaice is also a sustainable fish, which is even better!
If you're a regular, skip the next bit! If you're new and are wondering what the hell i'm on about; basically I'm cooking a dish from every country in the world, just to mix things up a bit, and…
Why, you might ask?
I truly feel that each and every country has a culinary delight hiding within it. I don't have the time and money to travel to every country right now, and even if I did, I'm really impatient!
Each food post will eventually be accompanied with a travel post, once I manage to visit the country! Do let me know if you're a traveller and want to be involved! If the country of choice is best not travelled to then i'll accompany it with something a bit different.
If you're a brand and want to be involved then drop me an email so we can discuss how we can work together.
The below contains affiliate links.
Cooking with ghee
This dish is no way spicy, so don't worry if you're not a fan. It's very 'light' in taste. The fish ragout is also cooked in ghee as apposed to oil or butter. Ghee is what is known as a clarified butter; this means that the milk solids have been removed. It is due to this that it is believed to be a lot healthier for you and better for those avoiding lactose. I'm of course not a health professional, so I would definitely recommend asking your Doctor first if you're concerned! Ghee has a high burning point, which means that it's great for frying.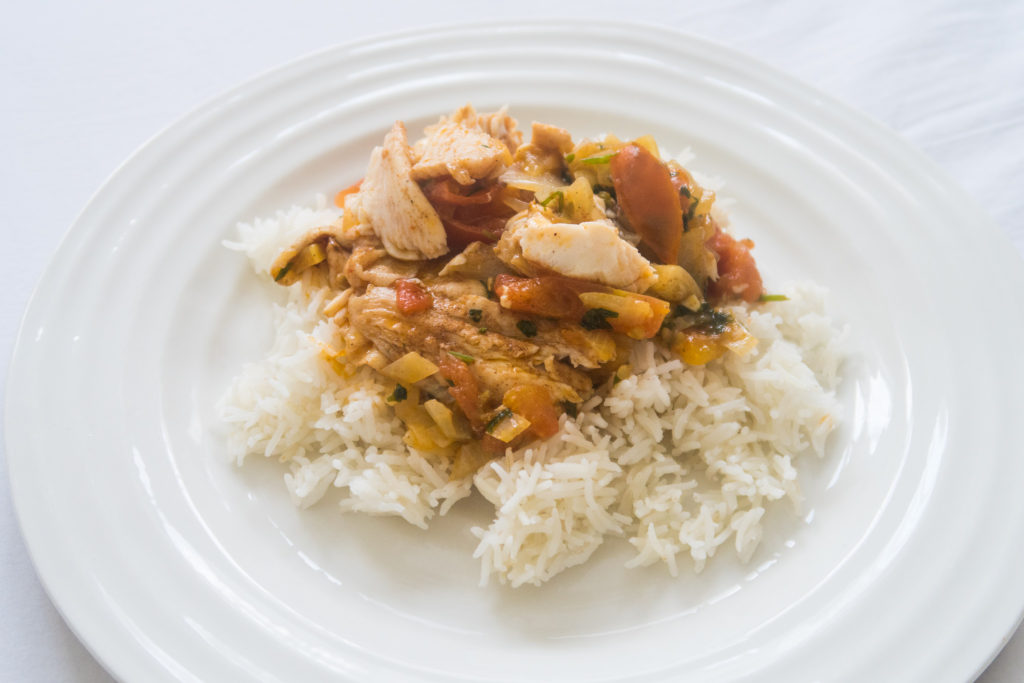 Using a rice cooker
I've assumed that most of my readers know how to cook rice, and probably have their own way of doing so! Most of the time we use a rice cooker, not because i'm lazy but because they're just so easy and reliable! The rice is NEVER mushy too, something that is sometimes a problem when not knowing how to cook rice properly on the hob. It's up to you what you choose but I've included the quantities for two people using a rice cooker.
The Recipe
Bahraini Fish Ragout
Serves: 2
Difficulty: Easy
The perfect light dish to serve up on a summer's evening.
What you will need
200g basmati rice
250 ml water
250g plaice fillets
1/2 onion, diced
1 large tomato, chopped into cubes
1 tbsp olive oil
1 tsp baharat spice
1 tbsp ghee
Handful of parsley, chopped
Method
1

Start cooking the rice how you would normally. I cook mine in a rice cooker: 2 parts rice, 2 and a half parts water. I do 15 mins on the cook setting and 20 mins on 'warm'.

2

Dice half an onion and chop the tomato into small cubes. Place the fish fillets in a bowl and add the olive oil and baharat spice. Mix together carefully, so the fish is covered.

3

Heat the ghee in a shallow pan with a lid and fry the onions until soft. Add the tomatoes and fry for 2 minutes.

4

Add the parsley, stir quickly and add fish by lying it on top of the mix. Leave for a min on one side and then turn over. Cover and simmer on low for 15 mins. Serve with the rice.
MORE RECIPES FROM BAHRAIN
If you're feeling inspired by this dish from Bahrain, try my Traditional Chicken Machboos recipe. It's well worth the wait and is one of the most popular dishes all over the Middle East.