Vegan Peanut Curry with Sweet Potato
Sweet potato peanut curry is a thick, sweet and spicy curry featuring sweet potato cooked in West African spices, coconut milk and peanut butter. Serve it up with couscous for a weekday Btreat. 
Why should I make this curry?
Tingle your tastebuds with West African spices
Quick and easy to make on the hob in one pot
Healthy, vegan and gluten-free
Sweet potato is considered a 'superfood' and is a great source of fibre
Vegan Peanut Curry
with Sweet Potato
This vegan sweet potato curry recipe is a super easy one to make. It's all about cooking the sweet potato in the delicious coconut milk until it's super soft and tender. The spices (ginger, cumin, turmeric, cayenne) give it a wonderful aromatic flavour with a nuttiness from the peanuts. It's everything you'd want from a peanut curry!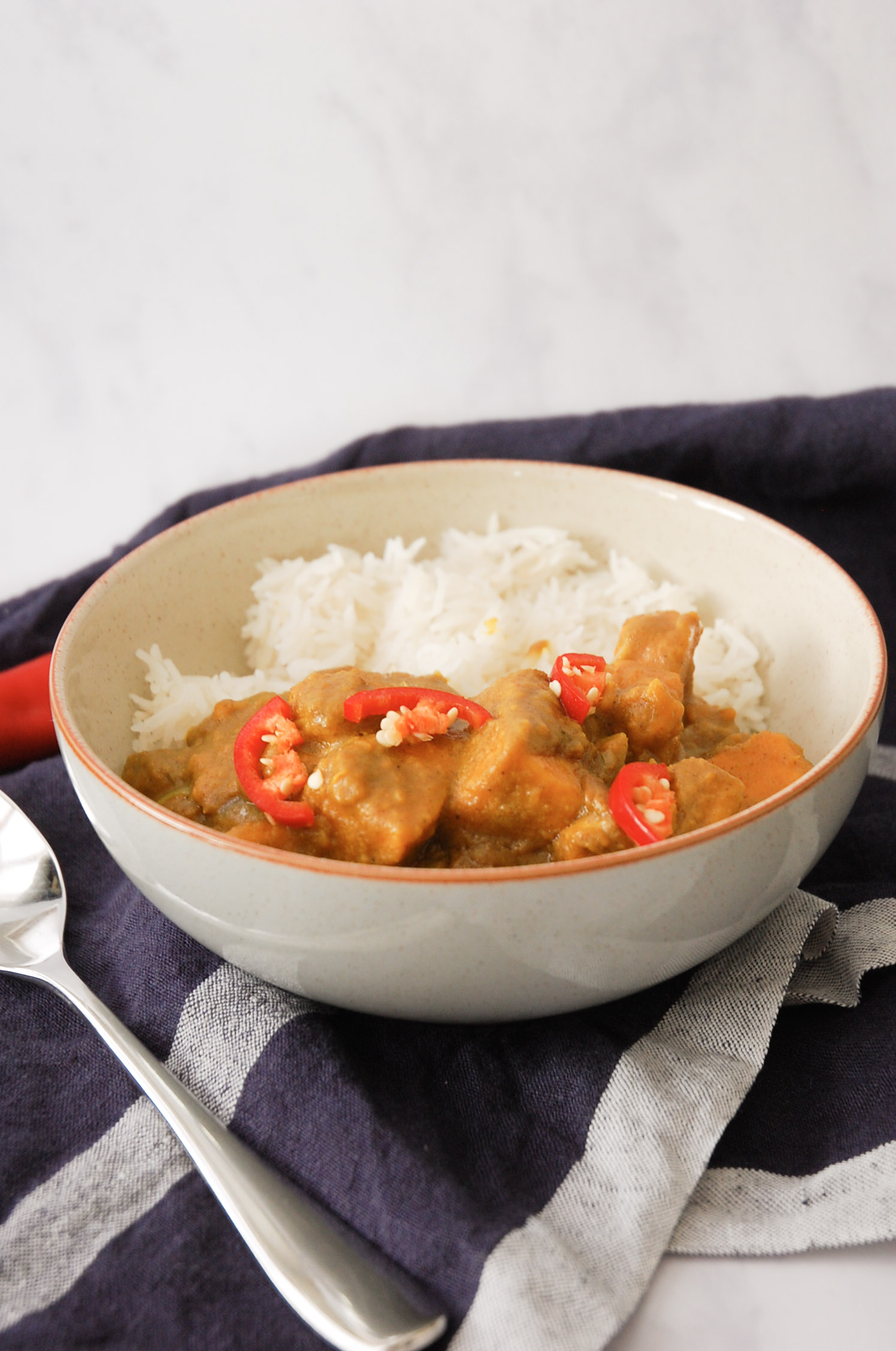 What ingredients do I need?
Olive Oil – for frying the onions and spices. Vegetable or coconut oil can definitely be used as a substitute.

Sweet potato – an amazing tuber which really suits the curry recipe. Sweet potato is just the best when left to slow-cook in coconut milk.

Onions – finely diced but don't worry if they are not perfect.

Garlic cloves – always an essential in most curry recipes (my dad would not be best pleased!)

Spices: Ground ginger, cumin, turmeric, cayenne powder & hot chilli powder – providing the most amazing flavour when combined with the peanut butter!

Coconut milk – love coconut milk as a curry base. It creates the most creamy texture, almost like silk but in food form!

Smooth peanut butter – providing a nutty flavour but also thickening the curry.
Make it family-friendly!
My little one is a huge fan of this sweet potato coconut curry as he loves peanut butter! If you've got a little PB fan too and you want to make this for their dinner, I'd recommend leaving out the cayenne powder, chilli powder and the chilli garnish!
By leaving all the things out, you'll still be left with a really great curry. I quite often make a batch for all of us without those ingredients in. I'd rather us all eat the same than make two meals!
How to cook your rice
I use basmati rice when making this vegan peanut curry and always cook it in the following way:
1 cup (small glass) of rice: 1 cup of water + ONE extra.
For 3 people I would do 3 cups of rice and 4 cups of water.
I then bring it to the boil and place in the oven (Aga simmering oven). You just need an oven-friendly pan and a temp of around 140 degrees.
Equipment needed
Casserole pot
A chef's knife
Garlic crusher
Measuring spoons
Chopping board
Step-by-step method
Recipe Variations
Can I use normal potato instead of sweet potato?
If you really don't have any sweet potatoes, you can use normal potato however the recipe won't taste the same. You need the sweetness from the sweet potato. You could add some maple syrup along with your white potatoes to add that sweetness, if you're desperate!
Do I have to use hot chilli powder? Can I use something milder?
Feel free to use a mild chilli powder or you could even add chilli flakes afterwards to control the heat.
I don't have any coconut milk, what can I use?
If you don't have any coconut milk, try something thick like evaporated milk or single cream. If you'd prefer it to be dairy-free, you could try oat or rice milk, however I'd suggest using less as it's not as thick as coconut milk.
Can I use crunchy peanut butter?
Yes, why not! You could even try cashew nut butter or hazelnut butter for a different taste.
FAQS
Is sweet potato curry gluten-free?
Yes, this sweet potato curry is gluten-free as sweet potatoes naturally don't contain gluten.
Can I re-heat my sweet potato curry?
This curry tastes great heated up the next day, so a big yes!
Can I freeze my sweet potato curry?
Yes you can freeze a sweet potato curry easily. We'd recommend freezing in reusable ziplock bags for easy portioning. You can keep the curry in the freezer for up to 3 months.
How long can I keep the sweet potato curry in the fridge?
This curry will last up to four days in the fridge but no longer.
TIPS
In a hurry? Cut your sweet potato cubes up smaller and they will cook quicker!
The Recipe
Sweet potato and peanut curry
Serves: 4
Difficulty: Easy
A sweet and spicy curry full of peanut-y, West African flavours, inspired by the country of Benin.
What you will need
1 tsp olive oil
3 large sweet potatoes, cubed
3 small onions, diced
3 tsp ground ginger
2 tbsp ground coriander
2 tbsp ground cumin
2 tbsp ground turmeric
1 tsp cayenne
1 tsp hot chilli powder
1 tin of coconut milk
3 tbsp smooth peanut butter
2 cloves garlic, crushed
Half a red chilli, chopped
sprig of parsley
Method
1

In a large pan, fry the onions and garlic in the olive oil, until translucent. Add the spices and fry on not too high of a heat for a couple of minutes.

2

Next, add the peanut butter and stir in. Pour in the coconut milk and bring to a simmer. Add the cubed sweet potato and allow to cook until the sweet potato is very soft. Approximately 30 minutes but it does depend how small you have cut your potato cubes. Add water if the curry starts to cook down too quickly. You'll need moisture to cook the potato.

3

Once cooked down, the chilli and stir. Serve with couscous and a parsley sprig for decoration.
Serving suggestions
We served ours with basmati rice but you could also go for a traditional African ingredient: couscous. Bulgar wheat or quinoa would be two other delicious alternatives.
Peanut curry is also made for dipping! You need some sort of bread like a chapati or naan bread! Soaking up the juices is essential.
How would you serve yours?
More sweet potato recipes
Roasted peri-peri sweet potato wedges
Aubergine and sweet potato casserole