Soft chapati bread is the perfect bread for mopping up juicy Indian curries or warming stews. These easy Indian flatbreads are so simple to make that you won't look back to shop bought ever again.
WHY SHOULD I MAKE SOFT CHAPATIS
So simple to prepare and make
Learn more about how the Indian culture make their bread

Save money as you will no longer want to buy shop bought chapatis ever again
The perfect bread for dipping in soups, stews and chilis as well as curries
WHAT ARE SOFT CHAPATIS?
Chapatis are a type of Indian flatbreads which are also commonly known as roti, or phulka in the Indian language. Chapatis are an unleavened type of bread, meaning they do not contain any yeast. They are made with wholemeal flour instead of plain and are typically cooked in ghee (a clarified butter) although butter is also fine.
They were introduced around the world by Indian immigrants from the subcontinent. Merchants from India travelled to Asia, Africa and the Caribbean and took their recipes with them!
We like to serve ours with a delicious Indian curry as a main, or as a snack to dip in this spicy tomato chutney.
How do you like to eat your chapati?
INGREDIENTS
Wholemeal flour
Water
Salt
Ghee or butter
WHAT EQUIPMENT WILL I NEED?
Sieve
A mixing bowl
D-scraper for cutting the dough and combining together
Rolling pin
Frying pan
Spatula
Pastry brush
INGREDIENT ALTERNATIVES
Can I use plain flour instead of wholemeal?
No because then it wouldn't be a chapati. Chapatis are always made with wholemeal flour. We'd recommend making flatbread or naan bread if you wish to use plain flour.
Do I have to add salt?
No, you can leave the salt out if you want to. It has only been added for taste purposes and can be made without.
Is it better to use butter or ghee?
Ghee is the most traditional method when making a soft chapati. It's nice to brush them in melted ghee once they are cooked too. Salted butter can also be used. Unsalted butter is also okay however you may find it's not as tasty as salted.
FREQUENTLY ASKED QUESTIONS
Are chapatis suitable for vegetarians?
Yes, chapatis contain no meat and are certainly suitable for vegetarians.
Are chapatis suitable for vegans?
Chapatis could be suitable for vegans when made without any butter or ghee. A vegetable spread can be used in its place.
Are chapatis gluten-free?
No chapatis are not gluten free unless you use a gluten free wholemeal flour such as this gluten free brown flour from Doves Farm.
Can I re-heat my chapatis?
Chaptis are best served fresh however if you wish to reheat, we'd recommend giving them a light fry for half a min on each side.
Can I freeze my chapatis?
Yes you can freeze chapati after cooking. Let the chapatis cool down first, and once cool, stack them with a piece of greaseproof paper in between. Place each stack into a ziplock freezer bag or container. When needing to defrost, take out your chapati, allow to thaw and then fry again to reheat.
How long can I keep chapatis?
Chapati will keep in the freezer for up to 3 months and in the fridge for a day. Chapatis are best served fresh.
How do I eat a chapati?
Chapatis are meant to be eaten with your hand, dipped into curries or stews.
TIPS
Always have chapati dough on hand by making an extra batch and freezing (as above). You can defrost and cook the chapati in the same way as is mentioned in this recipe.
The Recipe
Soft Chapati Bread
Serves: 6
Difficulty: Easy
Traditional Indian chapati flatbreads which are best served for dipping into curries or stews.
What you will need
200g wholemeal flour
125ml water
Pinch of salt
1 tbsp of butter or ghee, melted for brushing
Method
1

1. Sieve the flour into a bowl along with the salt. Add the water and mix until a soft dough is formed.

2

2. Cut the dough into 6 equal pieces and roll into balls.

3

3. Roll each piece out until around 6-7 inch diameter.

4

4. Heat up a frying pan on until hot and place in your chapati. Fry until it starts to puff. You can flatten with a spatula. Fry for a minute and then flip until both sides turn brown with little brown patches on the surface.

5

5. Serve plain or brushed with melted ghee or butter.
MORE BREAD RECIPES
Let's Get Cooking!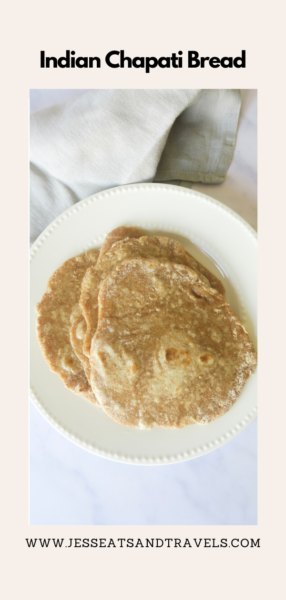 Don't forget to tag me in all your creations over on instagram and twitter. And why not pin this on Pinterest to save for later?