Chocolate Peppermint Candy Cookies
Christmas in a cookie! These chewy, cakey chocolate peppermint candy cookies are perfect to cook over the holiday season.
Chocolate Peppermint Candy Cookies
I love a good holiday cookie, don't you? I think these cookies with their festive flavour, make for a really lovely bake this season. The kids will love it too!
I chose to sprinkle on crushed up peppermint candy canes which I found at my local pound store. You could also use peppermint sweets if you're having trouble finding some.
These chewy chocolate cookies are made with the creaming method as apposed to melting butter. The butter needs to be really cold to achieve the cake-texture. More on this below!
Why should I make these peppermint cookies?
They make for a fun, festive bake over the holiday period.
You could always serve these chocolate peppermint cookies in a jar and give as gifts!

Chocolate and peppermint is always a good flavour combo.
Dunk into a mug of hot cocoa and enjoy in front of the fire – perfect!
Why did I use the creaming method to make these cookies?
The creaming method is crucial to creating a cake-like, chewy cookie. Creaming butter and sugar together allows more air to enter the cookie. This is called mechanical leavening.
What ingredients do I need to make these cookies?
Plain flour – flour gives the cookie structure which is of course a must!
Cocoa powder – to give the cookies its chocolate flavour.
Unsalted butter – a high proportion of butter to flour means the cookie will spread more and result in a tender texture.
Bicarbonate of soda – Bicarb is a chemical way of leavening (rising) the cookie. Bicarb also gives a denser texture.
Salt – salted should always be added to a cookie to offset the sweetness and bring out the flavours.
Granulated sugar -Gives the cookie its sweetness but also a nice spread.
Light brown sugar – A toffee flavour but also gives the cookie and chewier texture. Also, an acid in brown sugar reacts with the bicarb to help give a rise.
Eggs – Like flour, eggs help give the cookie structure.
Peppermint extract – For that perfect Christmas, minty flavour! A small drop goes a long way.
Crushed candy canes – A fun topping also adding texture and colour to the cookie.
Sparkling icing sugar (optional) – A bit of glitz at Christmas is always good. I've linked where I got mine from (Waitrose Christmas Sparkly Snow).
Festive hundreds and thousands/nonpareils – Red and green nonpareils always make for a good holiday baking decoration!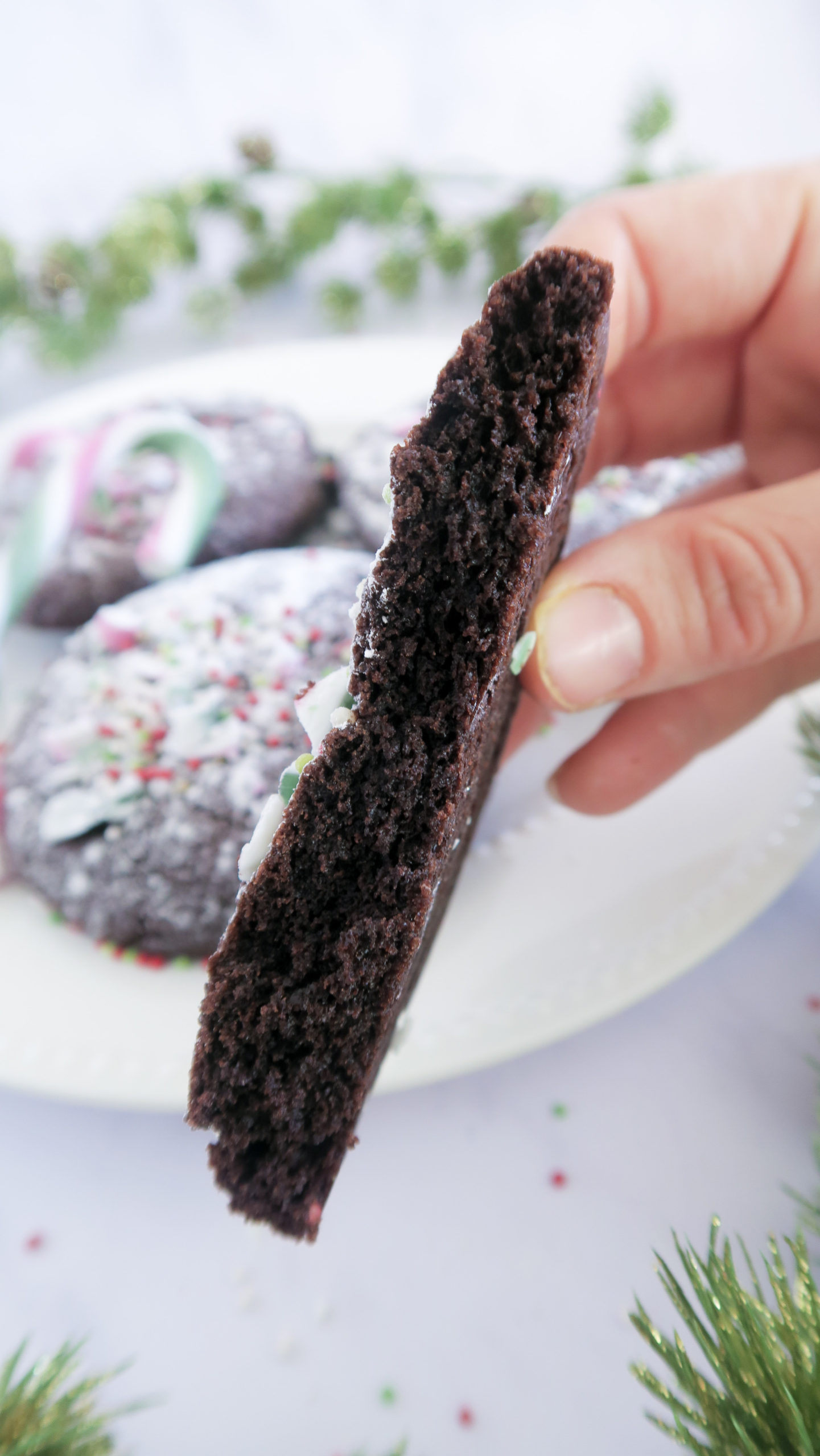 Equipment list
Mixer with paddle attachment for creaming
Sieve
Tea towel and rolling pin to crush the candy canes in (place your candy canes inside the tea towel, fold over and hit hard with the rolling pin until crushed!
Baking tray
Greaseproof paper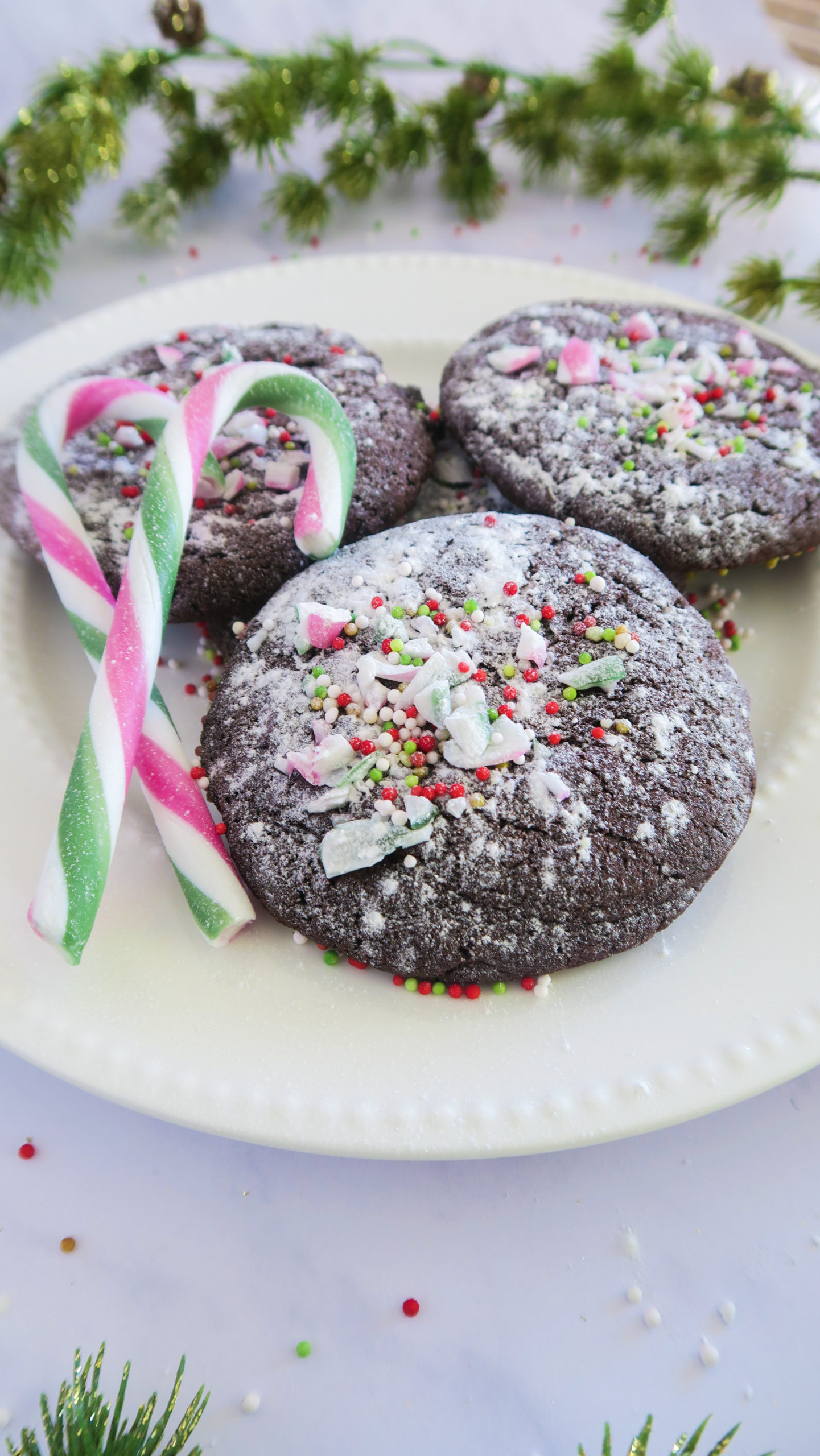 Frequently Asked Questions
Are chocolate peppermint cookies suitable for vegans and vegetarians?
These cookies are suitable for vegetarians but not vegans due to the use of egg. You could always use an egg replacer but I've not tested it myself. How about checking out these easy vegan chocolate cookies from Lazy Cat Kitchen.
Are these cookies gluten-free?
These cookies are not gluten-free but you could replace the plain flour with gluten-free plain flour. If you're looking for a gluten-free chocolate peppermint cookie recipe, how about trying these gluten-free triple chocolate peppermint cookies from What The Fork Food Blog.
Tip –
For less spread in your cookie, chill your dough in the oven for 24 hours. Shape and cook straight from the fridge because if you let your cookie come to room temp, it will no longer work.
The Recipe
Chocolate Peppermint Candy Cookies
Serves: 8 cookies
Difficulty: Easy
The perfect festive cookie for the holiday season.
What you will need
100g plain flour
50g cocoa powder
115g unsalted butter
1/2 tsp bicarbonate of soda
2g salt
70g granulated sugar
70g light brown sugar
1 egg
1 tsp peppermint extract
2 candy canes, crushed
A sprinkle of sparkling icing sugar (optional)
Red and green hundreds and thousands/nonpareils (optional)
Method
1

1. Pre-heat the oven to 180/ 160 degrees in a fan oven. Using a stand mixer, cream together your butter and sugars until light and fluffy.

2

2. Add in the egg a long with the peppermint extract. Beat together to combine.

3

3. Mix together your flour, bicarb, cocoa powder and salt. Sieve directly into the bowl and fold in carefully, until combine. Don'

4

t over fold or else your cookies will be tough.

5

4. Line your baking tray with greaseproof paper. Scoop out 2 tbsp worth of mix and form into balls. Space them out on your tray to stop them sticking together.

6

5. Bake in the oven for 25 mins. Leave to cool for 5 mins on the tray as they will harden after a few mins. Lift off carefully onto a cooling rack and cool.

7

6. Sprinkle with crushed candy canes, festive nonpareils and a sprinkling of sparkling icing sugar.
More Festive Cookie Recipes from Top UK Food Bloggers –
Cranberry and White Chocolate Cookies from Curlys Cooking
Chocolate Crinkle Cookies with Roasted Hazelnuts from Tin and Thyme
Dark Chocolate Cranberry Chestnut Cookies from Jo's Kitchen Larder
Soft Italian Amaretti Cookies (Gluten and Dairy-Free) from Gluten-Free Alchemist
Icelandic Pepper cookies from Veggie Desserts
Lebkuchen from Cooking with My Kids
Grinch Cookies from Recipes from a Pantry
Spiced Rum Slice and Bake Cookies from Little Sunny Kitchen
Gingerbread Men from Charlotte's Lively Kitchen
Jammy Vegan Biscuits from The Veg Space