Simple yet delicious, these lemon milk crepes are the perfect pancakes to serve on Shrove Tuesday, or perhaps a weekend breakfast treat?
Easy Lemon Pancakes
We all love a crepe in our household. Especially myself.. I always lean to them more than the American pancake. I think it's partly what I'm used to as my parents would always make the typical crepe pancake for Shrove Tuesday. I also like the thinness and how versatile they are. Crepes are so easy to fill unlike its American cousin!
Lemon crepes also make for a treat weekend breakfast! Do you have a favourite topping?
Why should I make Lemon Milk Crepes?
Easy to make with delicious results!
Perfect for pancake day or a weekend breakfast
The pancakes stay warm for longer due to the pre-buttered, warm dish
Citrus-y flavours + icing sugar + raspberry = best combo
Only FIVE ingredients!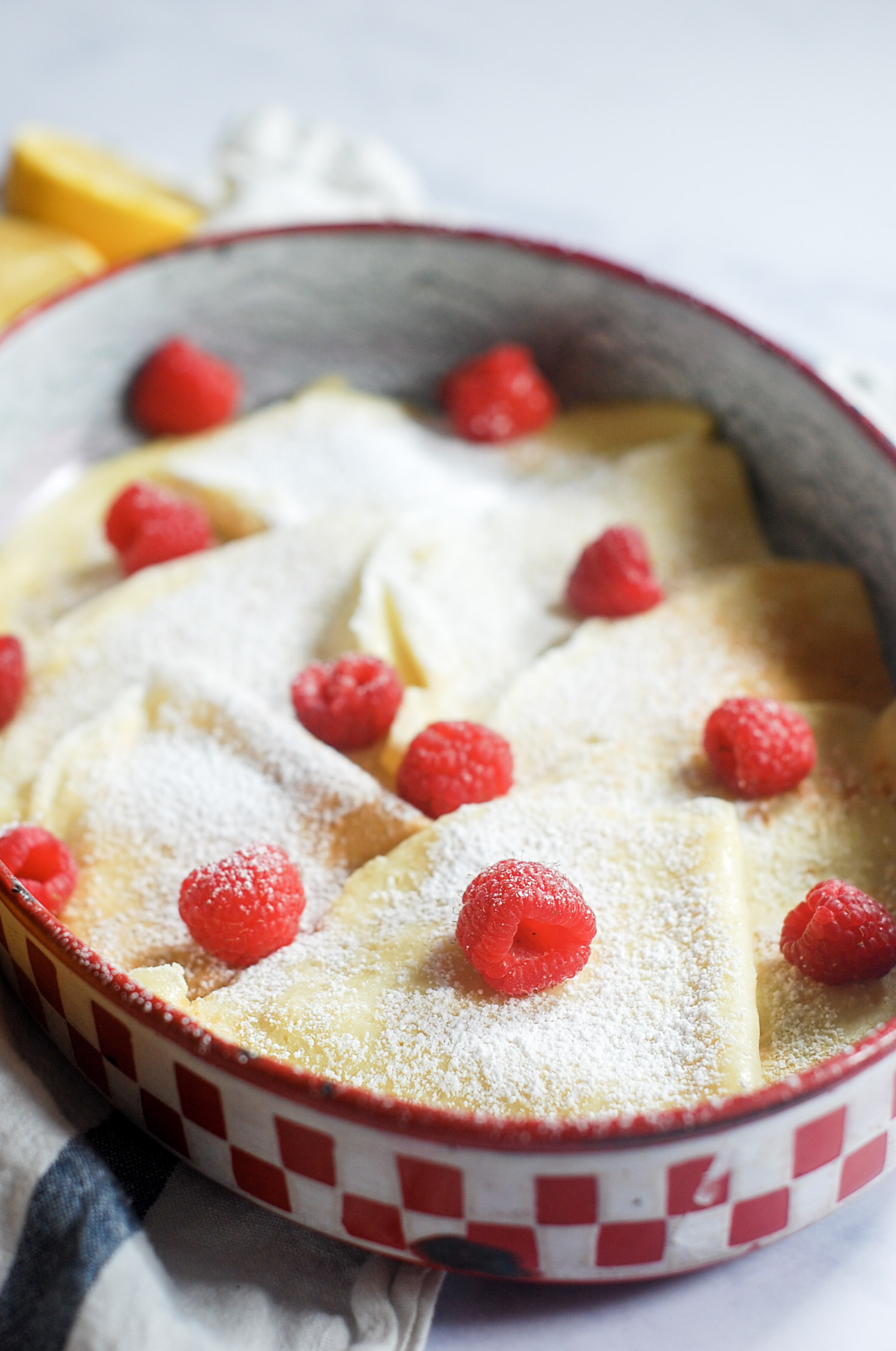 What Crepe pan should I use?
A crepe pan is not necessary but makes cooking the pancakes a lot easier. I only recently invested in one and I'm so glad I did! For this recipe, I used the Zinel Die Cast Aluminium Non-Stick Crepe Pan (suitable for induction).
It's lovely and smooth and makes it so easy to fold them over – something I always struggled with. I'd always have to get my Husband to help! Now I can do it all on my own, haha.
Ingredients
250ml whole milk
1 lemon (zest and juice)
125g plain flour
2 eggs
Butter for greasing pan and buttered dish
Raspberries to serve (optional)
Icing sugar to serve (optional)
Equipment Needed
Crepe pan or medium frying pan
Jug for infusing milk
Grater
Medium mixing bowl
Spatula
Oval dish suitable for the oven
Sieve for icing sugar
Infusing the milk
These pancakes are called Lemon MILK pancakes due to the infusing of the milk with lemon zest. The milk is boiled with grated lemon zest and a set aside to infuse which gives a slightly lemony, citrus flavour to the crepe. Paired with the sweet icing sugar and tangy raspberries, they are heavenly.
Recipe Variations
Can I use semi-skimmed milk?
Yes of course, semi-skimmed milk will not affect the recipe at all!
Would a lime/orange instead of a lemon be ok?
Technically you can but the flavour will be completely different. I do think they will turn out delicious all the same though! Go for it!
Frequently asked Questions
Can I make a vegan version of lemon milk crepes?
I haven't tried it myself but technically you can if you swap the cow's milk for a plant-based alternative like oat milk. You would then need to use a vegetable oil instead of eggs to combine. It may take a bit of trial and error to get the consistency right. You could always try a vegan recipe like The Conscious Plant Kitchen's vegan crepes.
Are lemon milk crepes gluten-free?
They are not gluten-free because they contain plain flour however you could always swap it for gluten-free flour.
Lemon Milk Crepes
Simple yet delicious, these lemon milk crepes are the perfect pancakes to serve on Shrove Tuesday, or perhaps a weekend breakfast treat?
Ingredients
250

ml

whole milk

125

g

plain flour

2

eggs

1

lemon

zested and 1/2 juice

2

tbsp

salted butter

plus extra for cooking pancakes

Icing sugar

for dusting / optional

raspberries

to serve / optional
Instructions
Pour the milk into a small pan along with the lemon zest. Bring to a boil and then leave aside to infuse for 15 minutes.

Once infused, place your plain flour into a bowl along with the eggs, lemon juice and the milk. Whisk until a batter has formed and there are no lumps. Either place in the fridge until ready or go straight to the next step.

Pre-heat oven to 100 degrees. Two knobs of butter in a baking dish and in the oven to melt.

Melt a tsp of butter in your pancake pan. Once melted, pour a thin layer of batter into the pan so it covers the whole pan. Leave to cook until you notice it crisping at the sides. You can then carefully slide your spatula under the pancake and fold it over to the other side.

Leave the pancake to cook until brown on both sides (flip if needed). Cut in half using your spatula and place in the warm, buttered dish. Put the dish back into the oven or on a warming plate and continue with the next pancake.

To serve, dust with icing sugar and decorate with raspberries.
Notes
Aga cooking – All my recipes are tested and cooked on an Aga but then adapted for a conventional oven. If you're an Aga user like me, you can follow the recipe as is, using your boiling plate to cook the pancakes on. You can either keep your pancakes warm but placing the dish on top of the plate lid (with a lid cover on as I did) or in the simmering oven. If you have a warming plate, even better!
Re-heating – Yes, pancakes can be re-heated but they taste better fresh. Simply leave them folded as is and when ready to re-heat, fry in the pan for a few minutes with a small knob of butter.
Storage – Store any leftover batter in the fridge, covered. It will keep for a couple of days. Leftover pancakes can be stored in the fridge too, in a covered Tupperware.
Freezing – I've never tried freezing pancake batter but according to The Kitchn, you can! Place in a freezer bag, lay it flat and freeze. I'd recommend reading their post for more details.
Tips
Buttering your dish beforehand will keep your crepes warm whilst you make them all. Have the oven on hand on a low temp so can keep them warm whilst you continue cooking the rest!
More pancake recipes