30 Best Advent Calendars For 4 Year Olds
It's that time of year again when the kids start to get into the holiday spirit and advent calendars become a daily surprise. There are advent calendars available for kids of all ages these days. We are focusing on the best advent calendars for 4 year olds in this post. Whether you have a kid whose a Barbie fanatic or one who loves Mickey Mouse, we have a calendar for you in this guide. 
Some of the links below are affiliate links. You don't pay extra when you buy from an affiliate link. The benefit is that I gain a tiny amount of commission, which I appreciate. A few of these advent calendars have been gifted but all opinions are my own. 
My Top Picks for 4 year olds – 
Swizzles Advent Calendar
Making the countdown to Christmas even more exciting this year, Swizzels' Advent calendar offers 24 days of delicious sweet surprises and features everybody's favourite Swizzels treats, including Squashies, Refreshers, Love Hearts, Drumstick and more. Mr Swizzels Sweet Shop Advent Calendar is sure to delight all Swizzels fans in the lead up to Christmas! 24 doors filled with Swizzels favourites plus fun jokes, and festive facts.
My 4 year old is really into drumstick sweets at the moment so I know he's going to love this one. I may even manage to nab a sweet or two…! This sweet treats advent calendar is available at most major retailers, such as Sainsbury's or Asda from £5. Or for your convenience, you can also find it on Amazon for £15.95.
Plus Plus Advent Calendar
We are big fans of building things in our household so this one is going to be a big hit, I just know it. Made in Denmark with 100% wind energy – great for eco-conscious parents. As it contains 600 pieces, help from a parent may be needed for a 4 year old, however that's part of fun! Plenty of opportunity to connect with your kids on the daily.
Packed with an exciting creative surprise to discover in each of the 25 windows, the 600-piece Advent Calendar (£29.99) is a fun way to countdown to the big day! Each day you'll receive a new construction project with instructions and complete the entire Christmas scene for display on the snowy backdrop. There's also an added bonus of an extra project on Christmas Day. Available on Amazon for £29.99.
Cat Family Christmas Lift The Flap Puzzle – 12 days
Not technically an advent calendar but makes a great alternative to a traditional 24 door calendar. The puzzle contains 76 pieces and once built you can countdown to Christmas with 12 flaps to open. Each day you'll reveal what the cats have been up to – baking, decorating and preparing the house for Christmas! So cute!! Brilliant if your kids is a fan of cats, like mine.
The puzzle also includes a booklet featuring the cat family Christmas story as well as 12 holiday activity ideas with a sustainability theme. Great for parents who want to cut down on the plastic coming into their home. A calendar you could re-use each year. Available on Amazon for £13.79.
​Advent Calendar Ideas for 4 Year Olds
Fidget Advent Calendar for Kids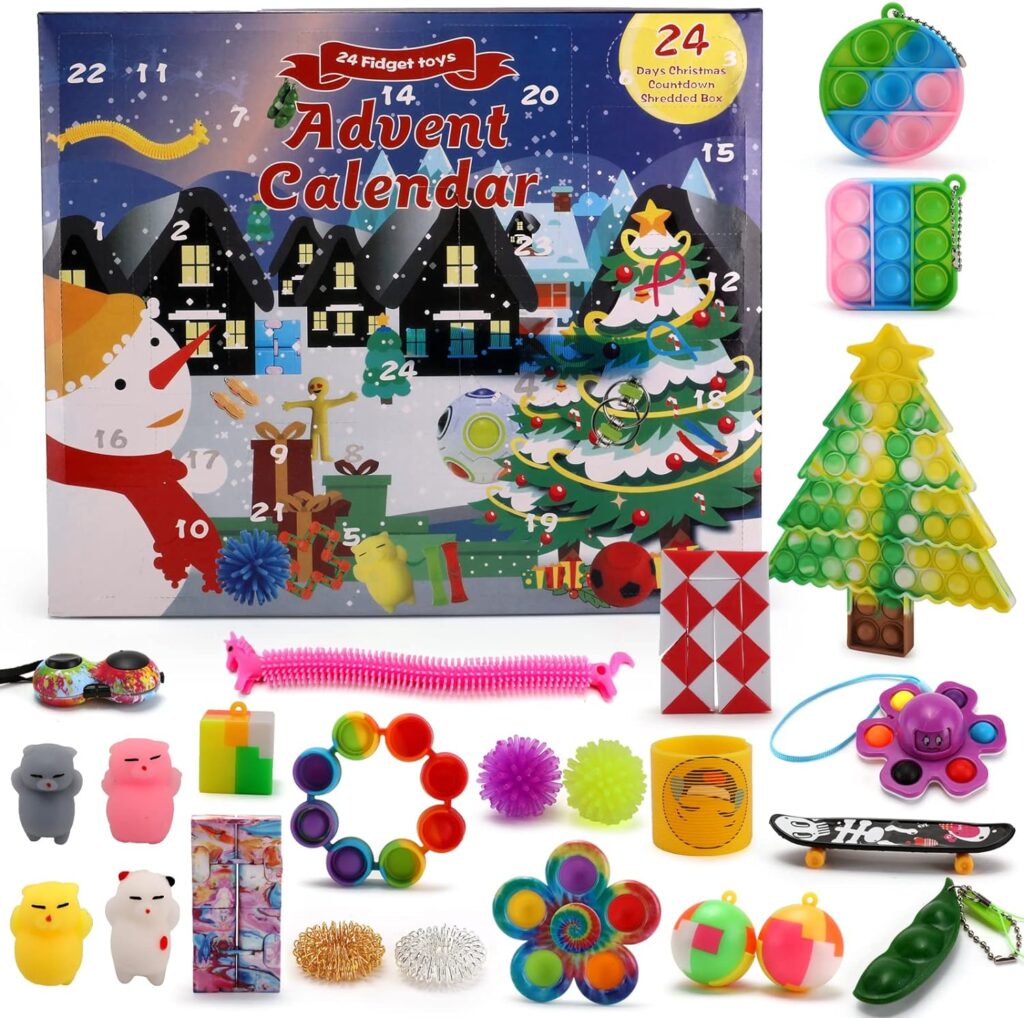 Fidget toys are brilliant for keeping kids amused at restaurants, in the car..when you need a few minutes peace! This fidget toy advent calendar would be great for stocking up for the following year. You never know, every day may give you a moment or two to sit down and relax… or get organised for Christmas!
The gift box is divided into 24 parts, corresponding to the countdown of 24 days before Christmas. Starting from the 1st, cut off the dotted part of the gift box, you will get an unexpected surprise! The best quality toys that wont leave you disappointed as we have advanced the packaging so no fidget toys will move in transit and leave one unhappy child. The toys are Fully UKCA Certified and non-toxic. Available on Amazon for £15.99.
Harry Potter Gryffindor Advent Calendar
I know a few 4 year olds who love Harry Potter, having never seen the film! This Harry Potter advent calendar would be the perfect gift for them. It comes with a 12-inch doll with 24 accessories to dress it in. The sort of advent calendar toy that would get played with in the coming year. Perfect for imaginative play. The packaging even constructs into the Gryffindor common room! Available on Amazon for £19.49.
Barbie Advent Calendar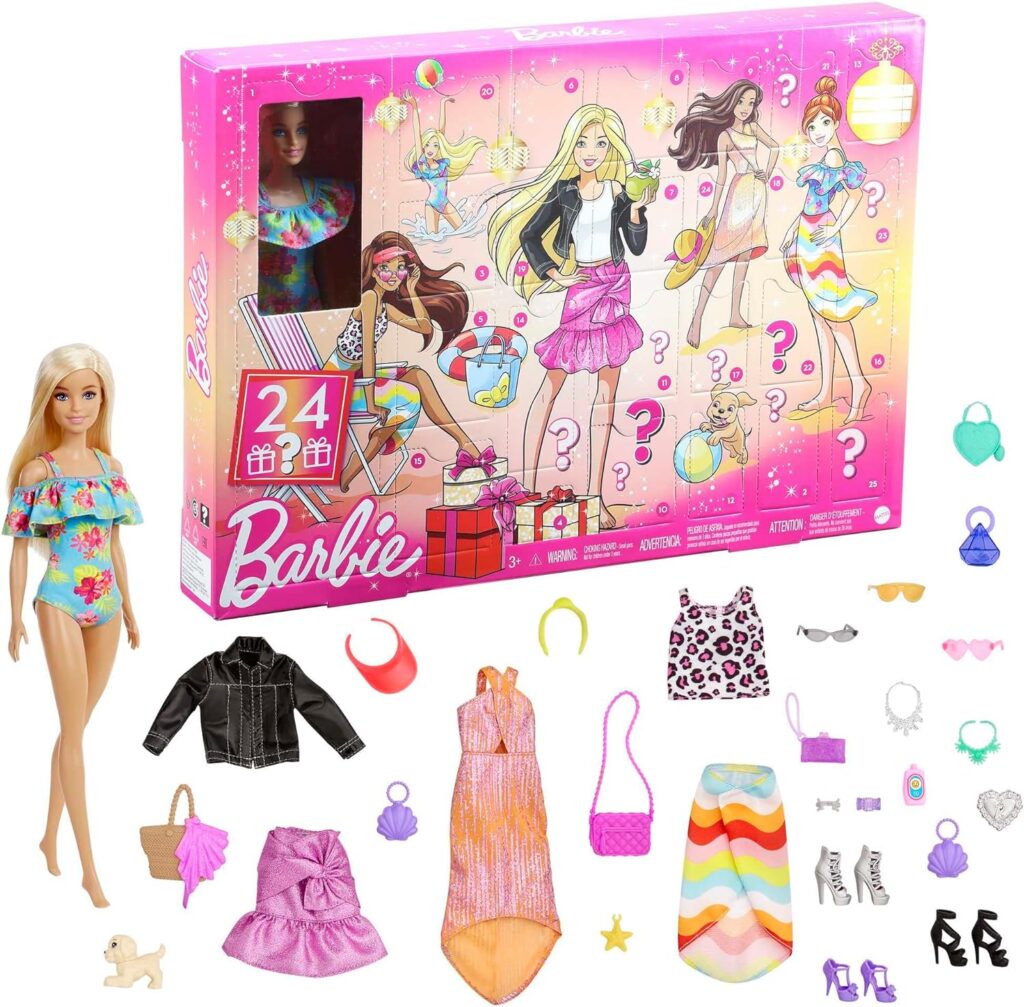 With the new film in cinemas, Barbie has had a bit of a comeback! I'm sure there are many 4 year olds who love dressing up Barbie dolls. I know I did! This advent calendar comes with a barbie doll and 24 accessories – one to open each day! Brilliant for little barbie fans. Available on Amazon for £25.99.
Peppa Pig Book Collection Advent Calendar
​Do you have a big Peppa Pig fan in your family? This Peppa Pig book collection would be perfect, with a story to read for the 24 days before Christmas. Lots of opportunity to connect and cosy up with your toddler or child. Available on Amazon for £10. 

Disney Storybook Collection Advent Calendar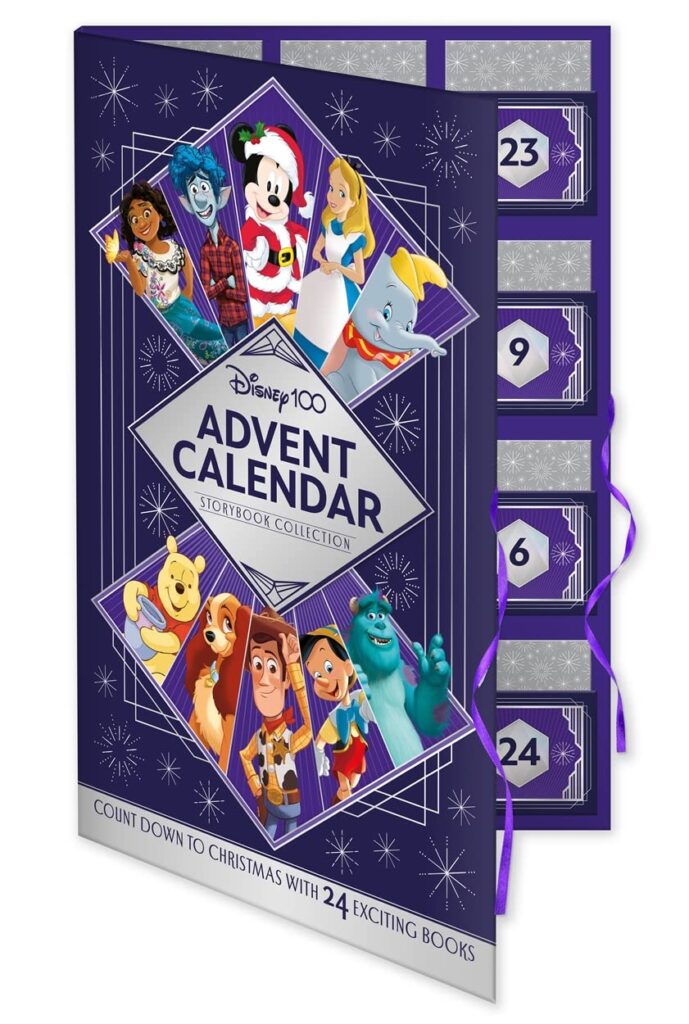 Perfect for Disney fans, this advent calendar contains 24 books with all your favorite characters, from Dalmatians to Winnie the Pooh – they are all there. The kinds of advent calendar that can be used again and again throughout the year. Cosy up with your kid everyday with one of their favorite stories from Disney. Available on Amazon for £10. 
Paw Patrol Advent Calendar
A lot of kids LOVE Paw Patrols and if this is yours, this advent calendar is for you! With 24 gifts to find, there's always a new surprise waiting behind each door. Kids will discover their favourite pups — Chase, Marshall, Skye, Rubble, Everest, Rocky and Zuma dressed up for the holidays. Plus more! The little figures will be brilliant to be used in imaginative play for the rest of the year. Available on Amazon for £14.
Hot Wheels Advent Calendar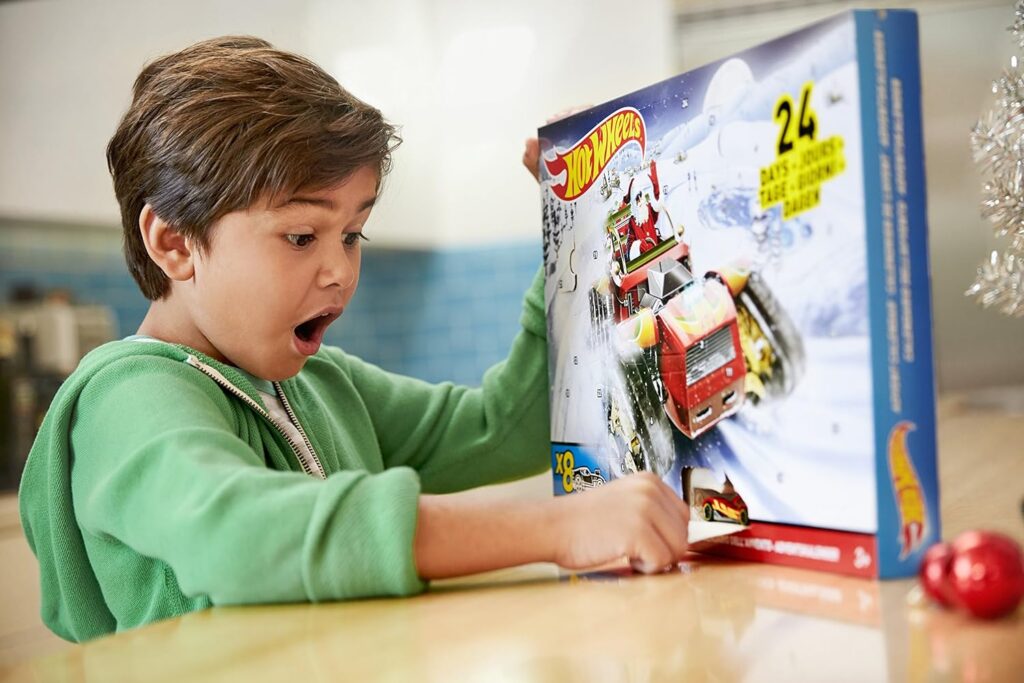 All car fans will love the Hot Wheels advent calendar this year. 8 new vehicles and 16 accessories to add to your collection. Perfect for little hands to push around on the table or for older kids to play with the hot wheels track (if you have any). Available on Amazon for £39.
Star Wars Lego Advent Calendar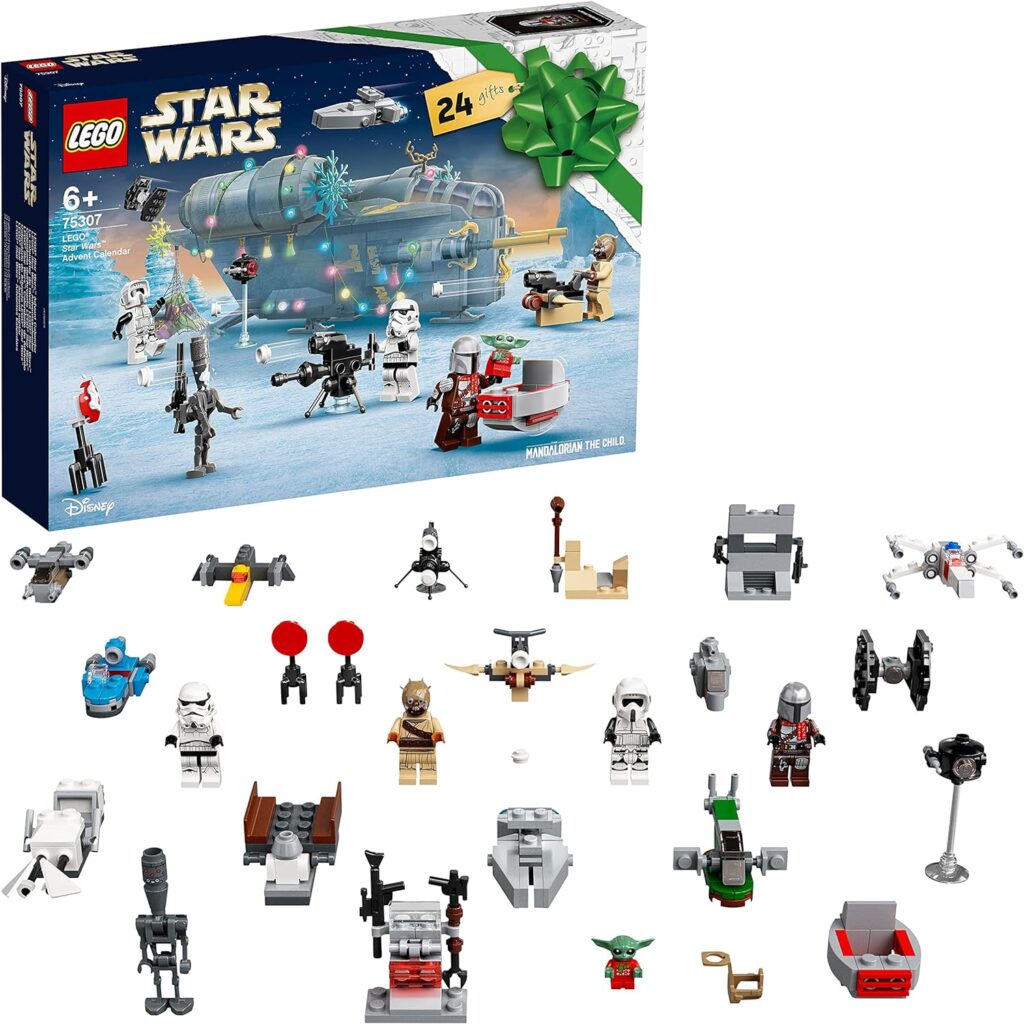 I know Star Wars Lego is technically for 6+ but my 4 year old gets on really well with it, so couldn't not include it! This Lego Star Wars advent calendar includes 7 Star Wars characters in festive outfits and 11 mini build vehicles. So much value! Available on Amazon for £44.79.
Lego Friends Advent Calendar
Aimed at girls to get them interested in Lego but personally I would say for both genders, this advent calendar is full of lego builds for the festive season. The overall build will in the end display an enchanting scene of character Olivia and her family at a Christmas market. Lego is fun for the whole family, in my opinion! Available on Amazon for £32.99.
Funko Marvel Advent Calendar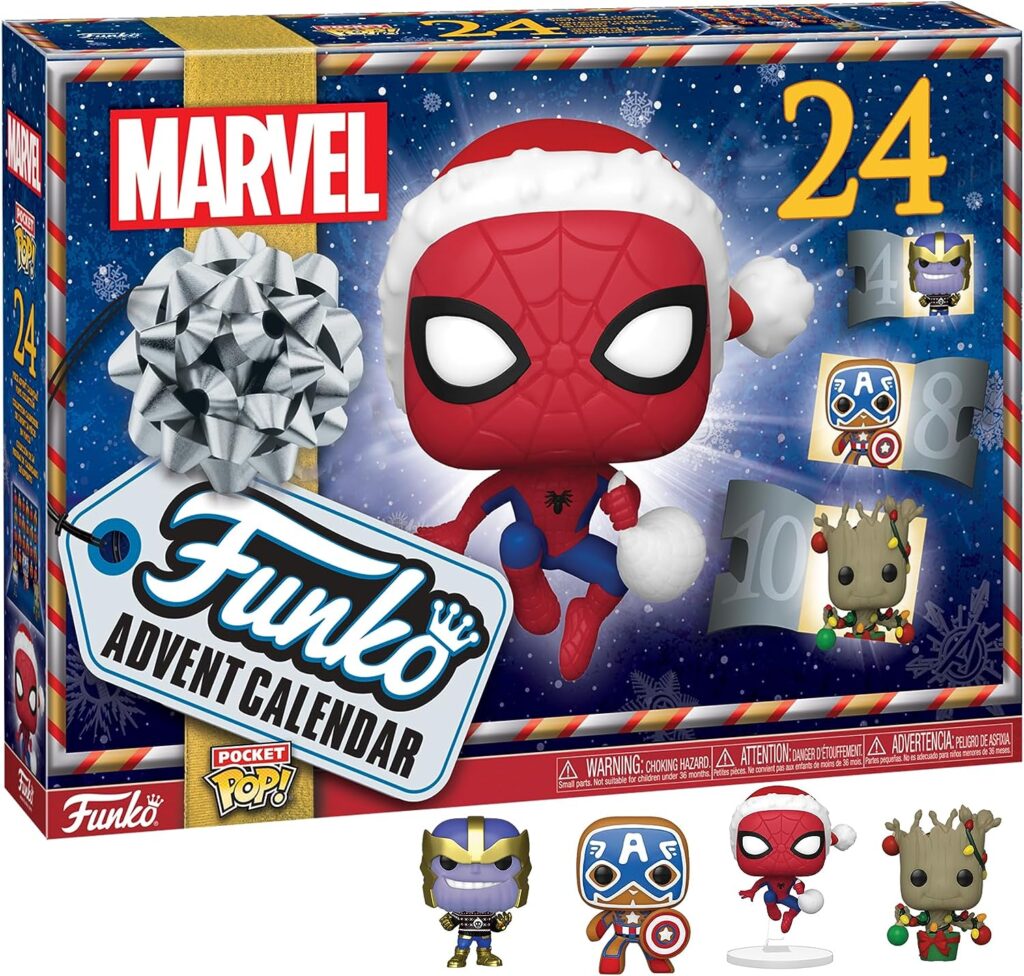 Calling all Marvel fans – this one's for you! 24 days full of mini figure surprises, from Captain America to Groot, all the fave main characters are there. All the mini figures are in the style of the Pop heads. Brilliant collectable items for your 4 year old. Available on Amazon for £59.70.
Play-doh Advent Calendar
24 pots of playdoh, a playmat and accessories – what more could a 4 year old want? Perfect for sparking imagination and creating festive scenes this season – and beyond! And great fun for adults too! Available on Amazon for £15.14.
Gabby's Dollhouse Advent Calendar
Gabby's Dollhouse hasn't yet reached our household but I've heard it's very popular among the little ones! This advent calendar looks amazing for Gabby fans, with 24 mini figures like their favourite kitties, animal friends and festive accessories! Available on Amazon for £13.99.
Happyland Advent Calendar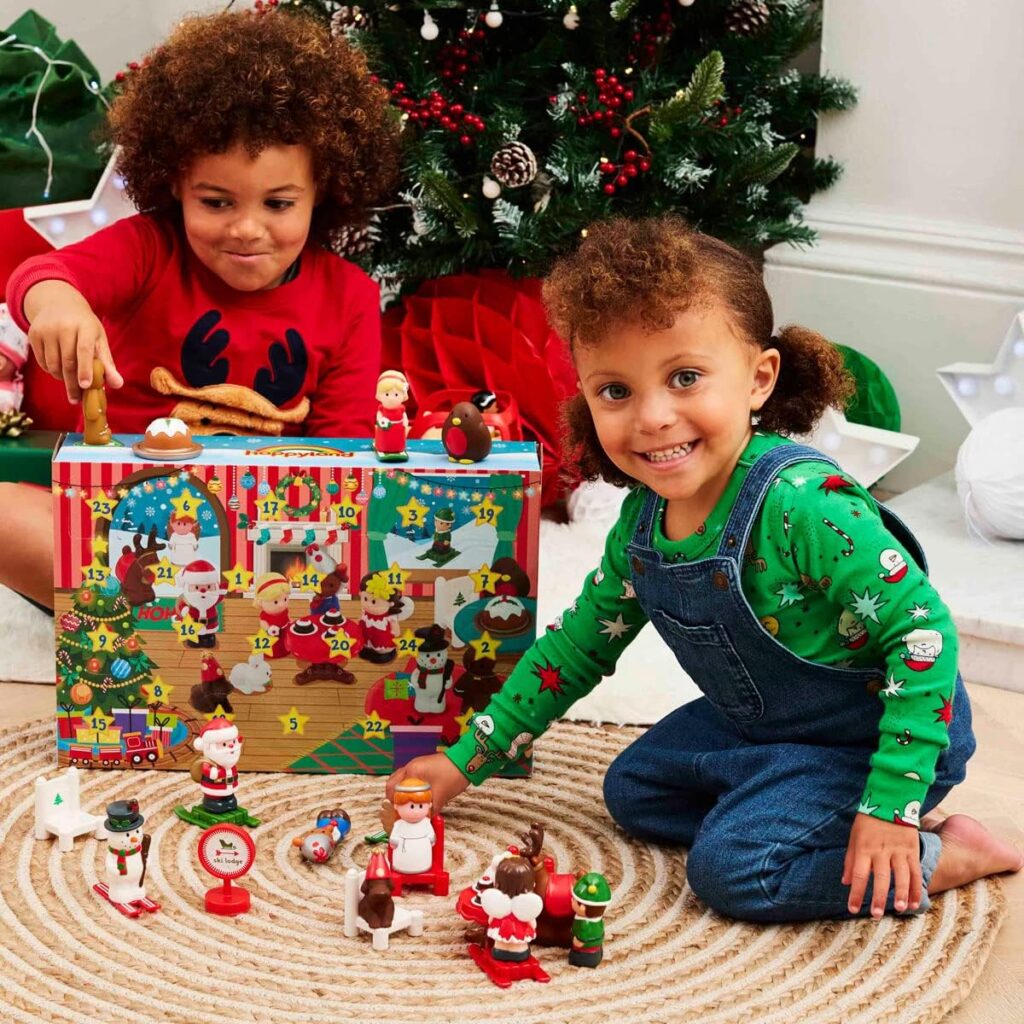 An advent calendar which will in the end display a festive scene for your kids to play imaginatively with. The Happyland figures are chunky, perfect for younger children, perhaps younger than 4 too. This advent calendar is perfectly safe if you've got toddler siblings in the house. I would say this is one of the best toddler advent calendars. Available on Amazon for £19.99.
Little People Barbie Advent Calendar
This sweet advent calendar is perfect for Barbie fans with younger siblings as they will be able to join in too. The 6 mini figures are chunky, perfect for little hands. The calendar comes with 17 play pieces and 1 holiday momento to hang on the tree! The advent calendar opens to reveal a chic Barbie ski chalet setting for festive stories and pretend play – so cool! Available on Amazon for £22.49. 
Mr Men and Little Miss Book Advent Calendar
My 4 year old loves Mr Men, so I knew this one would be perfect for little ones. 25 Christmas-themed Mr Men and Little Miss books to read over the festive season. Saves making your own book advent too if you've been thinking about it! Available on Amazon for £11.49. 

Nativity Advent Calendar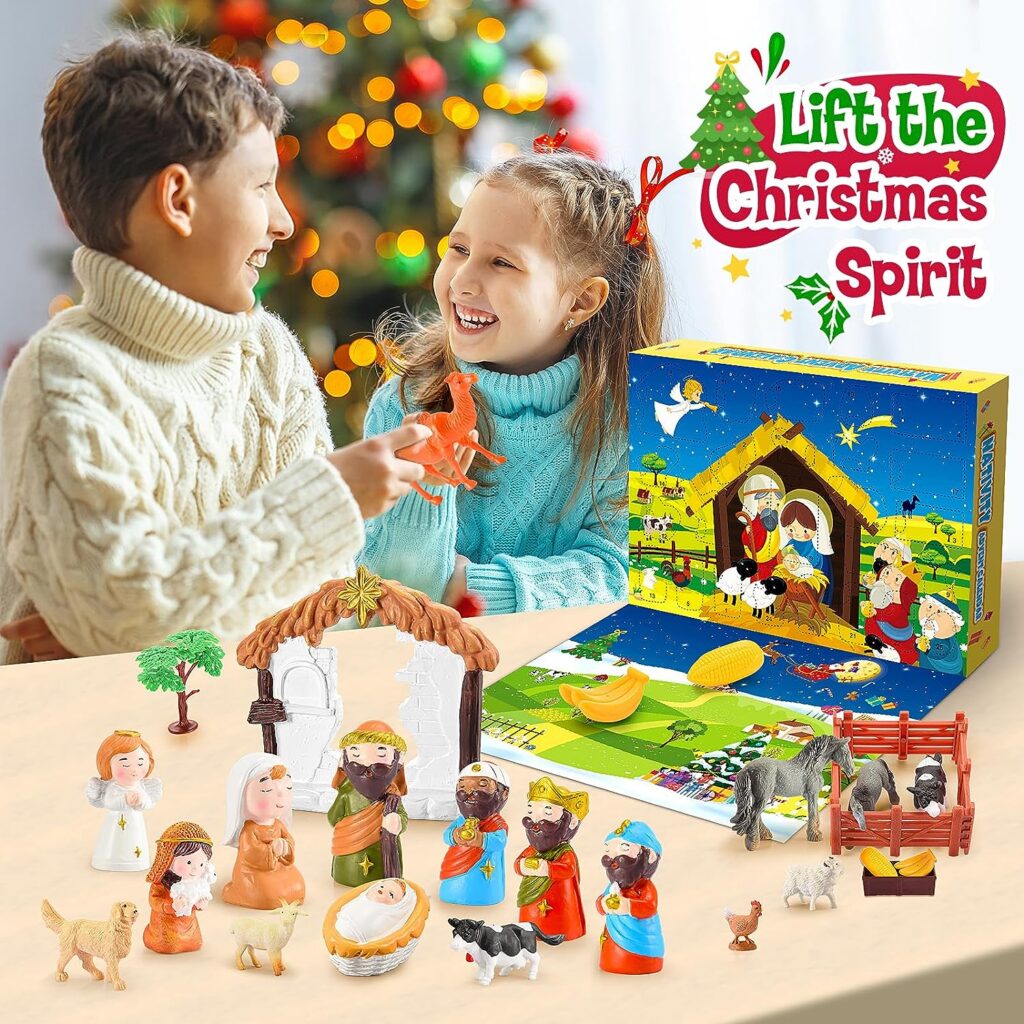 For an advent calendar with a nativity theme, this one looks good, with a good price point! 25 safe, non toxic, nativity pieces to open daily. Create a wonderful nativity scene by Christmas day. A scene that you could keep for years to come. Available on Amazon for £8.49.

Squishy Advent Calendar
Yes, the squishy trend is here to stay and this advent calendar is perfect for those who love collecting them. Non-toxic and BPA free. A great sensory toy too which can be used all-year-round. Available on Amazon for £20.78.
Slime Advent Calendar
There aren't many kids who don't love slime every now and then! This slime advent calendar comes with pots of slime as well as glitter and sprinkles for use in creative play. The slime is perfect for post-school come down, when they may need some time to move through some of the days activity. Slime is a great sensory toy to use for this. It's very relaxing too! Available on Amazon for £18.79.
Thomas Minis Advent Calendar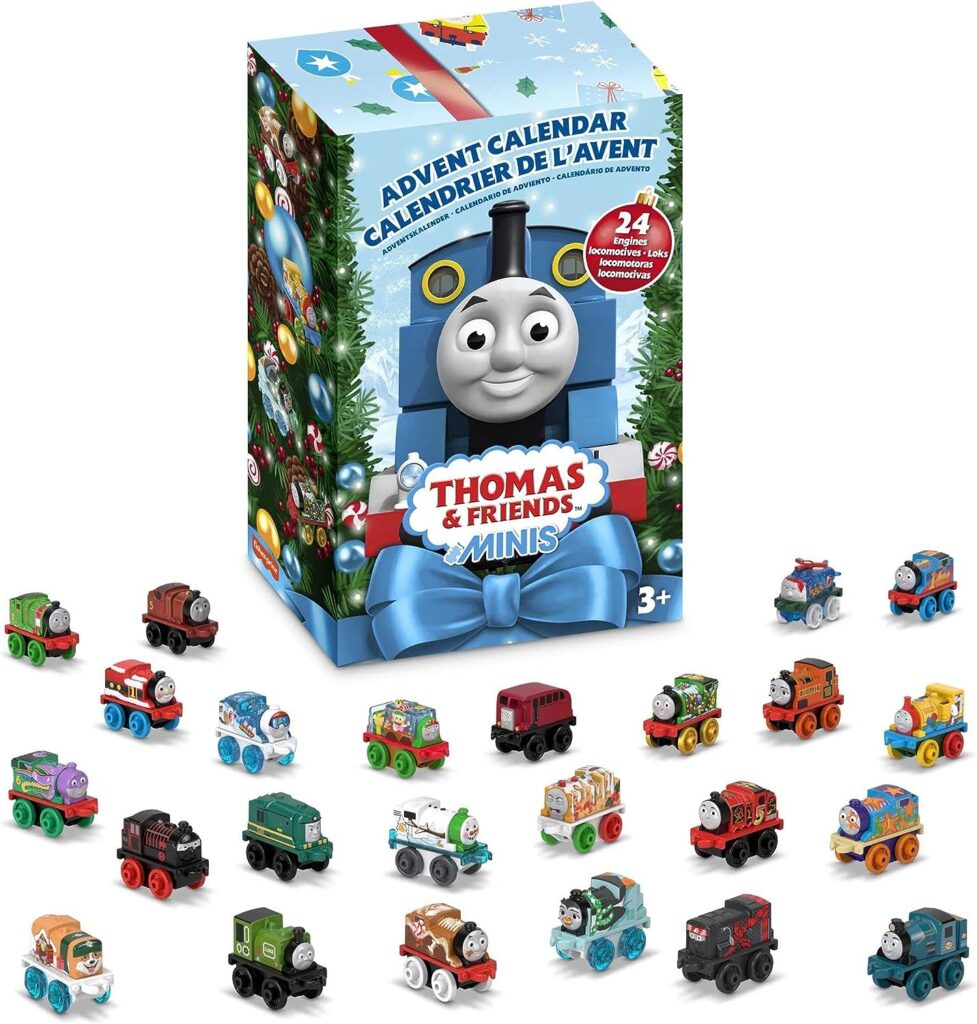 I'm surprised I haven't mentioned this one until now! My 4 year old had this one last year (he was 3.5 years then) and it has given us endless days of play this year. Perfect for any Thomas the Tank fan. The thomas minis don't work on any train track but you can buy an additional carry case if you wish! We found ours fun in the bath tub! Available on Amazon for £26.99.
Playmobil Advent Calendar
Another one that we've had, although my little one was a bit young at 2.5 years when he had it. This Playmobil advent calendar would be perfect for 4 year olds! I know mine would love it this year. 24 surprises from the Christmas bakery – including real baking accessories: 3 biscuit cutters and 1 biscuit stamp with a Playmobil face. So much fun to be had throughout December! Available on Amazon for £24.99.
Wooden Christmas Tree Advent Calendar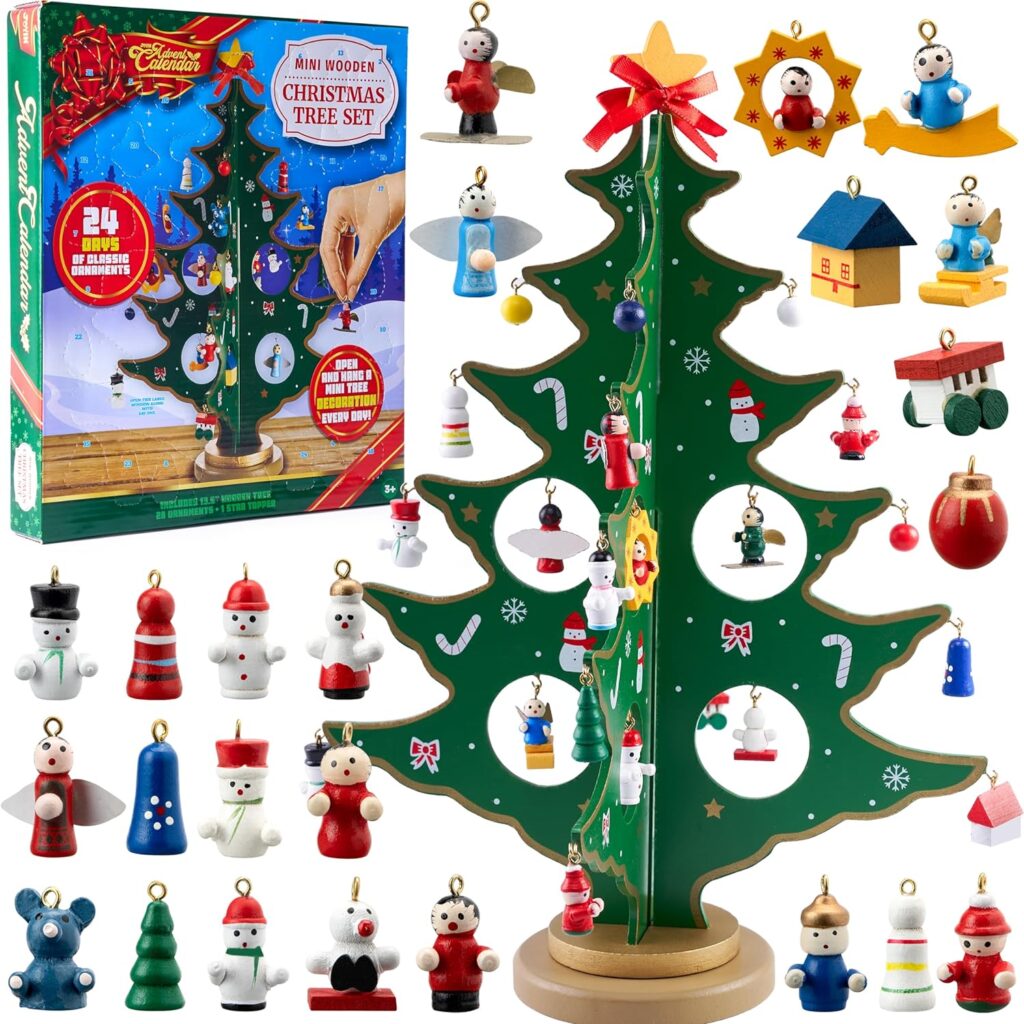 Little ones love hanging things anywhere they can find space – I know! This wooden Christmas tree calendar would be perfect in the lead up to the big day. 28 non-toxic decorations and 1 wooden tree. Perfect for eco-conscious parents. The decorations could be brought out year upon year. Available on Amazon for £23.99.
Bluey Book Advent Calendar
If your 4 year old (or yourself!) is a Bluey fan, then this Bluey book advent would be the best thing to buy as an alternative to a toy advent calendar. 24 opportunities to connect with your child this festive season. There are even colouring books too! Available on Amazon for £12.
Wooden Train Advent Calendar
My kid is a huge train fanatic and so if yours is too, this advent calendar is for them! I must warn that it's a 12 day calendar but It doesn't disappoint, with 12 days full of magnetic trains which connect together to create one long train! Available on Amazon for £12.79.
Brio World Advent Calendar
This would be the ultimate advent calendar for my 4 year old, as he's a BIG Brio fan (as am I!) The calendar not only comes with a Brio train but train track and accessories too! The perfect excuse to make up a festive layout. Brio is the sort of toy that will last for years and years, so worth the payout. Available on Amazon for £34.99.
Wooden Fillable Box Advent Calendar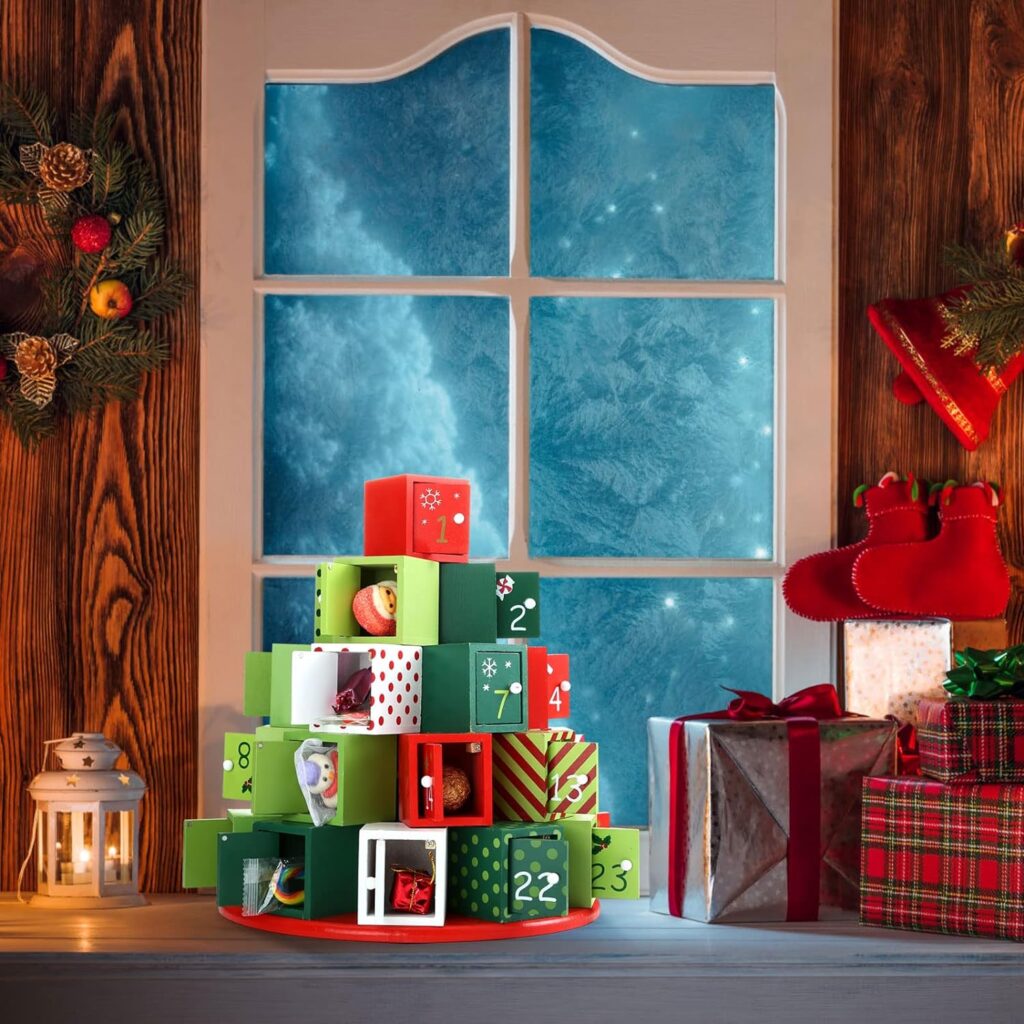 Perhaps you're looking for an advent calendar that you can fill yourself? I thought this one was really cute as the boxes are stacked up like a Christmas tree. 24 drawers for you to fill with festive treats! And it can be used again next year! The best, sustainable advent calendar. Available on Amazon for £31.99.
DIY Hanging Advent Calendar
Maybe a craft paper bag advent calendar is more suiting? I liked this one because the paper bags are rather roomy, so you can fit bigger items inside if you wish. Each set comes with 24 bags, number stickers, jute string and wooden pegs. Available on Amazon for £7.55.
Lindt Winter Wonderland Chocolate Advent Calendar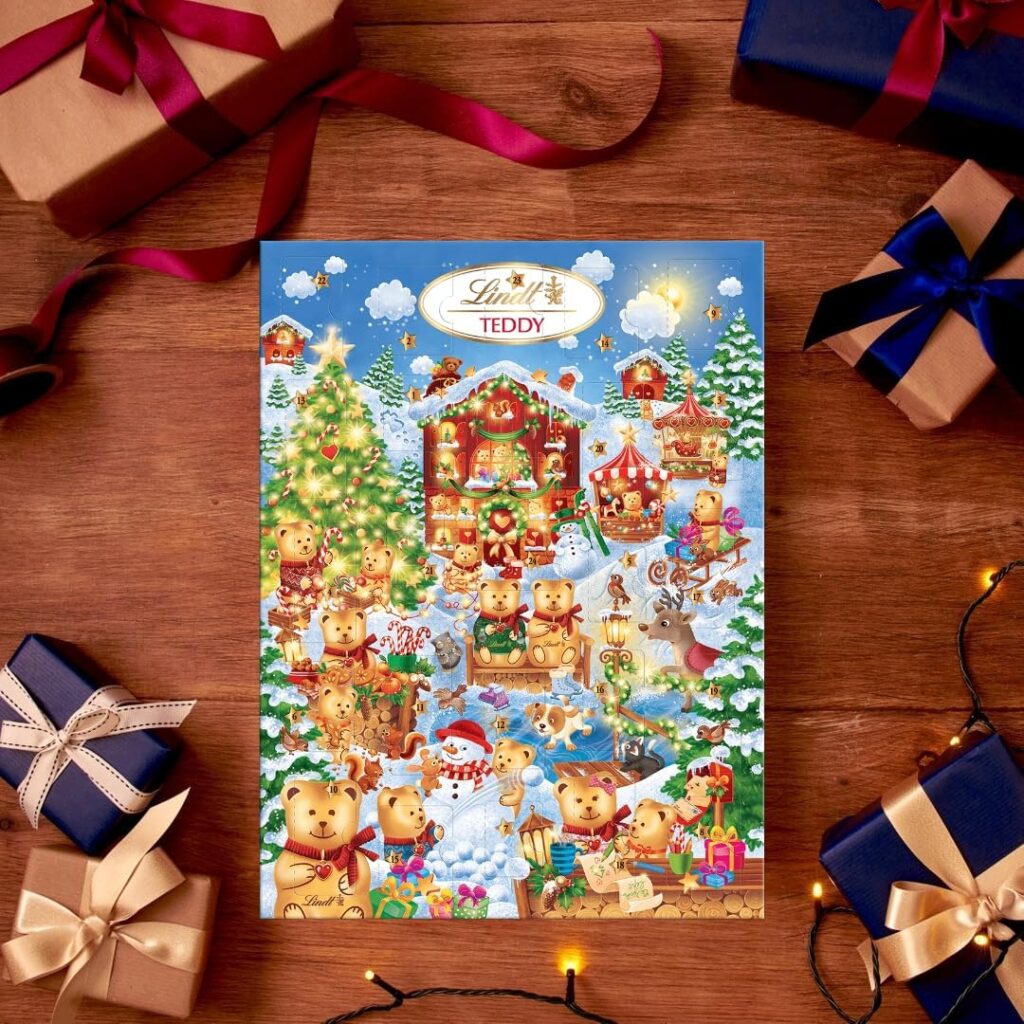 I couldn't not include a chocolate advent calendar in this guide! Lindt is a classic and loved by all. Milk and white chocolate Lindt teddies fill 24 doors of this calendar. Make every morning sweet for your 4 year old! Available on Amazon for £7.
Which is the perfect kids advent calendar for your child?