Caribbean Coconut Beef Curry (Mild)
Spiced with an Indian madras, you might mistaken this mild Caribbean Coconut beef curry to an Indian curry. The Caribbean flavours come from the added pineapple and a squeeze of lime at the end to give it a bit of a zing! Super quick to make for a mid-week meal!
Caribbean-inspired Coconut Beef Curry
One look at this recipe and you'd mistaken it for an Indian curry, however the addition of coconut, pineapple and lime is what makes it Caribbean-inspired.
I spent a bit of time looking for inspiration online for curries in the Caribbean and came across a Barbados beef curry recipe which had been spiced with an Indian madras. It's from there that I finally gained inspiration for this quick and easy version of a Caribbean Beef Curry!
For this coconut beef curry recipe, I decided to use a rump steak sliced into strips to give the meal an added touch of luxury, but also to ensure the meat is nice and tender.
This recipe is super simple and takes no more than half an hour to make. No marinading. No complicated ingredients, just a simple, throw-everything-in-the-pan recipe!
Why should I make this mild beef curry?
A delicious meal in 15 minutes!
It's mild so very suitable for children
Plenty of curry juice for dunking in a chapati or two!
What ingredients do I need?
Rump steak – I wanted to ensure the meat was nice and tender, and of course steak is pure luxury. Just make sure you don't cook it for too long or else it may go tough.

Madras curry powder – Providing the mild spice for this mild beef curry. Madras curry is often smoky in flavour which paired with the coconut milk, is divine.

Olive oil – for frying the onions. You could use a vegetable oil instead.
White onion – a bit of onion usually appears in most curries!
Garlic cloves, crushed – I use a garlic crusher for ease. I'm also a huge fan of lazy garlic (garlic already crushed, bought from the supermarket).
Curry leaves – quite widely available now, curry leaves offer a nutty taste to the curry.
Tin of tomatoes – you only need half a tin but a bit of tomato gives the curry a bit of flavour for the madras spice to lean into (if that actually makes sense haha). Feel free to use chopped fresh tomatoes instead.
Tin of coconut milk – again, only half is needed. The coconut milk makes this curry super creamy and give it the mild flavour.. Very family-friendly.
Squeeze of lime – a bit of zing is added to this Caribbean coconut beef curry with the squeeze of lime juice.
Pineapple chunks – making it truly caribbean with pineapple. A long with the coconut milk and lime, it's a match made in heaven. I used store-bought already chopped pineapple. You can use fresh or already bought, it's up to you.
Basmati rice to serve – we always have rice our curries with rice. I've included how we cook our rice, below.
Make beef curry family-friendly
Okay so not many people would consider a coconut beef curry, especially containing rump steak, a family-friendly dish. IF you're child is definitely not capable of eating steak (I wouldn't suggest giving it to a baby), you could use chicken instead, or even lamb if you'd prefer.
My two year old attempted to eat this but did find the steak a bit hard got chew. He ate around it though and loved the rice! I know children who eat steak at the age of 7, but it really is your choice as a parent! Cooked for not too long, steak shouldn't be too difficult for a child to eat.
In terms of spice, this curry is really mild. It would be suitable for babies (if baby-led weaning + puréed if not) and toddlers/children. Obviously you can take off the chopped chilli too!
Equipment Needed
Chopping board x 2 (one for the meat and one for the veg)
Measuring spoons
Large, deep frying pan
Chef's knife for chopping veg and meat
Tin opener
Saucepan for cooking the rice
Wooden spoon
The easiest way to cook rice
To cook basmati rice, I always use a 1:1 ratio + 1 extra. So if I'm doing 2 cups of rice, I'll do 2 cups of water plus 1 extra. I find this really works for me!
I then bring the rice to the boil and either place in a low oven at 140 for 25 mins (if you're using an Aga or an oven-proof pan) or simmer for the same amount of time, until the rice grains start to separate.
Honestly, this will guarantee you soft, non-sticky grains every time!
Recipe Variations
What other cuts of beef would you recommend?
If you want to guarantee a tender meat, I'd recommend a steak. Go for rib-eye or fillet… basically look for the marbling. The more marbling, the better the steak, in my opinion.
I don't have any coconut milk. What else can I use?
I've not tried it myself but you could have a go at using some yoghurt, as long as it's not too thick. You won't need as much though. Probably about 1 cup (about 150ml).
Could I use a different spice instead of madras?
Yes, of course! Pretty much all spices go well with coconut milk. Be careful what you use though as the lime and pineapple won't pair well with all!
What does madras taste like?
The madras spice gives this mild beef curry a deep, 'beefy' flavour. It's not a 'light' curry like a korma but by no means spicy! Feel free to omit the red chilli if you'd like no spice whatsoever.
Nicoletti from Yumsome has a great recipe for a madras curry powder, if you want to make your own.
Step-by-step method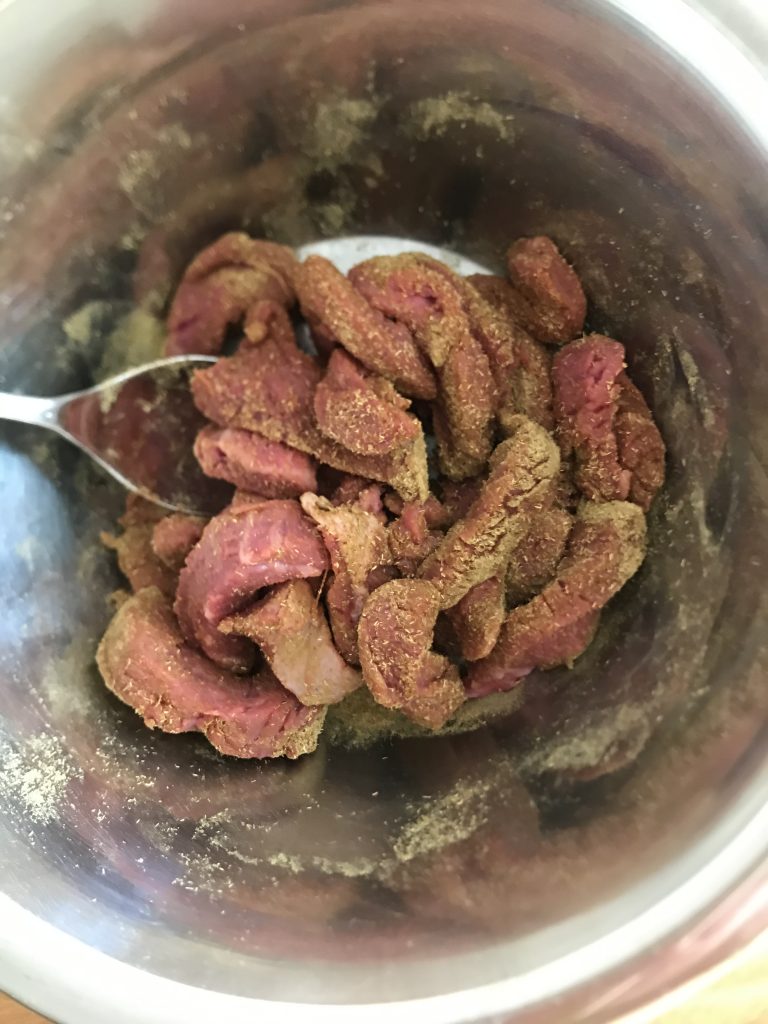 Tips
How to crush garlic easily – you can either use a garlic crusher which means peeling the garlic clove, popping it in and press the juice out of the clove. OR you use a sharp knife. Press the side of the knife down on the clove, using the palm of your hand (blade facing away). Finely chop the crushed clove.
Doing this helps release the garlic flavours much more than when you just cut once.
Caribbean Coconut Beef Curry (Mild)
A super quick curry with a Caribbean twist! Spiced with madras but made mild with coconut milk. Family-friendly.
Ingredients
2

rump steaks

2

tbsp

madras curry powder

1

tbsp

olive oil

1

onion

diced

2

garlic cloves

crushed

2

curry leaves

200

ml

tin of tomatoes

half a tin

200

ml

coconut milk

half a tin

1/2

lime

juice

Handful

pineapple chunks

Basmati rice to serve
Instructions
Slice the steak into strips and place in a bowl. Rub in the madras spice.

Fry the onions in a pan until cooked. Add the garlic and fry for 1 minute. Add the steak and fry for another minute.

Add the tomatoes, coconut milk and curry leaves. Leave to bubble away for a few minutes.

Throw in the pineapple chunks and a squeeze of lime juice. Serve with rice.
Notes
Aga cooking – All my recipes are tested and cooked on an Aga but are adapted for conventional ovens in my recipe. If you are an Aga user too, you can make this coconut beef curry on the boiling plate. For your rice, start it off on the boiling plate and finish in the simmering oven. 
Reheating – If you have some leftovers and want to re-heat, you will need to re-heat thoroughly. I wouldn't recommend re-heating steak though as it will become tough. 
Storage – You should store leftovers in the fridge in a covered container, preferably on the top shelf.
Freezing – You can definitely freeze if you are batch-cooking and/or have some leftovers. Freeze in a tight-lidded container to avoid freezer burn on the food. Defrost thoroughly and follow re-heating guidelines above. HOWEVER, I wouldn't recommend this one for batch-cooking as the steak will become tough upon re-heating. 
Nutrition
Serving:
2
g
Calories:
613
kcal
Carbohydrates:
15
g
Protein:
53
g
Fat:
39
g
Saturated Fat:
24
g
Cholesterol:
138
mg
Sodium:
288
mg
Potassium:
1290
mg
Fiber:
3
g
Sugar:
5
g
Vitamin A:
165
IU
Vitamin C:
40
mg
Calcium:
140
mg
Iron:
8
mg
Serving suggestions
For a bit of a sweet kick, you could serve this coconut beef curry with my Spicy Tomato Chutney. And of course you can't go without making some delicious chapati too! Great for scooping up any leftover curry juices!
More beef recipes –
Easy beef empanadas
Pique Macho – a Bolivian sharing dish
Sweet potato chilli fries
Easy chilli con carne