This easy chilli con carne recipe uses items typically found in a household pantry – a tin of tomato soup, a tin of baked beans, you'll have dinner knocked up in no-time! Simply throw it all together and wait for the deliciousness to come!
A chilli con carne with shortcuts!
Everyone has those days when they just cannot be bothered to go to a huge amount of effort to cook, but don't want to compromise on flavour!
If that's you, then read on –
I'm passionate about creating recipes with shortcuts. As a parent of a toddler, I KNOW those nights when you just want something quick. Minimum effort is essential but maximum flavour is NOT compromised.
After discovering a tin of baked beans and a tin of cream of tomato soup in the larder, this recipe was made. I had an idea and I HAD to try it.
Why should I make easy chilli?
It uses economic pantry staples like a tin of beans and tomato soup!
It takes less than 10 minutes to prepare – quickness is of the essence!
The cream of tomato soup is so flavoursome in this chilli you have to try it for that reason alone.
A good one to make ahead and leave to bubble away in the oven!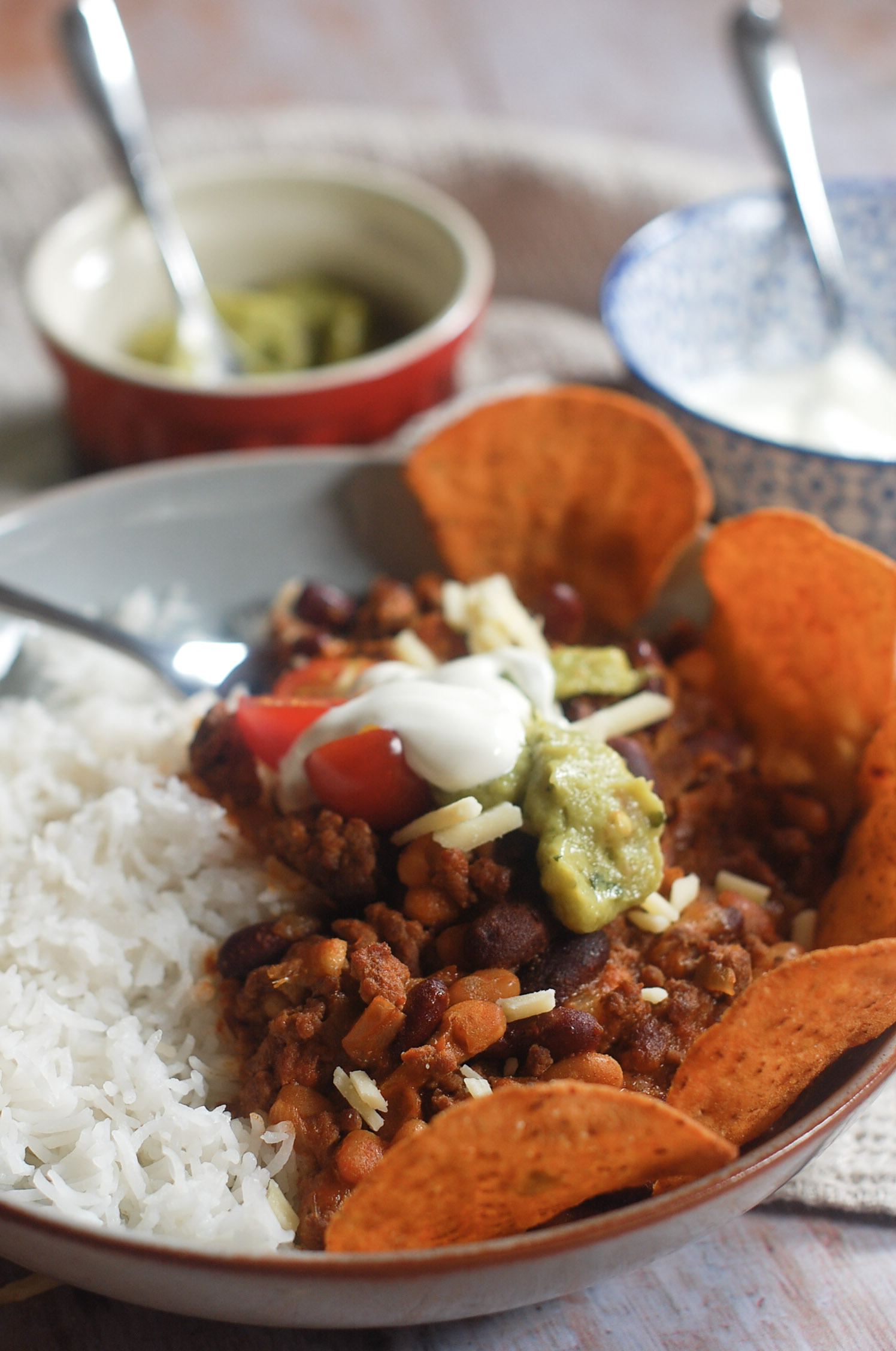 The Original Chilli
According to Felicity Cloake at The Guardian, the real, authentic Mexican chilli would contain chunks of beef, as well as: suet, wild onions, oregano and chillis. Quite different to the chilli we are used to! Here's what you need to make our delicious, quick chilli recipe…
Ingredients
500g beef mince
1/2 a chopped onion
1 tsp ground cumin
1 tsp dried oregano
1 tsp cayenne powder
1/2 tsp garlic powder
1 tsp paprika
1 tbsp olive oil
240g tin of kidney beans
415g tin of baked beans
400g tin of cream of tomato soup
Spice alternatives!
Our easy chilli contains the following spices…
Ground cumin
Dried oregano
Cayenne powder
Garlic powder
Paprika
All of the above spices are commonly found in your larder. Can't find a spice? You could use the following alternatives:
Ground cumin > ground coriander
Dried oregano > dried thyme
Cayenne powder > chili powder, cajun powder
Garlic powder > A fresh garlic clove, crushed
Paprika > Feel free to use sweet or smoky paprika instead or cajun powder
Equipment Needed
Deep frying pan with a lid or a medium casserole pot
Wooden spoon
Chef's knife for cutting
Tin opener
Saucepan with lid for cooking your rice
Make it family-friendly
This chilli con carne recipe is pretty much family-friendly anyway, especially since kids love baked beans! When we made it for our little one, we omitted the cayenne and he loved it!
Chilli con carne is actually quite a fun dinner for children. Add lots of toppings such as grated cheese, salsa, guacamole and tortilla chips (who doesn't like crisps with their main meal?!) and you'll be onto a winner!
Can't find an ingredient?
Beef mince > pork mince would be the best alternative. Or go traditional and use chunks of beef, like chuck steak or the cheaper cut: skirt – perfect for slow-cooking.
Kidney beans > any tinned beans such as borlotti would work.
Baked beans > white beans and a tin of chopped tomatoes + 1 tsp of sugar to add some sweetness.
Cream of tomato soup > any tomato soup, be it fresh or tinned. No soup? Use a tin of chopped tomatoes + 1 tsp of sugar + 2 tbsp of double cream.
Step-by-step method
FAQ
Can I make chilli con carne vegan?
Definitely! You could add a mince alternative such as the Meatless Farm's mince. You would just need to use a vegan tomato soup (the one I used contained cream) such as the Biona tomato basil soup.
Is this chilli recipe gluten-free?
Yes, it's totally gluten-free.
How should I serve my chilli?
There are so many ways you can enjoy a chilli, from guacamole to tortilla chips.
A dollop of sour cream or if not, creme fraiche or natural yoghurt would work too
Grated cheese of any kind
Guacamole or smashed avocado/avocado slices
Tomatoes (I garnished mine with cherry toms)
Herbs such as oregano (I used the dry kind)
Tortilla chips (we used Manomasa's chipotle and Lime), bought or homemade (cut a tortilla into triangles and bake for 2-3 mins until crispy)
Jalapeños or any type of pickled chilli
Chilli Con Carne
This easy chilli con carne recipe uses items typically found in a household pantry – a tin of tomato soup, a tin of baked beans, you'll have dinner knocked up in no-time!
Ingredients
500

g

minced beef

1/2

onion

chopped

1

tsp

ground cumin

1

tsp

dried oregano

1

tsp

cayenne powder

1

tsp

paprika

1

tbsp

olive oil

240

g

kidney beans

415

g

baked beans

400

g

cream of tomato soup
To serve
Grated cheese

Guacamole

Sour cream

Tortilla chips

Chopped cherry tomatoes
Instructions
Fry the chopped onion in a deep frying pan (with a lid) or a casserole pot.

Add all the spices and fry for a few minutes until fragrant.

Add the mince and fry until brown.

Add the kidney beans, baked beans and tomato soup. Stir and bring to a simmer. Cover and place in a low oven at 150 degrees for an hour.

Serve with rice and a selection of toppings: grated cheese, taco chips, guacamole, salsa, tomatoes…
Notes
Aga cooking – all my recipes are cooked and tested using an Aga but then adapted for a conventional oven. For this recipe, do the frying on the boiling plate and then transfer to the simmering oven for the hour. You can leave it there for a lot longer if needed. 
Storage – store any leftovers in a sealed Tupperware, in the fridge, for no longer than two days. 
Reheating – the best way to reheat the chilli would be in a microwave as it's the only way to guarantee it'll be piping hot. Mince beef needs to be heated thoroughly. You can however heat in a pan until piping hot. Read the Food Gov's guidelines on the safe reheating of foods.
Freezing – you can freeze this chilli in a sealed Tupperware for up to two months. Ensure you defrost thoroughly and reheat thoroughly too (see above).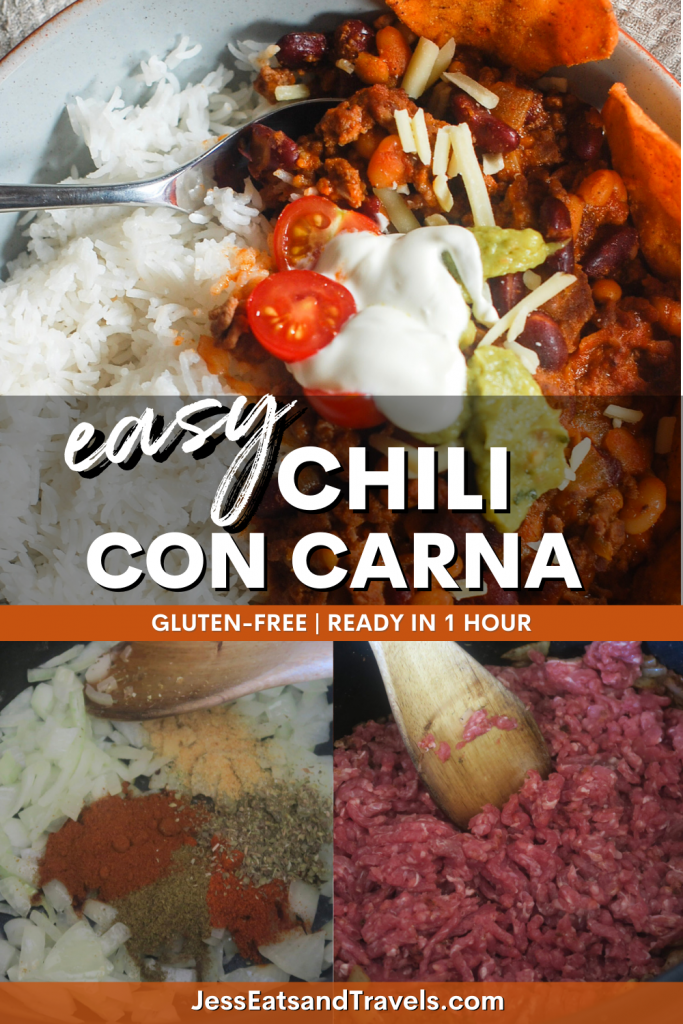 More recipes the kids will love:
Sweet and sour pork meatballs
Frying pan toad in the hole
The best pork schnitzel



Want IN on a massive FREEBIE?
Join the Jess Eats mailing list and receive a FREE 7 Day Meal-Plan PLUS SEVEN RECIPES and a Shopping List!
Don't miss out!
By joining, you'll also receive my weekly newsletter with tips and tricks, world food extras + freebies in the future!