Lamb and Chickpea Chilli with Freekeh
This lamb and chickpea chilli combines the spices and a commonly used wheat grain (freekeh) in Algeria. Perfect served with couscous and flatbread for a fabulous weekday meal.
Lamb and Chickpea Chilli with Freekeh
This super wholesome lamb, chickpea and freekeh chilli was inspired by the Algerian soup/casserole, Chorba Frik. I believe that 'chorba' is Algerian for soup and Frik is the green wheat grain, freekeh. I could be completely wrong but that's just what I reckon!
Now I'm not going to start making claims that this recipe is completely authentic. The original recipe – 'chorba frik', like this one from 196flavours, is a more soup-like dish which contains lamb pieces.
Mine is very similar, however I chose to create more of a chilli-style recipe. It's thicker, grainier but still just as good! The original recipe is very popular during the month of Ramandan.
I urge you to travel to a muslim country during Ramandan at least once in your life; the feasts you'll come across will make your mouth water!
Why should I make this lamb chilli?
An alternative to a Mexican chilli – try something new!
Wonderful flavours from the spices and lamb cooking together… just so good.
Full of fibre from the freekeh.
Such a simple recipe! Throw it all in one pot!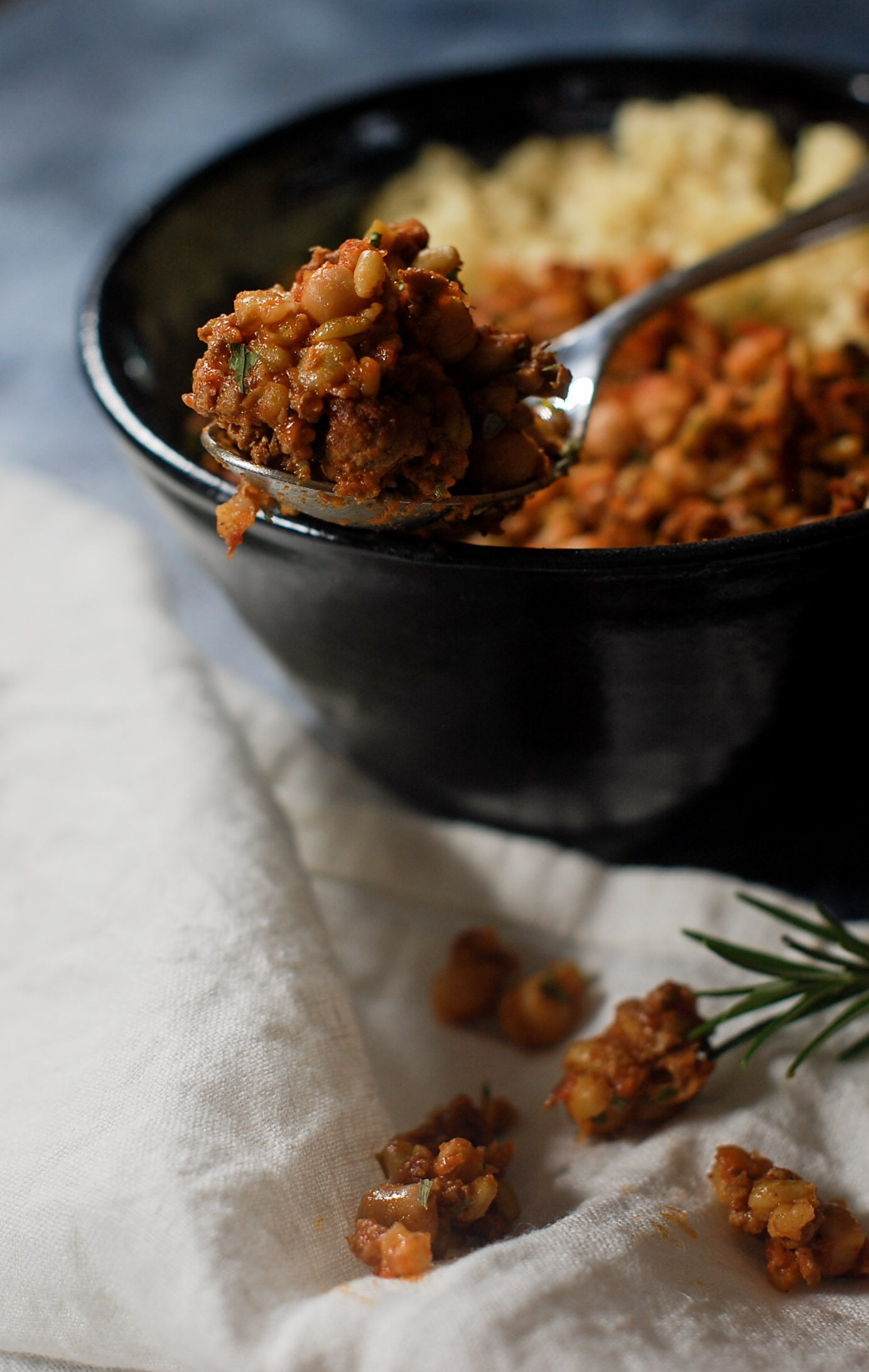 Ingredients
1 tbsp olive oil
500g minced lamb
2 spring onions, chopped
1 tsp garlic, chopped (I use lazy garlic for quickness)
400g tin of chopped tomatoes
400g tin of chickpeas
1 tsp paprika
1 tsp ras el hanout
1 tsp fresh mint, chopped
1 tbsp tomato puree
1 bay leaf
400ml water
100g freekeh
What is ras el hanout?
Ras el hanout is a Middle Eastern spice consisting of black pepper, coriander, ginger, smoked paprika, all-spice, cardamon, mace, nutmeg, turmeric, cayenne, cloves and rose petals. It pairs perfectly with lamb!
I buy this Bart's one.
Equipment needed
Medium casserole pot
A wooden spoon
A chef's knife for chopping
Measuring spoon
Chopping board
Freekeh is VERY nutritious
It's the first time I've cooked with freekeh and I'm definitely going to again. It's perfect for bulking up the recipe and contains plenty of nutrients.
So, what is freekeh you ask?
Well, freekeh is a green-coloured grain made from young durum wheat. It's high in fibre, protein and contains calcium, potassium, iron and zinc. Great for those on a low-gi diet (nutrition info found on BBC Good Food).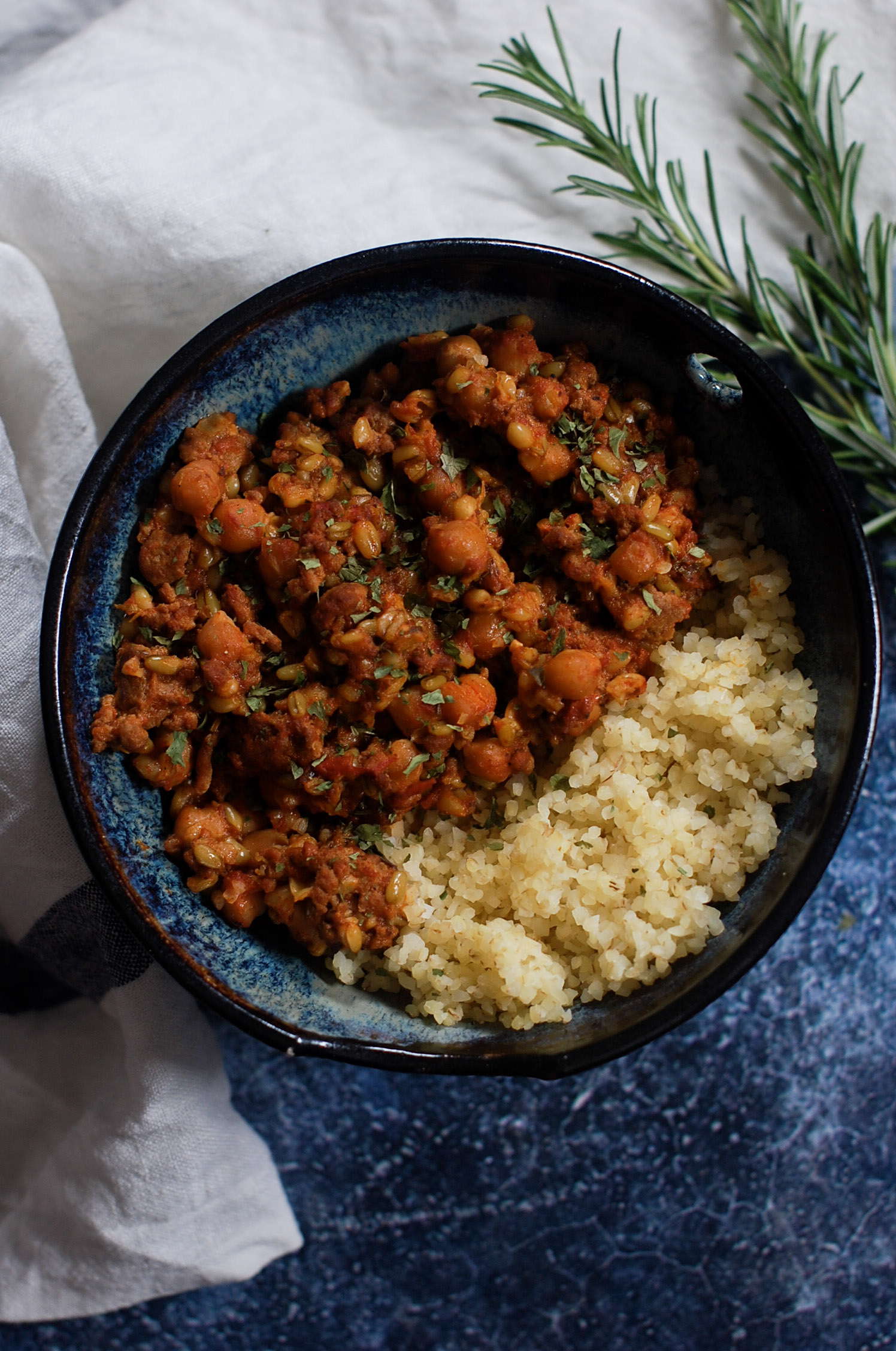 Recipe Variations
Could I use minced beef or pork instead?
I think pork would be the better alternative but I don't see any issue with using beef too. Let me know how it goes!
What other vegetables can I add in?
As this is a North African inspired recipe, I think courgette would go really well. It would soften up some of the drier textures in the chilli too.
The best alternative to freekeh?
If you want to make this a can't find or don't want to use freekeh, a good alternative would be quinoa or barley.
Can I use dried chickpeas?
Yes you can however you would need to cook it slower and longer. I'd recommend doing it on a slow-cooker for 7 hours, just to be sure. Or cook them beforehand and then add.
Where can I buy freekeh?
I buy my freekeh online as I struggle to find it in supermarkets. The brand I buy is the Artisan Grains Wholegrain Freekeh. You can buy it online at Ocado but's also available on Amazon.
Tips
This recipe works really well in the slow-cooker as it was previously posted as slow-cooker recipe before the website got updated. I've now updated it for cooking in an oven, however slow-cooking will produce lovely flavours. It's a good idea if you want to use dried chickpeas.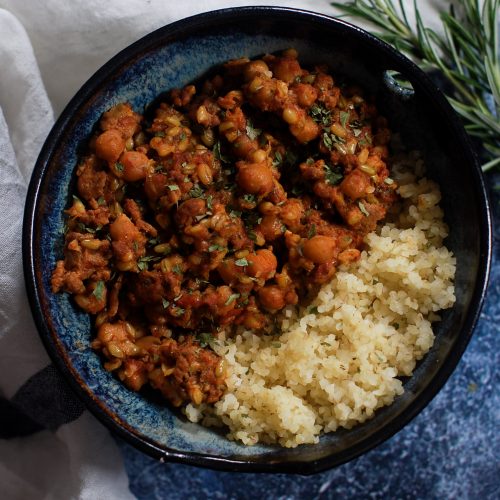 Lamb and Chickpea Chilli with Freekeh
A lightly spiced, warming chilli full of nutritious grains.
Ingredients
1

tbsp

olive oil

500

g

minced lamb

2

spring onions

1

garlic clove

chopped

1

tsp

paprika

1

tsp

ras el hanout

1

tbsp

fresh mint

chopped

400

g

tin of chopped tomatoes

400

g

tin of chickpeas

1

tbsp

tomato puree

1

bay leaf

400

ml

water

100

g

freekeh
Instructions
Pre-heat your oven to 200° /180 fan. Brown the lamb in the hot oil in a casserole pot.

Add the garlic and cook for a minute. Add the spices and combine.

Add the spring onions a long with the tin of tomatoes and chickpeas, bay leaf, water, tomato puree and mint. Give it all a good stir. Leave to simmer for 5 mins.

Place a lid on the casserole pot and cook in the oven for 50 minutes. Add the freekeh, stir and cook for a further 10 minutes. Serve with rice or couscous.
Notes
Don't have any ras el hanout? You can make your own with black pepper, coriander, ginger, smoked paprika, all-spice, cardamon, mace, nutmeg, turmeric, cayenne, cloves and rose petals. You don't really need the rose petals!
Freekeh – I use this Greenwheat Freekeh from Artisan Grains but any freekeh will do! 
Aga cooking – all my recipes are tested and made on an Aga however I always adapt the method for a conventional oven. If you're an Aga owner however, you can follow the recipe as is, using a suitable casserole pot on the boiling plate (not the portmerian one like I did, which ended up smashing!!) Cook in the roasting oven for the time stated in the method (50 + 10 mins).
Slow-cooker – this recipe is suitable for the slow-cooker as it used to be a recipe for that method! It's recently been updated you see! Cook as above, 7 hours on low or 4 hours on high. 
Leftovers – chilli leftovers would go so well on a jacket potato for lunch or over fries for a an all-American twist like my recipe for sweet potato chilli cheese fries. See below before re-heating.
Reheating – you should ensure you reheat this dish until piping hot! Never, ever re-heat twice. 
Storage – you can store leftovers in a well-sealed container in a fridge for 2 days. 
Freezing – I'd recommend only freezing for up to 3 months. Ensure the container is well-sealed so you don't risk freezer burn on the food.
Serving suggestions
Why not serve your Algerian chilli with some Algerian semolina flatbread known as Kesra. The pair are a match made in heaven.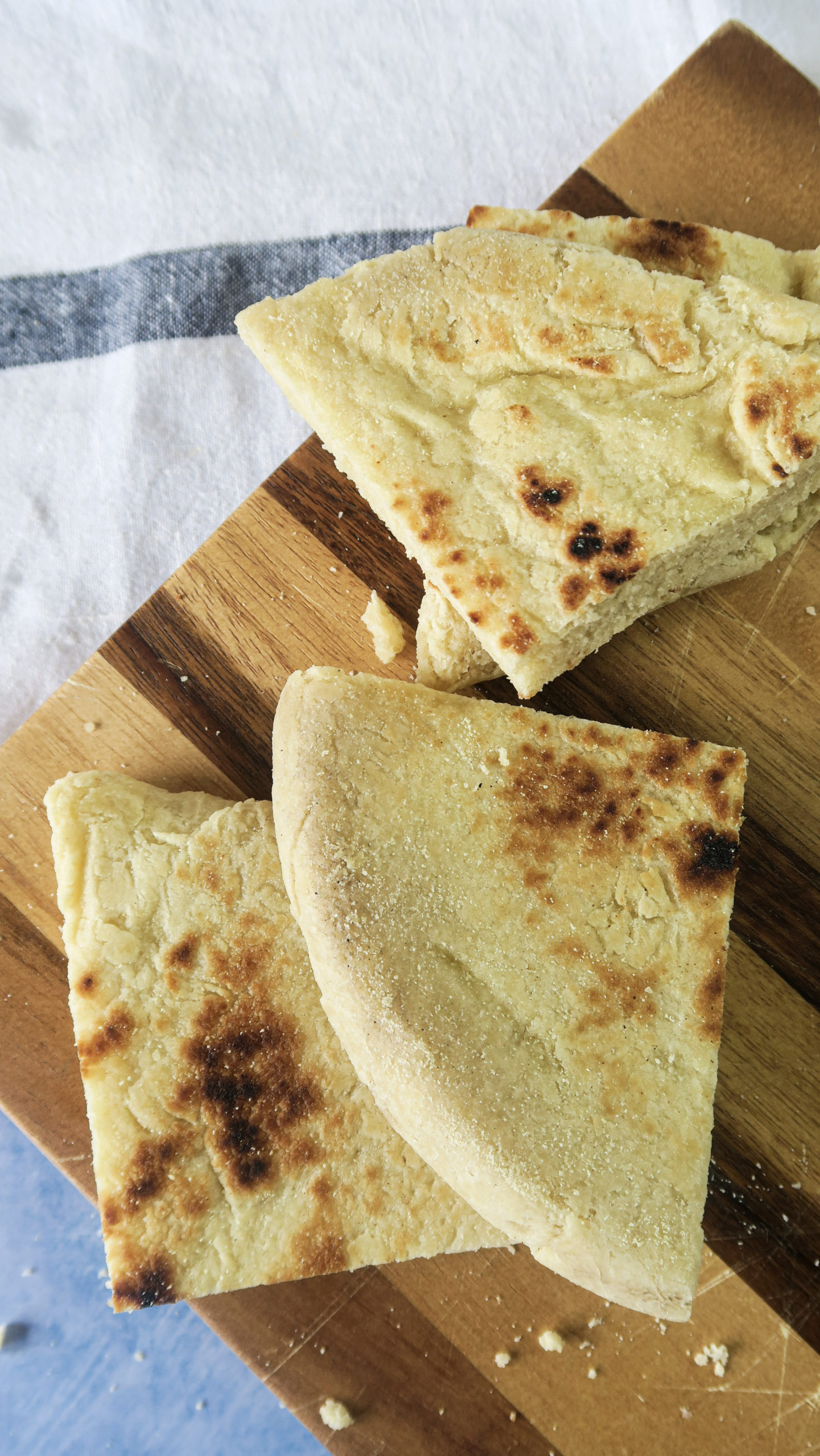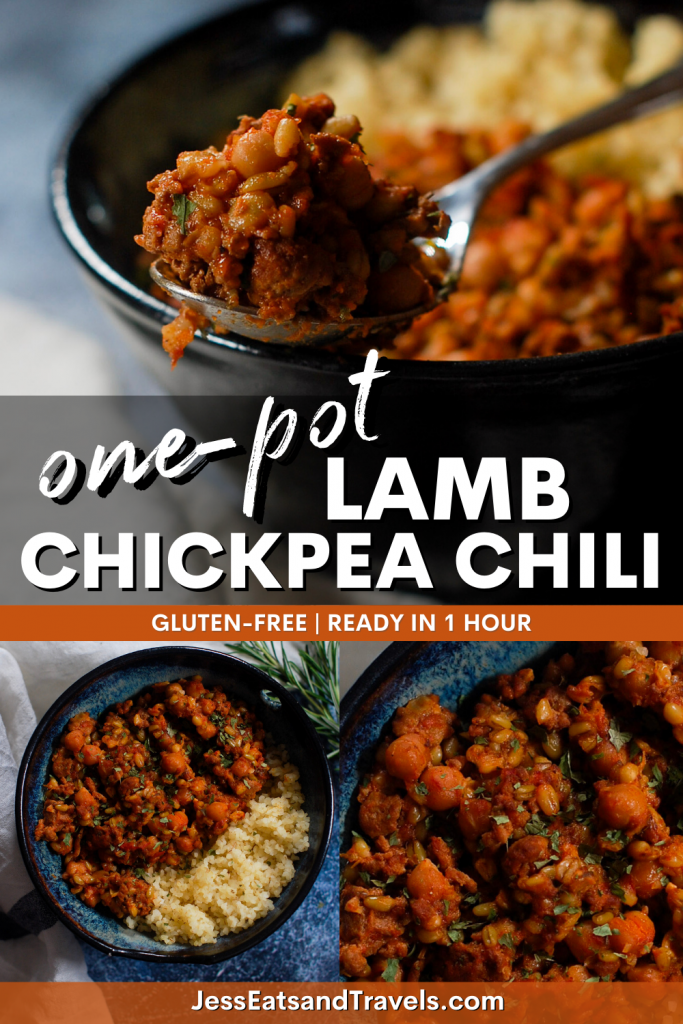 More Algerian recipes
Algerian semolina bread
Lemon and poppy seed ghoriba biscuits.
See my How to Eat like an Algerian post for more in-depth information on how you would eat in Algeria.