African Peanut Chicken Stew
Angola's national dish can be described as succulent chicken pieces in a peanut sauce. African peanut chicken stew is perfect for serving up for a crowd.
African Peanut Chicken Stew
One of my fave, fave ingredients in savoury or sweet dishes is peanut butter. You'll find it used quite often in recipes around this site, from my peanut butter choc chip cookies, vegan sweet potato peanut curry to my no-bake peanut butter balls and a peanut cake with caramel buttercream. I adore it! But this recipe has got to be my fave yet.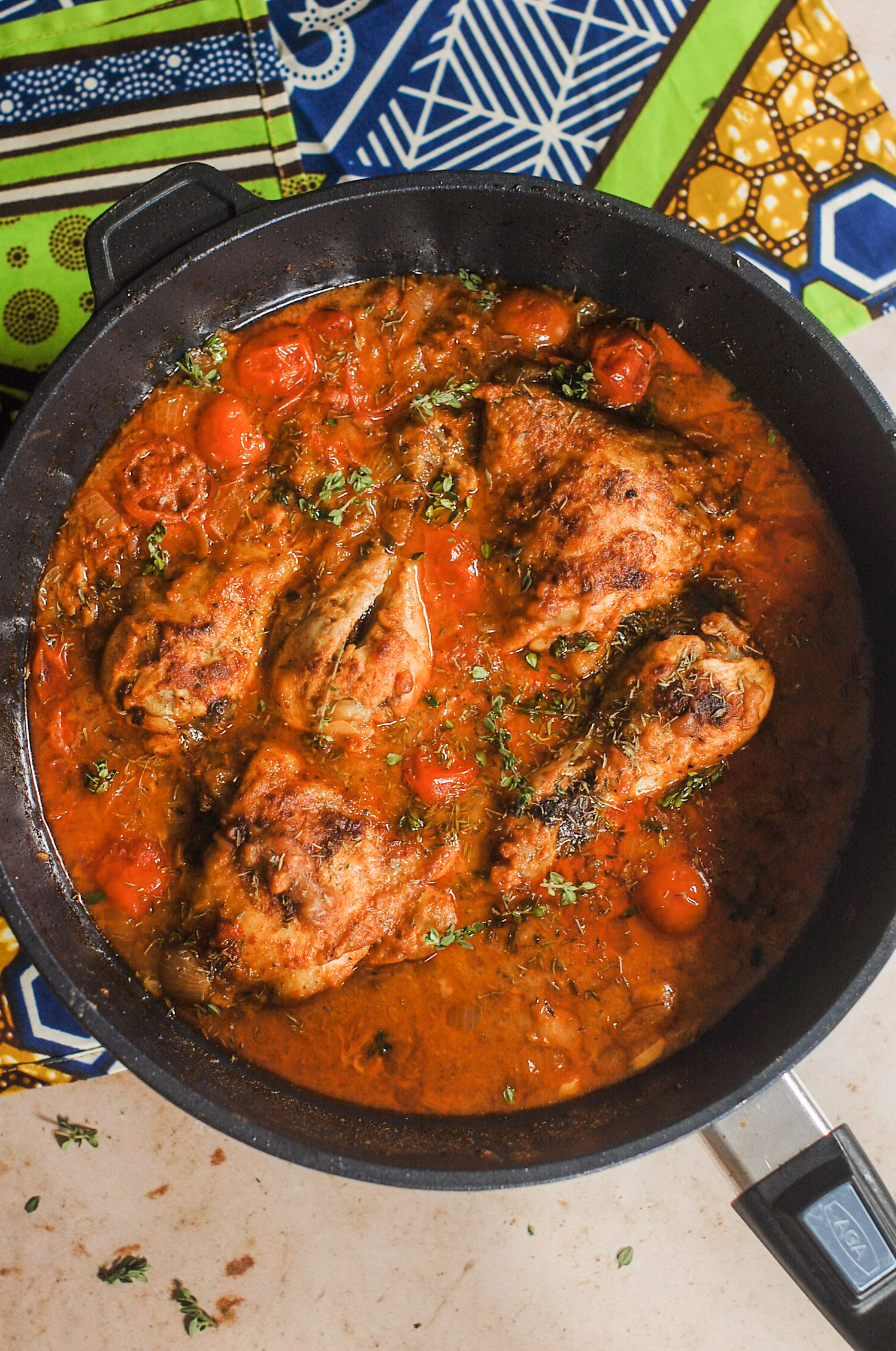 Inspired by an Angolan recipe
Peanut chicken stew was originally inspired by the Angolan recipe of chicken muamba. Situated in Southern Africa on the coast, Angola is a country heavily influenced by Portugal due becoming colonised by the Portuguese in the 16th Century. This has, as you can imagine, had a lasting affect on it's food, culture and language.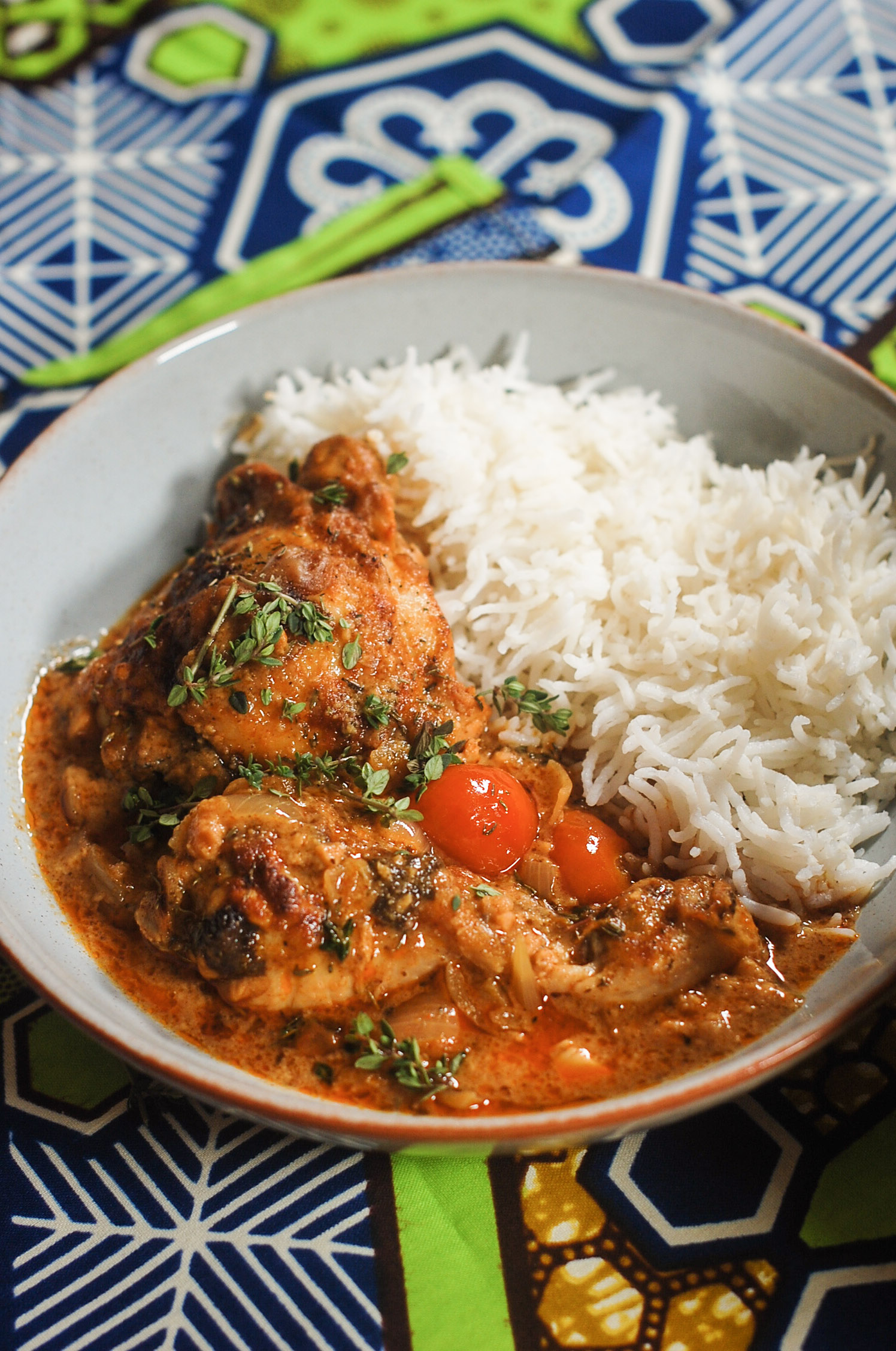 Say NO to palm oil
The difference with my recipe and the Angolan dish of Chicken Muamba is that mine contains no palm oil. As you may know, palm oil production causes the deforestation of huge amounts of rainforests in South East Asia, Latin America and Africa. Unfortunately, palm oil is found in so many everyday products, from vegetable oil to margarine, candles, creams and soaps.
It's worth looking into palm oil and what products you'll find it in. I've only skimmed the surface with the research I've done so far but I plan to look into it more in the future to see what sort of changes I can make around the house. You could also check out the 28 day palm oil challenge as well as signing some of the petitions on the Say No To Palm Oil website, if you'd like to make a difference.
6 chicken legs or thighs (skin on)
Juice of 1 lemon
2 tbsp olive oil + extra for frying
2 tsp paprika
2 garlic cloves, crushed
2 tsp cayenne pepper (you can omit this if making for non-spice lovers)
1 onion, diced
1 chilli, diced (can also omit)
A handful of chopped tomatoes (I used cherry toms)
200ml chicken stock
100g crunchy peanut butter
Make it in the slow-cooker
Peanut chicken stew is super easy to make and is perfect for leaving in the oven to cook slowly during the weekend or putting in the slow cooker for a yummy midweek meal. which only makes the chicken more succulent and juicy!
Equipment Needed
Medium hob-safe casserole dish or deep frying pan with lid
Medium-sized bowl
Measuring spoons
Spatula for frying
A bowl or plate
A jug
A wooden spoon
The original recipes of chicken muamba don't always include peanut butter but I saw that some add it, so I thought I would due to the fact I love the stuff. I'm glad I did as it helped thicken the sauce and made it extra tasty.
Recipe Variations
Can I use chicken breast instead?
Chicken breast is fine and you can follow the recipe as normal but you won't get the same 'falling off the bone' from the meat. There is no bone! And that's the delicious part. If you only have chicken breast though, that's ok.
Is smooth peanut butter ok?
Of course. I used crunchy to add an extra bit of texture but smooth is good too!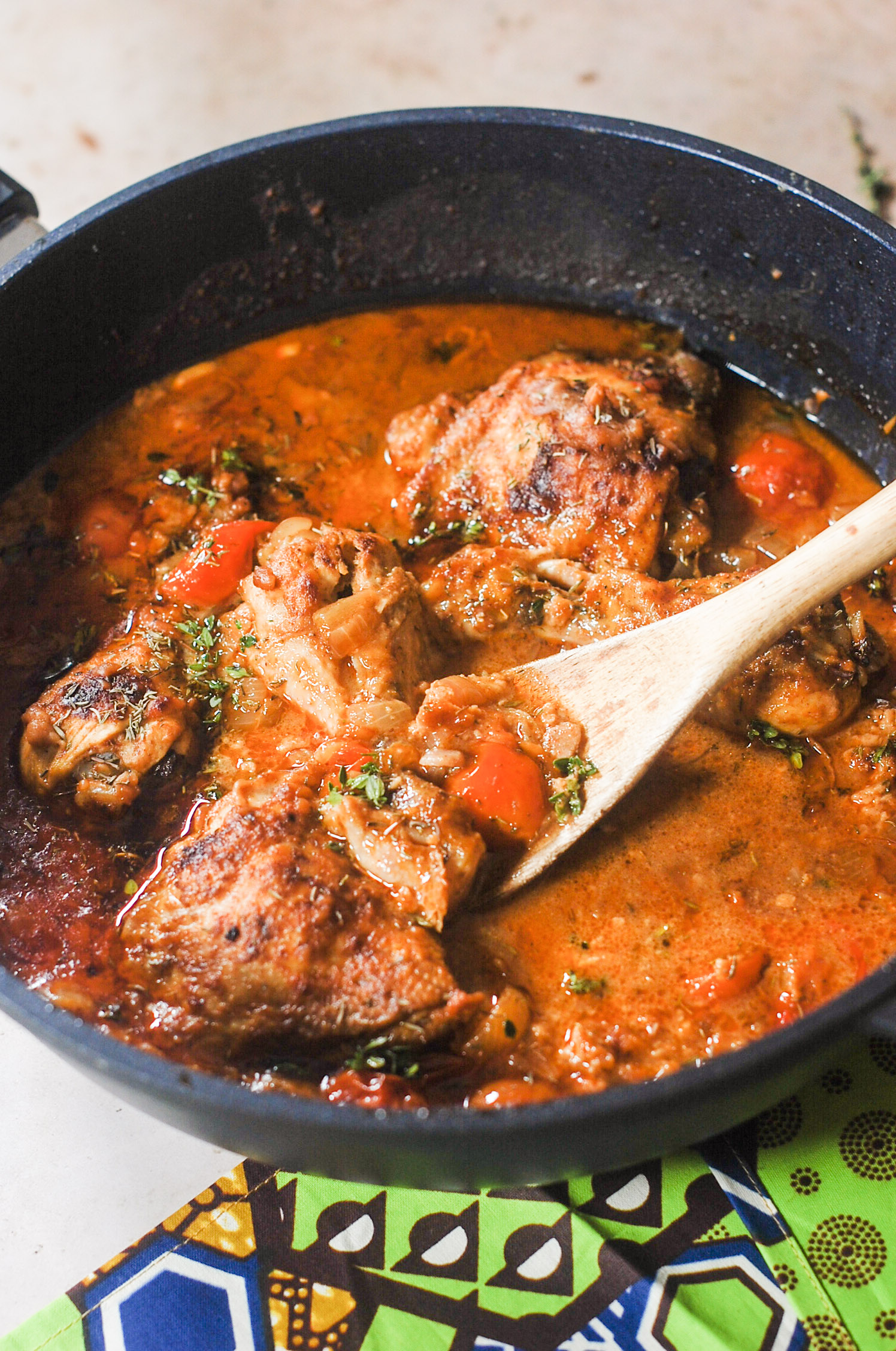 Is African peanut chicken stew gluten-free?
Yes it technically is but you need to make sure you use gluten-free chicken stock.
Recipe Method
Tips
To get a better browning on your chicken, I recommend frying in batches. If your pan is big enough though, fry altogether.
African Peanut Chicken Stew
Angola's national dish can be described as succulent chicken pieces in a peanut sauce. African peanut chicken stew is perfect for serving up for a crowd.
Ingredients
6

chicken legs or thighs

1

lemon, juiced

2

tbsp

olive oil

plus extra for frying

2

tsp

paprika

2

garlic cloves

crushed

2

tsp

cayenne chilli powder

optional

1

onion

diced

1

chilli

diced

Handful

cherry or buffalo tomatoes

quartered

200

ml

chicken stock

100

g

crunchy peanut butter

Handful

fresh or dried thyme

sprinkling
Instructions
Place the chicken, lemon, spices and oil in a bowl to marinade for 10 minutes.

Heat 1 tbsp of olive oil in a deep frying pan or casserole dish. When hot, fry the chicken until brown and set aside.

Add one more tbsp of olive oil and fry the onions until soft. Add the garlic, chilli if using and the tomatoes. Fry for a few minutes until the tomatoes have softened. Add the chicken back in the pan.

Pour in the chicken stock and bring to the boil. Add the peanut butter and stir in until combined. Cover with a lid and place in the oven to cook for 1.5 hours. When ready, sprinkle on some dried or fresh thyme and serve with rice.
Notes
Re-heating – as this dish contains chicken, you need to re-heat thoroughly until piping hot. A microwave will do the job.. just make sure it's hot, hot, hot! 
Aga cooking – All my dishes are tested and cooked using an Aga. If you're an Aga user like me, follow the recipe as is but do the hob cooking on the boiling plate and pop in the simmering oven for the 1.5 hours. You can take out beforehand and prep your rice (I always do 1:1 cups and bring to boil on boiling plate and put in simmering for 25 mins), leaving the stew to marinade in all its juices with the lid on. 
Slow-cooking – this dish has been tested in a slow-cooker and it took about 7 hours on low. You could also do 4 hours on high. 
Storage – if you batch-cook this or somehow happen to have leftovers (it's too delicious to not eat it all but you never know), store in a Tupperware in a fridge for about 2 days.
Freezing – I recommend to freeze in a sealed Tupperware and eat within 2 months. Defrost thoroughly before re-heating (see above).
Serving Suggestions
This African stew would go so well with my Algerian semolina bread to soak up all the peanut-y juices!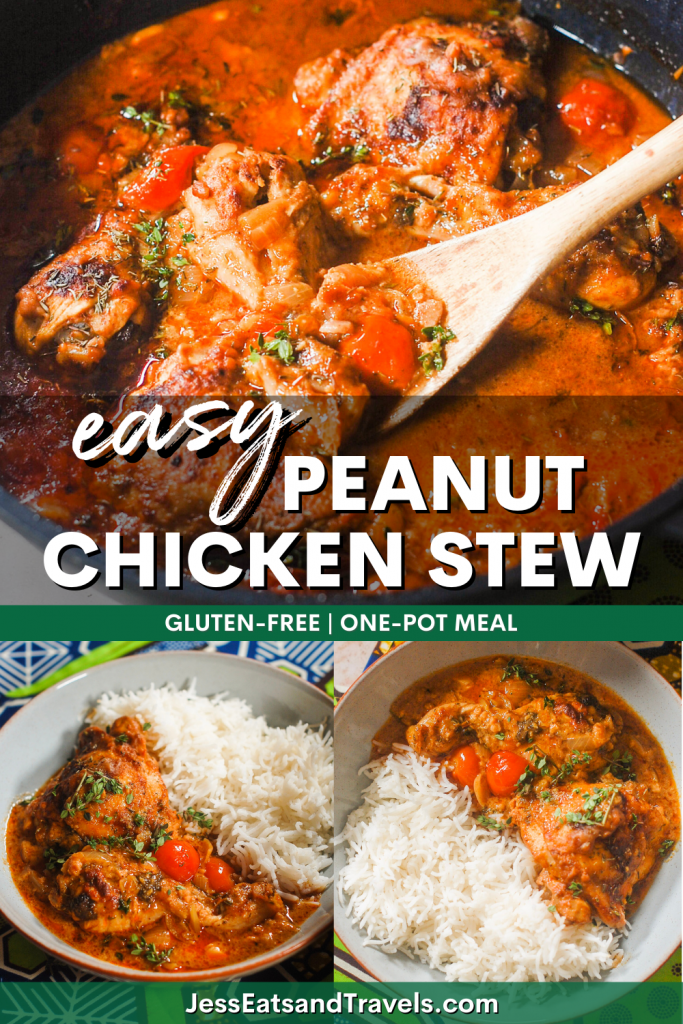 More midweek meals