No-bake Peanut Butter Energy Balls
No-bake peanut butter energy balls are perfect when a burst of energy is needed. Full of goodness with the added bonus of cacao to as who doesn't love chocolate?
Peanut butter energy balls
I'm eating one of these as I type, as extra energy is needed today after a busy weekend and a full day of baking and cooking yesterday! These little energy balls are just what I needed.
Why should I try these energy bites?
Plenty of energy to gain from the natural sugars in the dates!
They taste just like peanut butter cups!
Quick and easy to make.
Only 5 ingredients!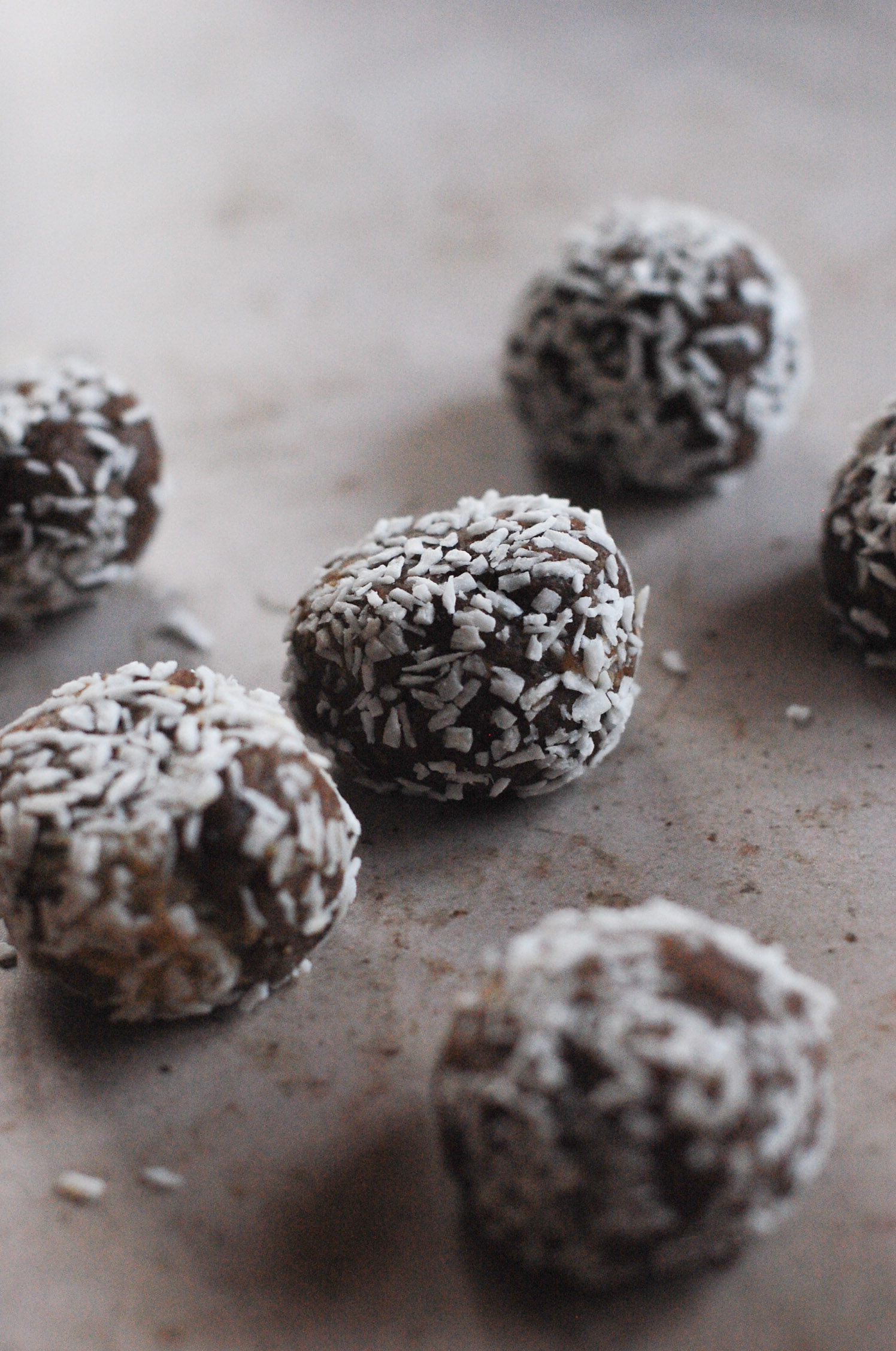 For all the peanut butter fans
I'm a massive fan of peanut butter and if you are too, you're going to love these. I chose to use smooth peanut butter for extra smoothness. I also used coconut oil for this reason. They are now silky smooth.
Just look at that silky texture! You'll have to watch out because these are super moorish!
Of course as well as being pretty healthy, they're also suitable for vegans and vegetarians and are gluten free. The following recipes serves 8 (8 individuals balls).
Ingredients
200g dates (I used deglet nour but any will do)
1 tbsp coconut oil
2 tsp of smooth peanut butter
2 tsp cacao
Large handful of desicatted coconut
What blender do I use?
I used my Nutri Bullet as it's brilliant for whizzing this sticky mix up super quickly. The older Nutri-bullet blenders are quite reasonable now, such as the 600 series. You can find them for around £50-£60 on Amazon (time of writing Jan 2021).
Of course you can use any blender for this recipe. If worse comes to worse, you could try mashing the mix together. Let me know how that goes if you try it!
Knife for chopping the dates
Blender such as the Nutri Bullet
A spoon
Baking tray with shallow sides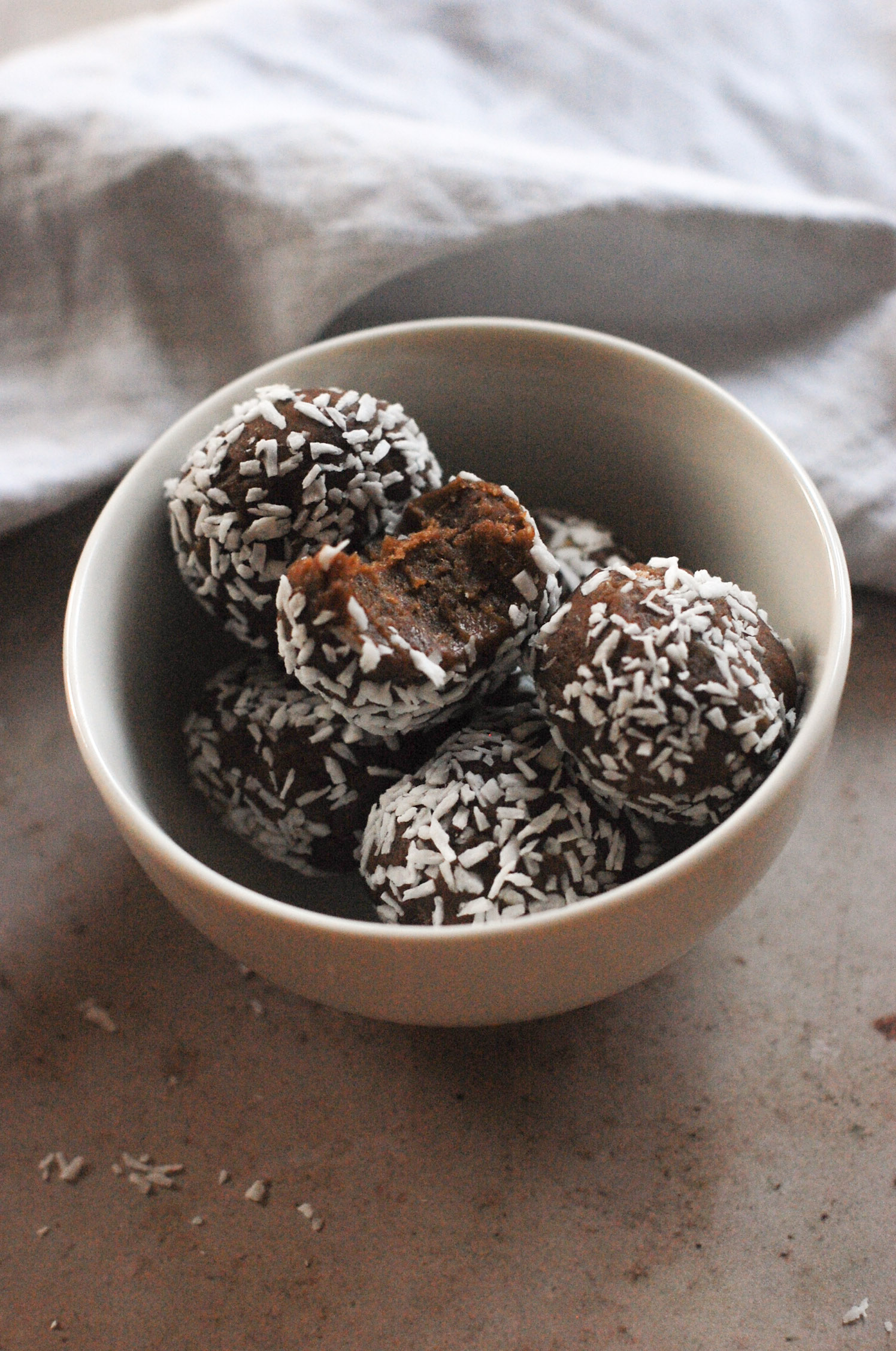 Recipe variations
Can I use different types of dates?
Yes you can. I use Waitrose's deglet nour due to their sweet taste but you can really use any. Medjool also work well. Buy pitted dates as this will save you time de-stoning them.
Can I use crunchy peanut butter?
Yep, crunchy peanut butter is fine to use. I have used it myself in the past. The crunchy parts actually blend down when in the Nutri Bullet so you can't even tell.
Is hot chocolate powder okay instead of cacao?
Chocolate powder will of course be sweeter as they often contain sugar, so therefore less 'healthy'. Try and look for one without sugar. Cocoa powder would be a butter option as they don't contain sugar.
How about using vegetable oil?
No, I don't think this would taste great. You're welcome to try and let me know!
Tips
Buying pitted dates will save you a huge amount of time de-stoning them. You'll thank me later!
No-Bake Peanut Butter Energy Balls
Smooth and silky balls that are bound to give you the energy you need. They taste just like peanut butter cups!
Ingredients
200

g

dates

1

tbsp

coconut oil

2

tsp

smooth peanut butter

2

tsp

cacao

Large handful

Desicatted coconut
Instructions
De-stone your dates if not using pitted ones.

Add the dates and all the ingredients apart from the coconut, into the blender. Blend until completely combined.

Roll into 8 balls and line them on a tray.

Throw over the desiccated coconut and roll them all over it to ensure they are coated well.

Refridgerate or eat straight away!
Notes
Storage – It's best if you store these in a sealed container in the fridge. They'll keep for a week or more, if they last that long! I've only ever tested a week.
Freezing – yes these can be frozen. Place them straight in a freezer bag or lay them on a tray, freeze and place in a bag once frozen, to ensure they don't stick together. 
More healthy snacks