Spinach and Yoghurt Flatbreads / Sabse Borani
These little pockets of yummy-ness make for a simple, healthy lunch. One flatbread is actually surprisingly filling! Inspired by Afghan cuisine, they are usually known as Sabse Borani.
Spinach and Yoghurt Filled Flatbreads
The country of origin of these flatbreads is Afghanistan and this type of flatbread filling is known as Sabse Borani. Each flatbread is filled with a yoghurt-y filling which comprises of onions, garlic and spinach. I added the chilli flakes just to give it that extra kick. Feel free to omit it if you're not into spice. Actually, Afghan cuisine is known for not being hot; it's dishes warmed with fragrant spices but never hot like some Indian dishes are.
They are super easy and quick to make too! They would make the perfect lunch if you have maybe 10 minutes to spare. I bought the flatbreads by the way – I didn't make them from scratch *hangs head in shame*. Maybe one day i'll give them ago! The flatbreads I went for were these from Deli Kitchen. You get six in at pack for £1.25 (from Waitrose). Pretty good, eh? You could probably buy them in other shops too.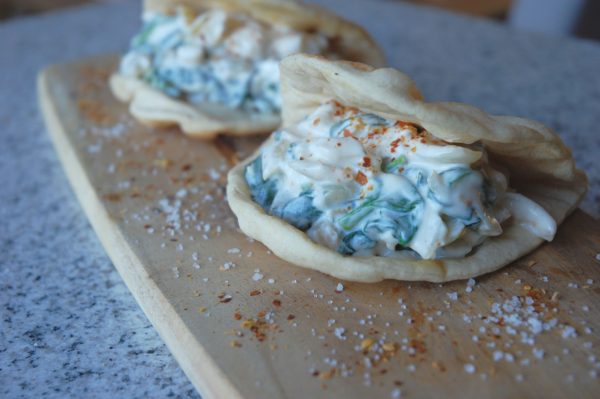 Sabse Borani
These are so quick that I couldn't think of anything to consider before cooking! Usually I'll have a few tips or things to remember before attempting the recipe. But no, not for this one!
Oh just thought of one… you might need a garlic crusher* (but it's not necessary – you can just finely chop your clove with your knife). It's up to you!
*this link is an affiliate link with Amazon UK. I receive a small profit if you happen to buy from it.
The Recipe
Spinach and Yoghurt Flatbreads
Serves: 2
Difficulty: Easy
A quick and easy lunch inspired by the Afghan Sabse Borani - yoghurt and spinach filled flatbreads.
What you will need
1/2 Onion, finely chopped
1 Garlic clove, crushed
50g of Spinach leaves
50g of Natural yoghurt
1 tbsp of Olive oil
Pinch of chilli flakes
Salt and Pepper to season
2 Flatbreads
Method
1

Finely chop your onion. Heat your oil in a frying pan. Add the onion and fry until almost brown. Crush your garlic directly into the pan and fry for 1 minute and keep stirring –

2

don't let it burn.

3

Add the spinach and cook until wilted –

4

keep stirring again. Leave the mix to cool on a plate.

5

Once cool, stir into the yoghurt and season with salt and pepper and chilli flakes (to your spice preference).

6

Pop your flatbreads in the toaster or on the grill to heat. Once ready, fill with the yoghurt mix and serve.
MORE AFGHAN RECIPES
For another taste of Afghanistan, try my Vegan Kidney Bean Slow Cooker Casserole – it's easy and healthy too, or how about my Slow Cooker Lamb and Spinach Stew?  For breakfast I'd recommend my Afghan Eggs Burrito. It's super simple and a nod to the traditional Afghan egg breakfast.
If you'd like to hear Helen Saberi, author of popular Afghan cookbook, Noshe Djan*, reminiscing about her favourite Afghan food, then I encourage you to read my post My Afghan Food Memory. She also let me publish her delicious lamb kebab recipe over on the post too. It's worth checking out to hear all about the different Afghan foods she remembers and loves.
*I'm an affiliate link
MORE SANDWICH IDEAS
My Fruity Coronation Chicken is perfect for using up leftover chicken from a roast.
PIN ME? PLEASE!