An easy and healthy one-pot pasta dish inspired by Afghan flavours! One-pot aubergine pasta is perfect to just throw in the oven while you pour yourself a drink and relax.
Aubergine Pasta
One-pot aubergine pasta was inspired by the Afghanistan recipe of qorma e lubia, which surprisingly has nothing to do with a chicken korma, even though it sounds it!
My recipe is pretty identical to what qorma e lubia should be like, apart from I decided to add one of my favourite vegetables – aubergine (roasted). The aubergine, seasoned with salt and pepper and roasted really helped lift the flavour of the spiced beans combined with onion and garlic.
Why should I make this pasta dish?
Throw it all in one pot for a quick and easy dinner!
The little ones might like it too (beans are usually a hit in our house!)
It's really healthy!
It's always good to try something new...
Making it more family-friendly
Since updating this recipe I've also added in pasta as this is more to my taste, as well as making it more family-friendly. Kids love pasta!
Cooking the pasta in the casserole pot makes it super simple too. No faff. It's sort of like a pasta bake but made in a casserole pot!
Ingredients
1 onion
1 tbsp olive oil
2 tbsp tomato puree
1 tsp crushed garlic (I use lazy garlic for quickness)
1 tsp turmeric
1 tsp cumin powder
200g kidney beans (I used tin beans, drained)
1 small aubergine
200g macaroni pasta
1 can tin full of water (or around 200ml)
Fresh mint, chopped (for garnish)
Any pasta shape will do!
I opted for macaroni but you could try small pasta shapes such as ditalini or orzo. Or go a little bigger and use fusilli. It really doesn't matter, as long as you adjust the water and cook time.
Equipment Needed
Medium casserole pot
Chef's knife for chopping
Garlic crusher (if using)
Measuring spoons
Weighing scales
Chopping boards
Wooden spoon
One-pot aubergine pasta
is immune-boosting!
This dish really is a great one if you're trying to stay healthy. You get so much nutrition from the kidney bean, such as immune system-boosting fibre and protein. You've got your carbs from the pasta and plenty of vitamins and minerals from the tomatoes (vit A, C and calcium) and aubergine (vit B1 and B6, potassium and magnesium). An all-rounded dish!
Recipe variations
Can I use different beans in this pasta dish?
Yes you can! I think a nice alternative would be borlotti beans as they are very similar to kidney beans in terms of size and also colour!
Does the pasta shape matter?
Not really. I only used macaroni as it's what I had in the pantry! Fusilli would hold the sauce well or even ditalini and orzo if you'd like to go a bit smaller (you can reduce the cook time if so).
Can I change the spices?
Yes but the dish will change entirely. I'd rule out curry powders. You could try paprika on its own or ground coriander and ras el hanout since it's Middle Eastern and goes well with aubergine. It's all trial and error!
What other herbs would work as a garnish?
Oregano and basil always go well with a tomato pasta dish.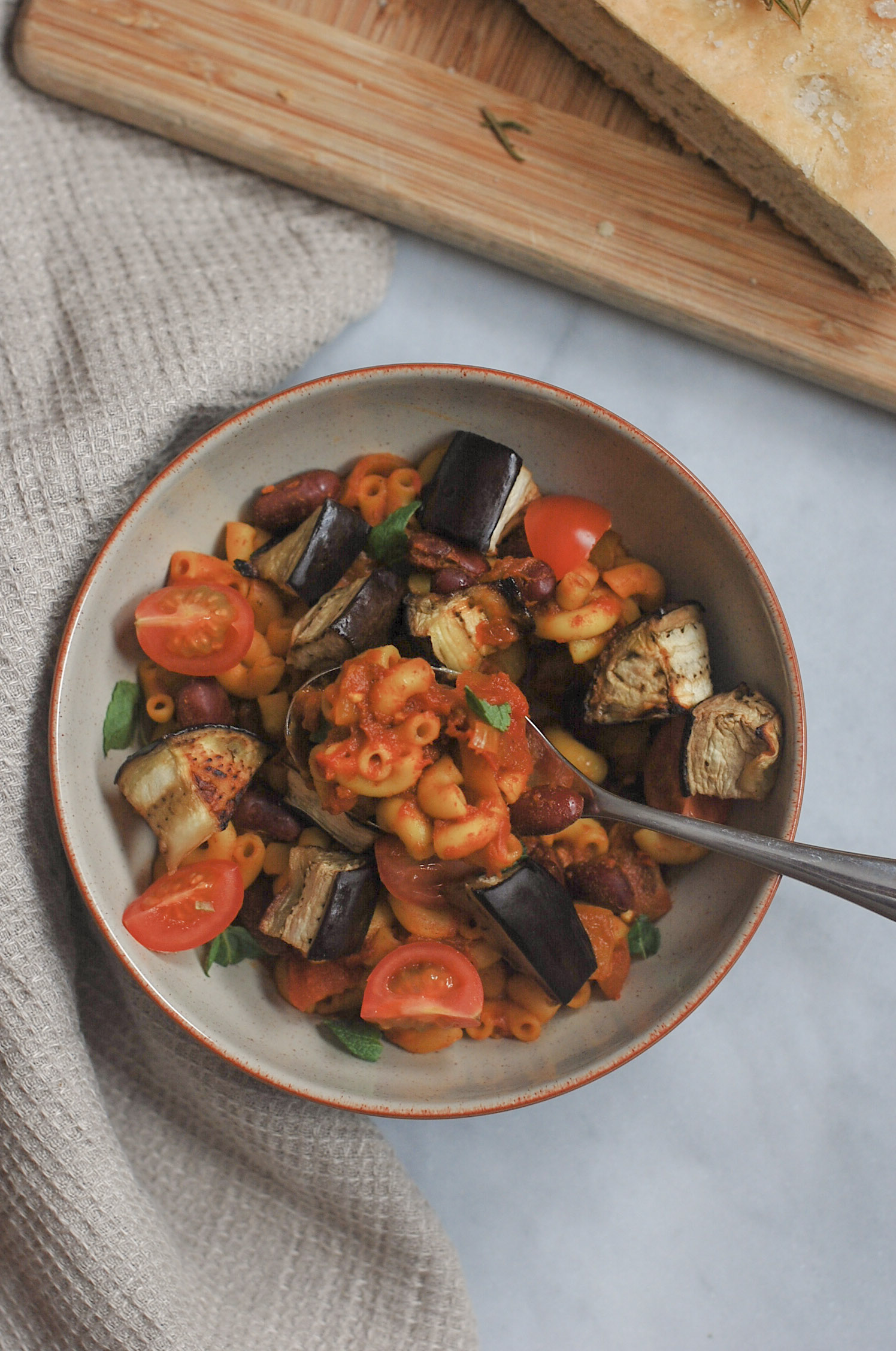 Tips
Want to go small with your pasta shape? Reduce the cook time by 5 minutes from the time stated on the recipe method below. Bigger pasta shape? Add more water or chopped tomatoes and add 5-8 minutes onto the cook time.
One-pot Aubergine Pasta
An easy and healthy one-pot pasta dish inspired by Afghan flavours! It's just perfect to throw in the oven while you pour yourself a drink and relax.
Ingredients
1

onion

chopped

1

tbsp

olive oil

2

tbsp

tomato puree

1

tsp

garlic

crushed (I use lazy garlic)

1

tsp

turmeric

1

tsp

cumin powder

200

g

kidney beans

1

small aubergine

diced into squares

200

g

macaroni pasta

or any other pasta shape

1

tin full of pasta water

use the kidney bean tin

Handful

fresh mint

chopped
Instructions
Pre-heat oven to 190° /170 fan. Fry the onions, garlic and tomato puree in a medium casserole pot until soft.

Add the spices and mix in. Add the kidney beans and cook for a minute.

Add the tin of water and bring to a simmer. Cover and place in the oven for 30 minutes.

Meanwhile, lay the chopped aubergine on a tray, drizzle with oil and oven for 20 minutes.

Once the casserole is ready, add the pasta and cook for a further 10-15 minutes, until your required pasta shape is cooked.

Serve with chopped mint and some bread of your choosing.
Notes
Fresh mint – I did use fresh for this recipe but you could also use dried or frozen.
Cooking the pasta – depending on the shape you use, you may need to adjust your cook time for the pasta. It may take a little longer to cook that it would in normal water. This is just what I found. Keep checking, keep stirring and even add a tiny bit more water if you think it needs it. It won't appear as swollen as it usually would… no idea why! I was convinced my pasta wasn't cooked but it was.. the shape hadn't grown bigger by much. At least it was cooked!
Leftovers – can eat them cold if you fancy! Stir in lots more cherry tomatoes and some cucumber for an interesting pasta salad.
Aga cooking – All my recipes are tested and cooked on an Aga, however I always change the recipe to suit a conventional oven. For this recipe, I'd suggest using a suitable casserole pot on the boiling plate and place in the roasting oven for 30 mins. The aubergine went above the casserole on a small tray lined with bake-o-glide.
Slow-cooker – you can easily do this one in a slow-cooker. If you use the Morphy Richards Sear and Stew, you can follow the recipe exactly as it is but place it all in the slow-cooker instead of the oven and cook for 7 hours on low/4 hours on high. A good idea if you're using dried kidney beans. Please follow this advice from BBC Food on how to prepare kidney beans. Kidney beans cooked in the wrong way can be fatal!
Storage – It's best if you store this pasta dish, well-sealed and in the fridge. It'll keep for 2 days, roughly. 
Re-heating – re-heating pasta is not the best but you can if you have to. Re-heat until hot, either in the micr0wave or on a stovetop.
Freezing – I wouldn't recommend freezing cooked pasta as it's so easy to cook from fresh.
Serving suggestions
Why not serve your aubergine pasta with some Algerian semolina flatbread known as Kesra. The pair are a match made in heaven. So good!
I ate mine with some home-made focaccia (recipe to come soon!) Also a really good pairing.
More Afghan recipes
For another taste of Afghanistan, for breakfast I'd recommend my Afghan eggs burrito. It's super simple and a nod to the traditional Afghan egg breakfast. My Spinach and yoghurt flatbreads are a great one for a light lunch. If you're looking for something you can throw in a slow cooker and forget about, my lamb and spinach stew is recommended.