Algerian semolina bread | Kesra
This super crispy semolina-based bread which originates from Algeria, is just SO GOOD! Almost a flatbread, this round bread is perfect served up with casseroles and stews or as I like to have it, with Nutella! Algerian Semolina Bread makes a good alternative to flatbread.
The below contains affiliate links. For more info see my privacy policy & disclosure.
Algerian Semolina Bread
Why should I make kesra bread?
You will learn how different cultures cook (if you're not Algerian!)
It's a really easy bread to make
A good alternative to flatbread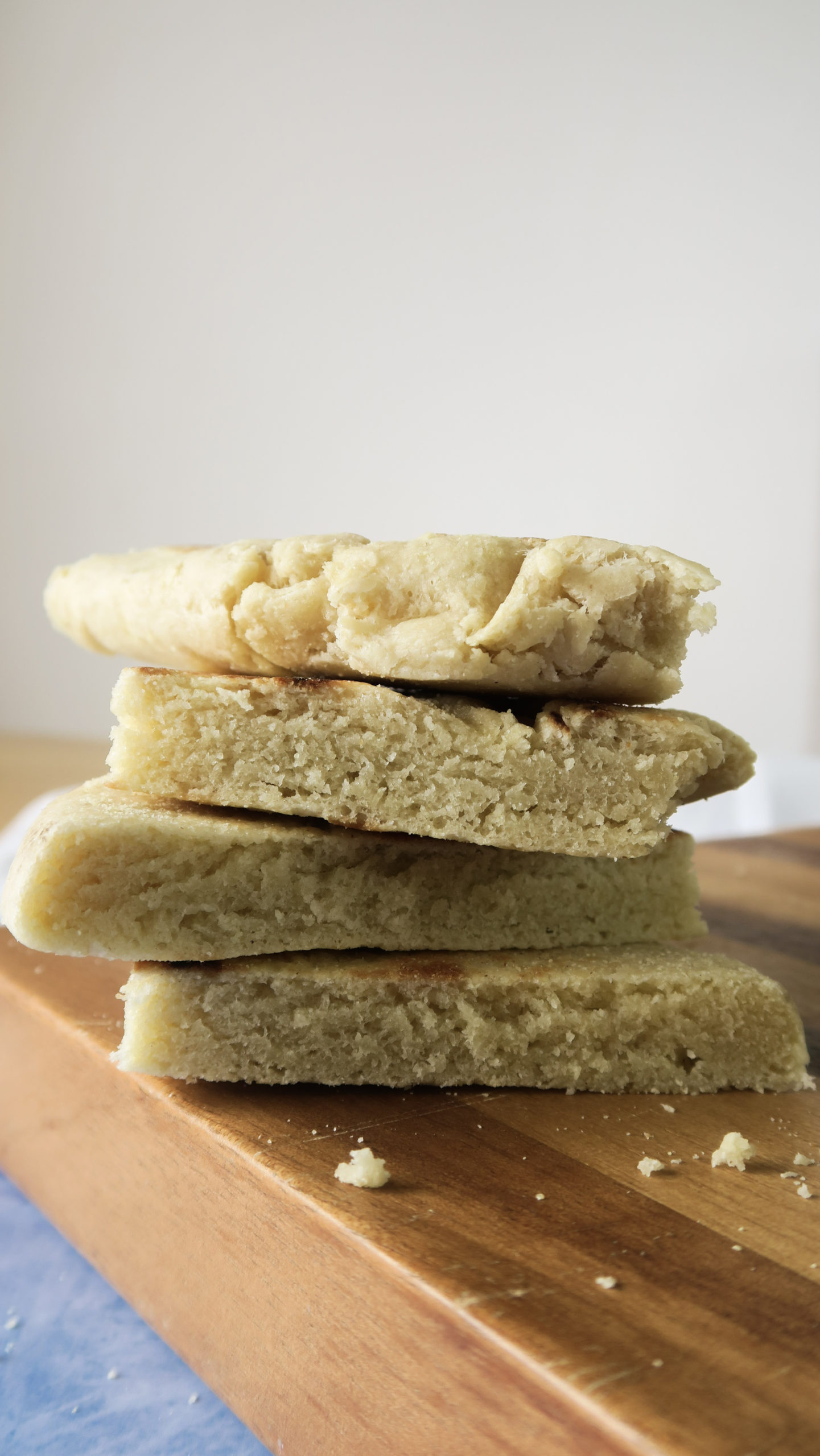 SUPER CRISPY ALGERIAN SEMOLINA BREAD!
I have changed up this recipe quite a bit. Firstly, it would traditionally be cooked in the whole way in cast iron pan and have a circular pattern embossed on the top from doing so. I decided to finish mine off in the oven for extra crispiness.
Traditional Algerian semolina bread would only contain semolina, oil, salt and water. Upon my research, I discovered many people adding yeast and also bread flour too. I've gone with this approach as I was afraid I'd end up with a really flat bread which is not what it's meant to be like.
THE CRUST IS THE MAIN EVENT!
The best thing about this bread is the crust! It's super crispy and flavoursome due to it being cooked first in a pan with oil and then finished off in the oven (not the traditional way – that would be ONLY in a pan).
It's perfect for being dipped into stews and casseroles! We also toasted our leftovers and ate it with butter, which was still as good! Nutella is also a good option…just saying!
SEMOLINA BREAD INGREDIENTS
Fine semolina – It can be hard to find 'fine' semolina in the supermarket but Amazon do stock it.
Strong bread flour
Pinch of salt
Quick dried yeast – I've linked a tub of 500g of yeast to save buying those individual sachets because you only need 4g in this recipe.
Caster sugar
Olive oil
Water
WHAT EQUIPMENT WILL I NEED?
A d-scraper – perfect for mixing the ingredients into a dough.
A tea towel for covering the bread when it's proving
Cast-iron frying pan – a medium-sized one is sufficient. I've linked one but I'd recommend a set of 3 as cast-iron pans are so handy to have. You could use a mini one for making a skillet cookie!
A large baking tray
INGREDIENT ALTERNATIVES
Can I make semolina bread with normal semolina?
Yes, you don't have to use fine semolina. I used fine semolina as it's what I had. There wouldn't be much difference if you used normal semolina. I would however avoid a large-grain semolina as you don't want your bread to end up grainy!
Can I make semolina bread without strong bread flour?
Yes! The traditional Algerian bread was made with semolina flour, water, salt and oil. The outcome will be different but I'm sure it will be just as nice. If doing so, I would use 500g of semolina to make up for the lack of bread flour.
Can I use fresh yeast instead of dried?
I don't see why not. I would suggest mixing the yeast with the water in the recipe and pour it in the well, along with the oil. See the recipe below to see what I'm talking about.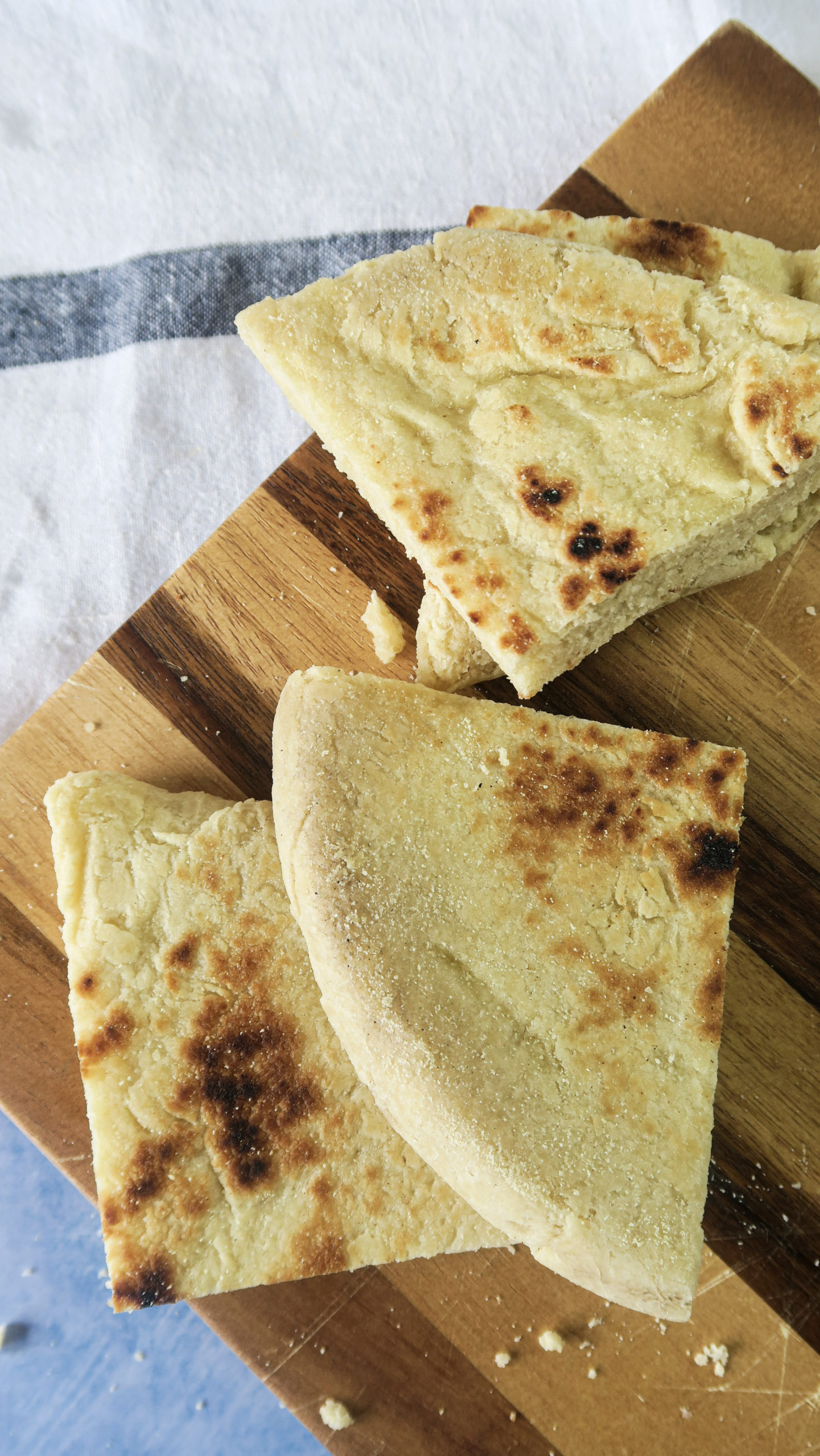 I don't have any sugar, can I leave it out?
Of course. The sugar may add a tiny sweetness but it's not necessary. I'm sure you can also use granulated and other sugars if you don't have caster.
I don't have any olive oil, can I use a different one?
Yes, feel free to use a different oil if you don't have any olive.
SERVING SUGGESTIONS
This Algerian bread lends itself well for stews, chillis and casseroles. See below for some of my favourites:
LAMB, CHICKPEA AND FREEKEH CHILLI
AFGHAN KIDNEY BEAN SLOW COOKER CASSEROLE
SLOW COOKER AFGHAN SPINACH AND LAMB STEW
EASY SLOW COOKER BEEF CHILLI
The Recipe
Algerian Semolina Bread | Kesra
Serves: 2 circular breads
Difficulty: Medium
The most commonly eaten bread in Algeria - perfect served with casseroles or stews, or simply with butter.
What you will need
250g fine semolina + extra for dusting
250g strong bread flour
Pinch of salt
4g quick dried yeast
4g caster sugar
60ml olive oil + extra for greasing
200ml water
Method
1

In a bowl, add the semolina, strong bread flour and a pinch of salt –

2

mix together. Add the yeast and sugar and mix together.

3

Make a well in the middle of the ingredients and pour in the oil. Mix together with your fingers until crumbly.

4

Add the water bit by bit until you have formed a dough. You can use your d-scraper to work it together. Make sure it's not too sticky. Cover the bowl and set aside for 5 mins.

5

Sprinkle the surface with semolina and knead the dough for 5 minutes. Cut the dough in two and shape into 2 balls. Cover each ball with a damp tea towel and put in a warm place to rise for 1 hour.

6

Pre-heat oven to 150 degrees fan/170 degrees c/gas mark 2. Dust the surface with semolina and once risen, roll each dough ball into a flat circle of approx. 8 inch diameter.

7

Grease a frying pan with a little olive oil and heat on high. Cook each piece of dough for 1-2 mins each side, until brown. Put dough onto a tray and bake in the oven for 15 minutes.
MORE BREAD RECIPES
See my How to Eat like an Algerian post for more in-depth information on how you would eat in Algeria.
Thought about visiting Algeria? I recommend reading An English Girl in Algeria: Experience and Tips.
Let's Get Cooking!
Don't forget to tag me in all your creations over on instagram and twitter. And why not pin this on Pinterest to save for later?