Lamb and spinach curry (Afghan-style)
Lamb and spinach curry is the perfect winter warmer. Enjoy tender pieces of lamb in a light broth flavoured with Afghan spices. Serve it with chapattis and yoghurt!
Why should I make this lamb curry?
Tasty and flavoursome lamb which will fall apart!
Inspired by the Afghan recipe 'sabzi e gosht' – eat from a new culture!
Little prep for maximum flavour!
Family-friendly (no heat!)
Lamb and Spinach Curry
I feel like I'm always saying this, but it has been a while since I last blogged on here. It's really hard to find the time to when you've got a baby clinging to your legs or trying to give you a heart attack by acting like they're auditioning to be a stunt person! My now 9 month-old baby shocks me on the daily, so this is why i can't be staring at a laptop; I need eyes everywhere!
This lamb and spinach stew, known as 'sabzi e gosht/goshte' in Afghanistan, was tested and made during the summer, however it would be perfect any time of year! I'm all over soups and stews in the autumn/winter months.
Light in flavour with tender, melt-in-your-mouth pieces of lamb from cooking low and slow (the best type of cooking for a busy mum!)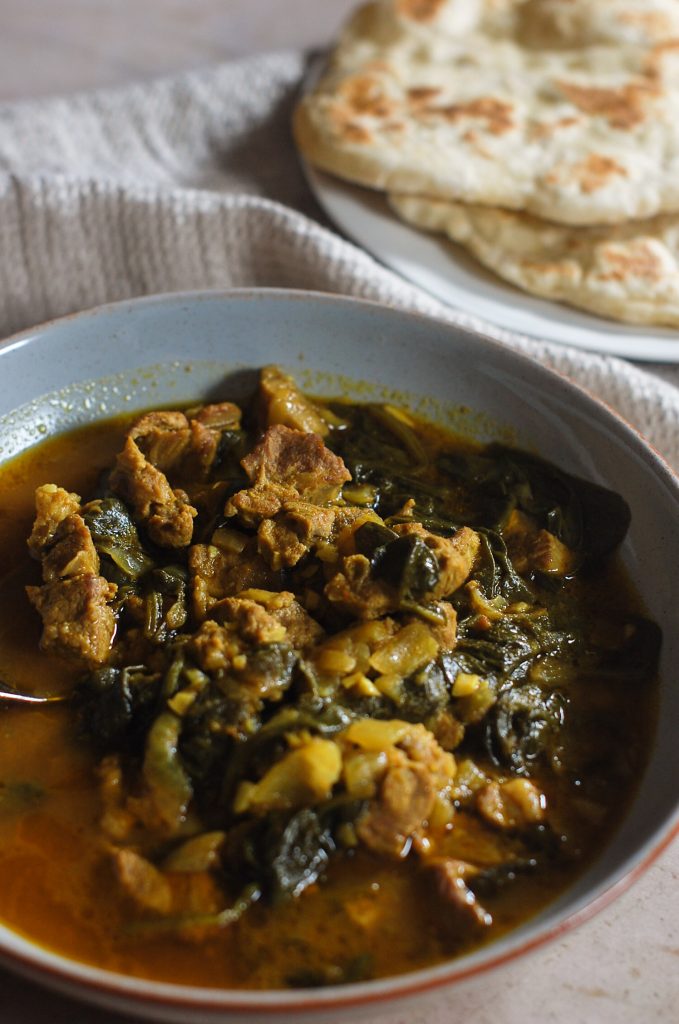 What ingredients do I need?
Olive oil – you can use vegetable oil to fry your lamb if you're out of olive oil.
Onion
Lamb shoulder – I've used diced lamb shoulder but you can use any stewing lamb. See below for what makes a good lamb for slow-cooking.
Garlic – crushed to infuse more flavour!
Tomato purée – also known as 'concentrated tomato paste' in the US.
Ground turmeric
Ground coriander
Ground cumin
Fresh spinach leaves – frozen is fine too!
Lemon juice – from a squeezed lemon!
Plain yoghurt – any natural / Greek yoghurt is fine for this recipe. Avoid anything too thick though!
What's the best type of lamb to use?
As long as you cook long and slow, you can use any cut. Of course for this recipe, we'd like diced pieces of lamb, so I went for diced lamb shoulder. Lamb shoulder is an excellent cut of meat as it's the part of the lamb that work's hard, so is more flavourful. It is a little bit more on the pricey side though.
For something more economic, you should use scrag or middle neck. Both contain a fair bit of bone, however if cooked long enough, the meat will fall off the bone, which you can discard aside.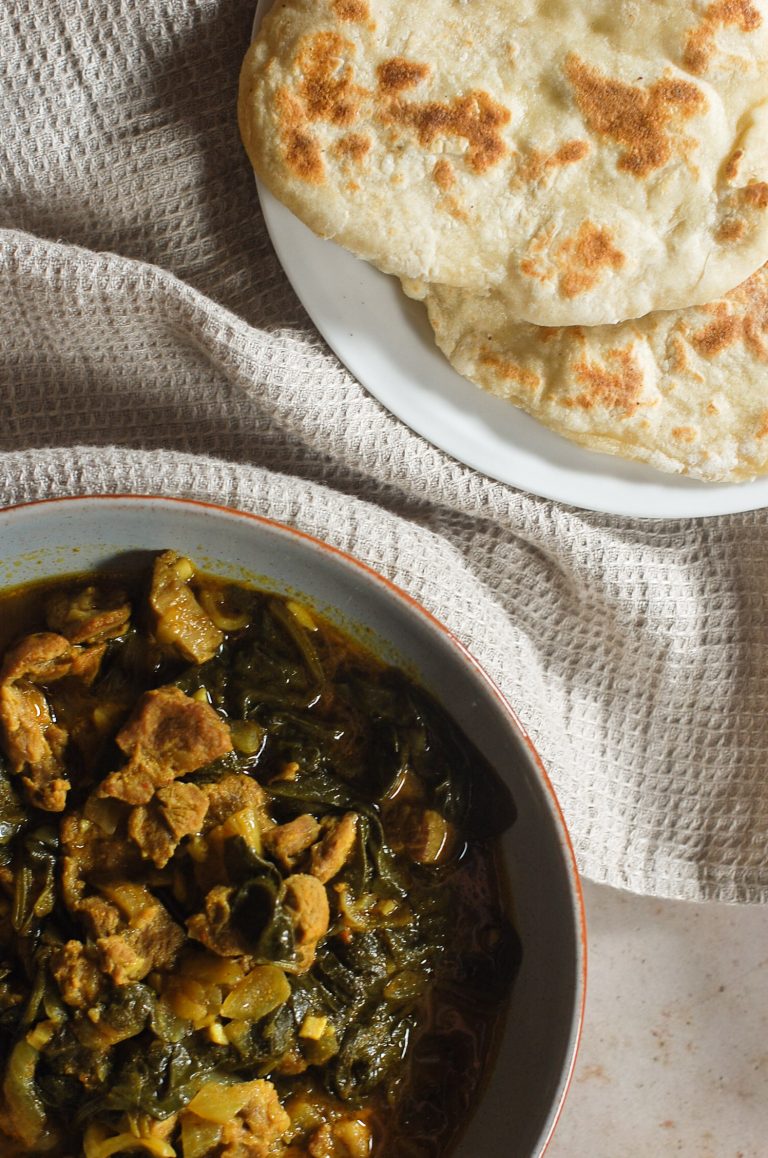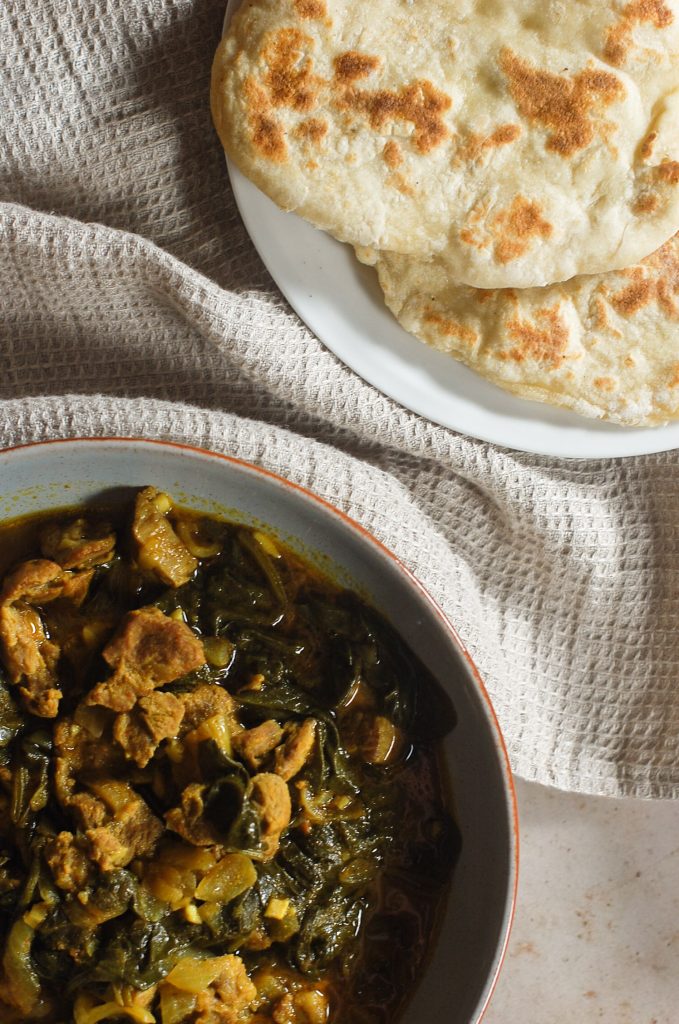 Equipment Needed
Chopping board
Chef's knife for chopping veg and meat
Large, deep casserole pot or pan with lid
Garlic crusher
Measuring spoons
Measuring jug
Spoons for stirring
Make it family-friendly
A lamb and spinach curry has got to be one of the most family-friendly curries! There's no heat whatsoever and the lamb is so tender that babies or toddlers should have no issue chewing it!
Turmeric, cumin, fenugreek and ground coriander are not strong at all in this lamb with spinach curry. If you're a mum of a toddler, why not get them involved by letting them spoon the spices in? That way it'll get them interested!
The plain yoghurt added at the end of this lamb curry will also help it cool down! I told you it's a very family-friendly curry!
Recipe Variations
What's an economical cut of lamb to use?
As mentioned above, if you don't want to use diced lamb shoulder, you could consider scrag end or middle neck. Both cuts contain bones but the lamb should fall off once cooked slow. Discard the bones aside before serving.
Can I use frozen spinach leaves?
Yes you can! Add the spinach leaves as above but definitely not 300g. I'd go with 200g as frozen spinach weighs more due to water content. You won't need to wait very long for them to wilt, just stir them in and cook as above! You will need less water though as the frozen spinach contains water. I'd recommend add 250ml instead of 300ml.
Make me in the slow-cooker
Lamb with spinach is PERFECT for the slow-cooker. All you'll need to do is follow the same instructions as below, throw it all in the slow-cooker and cook on low for 7 hours/4 on high. You're guaranteed the most tender lamb EVER at the end. The perfect dinner to come home to after a hard day's work!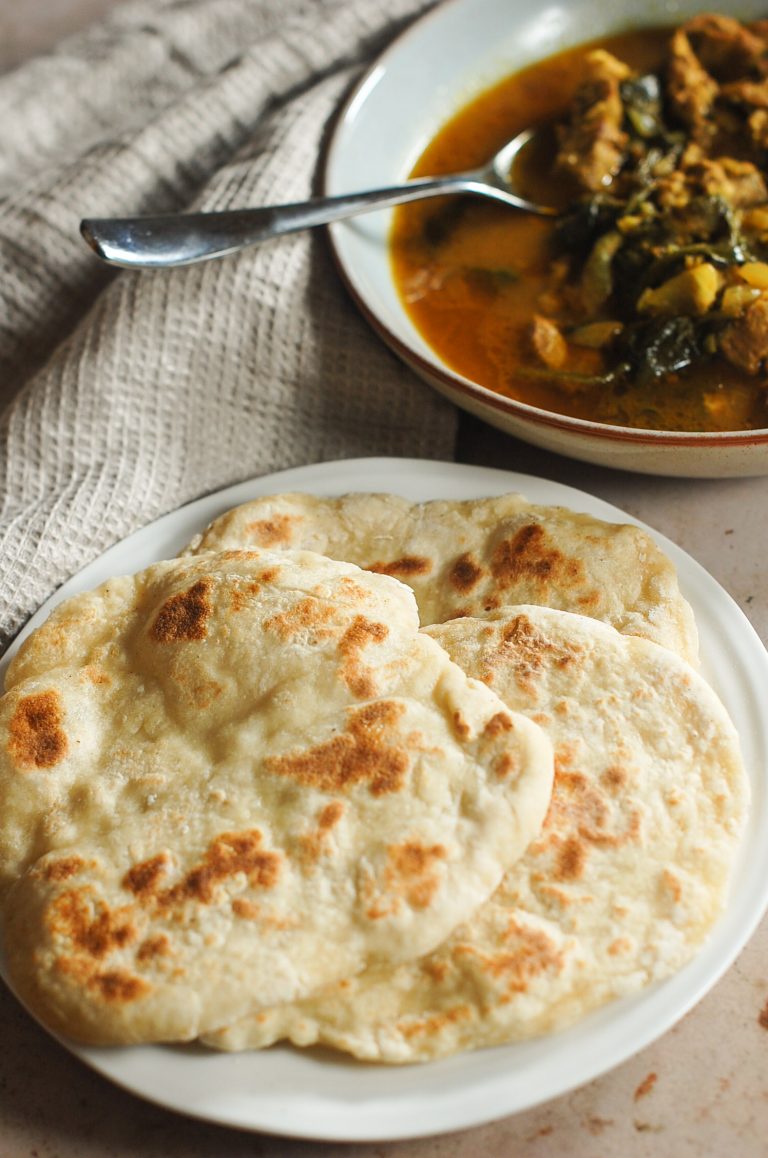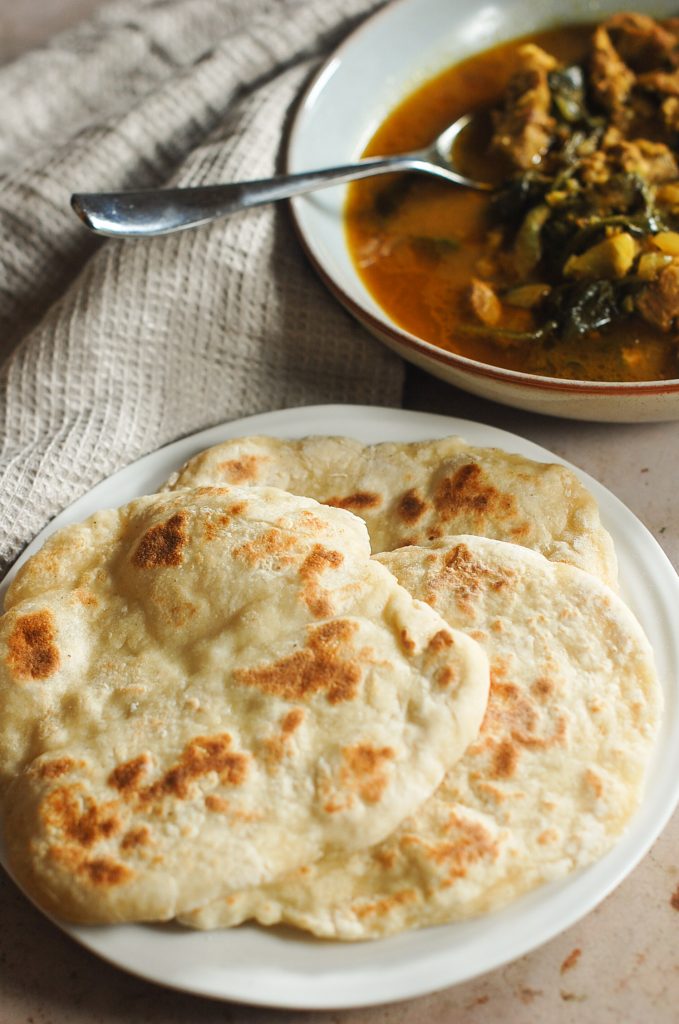 Serving suggestions
You can serve your lamb curry with various sides: rice (wholegrain or white), any hunk of bread (why not try my yeast-free naan bread as pictured above, or my Indian chapati recipe), sour cream or the more traditional plain yoghurt sprinkled with ground cumin.
When I'm not recipe-testing, I often go by what I can find in the cupboard/fridge. I try to avoid food waste where possible. However, then best thing about cooking is playing around with the flavours. Be flexible and most of all, have fun doing it!
So now I urge you to make this delicious sabzi e goshte, and when you're done with your day (whilst it's slowly cooking), settle down in your comfies, curl up on the sofa and tuck into a bowl of warming, comfort food. You'll be glad it's there waiting for you, like a friendly hug.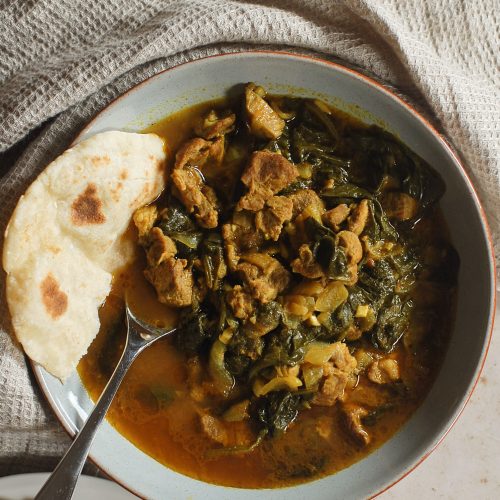 Lamb and spinach curry
Ingredients
1

tbsp

Olive oil

1

onion

diced

300

g

lamb shoulder

diced

1

garlic clove

crushed

1

tbsp

tomato purée

1

tsp

ground turmeric

1

tsp

ground coriander

1

tsp

ground fenugreek

1

tsp

ground cumin

300

g

spinach leaves

300

ml

water

Juice from half a

lemon

Plain yoghurt to serve
Instructions
Pre-heat oven to 160°. In a casserole pot or pan, brown the onions and lamb together. Add the crushed garlic clove and season.

Stir in the tomato paste and spices. Pour in the water and bring to a simmer.

Add spinach and leave to wilt. Once all stirred in, add a squeeze of half a lemon and cover with your pan's lid. Cook in the oven on low for 1 hour or until the lamb is tender.

Serve with a dollop of plain yoghurt and some naan bread or chapaati.
Notes
Storage – If you happen to make a double-batch of this curry and want to store some for the next day, I'd recommend storing it in a well-sealed Tupperware container, in the fridge. It'll keep for 2-3 days. Re-heating – please ensure you reheat any leftovers thoroughly. Use a microwave if possible but ensure whatever way you reheat, that the food is piping hot before eating.  Freezing – When freezing, place in a well-sealed Tupperware and always ensure the food is cool before placing in the freezer. This curry will freeze for 2 months. Always defrost thoroughly before re-heating (see above). Servings – My lamb curry will serve 2 with a tiny bit of leftovers.. not enough for another person, so perhaps serve up big or eat the rest for lunch the next day! Or make a double-batch and freeze some.  Aga cooking – All my recipes are made using an Aga (this one was actually tested pre-Aga days) but adjusted for conventional ovens. To make this on an Aga, do all the frying on the boiling plate and place in the simmering oven for the hour. 
Nutrition
Calories:
274
kcal
Carbohydrates:
16
g
Protein:
25
g
Fat:
14
g
Saturated Fat:
3
g
Cholesterol:
60
mg
Sodium:
263
mg
Potassium:
1373
mg
Fiber:
6
g
Sugar:
4
g
Vitamin A:
14221
IU
Vitamin C:
49
mg
Calcium:
218
mg
Iron:
9
mg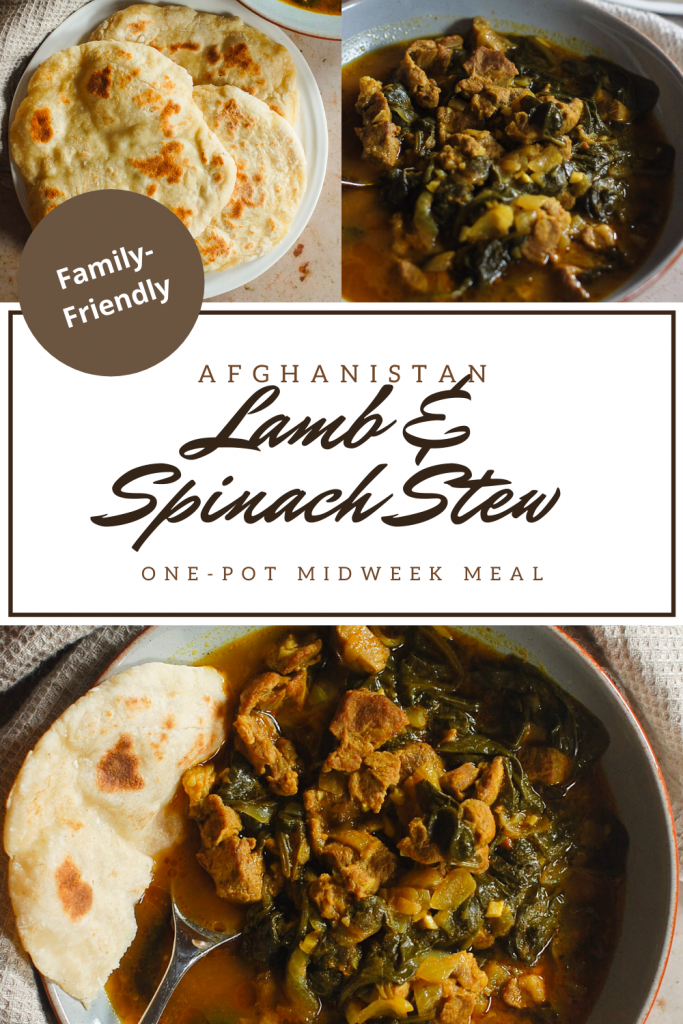 More lamb recipes
Lamb baked with rice (Albanian Tave Kosi) – using lamb shoulder
Lamb shish kebabs with med veg (Armenian) – using lamb mince
Lamb and chickpea chilli (Algerian) – using lamb mince