Lamb shish kebabs with grilled vegetables and bulgar wheat
These lamb shish kebabs, flavoured with the tangy sumac spice, gives off hints of lemony notes that just screams the flavours of Armenia. You can grill them in the oven or even better, on a BBQ. Super easy to make too.
Armenian Lamb Shish Kebabs
Today we're cooking from the country of Armenia! The country is landlocked and neighbours many different countries such as Iran, Georgia and Turkey. For this reason, Armenian cuisine is always thought of as being very similar to Middle Eastern cuisine but still with those European influences too.
During my research I was bombarded with so many different ingredients typical of the country, which led to so many ideas of things to make. There were stews, breads, salads (tabbouleh), borek pastries and of course the typical kebab. Now I'm a big fan of lamb, which happens to be the most common meat used for shish kebabs, so I sorta took the easy option and thought why not? I love them; you guys I think will like them, so let's do it!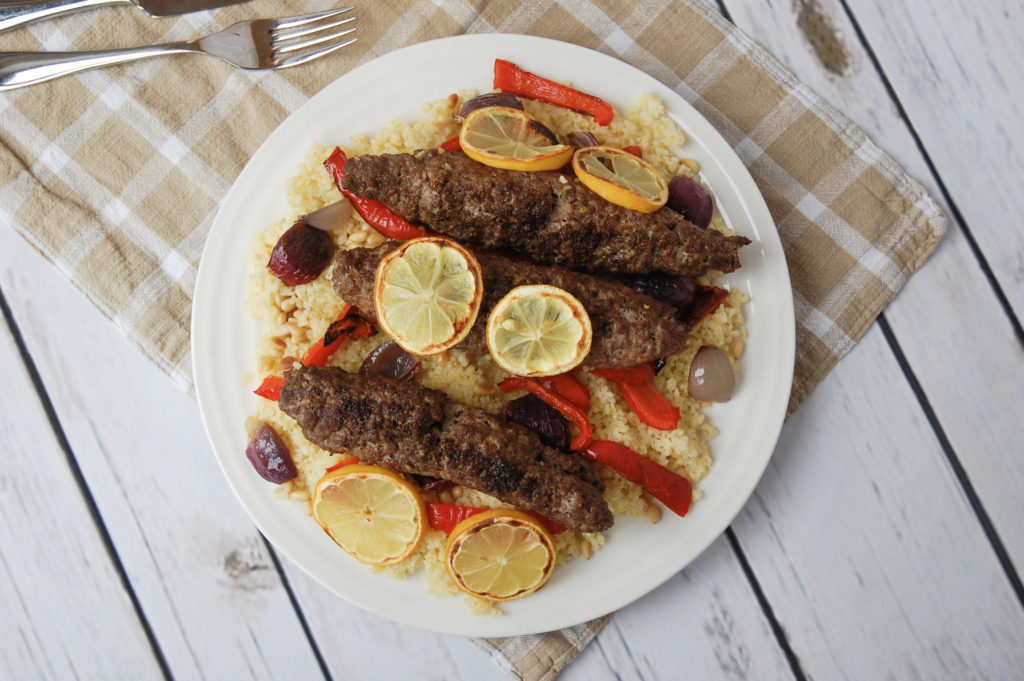 Bulgar wheat is very commonly eaten in Armenia and so are grilled vegetables, so I thought it was only natural to use these as sides! The lemony flavours from the sumac spice but also the lemon juice, really comes through in the kebab meat; more than I thought it would actually! I was pleasantly surprised how nice the meat tasted. I had thought it would taste maybe quite plain, but nope! It had ALL the flavours!
Before we get onto the recipe, here's what an Armenian would typically eat in a day, thanks to Angela Hassassian (@HassassianA) on Twitter! She agreed to give me an insight into her day-to-day eating in Armenia!
Breakfast: A typical Armenian breakfast would include bread, butter and/or rejan (a thicker, more creamy butter that kind of resembles sour cream), honey, jam, boiled eggs, and tea.
Lunch & Dinner: Lunch oh boy, it depends on the person I guess. I'll just name a list of dishes that could be either lunch or dinner maybe…
A popular dish I suppose is BBQ pork, especially over the weekend when people go to their summer homes outside of the city, or when they go on road trips. But on a day to day basis it really varies… anywhere between green beans with eggs, to BBQ kebab and side dishes of stuffed aubergines, dolma (or stuffed grape leaves), lahmajo (also known as Armenian pizza) and lavash (which is a unique Armenian flat bread).
Harrisa (a soupy/oatmeal like chicken soup), Khash (another traditional Armenian broth which is generally eaten in the winter season early in the morning with vodka and friends as it takes you all day to digest). Also jingalov hats (basically lavash-like flat bread stuffed with 30+ different kinds of greens).
Desserts: Gata (a sweet pastry/bread); there's also sujukh which is made with molasses and walnuts, if I'm not mistaken. There's sweet lavash which is basically natural fruit roll ups. Of course, those who have had a lot of Middle Eastern influence are all about the baklava! There's also gatnabour (which is a milk based rice pudding of sorts).
So what is typically Armenian?
Armenians are a bit complicated. There is a huge diaspora community living essentially everywhere, so their idea of what is traditionally Armenian food differs drastically from what you might find in Armenia proper. Armenians abroad tend to have more Turkish and Middle Eastern influences (because they originally lived in modern-day Turkey, and those who survived the genocide ended up escaping to neighboring middle eastern countries like Syria and Lebanon, after which they scattered all over the world), while Armenia proper has more influence from Russia (because it was part of the USSR). Food and culture are naturally pretty tied together…
Thank you so much for the insight Angela! I definitely can't wait to visit Armenia one day to try all these tasty dishes. Okay, now on to the recipe…
Things to consider before cooking –
3 metal skewers* are needed to hold the shish kebabs in shape.
Sumac can sometimes be hard to find in your local supermarket, so I got mine on Ocado. I went for the Al'Fez 38g for £1.75.
*I'm an affiliate link.
The Recipe
Lamb Shish Kebabs with Grilled Vegetables and Bulgar Wheat
Serves: 4
Difficulty: Medium
Grilled lamb kebabs with flavours of lemon and garlic. Perfect for the oven grill or on the BBQ.
What you will need
500g lamb mince
2 tsp sumac + extra for sprinkling
Pinch of salt
1 garlic clove, crushed
1 lemon + juice from half a lemon
2 small red onions, chopped
1 red pepper, sliced
olive oil for drizzling
200g bulgar wheat
800ml boiling water
20g pine nuts
Method
1

Pre-heat oven to 200 degrees/180 fan/gas mark 3. In a bowl add the mince, sumac, salt, crushed garlic clove and lemon juice from half a lemon. Mix together thoroughly.

2

Shape the mince into 3 equal-sized balls. Meanwhile, put the onions and peppers on a tray, drizzle with oil and roast in the oven for 15 mins. Get the water boiling for the bulgar wheat.

3

One by one, flatten the meatballs into a rectangle shape and place a skewer on top. Gently fold the meat over, pick the skewer up and squeeze into longer sausage. Sprinkle with sumac and grill on medium for 10 mins with sumac-side up. Do not turn yet.

4

Once the water for the bulgar wheat has boiled, add the bulgar and simmer for 15 mins. Drain excess water, fluff up with a fork and serve on the dish ready for the rest of the ingredients. Top with the onions and peppers once roasted.

5

Meanwhile, toast the pine nuts in a dry frying pan on the hob. Be careful not to burn.

6

Turn kebabs over, sprinkle with more sumac and grill for 10 mins more. Meanwhile, slice the lemon into 6 slices and grill along with the kebabs until brown, almost blackened.

7

Serve the pine nuts on top of the bulgar and veg, a long with the kebabs and lemon slices. Enjoy!
MORE LAMB RECIPE INSPIRATION:
Got a slow cooker? You'll enjoy my Afghan Lamb and Spinach Stew or for something one-pot, why not try this Algerian-inspired Lamb, Chickpea and Freekeh Chilli or this Albanian Lamb Baked with Rice.
PIN ME! PLEASE?