Tavë Kosi – lamb baked with rice (Albanian recipe)
A quicker version than the original Albanian recipe for Tave Kosi – succulent lamb pieces infused with butter and garlic in rice, with a creamy yoghurt and egg topping. My lamb baked with rice recipe makes a great midweek meal.
Lamb baked with rice / Tav

ë

Kosi
When first researching Albanian recipes, this dish kept coming up time and time again. It is the national dish of Albania, after all. I wasn't too sure about it at first but after a taste test I've realised it's basically like an Albanian recipe for moussaka but not Greek. It's obviously very different but I think you get what I mean! The topping is made with yoghurt and egg and not béchamel. It's super yummy.
The dish is quite easy to make. The only thing that requires any technical skill is making the roux, but It really isn't hard – just follow my instructions and you'll be fine!
Why should I make this Albanian baked lamb recipe?
It's the national dish of Albania!
Really easy to make – only 5 minutes prep
The lamb is super tender and juicy
Discover food from a different culture!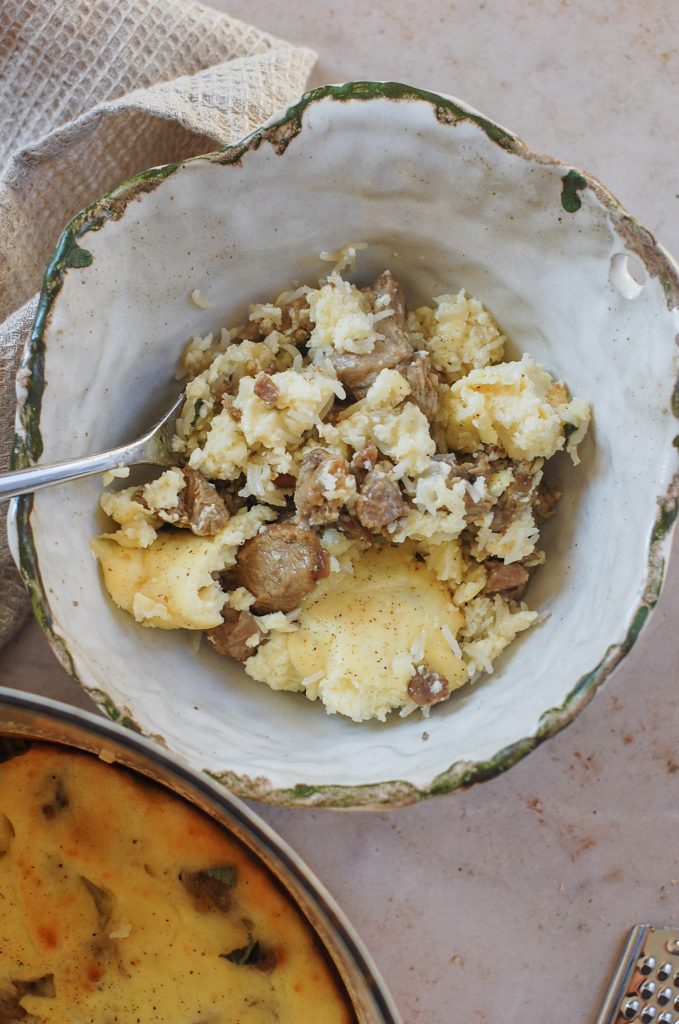 Ingredients
Butter – a combination of butter and oil to fry the lamb in will give a greater flavour to the overall dish.
Olive oil – olive oil also stops butter from burning when frying (see above).
Lamb shoulder, diced – any good quality lamb, diced, will work. I went for shoulder as it's great for slow-cooking and is easily available already diced.
Garlic cloves – garlic gives an amazing flavour to this Mediterranean Albanian recipe.
Fresh oregano – of course it's traditional for this recipe but oregano and lamb pair well together too.
Plain flour – helps thicken the roux which is the basis for the sauce of this dish.
Natural Greek yoghurt – adds a tanginess to the sauce. It's also traditional to tave kosi.
Long grain rice – the rice soaks up all the juices from the lamb and makes this dish a bit bulkier.
Eggs – binds the sauce together and helps it set to create the crust-like topping.
Whole nutmeg – goes really well grated on top of the dish at the end of cooking.
Typical Albanian food
So what do Albanians eat on the daily?
Albanians very much live on a mediterranean diet; something you might not have realised. You'll find garlic and onion featuring in nearly every dish, and olive oil is widely used due to it being produced in the country.
Dinner in Albania is usually a small dish; lunch is the biggest meal of the day – something you see a lot in mediterranean countries. Tave kosi is also very popular in Greece and Turkey due to many Albanians there.
For a more detailed post on what Albanians eat, read How to Eat like an Albanian. It's full of meal ideas, culture insight and traditions.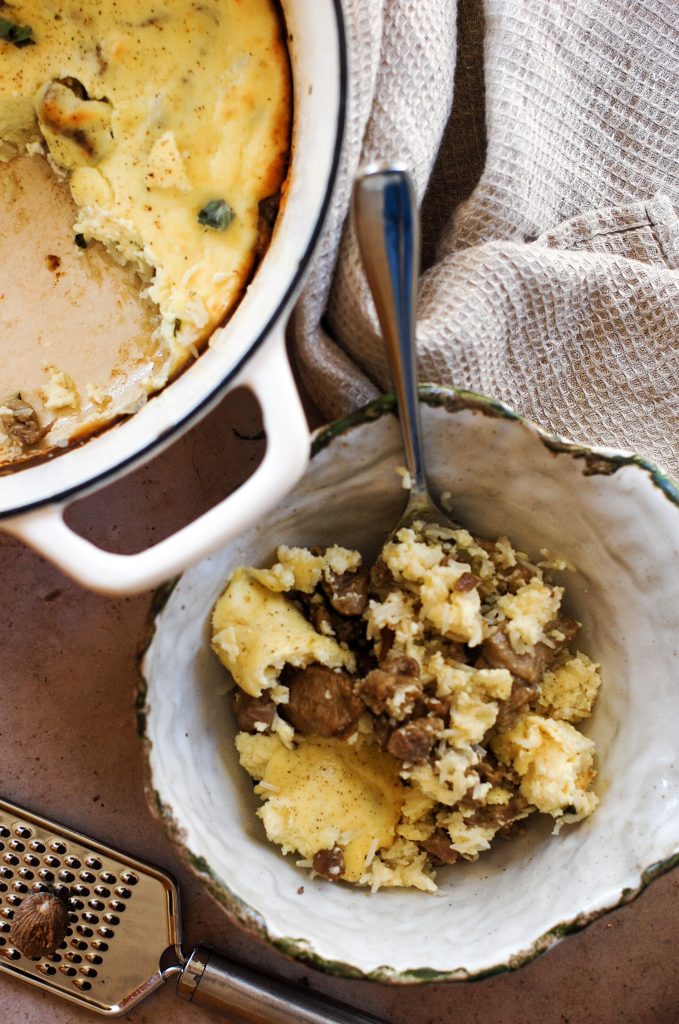 Equipment Needed
Large casserole pot
Garlic crusher
Small pan
Whisk
Large spoon
Grater
What's the history behind Tave Kosi?
This dish is old. When I say old, I mean OLD. It was first recorded in 1452 when the Ottoman Sultan Mehmed II was occupying Elsaban – a city in central Albania.
Whilst there, he was served a dish which consisted of lamb marinated in yoghurt. The cooks of this dish would then use the leftover marinated yoghurt to top other casseroles, which first became known as 'the casserole of Elbasan' and then the famous Tave Kosi.
It's certainly a historic recipe for all Albanians but also those in Turkey too (and other parts of the Ottoman Empire) where it's also a popular dish.
Serving suggestions
As much as Tave Kosi is great eaten on its own, it's also lovely served with some freshly baked naan bread or slices of butter bread with plenty of extra butter!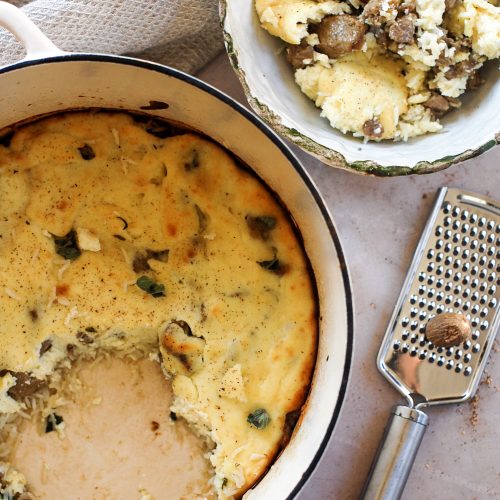 Tave Kosi – Lamb Baked with Rice
Succulent lamb pieces infused with butter and garlic in rice, with a creamy yoghurt and egg topping. My lamb baked with rice recipe makes a great midweek meal.
Ingredients
50

g

salted butter

1

tbsp

olive oil

700

g

lamb shoulder

diced

2

garlic cloves

crushed

1

tsp

fresh oregano

chopped finely

100

ml

water

30

g

plain flour

300

g

natural greek yoghurt

100

g

long grain rice

2

eggs

beaten

whole nutmeg

salt and pepper to season
Instructions
Preheat oven to 180°c/ 160°c fan / gas mark 4. Heat 20g of the butter and the oil in a pan. Brown the diced lamb.

Once brown, add the crushed garlic clove, oregano and water. Simmer for 30 minutes until the lamb is tender.

Add the rice and season to taste. In a separate small pan, melt the rest of the butter. Add the flour and whisk to create a roux. Once combined, remove from heat and add yoghurt. Whisk to combine. Add beaten egg and whisk again.

Pour the sauce all over the lamb, distributing evenly. Bake in the oven for 20 minutes until brown on top. Grate over nutmeg and serve.
Notes
Aga cooking – All my recipes are tested and cooked on an Aga but are adapted for conventional ovens in my recipe. If you are an Aga user too, you can make this lamb baked with rice recipe easily. All hob frying can be done on the boiling plate. When I say 'simmer', place in the simmering oven. To finish off, place in the roasting. Any questions, do comment below.  Reheating – If you are batch-cooking or have some leftovers and want to re-heat, you will need to re-heat thoroughly. Lamb needs to be heated until piping hot and above 70°c. I would heat using a microwave to guarantee this. Rice can be reheated however you need to be a bit more careful as it can contains a bacteria that is resistant to heat. Ensure you cool leftovers quickly and store in the fridge within one hour. It needs to also be reheated until really hot.  Storage – You should store leftovers in the fridge in a covered container, preferably on the top shelf. Freezing – You can definitely freeze if you are batch-cooking and/or have some leftovers. Freeze in a tight-lidded container to avoid freezer burn on the food. Defrost thoroughly and follow re-heating guidelines above. 
Nutrition
Calories:
464
kcal
Carbohydrates:
29
g
Protein:
35
g
Fat:
22
g
Saturated Fat:
10
g
Trans Fat:
1
g
Cholesterol:
183
mg
Sodium:
227
mg
Potassium:
505
mg
Fiber:
1
g
Sugar:
3
g
Vitamin A:
443
IU
Vitamin C:
1
mg
Calcium:
131
mg
Iron:
3
mg
More lamb recipes
Lamb and spinach curry (Afghan) – using lamb shoulder
Lamb shish kebabs with med veg (Armenian) – using lamb mince
Lamb and chickpea chilli (Algerian) – using lamb mince