A Guide to Albanian Food, Background and Culture
All you need to know about Albania. I'll cover its climate, its people, language and religion. Not forgetting Albanian food and culture (media and literature) as well as holidays and festivities. 
A Guide to Albania
If I'm honest, I didn't really know a lot about Albanian cuisine before writing this. I didn't even realise that their cuisine is primarily mediterranean, which makes sense since Albania is in the Mediterranean! I think most people overlook Albania when booking holidays. It needs to be given more credit as I've heard it's meant to be an amazing place to visit, full of beautiful coastlines, mountains such as the Albanian alps and rural countryside. It was even reported by The Telegraph in November last year to be the next big beach holiday destination! We're off to Amsterdam soon but i'm thinking Albania will be our next destination to visit this year, so watch this space!
Where is Albania exactly?
Albania is located in South Eastern Europe
It is on the South West of the Balkan peninsula
It has Montenegro, Kosovo, Republic of Macedonia and Greece as its neighbours
The Capital is the city of Tirana
The official language is Albanian
Albania is without an official religion. It is a mix of muslims, Roman Catholics, Orthodox and Evangelicals, as well as Atheists
The country is touching two seas: the Adriatic sea and the Ionian sea
What is the national dish?
The national dish of Albania is Tave Kosi, which is essentially lamb with rice, topped with an egg and yoghurt sauce and a sprinkling of nutmeg to then be baked in the oven.
Albanian Cuisine has influences from –
What would I eat for breakfast?
You would most definitely start the day with a coffee since coffee culture is big in Albania
You might eat a pastry called Byrek – filo pastry filled with spinach and cheese or mince meat
Aryan is a salty yoghurt drink which you might accompany your breakfast with
Bread is commonly eaten topped with butter, jam, cheese or yoghurt
Tea with milk is common, as is an alcoholic drink called Raki (a brandy-like drink made from fruit such as grape, plum or blackberry)
Breakfast is not a big meal in Albania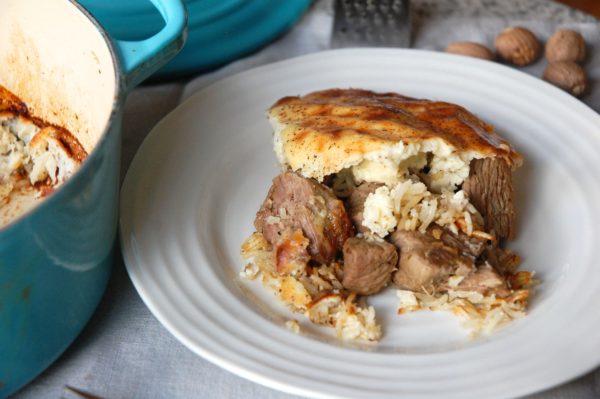 Tave Kosi, the national is dish of Albania
What would I eat for lunch?
Lunch is the biggest meal of the day for Albanians
Lightly seasoned meatballs called Qofte (lamb, beef or pork)
Again, lots of bread (simite) with whatever you're eating
Shish kebabs
Lots of meat and vegetable casseroles
Tave Kosi, the national dish (see image above)
Chumlek, a meat and onion stew and ferges, a veal stew – all stews are served with pilau rice
A cold soup called Tarator is eaten in the summer
Near the coast you'll find lots of fish dishes made from trout and carp
Salad is popular with meals – it would usually contain cucumber, tomato, cheese and onions and dressed with olive oil, salt, pepper and either lemon or vinegar
A mixed grill full of an assortment of meats, salads and dips
Omelette
What would I eat for dinner?
A much smaller meal than lunchtime
Bread would always accompany a dish
A sandwich might be eaten for a lighter option
Bigger meals for dinner are very similar to those found at lunchtime
Every meal always ends with a glass of the alcoholic brandy-like drink, raki (mentioned above)
A soup is common such as this meat and pasta one called supe me mish
You might eat mix of veg salads, pickles, cooked meats and cheeses such as feta. This is called a meze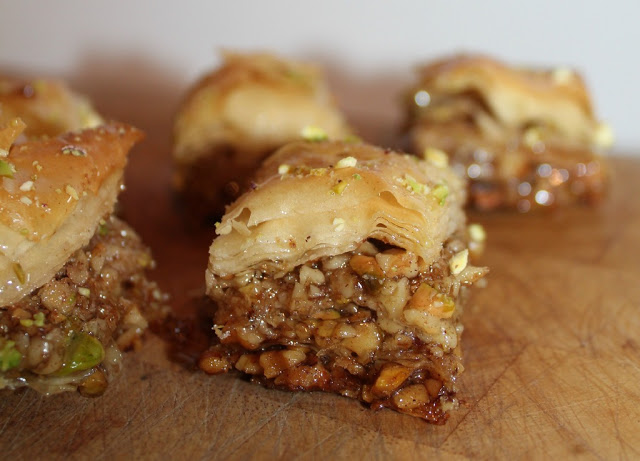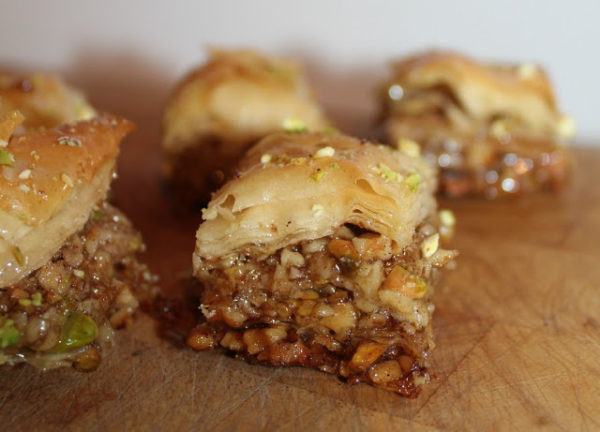 There are lot's of Turkish influences in Albania, such as this sweet and sticky baklava recipe from A Strong Coffee (see below)
What would I eat after dinner?
You would most definitely end the meal with a glass of the fruity alcoholic drink known as raki (see above)
Albanian sweets are made with a lot of pastry, especially the filo kind
Rice pudding made with sheep milk, saffron, nuts and raisins
Fruit is popular because of the wide production of it in the country. The most common are oranges, apples, grapes and nectarines, as well as lesser known fruits such as persimmon and mulberries
Cakes made with honey such as this one which is a cross between cake and a biscuit, called shendetlie
The Turkish baklava is very popular such as this super sweet Bulgarian variation from A Strong Coffee blog.
Sponge layered with pastry cream is a popular dessert. It's known as zupa
A sort of eclair filled with cream of flavoured custards (Eklera)
The Italian panettone is popular around Christmas time
Albanian eating culture and traditions
It's not uncommon to be invited to eat with locals when in Albania. Hospitality is BIG.
Everyone will go back to their houses to eat lunch with their families or eat out with a group of friends in a cafe. Most businesses stop work to do this.
PIN ME! PLEASE?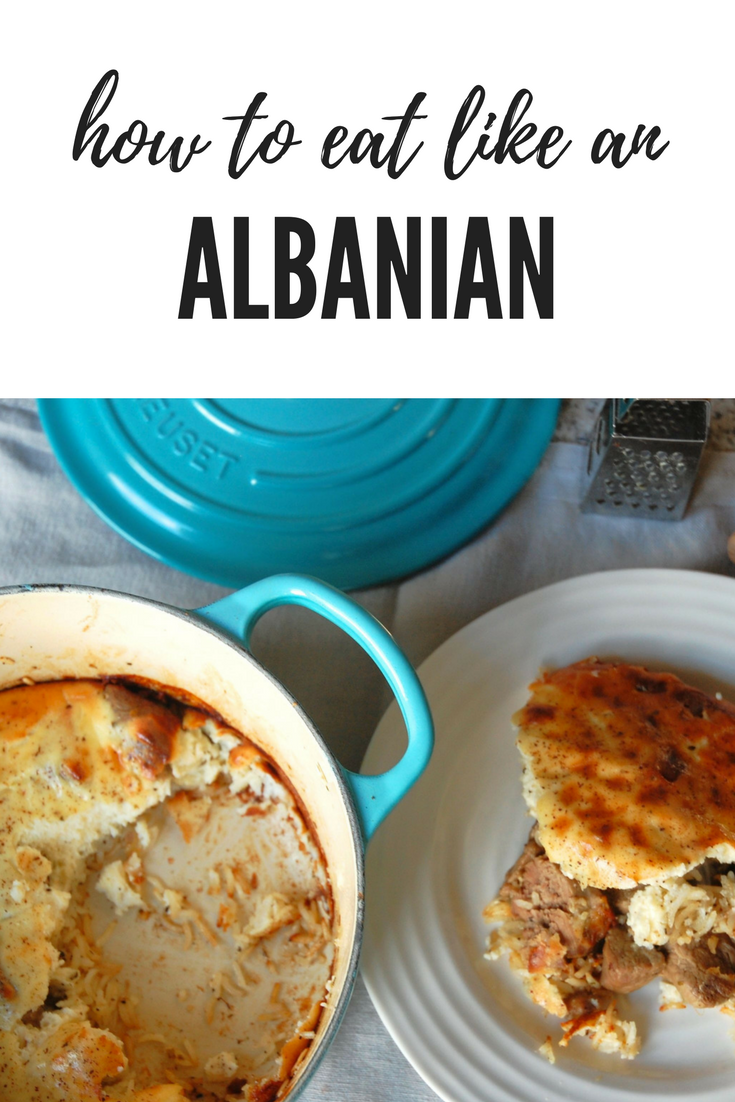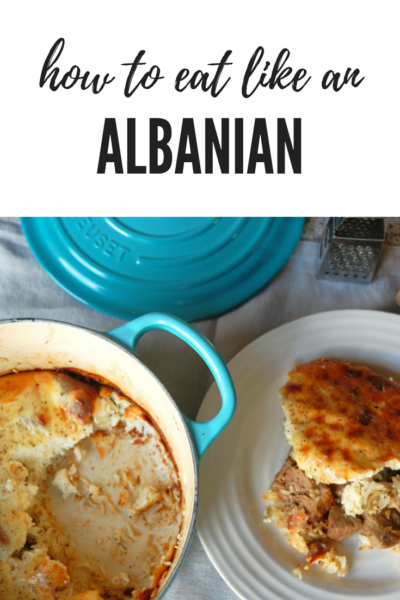 LET'S CARRY ON THE CONVERSATION!
Let's catch up over on my social media accounts (in the top, left of this post). Go over and follow me and we can chat about cake. Why not subscribe to this blog to never miss a post? It would make me a very happy bunny!
Next week I'll be posting about the country recipes from Algerian cuisine and how to eat like an Algerian! Subscribe so you don't miss out.
References