A Guide to Andorran Food, Background and Culture
All you need to know about Andorra. I'll cover its climate, its people, language and religion. Not forgetting Andorran food and culture (media and literature) as well as holidays and festivities. 
A Guide to Andorran Food
Where is Andorra exactly?
Andorra is actually known as 'the principality of Andorra' and yes, it is a country!
You'll find it in the Eastern Pyrenees between France and Spain
It's known as a micro-state because of its size
The reason for being called a 'principality' is due to the fact that its headed by two princes who share the role of being a prince: the Catholic bishop of Urgell in Spain and the President of France (the world's only co-principality)
It's the sixth-smallest nation in Europe
Its capital is Andorra La Vella (the highest capital city in Europe at 1,023m)
The language is Catalan (French, Spanish and Portuguese is also spoken)
The main religion is Catholicism (although not official)
What is the national dish?
The national dish of Andorra is escudella, a stew which contains a lot of different meats such as sausages, chicken, veal, pig snout and ears and trotters. It's cooked in a broth of stock with pasta, vegetables and pulses. Potatoes might also be added. I believe every family has their own variation. You can probably see why I didn't choose to cook this dish!
Andorran cuisine has influences from –
Spain
France
The location (fresh water lakes, vast amounts of land to raise animals and produce)
What would I eat for breakfast?
There wasn't a lot of information available on breakfasts in Andorra but here's what I'm guessing from its location and influences –
Coffee with milk
Croissants
Toast with butter and jam
What would I eat for lunch?
I would say, like most Mediterranean countries, the lunch would be very similar to dinner
Hot dishes (see below)
Sandwiches with mountain cheese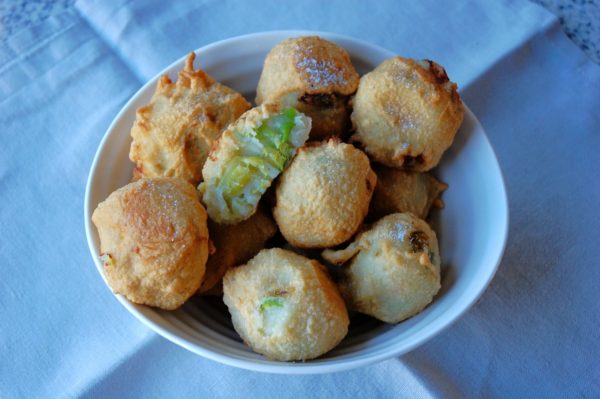 My take on the Catalan dish, Trinxat – battered bubble & squeak balls
What would I eat for dinner?
The national dish, escudella, served with crusty bread
Trinxat, a Catalan version of bubble and Squeak (see my take in the image above)
Snails in olive oil salt and garlic mayo, or a paprika vinagrette
Fresh water trout wrapped in ham
Lots of cured meats
Rabbit cooked in tomato sauce with onions and wine
Andorran version of cannelloni (lamb, chicken and pork mince)
Chicory salad with bacon and nuts
Toasted bread rubbed with garlic, olive oil and salt and tomato paste
Lots of traditional mountain cheeses
Steak tartare
What would I eat after dinner?
Crema Andorrana – an Andorran version of creme brulee
Torrijas – bread soaked in milk or wine with honey and spiced, and then dipped in egg and fried (traditional for Easter)
Coca Massegada – flat bread filled with custard and topped with candied fruit and almonds
PIN ME! PLEASE?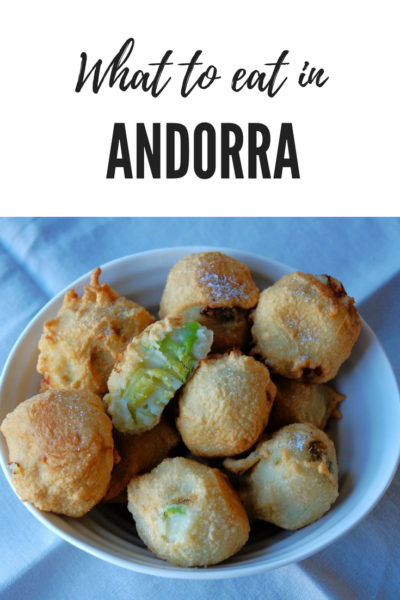 LET'S CARRY ON THE CONVERSATION!
Let's catch up over on my social media accounts (in the top, left of this post). Go over and follow me and we can chat about cake. Why not subscribe to this blog to never miss a post? It would make me a very happy bunny!
Next week I'll be posting recipes from Angolan cuisine and how to eat like an Angolan! Subscribe so you don't miss out.
References