Inspired by the alpine cuisine of Andorra, these bubble and squeak balls, battered and deep-fried, make for an unusual side dish to accompany sausages or eaten on their own as a weekend treat! Great for using up leftover vegetables from a Sunday roast too.
Battered Bubble and Squeak
I had to double-check before researching this recipe, so don't worry if you're unsure! Andorra is in the Pyrenees mountains between France and Spain, of which they share a lot of both cultures. It's considered a micro-state, a bit like Monaco and some don't even consider it a country. I discovered this when researching lists of countries of the world; some chose to ignore the smaller micro-states but I chose to go with the lists that include them because 1. I want to learn about everywhere. 2. I like to make things harder for myself!
You'll expect only one recipe from me this week as I have one special post going up straight after this one, as well as the usual 'how to eat like a' towards the end of the week, so look out for those too!
I wanted to give the Andorran recipe I'm basing this on, a bit of twist. The original recipe is called Trinxat (anyone know how to pronounce that??) and is essentially fried bubble and squeak in the shape of a pancake with the addition of pork sausage or bacon. The twist is the fact that I decided to shape mine into balls and batter them. I also opted for Brussel sprouts instead of cabbage, however not out of choice I might add! This was down to the Beast from the East and the lack of cabbage in our local supermarket! Although Brussel sprouts are like mini cabbages, right??
You can see why this recipe comes from the Pyrenees alps; the carbs from the potatoes and fat from the frying gives off a lot of energy, which I'm guessing would have been useful if you were living in Andorra, working out in the cold. You needed food that would satisfy, comfort and fill you up!
Things to consider before cooking –
You'll need a peeler handy
I always find a potato ricer* easier to mash potatoes with. I don't think I could EVER revert back to a normal masher now. It takes the pain out of mashing!
A cooking thermometer will be helpful for checking the temperature of your oil. I use this one by Mastrad* and find it really works well.
A slotted spoon* will help remove the balls from the oil without spilling the fat everywhere.
*these are affiliate links meaning I'll receive a small profit if you buy from them.
The Recipe
Battered Bubble and Squeak
Serves: 13 balls
Difficulty: Medium
Based on Andorran cuisine, these bubble & squeak balls are not only comforting but filling too. Great served with a plate of sausages.
What you will need
The Balls
500g white potatoes
5 brussel sprouts
1 leek
1 garlic clove
1 tbsp butter
Salt and pepper for seasoning
1 tbsp olive oil (for the leek)
5 rashers of pancetta
1L sunflower oil (for the deep-frying)
The Batter
150g plain flour
150ml milk
1 egg
Salt and Pepper
Method
1

Peel your potatoes and cut into quarters. Trim the top and tail of the leek and cut lengthways. Cut both the strips widthways into little slices.

2

Boil a large pan of water for the potatoes and a smaller pan for the brussels. Once boiled, add the potatoes and brussels into their pans and boil until soft ( potatoes approx 20 mins/brussels approx 15 mins). Drain.

3

Cut the brussels into diced pieces. Crush the garlic. Mash the potatoes in a medium-sized bowl. Add 1 tbsp of butter, the diced brussels and mix in.

4

Heat 1 tbsp of oil in a frying pan and fry leeks for 2 mins until soft and almost brown. Add the crushed garlic and fry for 1 min –

5

keep stirring to avoid burning. Add to mash and stir in.

6

Grill the pancetta slices (I used temp 3 on my grill) until crispy. Using scissors, snip the pancetta into slices, directly into the bowl. Stir in a leave the mix to cool.

7

Make the batter: add the flour, egg, milk in a bowl and whisk until there's no lumps. Season.

8

Heat the oil in a medium-sized pan (make sure it's not too big as the oil will be too shallow to fry). The oil will first need to reach the temperature of 190 degrees.

9

Shape the potato mix into 13 even-sized balls. Once the oil is hot, dip into the batter and put straight into the oil. I did mine 5 at a time, one after the other. Cook until golden brown. Remove using a slotted spoon and place on a plate layered with kitchen towel to drain off the oil. Serve in a bowl and sprinkle over some sea salt.
MORE SNACK IDEAS
PIN ME! PLEASE?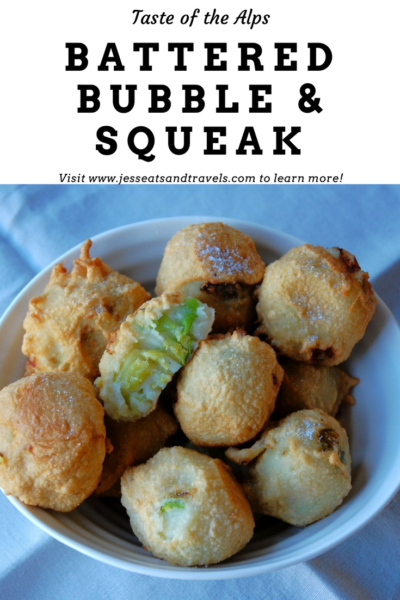 FANCY EATING MORE ANDORRAN FOOD? TRY THESE:
Breakfast: nothing beats a homemade croissant just like they eat in Andorra!
Lunch/dinner: indulge in my take on the national dish, escudella: slow-cooker Catalan-style rigatoni stew.
Dessert: how about these crispy & creamy Easter Spanish toasts?
See my what to eat in Andorra post for more in-depth information on how you would eat in Andorra.
LET'S CARRY ON THE CONVERSATION!
Let's catch up over on my social media accounts (in the top, left of this post). Go over and follow me and we can chat about cake. Why not subscribe to this blog to never miss a post? It would make me a very happy bunny