Crispy Pork Belly Sandwich with Apple Sauce
The ultimate comfort sandwich with the least amount of stress and faff! This easy crispy pork belly sandwich is absolutely jam-packed full of flavour! There's crispy pork belly with melty butter, gooey applesauce and soft hot dog rolls – delicious!
Crispy Pork Belly Sandwich
Most people love a bit of pork belly; the problem is that it takes quite a while to cook and most struggle to know how to serve it and what to serve it with. After all, crispy pork belly is delicious and while pork and apple are a great combo, a standard piece of crispy pork belly with apple sauce would have that gorgeous crackling turning soggy. That's certainly no good!
Pulled Pork Sandwich Alternative
We recently experimented with pork belly sandwiches. After all, if you can have a pulled pork sandwich then why not a pork belly sandwich? Plus, it's a lot less messy to eat than a pulled pork sandwich!
This pork belly sandwich is perfect for making when you have to feed a crowd. The recipe serves 4, but can easily be scaled up to feed as many people as you need to. After all, you would just need some extra pork belly slices, extra applesauce and extra hot dog rolls – super simple!
Why should I make this pork sandwich?
No stress or faff in this recipe. We use all the cheats going!
An alternative to hot dogs on Bonfire Night – great for gatherings with friends
The crispness of the pork belly and the buttery hot dog is not one to miss!
To make your own apple sauce or not?
You could even make your own applesauce! We don't usually bother with that but here's a recipe for simple apple sauce so that you can make your own if you'd like to! The bonus of making your own is that it's usually slightly healthier as you can control the amount of sugar that gets added. You can also control how smooth or chunky you like it which is great since most store-bought apple sauce is pretty smooth.
Perfect for eating around the campfire
These crispy pork belly sandwiches are also perfect for autumn, to eat whilst huddling around a campfire (obviously where you have access to a kitchen so you can roast the pork, haha) You can make them in summer for BBQs just as easily, though.
Ingredients needed
Pork belly slices

– we just used simple supermarket pork belly however getting it from a butcher would guarantee better quality.

Vegetable oil to ensure a good crisp on the pork.
Sea salt for seasoning the pork (Cornish Sea Salt is our favourite brand).
Soft hog dog rolls (just standard supermarket ones will do fine).
Ready-made apple sauce (or make your own if you have more time).
Lettuce for garnishing the sandwiches – we used a crispy leaf from our garden plot, but any will do.
Equipment list
Medium-sized baking tray
A medium-sized bowl
A knife for slicing the pork
A bread knife for slicing open the rolls
Frequently Asked Questions
How do I make the crispy pork belly?
The crispy pork belly is much speedier to make than most pork belly recipes because we used pork belly slices. This means that you just have to season them, lightly coat them with oil (to make sure they crisp up) and then bake them.
Can I use a larger piece of pork belly?
Yes, you could also use a larger piece of pork belly and either cut it into slices yourself or bake it whole as usual and then slice pieces off it for the sandwiches. The only potential issue with this is that you'll only have crispiness from the crackling on top. The individual slices of pork belly won't be crispy because they won't be exposed to heat and lightly coated with oil on all sides.
How about leftover pork belly?
This does mean that you could make these sandwiches with leftover pork belly (if such a thing exists!). You can reheat it in the oven (lightly coated with oil again) and then carry on with the recipe as written. It would be a great shortcut for making these sandwiches too!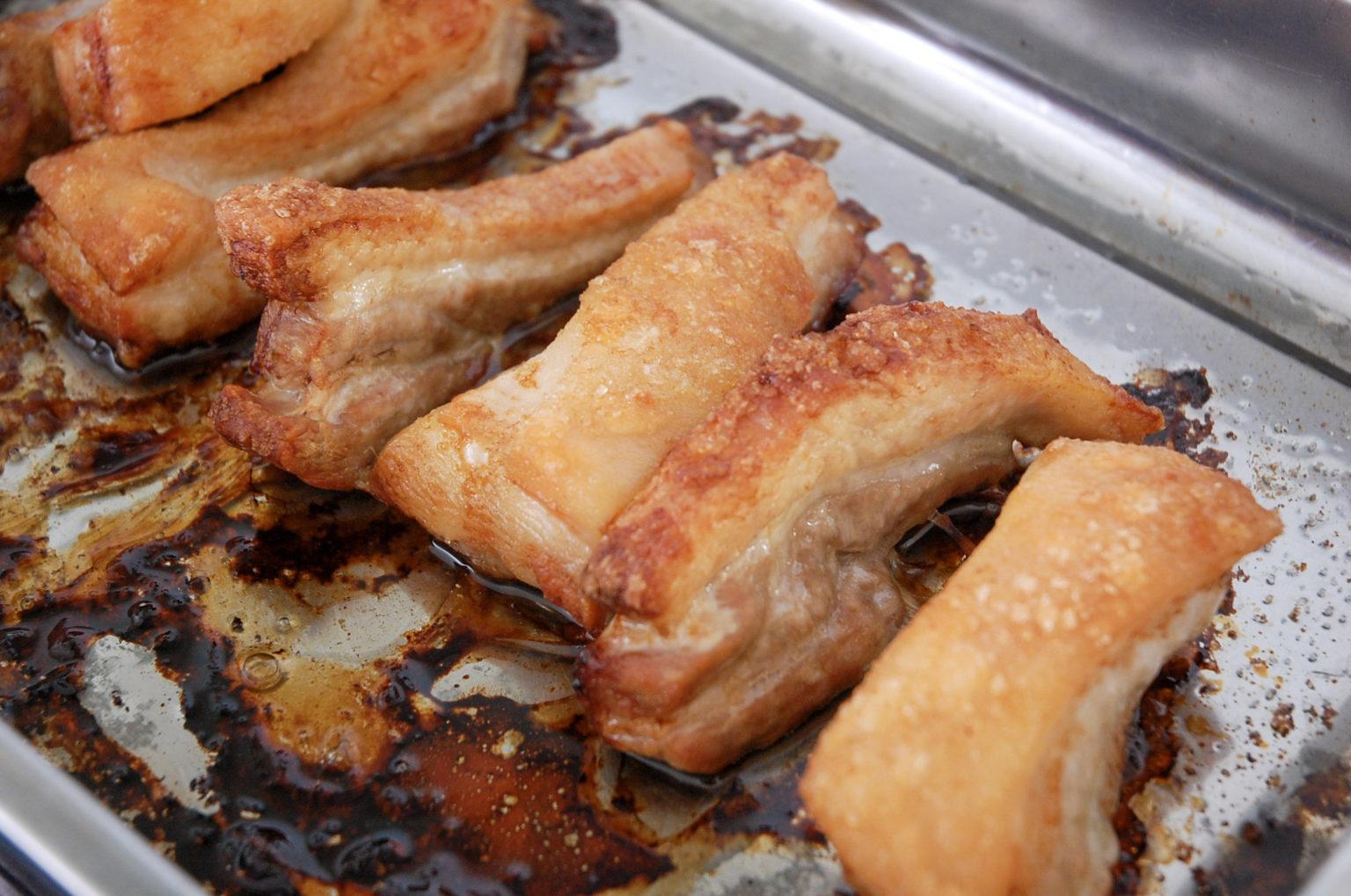 What should I serve with the crispy pork belly sandwiches?
We recommend serving them for dinner with a green salad on the side, but they'd also make an amazing (slightly generous) lunch. For lunch, we'd simply serve them as they are – possibly with a bag of crisps or salad.
You could even add the crisps to the sandwich (if they're ready salted) for some extra crunch! If you do that then we'd recommend going light on the seasoning of the pork belly so that you don't accidentally end up with a super salty meal. We're definitely on to something here and we'll be trying this next time!
That's really the brilliance of these sandwiches – you can serve them for almost any occasion! We'd happily eat them at a BBQ or bonfire night alike! The only thing they might not be suitable for is a dinner party or a light afternoon tea, but those are rather specific situations!
In fact, the only reason we don't recommend serving them at a dinner party is because they can be a little bit messy – but that's also one of the best things about them so we certainly wouldn't change it!
How do I make the sandwiches?
The method for the sandwiches is really just a matter of assembling the ingredients as you like them.
Just butter your hot dog rolls, fill them with pork belly slices and lettuce and then spoon the apple sauce over the top. How ridiculously easy is that?
You could even skip the butter and use apple sauce to spread on your rolls. This would keep the rolls from being too dry, but also prevent them from being too oily. Personally, we prefer the butter since butter is delicious, but you can customise them however you like!
The Recipe
Crispy Pork Belly Sandwiches with Apple Sauce
Serves: 4
Difficulty: Easy
These pork belly sandwiches are the least stressful comfort sarnie you could ever make!
What you will need
590g pork belly slices (roughly 6 slices)
2 tbsp vegetable oil
1 tbsp sea salt
6 soft hot dog rolls
Salted butter for spreading
Ready-made apple sauce
2 handfuls of shredded lettuce
Method
1

1. Preheat your oven to 200 fan and place baking tray in oven to preheat.

2

2. In a bowl, season the pork belly with the salt and mix in with the oil.

3

3. Once your oven has preheated, place pork belly on the preheated tray, fat side up, and sprinkle more salt on the fat. Leave to roast in oven for 45 mins.

4

4. Butter your rolls, slice your pork belly widthways and place in roll to melt the butter. Spoon in your apple sauce, add your lettuce and serve.
MORE PORK RECIPES TO TRY
Pork sausages: Frying pan toad in the hole with black pudding
Pork medallions: The best pork schnitzel recipe
Bacon: Battered bubble and squeak balls
Pork mince: Chinese pork balls in a tropical sauce