Ajvar (Red Pepper Sauce from the Balkans)
A versatile red pepper and aubergine sauce typical of the Balkans. Ajvar goes well with meat kebabs or stirred into a pasta as a sauce. Super simple to make too!
Roasted Red Pepper and Aubergine Sauce
I don't know about you but I love the smell of peppers roasting in the oven. A smoky yet sweet perfume lingers in the air, and the knowing that they'll be turned into a yummy pepper dip, is even better! I also find the peeling of red peppers satisfying too. Every time I do it, I say to myself that'll I'll do it more often and jar them for future recipes. I never do but the thought is there!
I love this recipe for a typical Balkan/Serbian red pepper sauce. It's one of those recipes I've discovered and will also vow to make more due to its simplicity and versatility. I love how you can freeze it and use it for future meals, like a simple pasta sauce or stirred into stews/casseroles, chillis etc.
READ: My guide on Bosnian Food, Background and Culture – ALL you need to know!
Why should I make ajvar red pepper sauce?
Red pepper sauce is so simple to make. All you do is roast veg and blend – it's that easy!
Use it as a dip, as a pasta sauce or as a topping for meat kebabs.
Freeze it for future meals!
Ajvar is a healthy alternative to ready-made, shop bought sauces. No additives!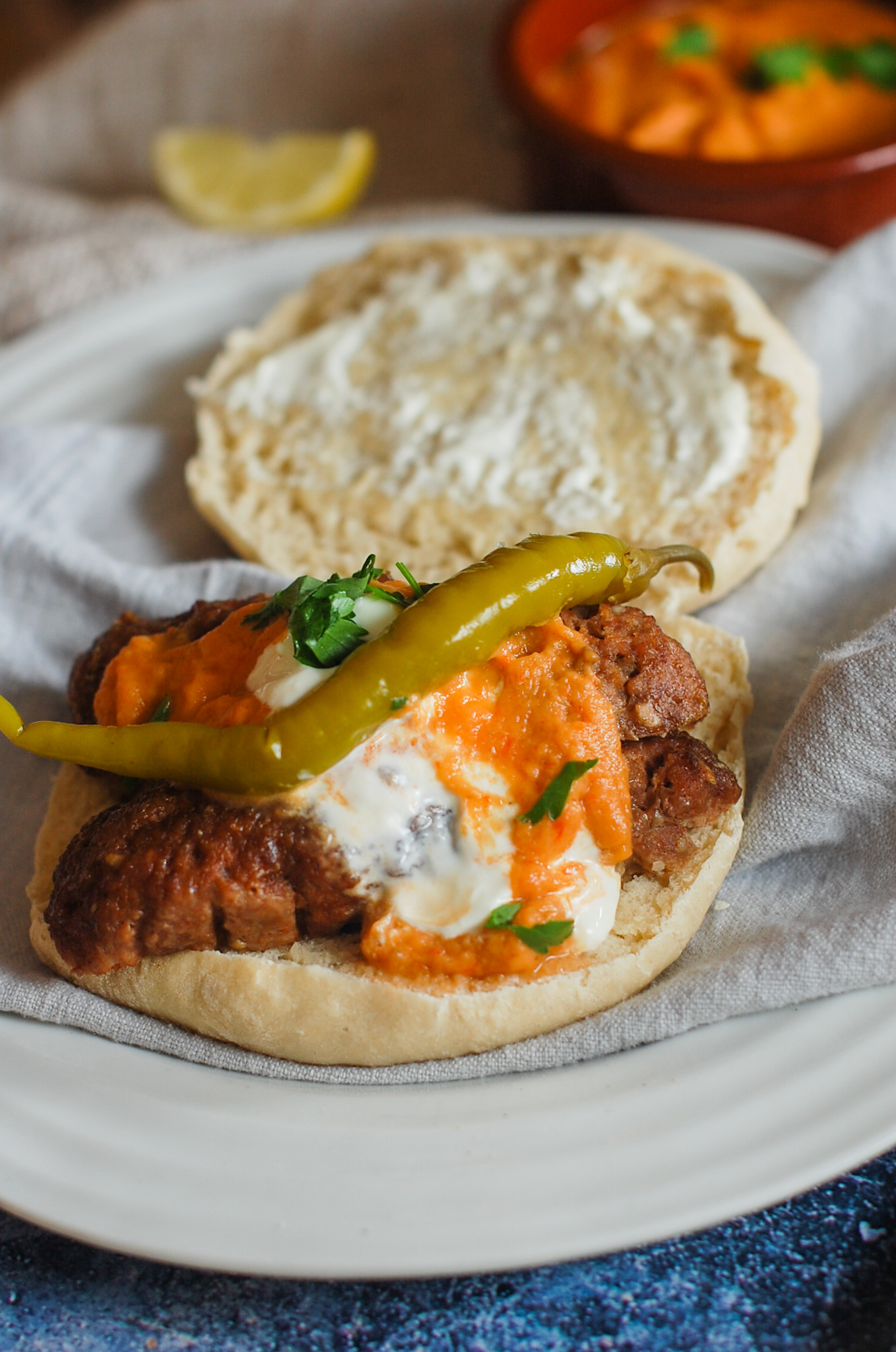 Ajvar is typically served with cevapi (a beef shish-style kebab) on a lepinja bread roll.
Ingredients for Ajvar Dip
Red peppers – the red peppers are obviously what gives this dip its bright, red colour. You could use other peppers of course but red is what works the best.
Small aubergines – roasted aubergines work so well in this dip. You also don't have to peel them as scooping out the flesh is easier!
Olive oil – olive oil gives the dip its smoothness and of course adds flavour too.
Lemon – a little squeeze of lemon always goes well in any dip. Adding a bit of tang to offset the sweetness.
Garlic – crushed garlic cloves are perfect in this avjar dip.
Sea salt – to add some savoury taste to the red pepper dip. Salt is always needed!
Flat-leaf parsley – a little garnish of parsley is lovely if serving it for friends.
Where does Ajvar sauce come from?
Ajvar is a red pepper dip typical of the Balkans. This recipe has been made with Bosnia and Herzegovina in mind but it's typical of the Balkans as well as Turkey, where the word 'ajvar' derives from. It comes from the Turkish word 'havyar' which means 'caviar'. Ajvar is also known as 'pindjur' or 'Serbian salad'.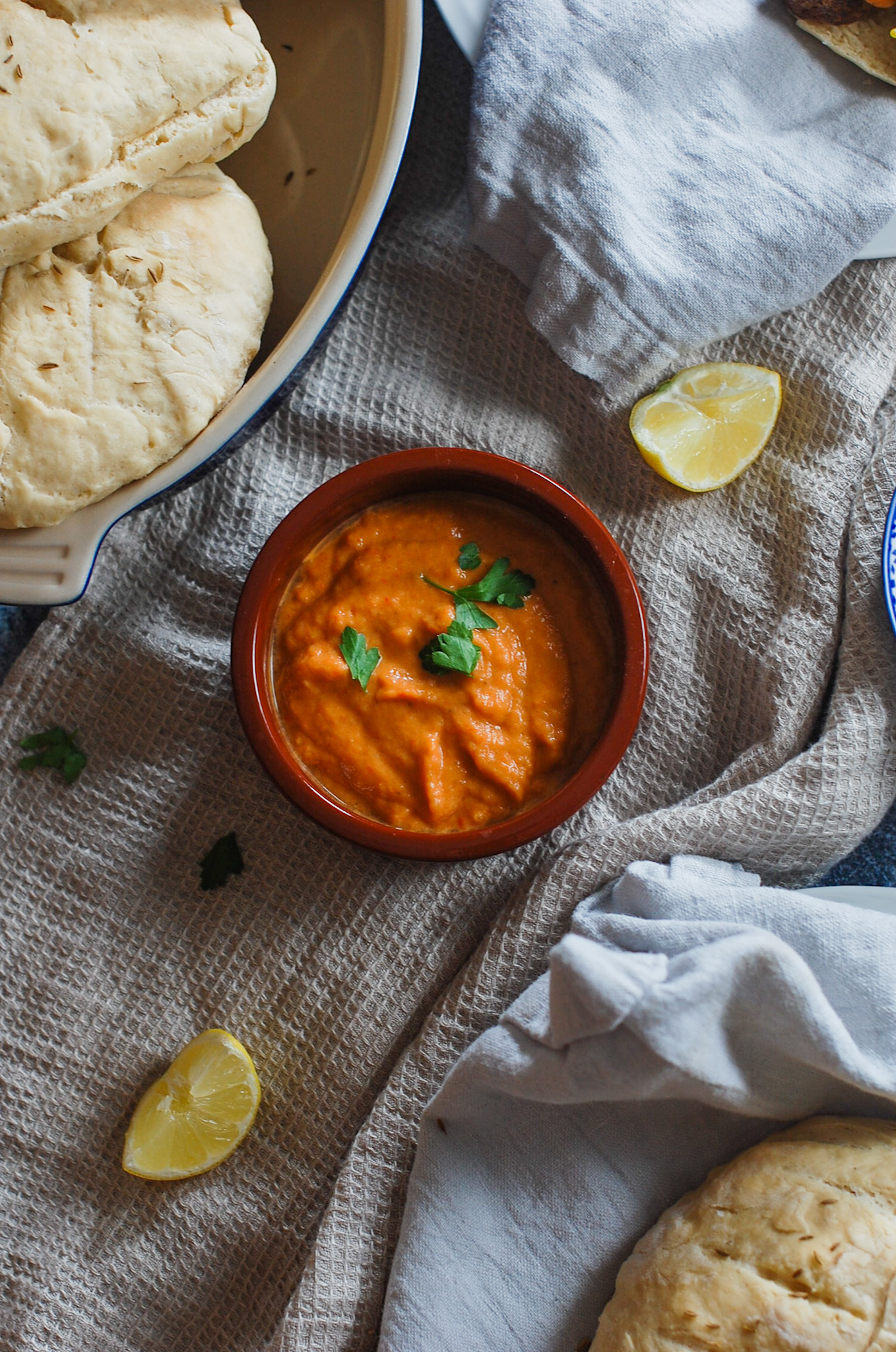 Equipment Needed
Roasting pan x 2
Medium bowls x 2
Cling film
Food processor or blender (I used my Nutri-bullet)
How to make roasted red pepper sauce
Roasted red pepper sauce is honestly so simple to make. All you need to do is roast your peppers and aubergine, leave them to cool and peel the peppers and scoop out the flesh of the aubergine. Once that's done, you blend the flesh of the pepper and aubergine along with the garlic, oil, lemon and salt. You can leave it chunky or make it smooth like mine. It really is that easy!
Here's a step-by-step guide to make this delicious red pepper and aubergine sauce.
Red pepper dip recipe step-by-step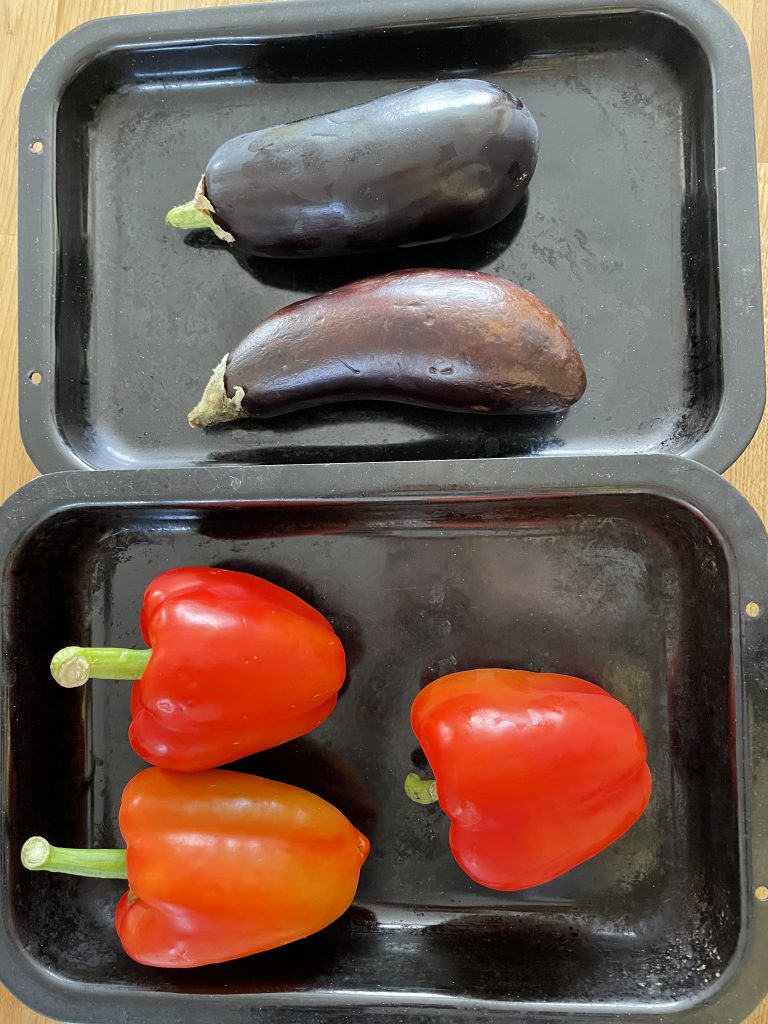 Serving suggestions
This red pepper sauce (ajvar) is so versatile and could be served in many ways. One of my favourite ways is to serve it like they would in Bosnia and Herzegovina. Whip up a batch of lepinja bread rolls, add in a couple of beef cevapi's (beef-style shish kebabs) and top with the ajvar sauce. A little bit of sour cream and a guandilla chilli will top it all off nicely!
Ajvar (Red Pepper Sauce from the Balkans)
A versatile red pepper and aubergine sauce typical of the Balkans. It goes well with meat kebabs or stirred into a pasta as a sauce. Super simple to make too!
Ingredients
3

red peppers

2

small aubergines

1

tbsp

olive oil

1/2

lemon juice

1

tsp

sea salt

1

sprig

flat-leaf parsley
Instructions
Roast the whole peppers and aubergines on two small baking trays (just in case one roasts quicker than the other). They will appear shrivled and blackened when done. About 30 mintues.

Once roasted, place both the aubergines and peppers into separate bowls and cover with cling film. Leave them both for 10 minutes to cool.

Carefully peel off the skin from the pepper (they might still be hot!) and scoop out the seeds into the bowl. Put the pepper straight into the blender. Cut the aubergine in half, scoop out the flesh and put into the blender too.

Add the olive oil, lemon, garlic and salt. Blend until chunky or smooth (like mine). Be wary if using a Nutri-bullet like me, as it will not blend chunky. It's too powerful!

Store in a sealed container in the fridge for about a week, or freeze for future use!
Notes
Storage – you can keep this red peppers dip in a sealed container, in a fridge, for about a week. If you've still got some left by the end, make a huge batch pasta of pasta, stir it in and freeze for future dinners!
Freezing – this sauce is freezable. Either freeze in a container, a zip-lock freezer bag or even better, ice-cube containers to use as little cubes of flavour to stir into casseroles etc. Will freeze for 3 months. 
Nutrition
Calories:
467
kcal
Carbohydrates:
76
g
Protein:
13
g
Fat:
17
g
Saturated Fat:
2
g
Polyunsaturated Fat:
2
g
Monounsaturated Fat:
10
g
Sodium:
2359
mg
Potassium:
2873
mg
Fiber:
35
g
Sugar:
48
g
Vitamin A:
11473
IU
Vitamin C:
483
mg
Calcium:
111
mg
Iron:
4
mg
More condiments and dip recipes –
Smoky BBQ sauce from Australia
Spicy Tomato Chutney from Bangladesh