Smoky BBQ Sauce (Australian)
A sweet and smoky Australian BBQ sauce will be the perfect accompaniment at barbecues. My all-in-one method for homemade barbecue sauce is super easy too and takes less than 20 minutes!
Smoky Australian BBQ Sauce
I don't know about you but I could eat BBQ sauce on everything! I love the stuff! My little one is also a big fan of condiments, so this was probably one of his fave things I've made so far for this blog!
BBQ sauce is huge in Australia. Having a BBQ is a common affair and this smoky condiment can be found at most of them! This homemade smoky BBQ sauce is very quick and easy to make. You just throw it all in a pan and leave it to bubble away. You can leave for as long or little as you long. Jar it up and keep for a week or so or consume straight away!
Why should I make this homemade barbecue sauce?
Takes less than 20 minutes from prep to finish!
BBQ sauce is SO versatile
Easy all-in-one method means no faff!
Homemade barbecue sauce tastes a lot better than shop-bought!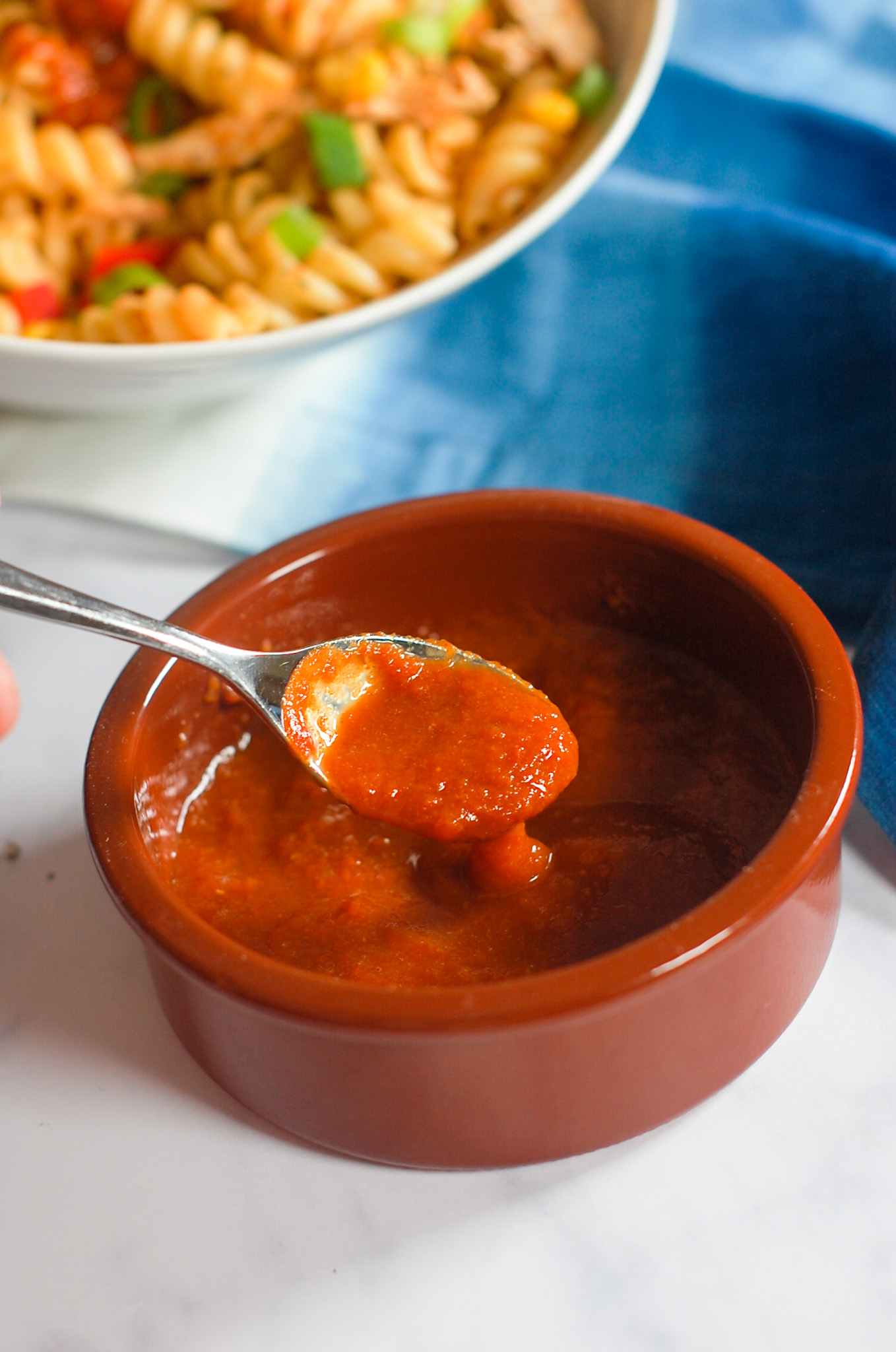 Ingredients for BBQ Sauce
Tomato sauce – a long with the maple syrup, the tomato sauce provides a little bit of sweetness to the BBQ sauce.
Garlic powder – the garlic added isn't overpowering but it's there. Feel free to omit if you're prefer.
Onion powder – onion powder provides a bit of savoury to this dip. You can also omit if needed.
Black treacle – the treacle makes this bbq sauce super smooth.
Maple syrup – adds some sweetness.
Sweet smoked paprika – gives it that smoky taste that we all love!
American mustard – more smokiness for this bbq sauce!
White wine vinegar – a bit of a tang is needed in a bbq sauce. I went for white wine vinegar as its so commonly found in a store cupboard.
Can you freeze BBQ sauce?
Freezing BBQ sauce would make cooking this sauce a really productive task because the answer is yes! All you need is a freezer bag or an alternative. You could then double this recipe and make a batch for your next BBQ because trust me, this batch will be gone, it's THAT TASTY!
Make sure you cool the sauce down before pouring into the bag or container. Homemade BBQ sauce will last in the freezer for around 3 months. Defrost and give it a good stir before using. Heating in a pan may help if it's a little watery. Adding a tsp more paprika may help if the flavour has been lost a little through freezing.
Equipment Needed
Measuring spoons
Small saucepan
Whisk or spoon for stirring
A jar/glass/tub to store it in
Smoky Australian BBQ Sauce recipe step-by-step
What can I serve with my homemade barbecue sauce?
Homemade barbecue sauce is so versatile. The great thing is that not only is it a condiment but also a marinade too. Here are only a handful of ideas…
Use as a marinade for BBQ chicken wings/drumsticks
Drizzle over the Bolivian sharing dish, pique macho (steak and chips!)
Chips and sweet potato wedges are the perfect accompaniment for this Australian BBQ sauce
Make a BBQ chicken pasta salad for a light, summer dinner
Smoky BBQ Sauce (Australian)
A sweet and smoky Australian BBQ sauce will be the perfect accompaniment to barbecues. My all-in-one method is super easy too and takes less than 20 minutes!
Ingredients
400

g

tomato sauce

1

tsp

garlic powder

2

tsp

onion powder

1

tbsp

black treacle

1

tbsp

maple syrup

1.5

tsp

sweet smoked paprika

1

tbsp

American mustard

2

tbsp

white wine vinegar
Instructions
Throw all the ingredients in a small sauce pan and heat. Leave to simmer for 10 minutes.

Once simmered, cool slightly and then blend in a blender until smooth. Serve straight away or cool and store in the fridge until ready to eat.
Notes
Tomato sauce – in case anyone wondered, I mean ketchup, as in the condiment itself (not a tin of tomatoes). Use ketchup (any will do).
Onion powder – you can buy it online if you can't find it in supermarkets. We got ours from Costco but they also sell it at Wholefoods Online. 
Storage – store in the fridge in a Tupperware/glass/jar – whatever takes your fancy! Seal it well and it'll keep for a couple of weeks (or more). I expect you can keep it longer but I've only ever kept mine for two weeks.
Nutrition
Calories:
1
kcal
Carbohydrates:
1
g
Protein:
1
g
Fat:
1
g
Saturated Fat:
1
g
Sodium:
8
mg
Potassium:
6
mg
Fiber:
1
g
Sugar:
1
g
Vitamin A:
11
IU
Vitamin C:
1
mg
Calcium:
1
mg
Iron:
1
mg
More condiments, dips & preserves –
Make your own dulce de leche sauce
Spicy tomato chutney from Bangladesh