Use up your leftover roast chicken with this tasty and simple BBQ chicken pasta salad. Makes a refreshing side dish to a barbecue gathering with friends.
A Simple Chicken Pasta Salad that Kids will GOBBLE UP!
A BBQ chicken pasta salad ALWAYS goes down well in our household. I don't know if it's the fact it contains pasta or that my little one LOVES condiments, especially BBQ sauce and ketchup! This meal is always welcome, for lunch or dinner. That's the beauty of it. It's filling enough to be a dinner, stores perfectly as a lunch but also would be welcome as a side!
My chicken pasta salad using roast chicken leftovers is very simple to prepare too. You'll already have the chicken from your roast or BBQ (for a flavour boost!); the only prep you'll need to do is cut the veggies, cook the pasta and make the BBQ sauce. You can also use ready-made though if you're short on time. No judgement here!
I love making use of leftovers and will always try and use every last scrap for something. Another yummy recipe for leftover chicken is my coronation chicken sandwich. It's creamy, full of raisins and juicy apricots, and perfect for using up leftover roast chicken. Why not give it a try some time?
Why should I make BBQ Chicken Pasta Salad?
Eliminate waste and use up any roast chicken from your Sunday roast (even better if the chicken was cooked on the BBQ!)
Makes for an easy side to a BBQ gathering with friends
A great batch-cook for a week's lunches
Kids will LOVE this!
Learn to make your OWN BBQ sauce with my simple Smoky BBQ recipe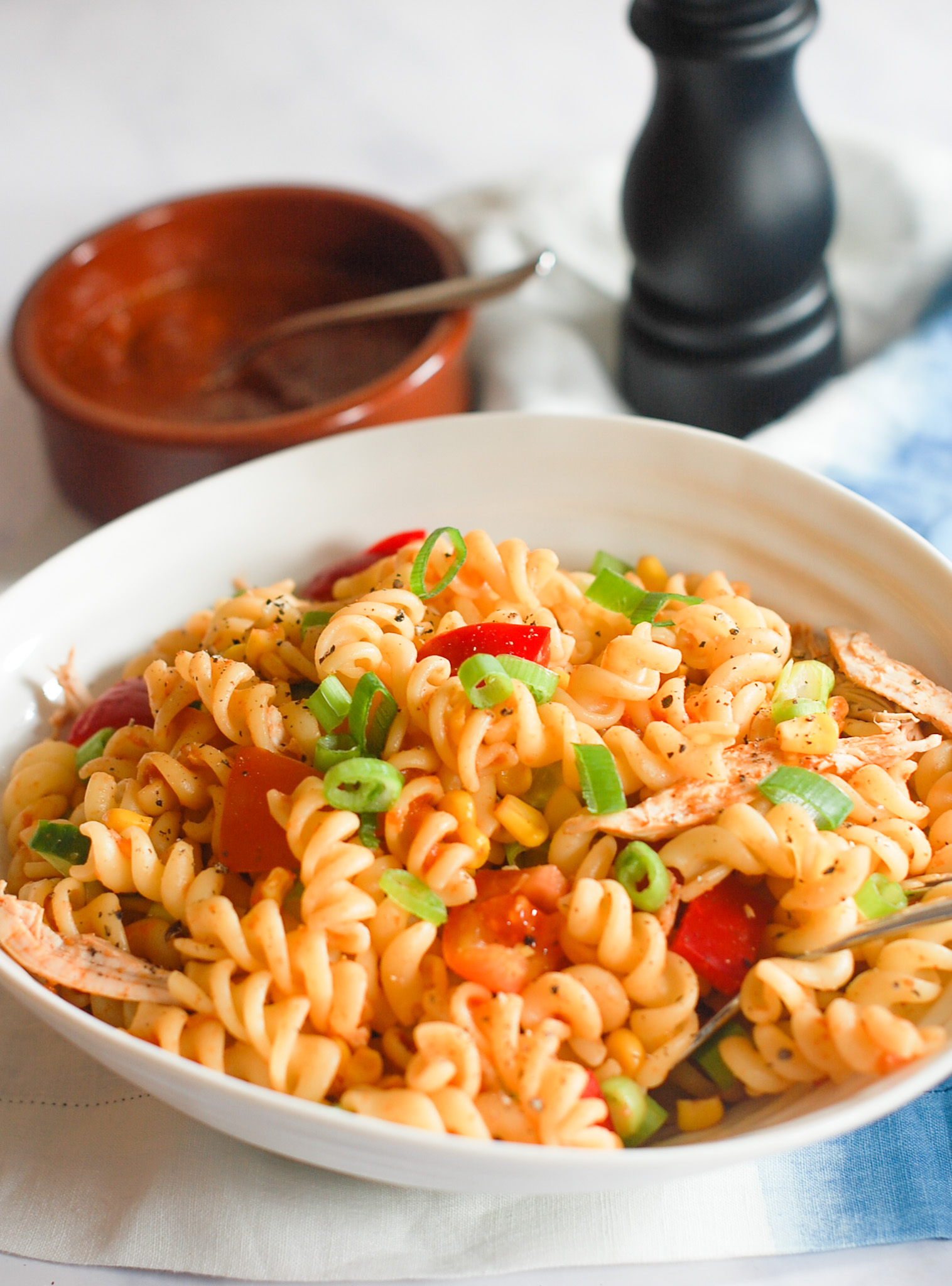 Ingredients for Chicken Pasta Salad
Roast chicken, cooked and shredded – the great thing about using leftover roast chicken is that it eliminates food wastage! You can shred it once it's warm/cold. For a flavour boost, barbecue your chicken (I'm going to try this one day!)
BBQ sauce – you can use ready-made bbq sauce or make your own with my smoky BBQ sauce recipe (which I used for this recipe). Add more to the recipe if you like it particularly saucy.
Frozen sweetcorn – Adding some sweetness and colour to the dish!
Spring onions – A little bit of onion always goes well in a pasta salad.
Tomatoes – providing an eye-popping colour to the pasta salad. Tomato makes it more refreshing too.
Cucumber – Adding a little coolness and crunch to the recipe.
Red pepper – I love red pepper in pasta salad. So much sweetness and crunchy too!
Fusilli pasta – My fave type of pasta to use in cold pasta salads. The fusilli shape holds so much of the flavour.
Do I have to make my own BBQ sauce?
Absolutely not! I'm all about ease and if time is tight and precious, of course use a bottle of ready-made BBQ sauce. My favourite is by Dr Will's. Honestly SO good.
Although I'm going to say that my homemade BBQ sauce recipe only takes 15 minute to make. So if you have that extra 15 to spare, I'd highly recommend! It's the same sauce I used in this pasta salad recipe.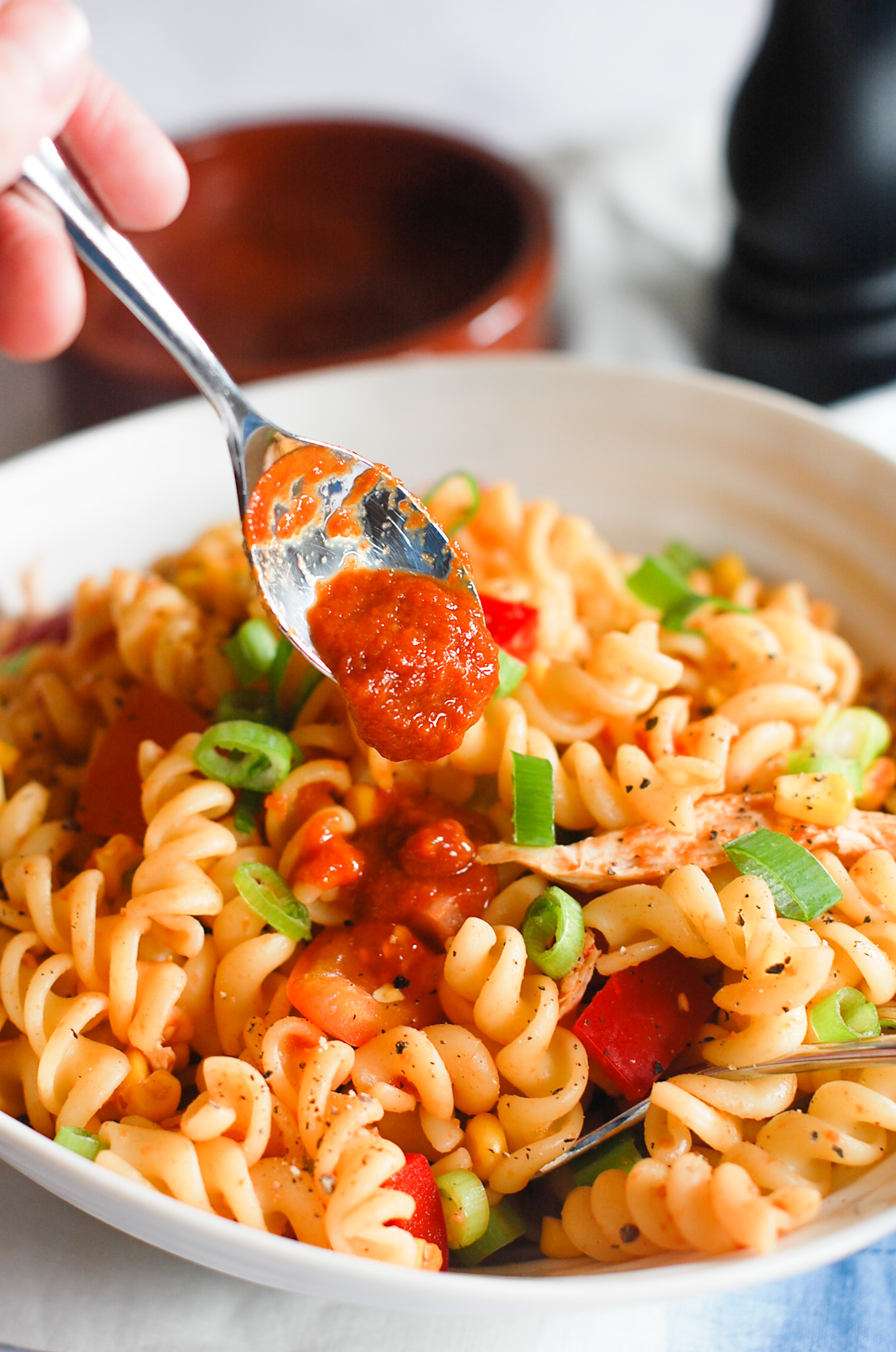 Equipment Needed
Medium saucepan for cooking the pasta
Chopping board
Chef's knife for chopping veggies
Wooden spoon
Large mixing bowl
How long does pasta salad last in the fridge?
A pasta salad is absolutely MADE for batch-cooking and storing for the week ahead's lunches. Pasta salad will keep for around 5 days if stored well in the fridge, in a well-sealed container. So go ahead and batch-cook this to your hearts content!
Chicken Pasta Salad recipe step-by-step
Tips
For an EXTRA flavourful BBQ Chicken Pasta Salad, plan ahead of time and barbecue your chicken instead of roasting. Those smoky flavours will come through and it will be glorious!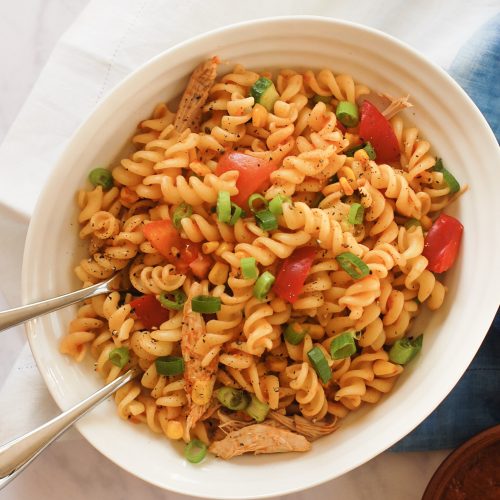 BBQ Chicken Pasta Salad
Use up your leftover roast chicken with this tasty and simple BBQ chicken pasta salad. Makes a refreshing side dish to a barbecue gathering with friends.
Ingredients
200

g

Chicken

cooked and shredded

5

tbsp

bbq sauce

homemade or shop-bought

200

g

frozen sweetcorn

2

spring onions

2

large tomatoes

1/4

cucumber

quartered

1

red pepper

diced
Instructions
1. Cook the pasta to the amount of time indicated on the packet (usually 10 minutes is good). Add the sweetcorn into the pasta water for the last 5 minutes.

Chop your veggies up small. Shred your chicken if not already done. Prepare your BBQ sauce if making your own.

Once cooked, drain your pasta and sweetcorn and pour into a large bowl. Tip in the chicken and veggies. Add the BBQ sauce (more if you like it stronger and more saucy). Give it all a good mix and serve, or chill until ready to serve.
Notes
Freezing – I wouldn't recommend freezing a pasta salad once cooked. You could freeze the cooked pasta and all the other items separately it's much more easier to make from scratch! It's such an easy dish, why wouldn't you?
Storage – A pasta salad can be stored in the fridge, in a well-sealed container for 5 days. 
Re-heating – A pasta salad is served cold so you won't need to re-heat.  
Nutrition
Calories:
162
kcal
Carbohydrates:
24
g
Protein:
7
g
Fat:
5
g
Saturated Fat:
1
g
Trans Fat:
1
g
Cholesterol:
18
mg
Sodium:
248
mg
Potassium:
456
mg
Fiber:
3
g
Sugar:
13
g
Vitamin A:
1731
IU
Vitamin C:
51
mg
Calcium:
27
mg
Iron:
1
mg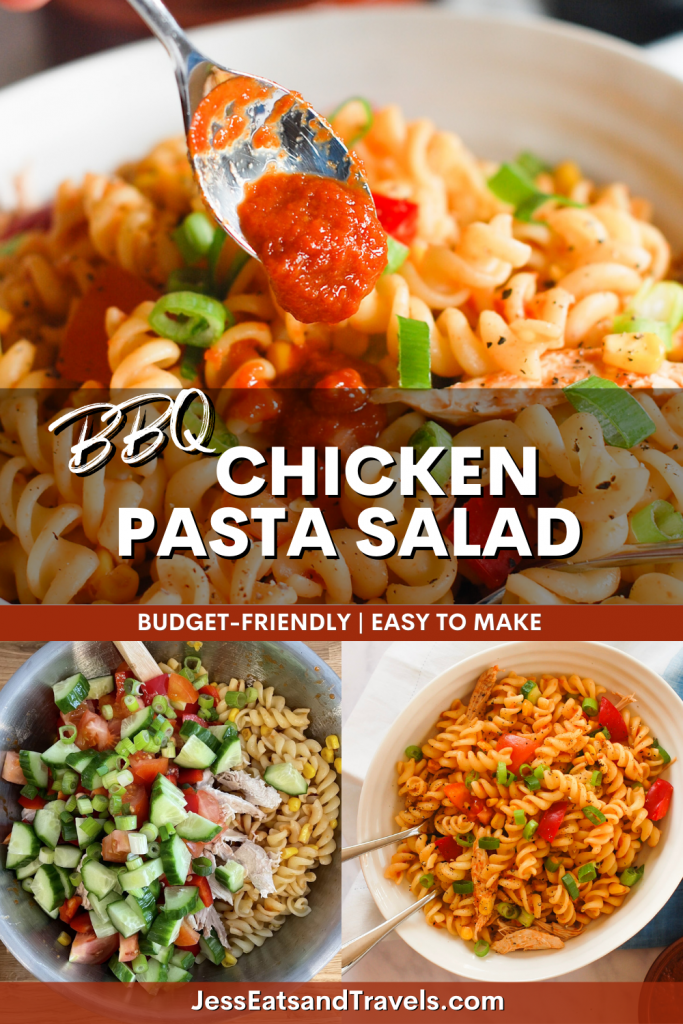 More simple lunch ideas –
Mackerel salad
Cumin fried cauliflower with halloumi
Spinach and yoghurt flatbreads
Coronation chicken sandwich (also good for using up leftover roast chicken!)
Belizean garnaches