Tinned Mackerel Salad with Lemon Vinaigrette
Using a sustainable, omega-3 rich fish such as mackerel, as well as being packed full of summery salad items, Tinned Mackerel Salad is perfect served up as lunch on a late summer's afternoon.
Tinned Mackerel Salad
This summery salad is super easy to make, as is most salads to be honest! The amazing thing about this one is the addition of tinned mackerel. I've recently been undertaking a journey to become more sustainable and even wrote a post about sustainable fishing and what we can do about it, over on my lifestyle blog jesscantoni.com.
Mackerel is currently a sustainable fish in the UK and is very yummy too. Why not put poor, unsustainable salmon aside for a bit and try tinned Mackerel instead? I'm not saying that I'm going to to ever eat salmon again but I'm definitely going to try and eat more of a variety of fish, mainly the sustainable kind and leave the others as a treat every now and then.
Why should I make this Mackerel Salad?
It's healthy: full of omega-3 oils + Vitamin D.
Economical – tinned mackerel is one of the cheapest fish's you can buy.
Tasty and always undervalued!
Tinned mackerel is not dry like tuna and it's filling too.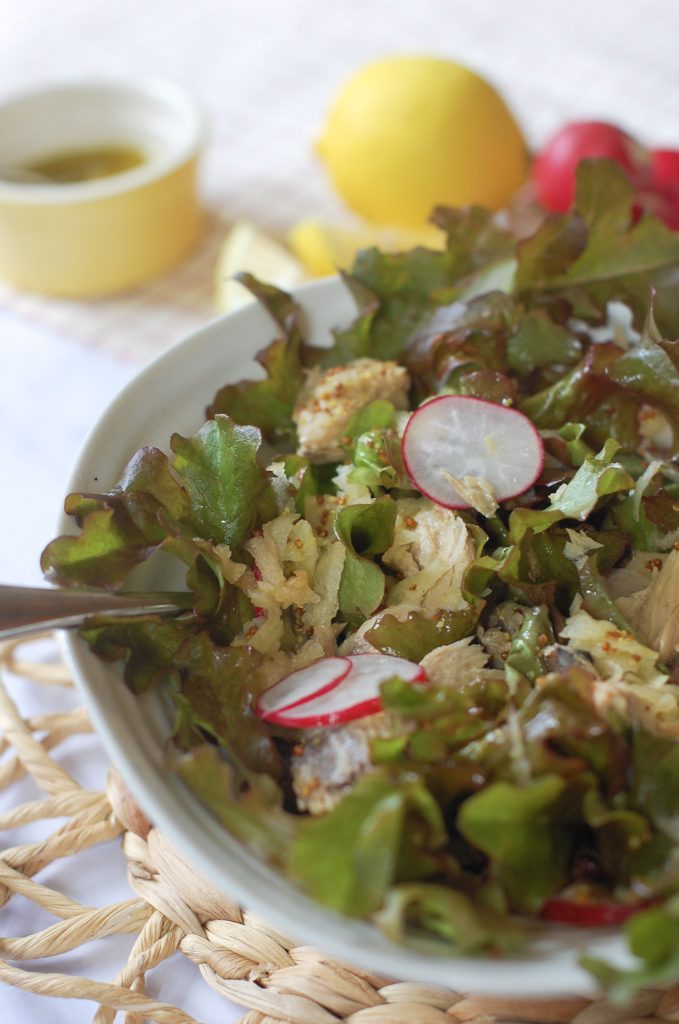 I was lucky to be sent some yummy sustainable tinned fish samples from the online ethical store, Traidcraft. They sent over the Fish4Ever tinned mackerel in spring water which I used for this recipe, and I can totally recommend it (available on the site for only £1.95!)
Traidcraft also sent some tinned sardines. I used this to make my Sardine, Lemon and Chili Linguine. Visit the link for more on how to create delicious recipes from simple, sustainable ingredients.
Equipment Needed
Small bowl for vinaigrette
Fork for mixing
Salad bowl
Sharp knife for chopping radishes
Grater for grating the apple
Chopping board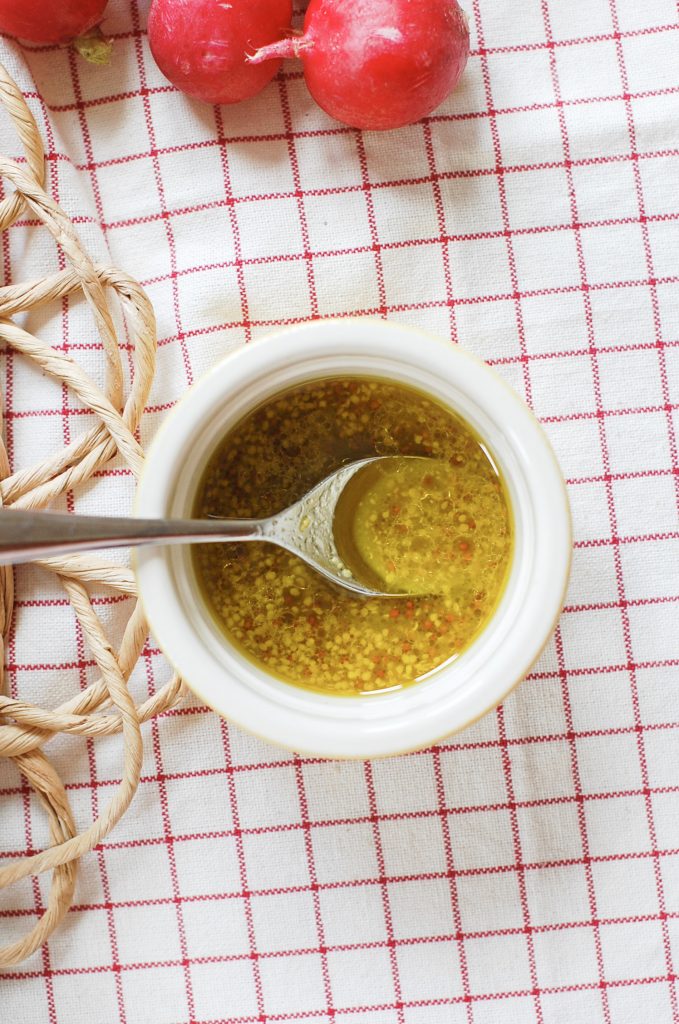 How to make a simple Lemon Vinaigrette
This salad is dressed with a zingy lemon vinaigrette and it's super easy to make. It only requires four ingredients: lemon juice, sugar, wholegrain mustard and extra-virgin olive oil. Oh and a bowl and fork to whisk! Here's how: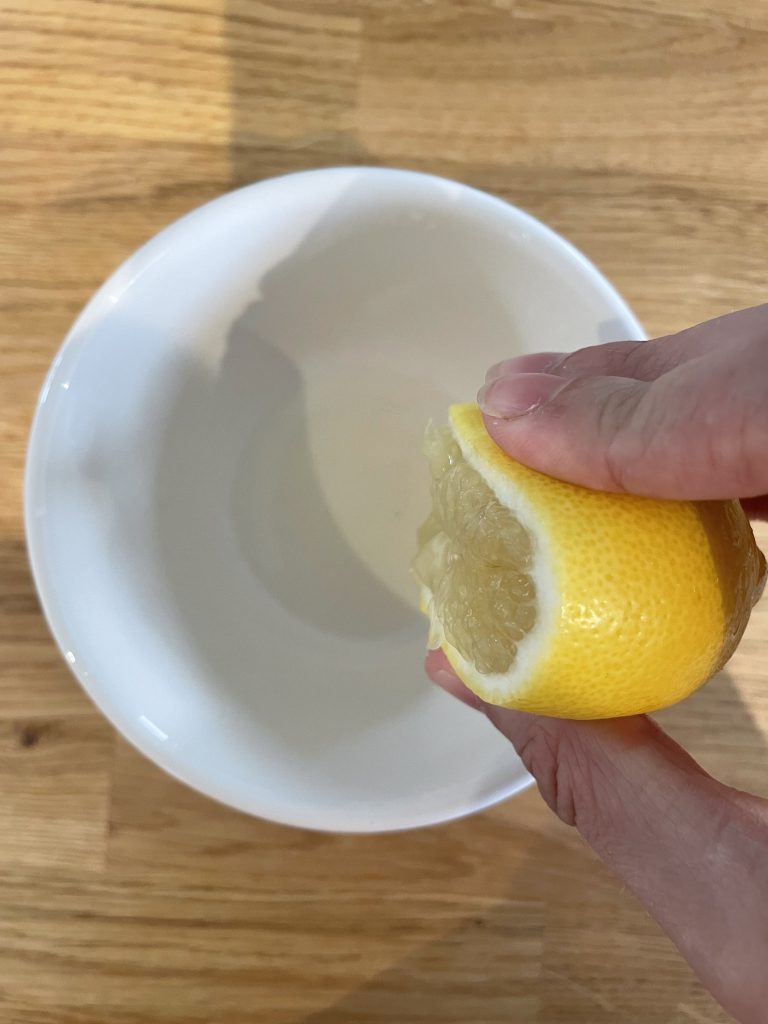 Can I make this dressing sugar-free?
You most certainly can. You could either choose to omit the sugar completely or substitute the regular sugar with a teaspoon of honey or maple syrup.
Can I use other types of mustard in this dressing?
This recipe uses wholegrain mustard but you could also use dijon or yellow mustard. The taste won't be changed drastically, unless you omit the sugar. Taking out the sugar will mean that you will taste the mustard more strongly.
How to assemble the salad!
Should I use tinned mackerel in oil, brine or water?
In the times I've made this salad, I've used both mackerel in spring water and mackerel in oil. Both were equally as nice. It depends if you like an oily mackerel or not. I would avoid tinned fish in brine as this only make the whole taste saltier. Go for what you like.
Can I use other tinned fish for this salad?
This salad would work really well with other tinned fish, such as sardines and tuna. You can definitely swap things around; that's the joy with salads!
Can I make this salad in advance?
I wouldn't recommend making this salad in advance. The lettuce leaves will go limp with all the dressing. If you're taking it to work for lunch, then fine (you'll be the only one who sees it!) however if it's for entertaining purposes, make it fresh!
Where should I store salad leftovers?
You'll need to store the leftover salad in the fridge, in a sealed Tupperware. It will keep for one day.
Mackerel flavour pairings
Here are some suggestions of other ingredients that pair well with mackerel. You could add all of these to your salad!
Tomatoes
Gooseberries
Citrus fruits such as oranges and lemons
Teriyaki dressing
Soy sauce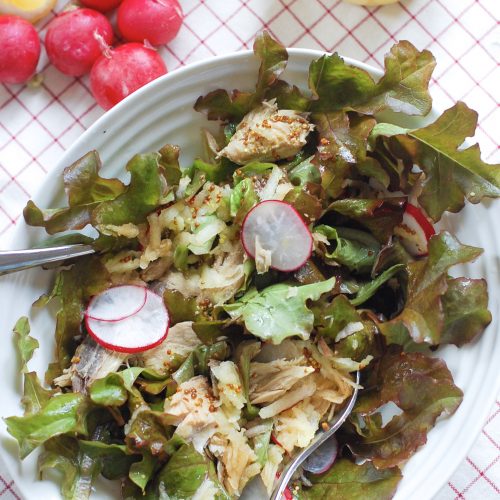 Tinned Mackerel Salad with Lemon Vinaigerette
Using a sustainable, omega-3 rich fish such as mackerel, as well as being packed full of summery salad items, Tinned Mackerel Salad is perfect served up as lunch on a late summer's afternoon. 
Ingredients
Lemon Vinaigrette
1/2

juice of a lemon

1

tsp

caster sugar

1

tsp

wholegrain mustard

50

ml

extra-virgin olive oil
The Salad
115

g

tinned mackerel

3

radishes

sliced thinly

Handful

red lettuce leaves

1/2

apple

grated
Instructions
The Vinaigrette
1. Mix the lemon juice, sugar and mustard together in a bowl. Slowly drizzle in the oil and mix until combined.
The Salad
Wash the lettuce leaves. Assemble in the bottom of your salad bowl. I kept mine whole.

Beak the mackerel into pieces and place in the bowl with the lettuce. Add the sliced radishes and grated apple.

Drizzle over the lemon vinaigrette dressing. Serve!
Nutrition
Calories:
353
kcal
Carbohydrates:
11
g
Protein:
14
g
Fat:
29
g
Saturated Fat:
5
g
Polyunsaturated Fat:
4
g
Monounsaturated Fat:
20
g
Cholesterol:
45
mg
Sodium:
250
mg
Potassium:
215
mg
Fiber:
2
g
Sugar:
8
g
Vitamin A:
282
IU
Vitamin C:
18
mg
Calcium:
152
mg
Iron:
2
mg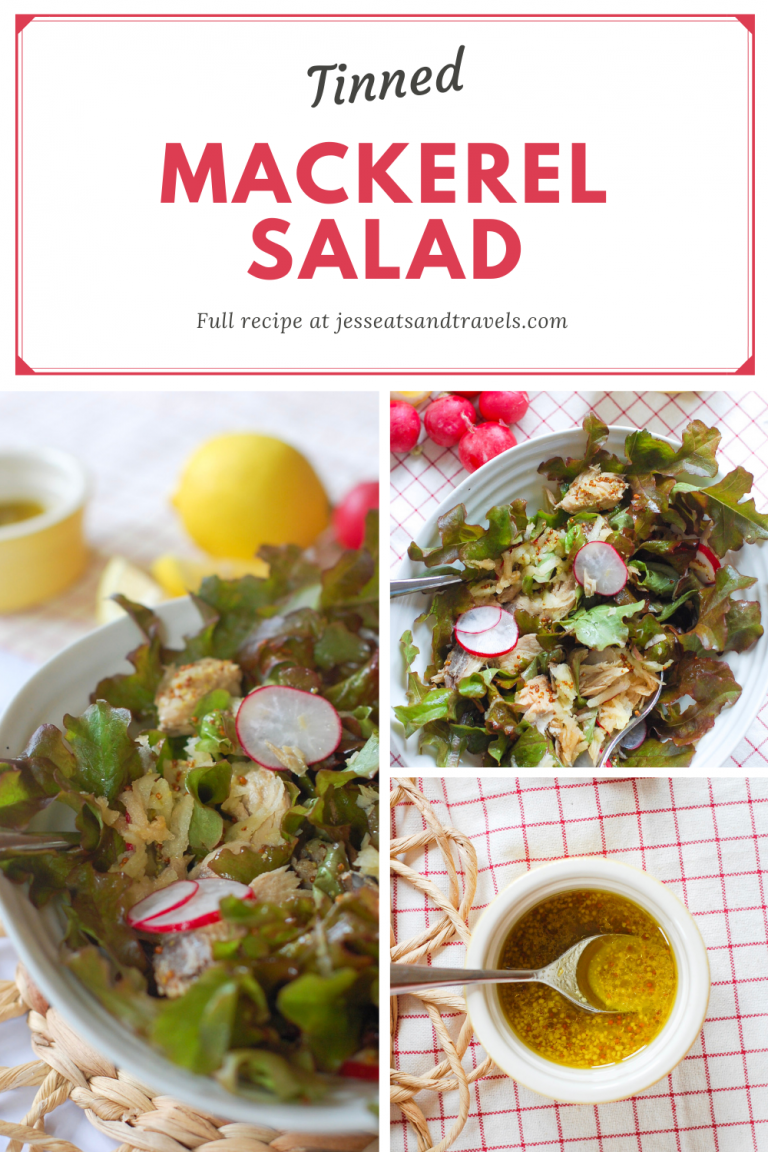 More tinned fish recipes –