Cumin Cauliflower Salad with Halloumi
Cumin cauliflower salad with halloumi is one of our favourite quick and easy vegetarian lunches. Take it to work and eat it cold too!
Cumin Cauliflower Salad with Halloumi
Most of the time cauliflower is overlooked as a the type of vegetable that is bland and boring, unless in a cauliflower cheese. However, did you know that cumin and cauliflower pair really well?
A lot of the time we turn straight to sandwiches or standard salad recipes of lettuce, cucumber and tomato for our lunch. How about adding some cauliflower into the mix? Frying the cauliflower in cumin will change your view of this delicious vegetable.
Fried cauliflower is a game-changer. Cumin cauliflower and halloumi is another level of yummy! Simply shake the chopped cauliflower florets in flour and cumin and lightly fry in a pan on the hob. Adding some saltiness to the show with some halloumi finishes off the dish nicely.
Serve with a simple side salad as the cauliflower steals the limelight this time!
Why should I make Cumin Cauliflower Salad?
A tasty vegetarian alternative to heavier sandwich lunches

Great to make ahead and eat cold
Cumin and cauliflower go hand in hand – an awesome pairing

Cauliflower is often overlooked at lunch time. Not once you've tried this recipe!
Pretty much in season all-year round (cauliflower)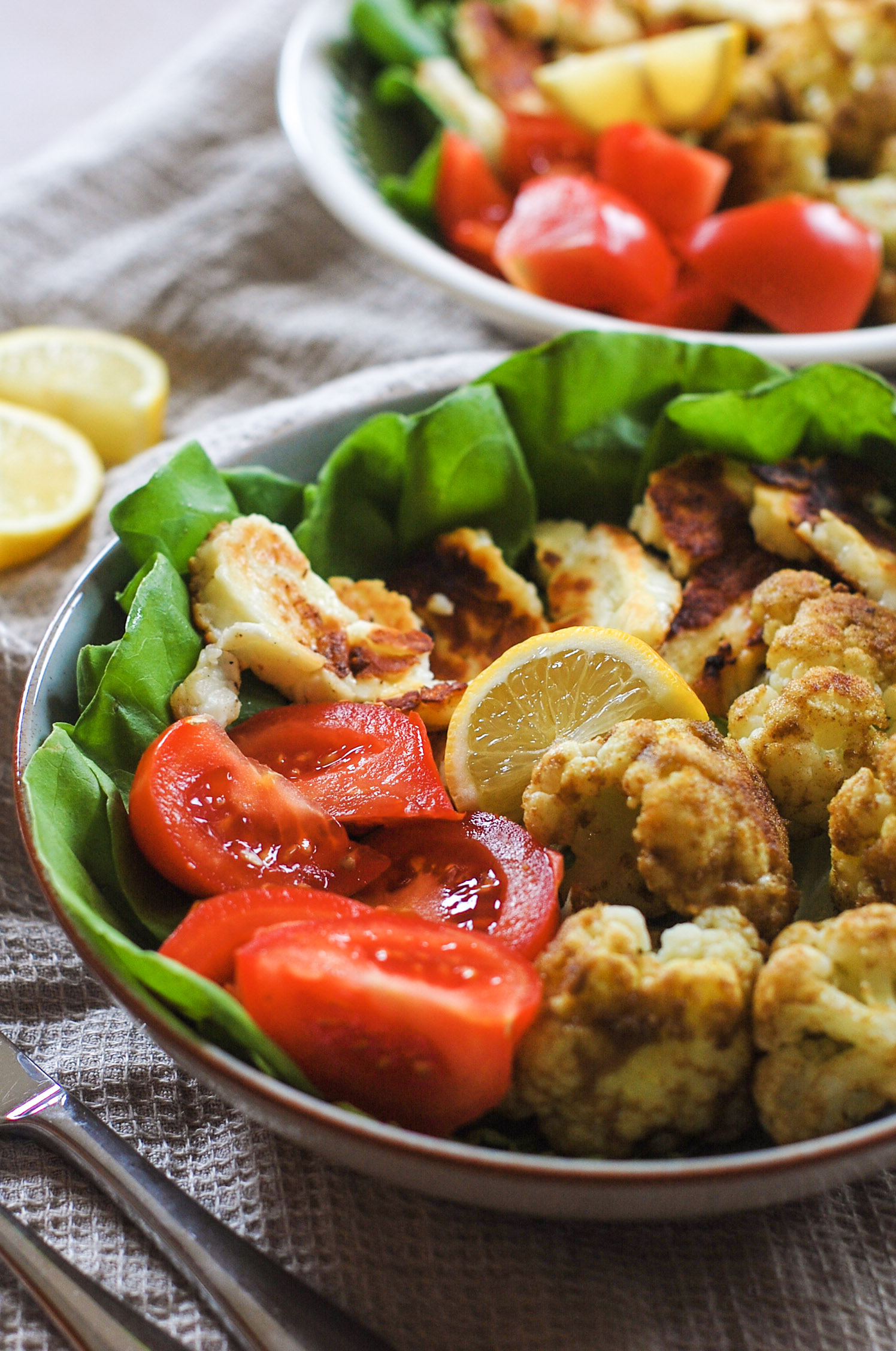 Ingredients needed for cauliflower salad
Small cauliflower – cut it up into florets or smaller pieces, depending how big you like them.
Ground cumin – cumin is such a wonderful spice with cauliflower, be it roasted or fried. It was second nature choosing it for this dish.
Olive oil – my favourite oil for frying!
Plain flour – to help coat the cauliflower with the cumin.
Halloumi – this salty cheese goes so well in salads. Its saltiness doesn't overpower the cumin either.
Lemon – a little squeeze of lemon never hurt nobody!
Salad leaves – butter leaf lettuce (Bibb lettuce and Boston lettuce comes under this type too) is my go-to for this recipe as I just love its tender, sweet leaf and its flexibility for acting like a bowl for the rest of the salad!
Tomatoes – their juiciness helps offset the saltiness of the halloumi.
How to use leftover cauliflower
In case you end up boiling too much cauliflower and want to know what to do with its leftovers, here are a few simple ideas. Here's how you can use leftover cauliflower:
Make cauliflower rice by crumbling the cauliflower florets into little pieces. Granted the cauliflower rice is usually made by grating raw cauliflower but this could work too.
Use the cauliflower stalks and leaves in a stir-fry – they are just as edible as the florets!
Turn the cauliflower leftovers into a gloriously cheesy cauliflower soup or cauliflower cheese bake!
These cauliflower cheese fritters look like a great way to use leftover cauliflower.
Simply roasting them with a little salt and pepper is just divine. Serve along side a steak or even turn it into a veggie traybake!
Equipment needed
Chopping board
Chef's knife
Medium bowl
2 x frying pans
Measuring spoons
Small saucepan
Drainer
Can you get a dairy-free halloumi?
Yes! I was quite surprise when I learnt that you can actually get dairy-free halloumi cheese. You're able to omit the halloumi to make this dish vegan/dairy-free.
Violife do a Mediterranean cheese similar to halloumi which you could try. It's made from coconut oil and contains vitamin B12. Apparently it really is similar to the real thing!
Alternative ingredients for cauliflower and halloumi salad
What other vegetables would work in place of cauliflower?
Broccoli is the first vegetable that springs to mind due to its ability to cook quickly. It also pairs really well with cumin too. Romanesco cauliflower would also work nicely due to it's similar texture and taste, as would Brussel sprouts.
Can I use a different spice instead of cumin?
This recipe is so versatile that trialing different spices is possible. Why not try smoked paprika for a Mexican twist to the dish?
Can I use a different oil for frying?
Yes, use any oil which is good for frying. A vegetable oil such as rapeseed would work well. Coconut oil would be a good option too as it's a great oil for high-heat cooking.
Tips
To create that lovely crispy halloumi that everyone loves, leave your halloumi for a few mins before turning. Be careful not to have the heat too high or else you are at risk of burning it.
Cumin Cauliflower Salad with Halloumi
Cumin cauliflower salad with halloumi is one of our favourite quick and easy vegetarian lunches. Take it to work and eat it cold too!
Ingredients
1

small

cauliflower

2

tbsp

ground cumin

1

tbsp

olive oil

plus extra for frying

2

tbsp

plain flour

1

block of halloumi

cut into slices

1

lemon

cut into wedges

2

handfuls

salad leaves

butter leaf/Bibb lettuce

2

large

tomatoes
Instructions
Cut the cauliflower into florets and par-boil in boiling water for 5 minutes.

Meanwhile, put the cumin and plain flour into a bowl and mix. Add the oil. Once the cauliflower has boiled, drain and tip onto the bowl. Give it all a good shake so the flour and cumin coats well.

Cut the halloumi into slices and dry-fry in a hot frying pan until brown on both sides.

Heat the oil in a frying pan and fry the cauliflower for 5 minutes until it starts to brown and crisp slightly.

Get your salad leaves ready in the bowl. Quarter your tomatoes. Serve the halloumi and cauliflower in the salad once cooked. Dress with a wedge of lemon.
Notes
Re-heating – Yes you can reheat roasted cauliflower however it may go a bit mushy if done in the microwave. I'd recommend frying it to reheat or popping it in the oven for 5 minutes.
Freezing – Yes you can however it will taste better fresh. The cauliflower may go mushy once defrosted. I'd highly recommend against it and making it fresh instead.
Storage – You can keep cauliflower salad in the fridge for up to 3 days, maybe 4 days at a push. Make sure you cover it with a cling film or beeswax wrap to keep it fresh.

 A sealed container is recommended. The cooked halloumi may only last a couple of days. Store the same way as the cauliflower. 
Nutrition
Calories:
228
kcal
Carbohydrates:
31
g
Protein:
8
g
Fat:
11
g
Saturated Fat:
1
g
Sodium:
81
mg
Potassium:
1177
mg
Fiber:
8
g
Sugar:
9
g
Vitamin A:
1749
IU
Vitamin C:
119
mg
Calcium:
206
mg
Iron:
12
mg
Serving suggestions
Why not serve cumin cauliflower with something comforting like this lamb and spinach stew or a lightly-spiced African lamb, chickpea and freekeh chili? Go for something more European like our best schnitzel recipe. The crunch of the spiced cauliflower would go so well with the tender pork cutlets!
More easy lunch recipes
Crispy tortillas with refried beans and salsa
Fruity coronation chicken sarnies
A simple mackerel salad
Spinach and yoghurt flatbreads