Frying pan toad in the hole with black pudding
A twist on a British classic, this version of toad in the hole is prepared on the hob and is no-less tasty. Secret pockets of black pudding hide between the juicy sausages and spongy yet crisp Yorkshire batter. Perfect served with gravy on a cold Autumnal eve.
Frying pan toad in the hole
This recipe started off as the classic toad in the hole but instead I chose to cook it in a frying pan. Whilst rummaging through the fridge, the perfect accompaniment was discovered: black pudding. I simply had to give it a go. I'm so happy I did as the results were delicious!
Why should I make this toad in the hole?
It's a real British classic and should be made at least one in your life
Comfort food at its best
Looks impressive but is so simple to make (fail-proof!)
A versatile dish which lends itself to many different fillings: bacon, veggie sausages, stuffing…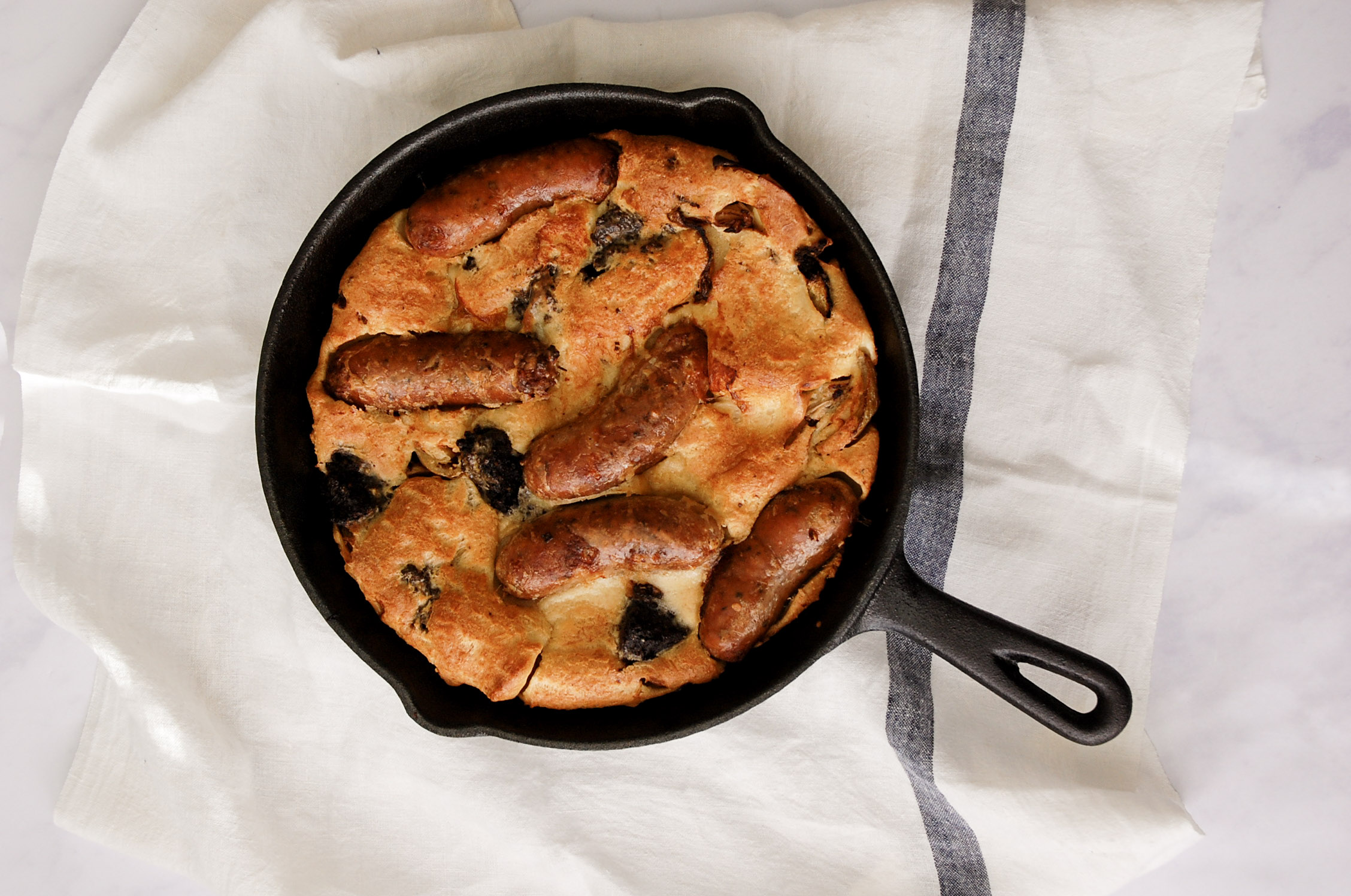 An economical dish
Toad in the hole is a traditional British dish which came about around the 18th Century as a way of making your meat 'go further'. It's a brilliant, economic dish to serve when you've got lots of hungry mouths to feed.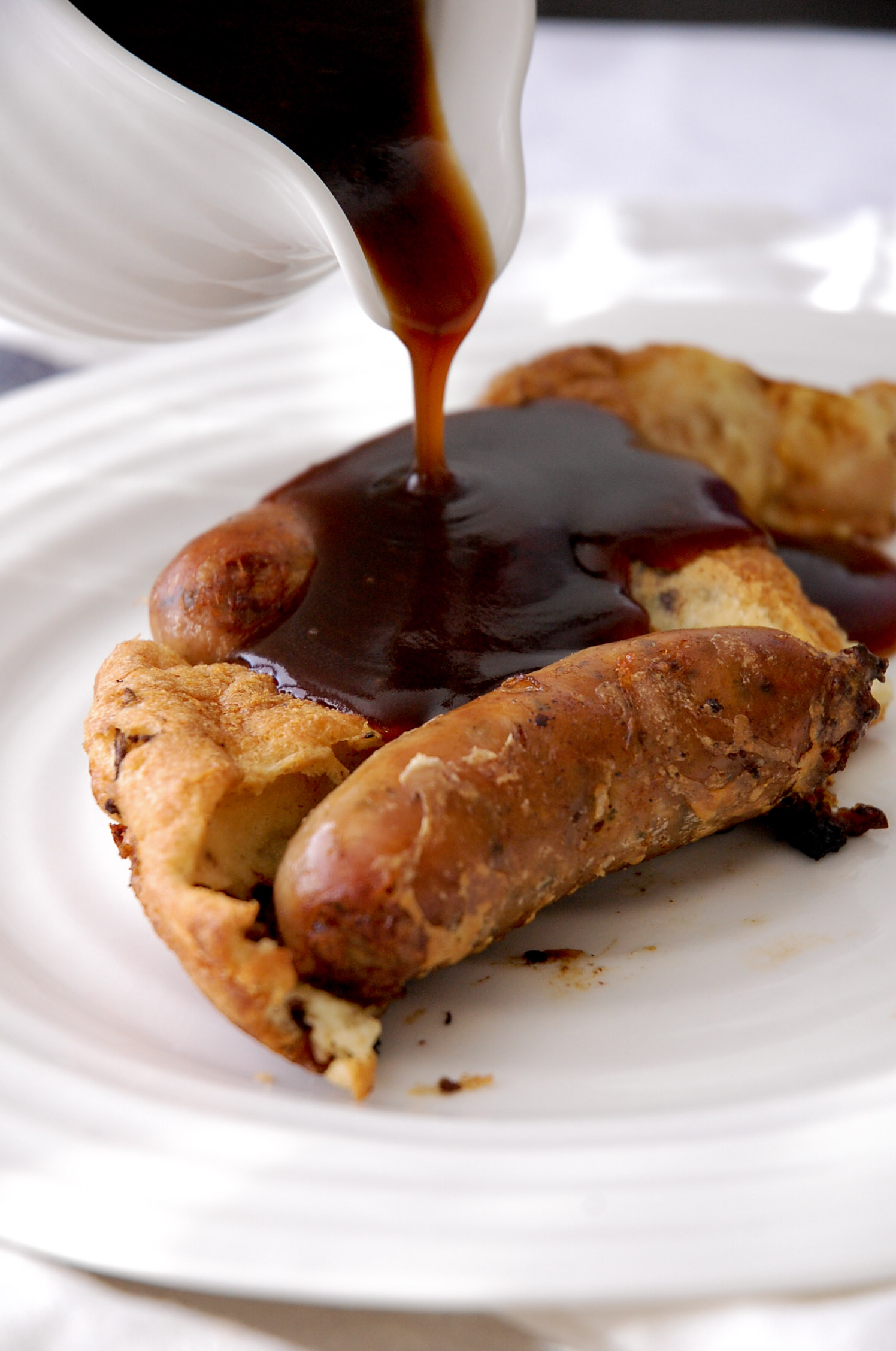 What ingredients do I need?
Plain flour
Eggs
Semi-skimmed milk
Onions
Sausages
Vegetable oil
Black pudding
Beef gravy (optional)
No TOADS!
It is not known exactly how toad in the hole got its name, other than the similarity the sausages have with toads (?!) as mentioned on Culture Trip. We don't know about you but we'd much prefer to keep to the good ol' banger!
Equipment Needed
A whisk
Medium bowl
Cast-iron frying pan – 26cm diameter
Chef's knife
Weighing scales
Measuring spoons
Does it have to be a cast-iron pan?
I would highly recommend you do use a cast-iron as you can use them on your stovetop and then pop them in the oven. This is crucial for this recipe. You could also go for something like this John Lewis non-stick stainless steel frying pan at 24 cm (only 2cm off the one I use – your toad in the hole will just be a bit taller!) or this copper Home Icon non-stick pan which is well-priced!
Recipe Variations
Can I use a different flour to make toad in the hole?
You can use different flour but I wouldn't recommend self-raising as it won't work as well as plain. I've not tried any other flours but Arthritis Action have a recipe for a root vegetable toad in the hole using wholemeal flour, so it's worth a shot. Gluten-free flour is also another option.
Do I have to use cow's milk to make the batter?
For the same results as mine, then yes, however other milks could be used. Why not try a goats milk for something similar or for a dairy-free option, try soy or oat milk. We cannot guarantee the results but you never know unless you try. Technically, any milk should work as long as the batter is made with flour and egg too.
Are vegetarian sausages ok to use in this dish?
A big fat YES!
What can I use instead of black pudding that will be as equally a nice?
Stuffing would work really well as a black pudding alternative. Sausages and stuffing are the perfect combo.
Are there any other ingredients you think would go well in a toad in the hole? Let us know your suggestions in the comments.
Step-by-step method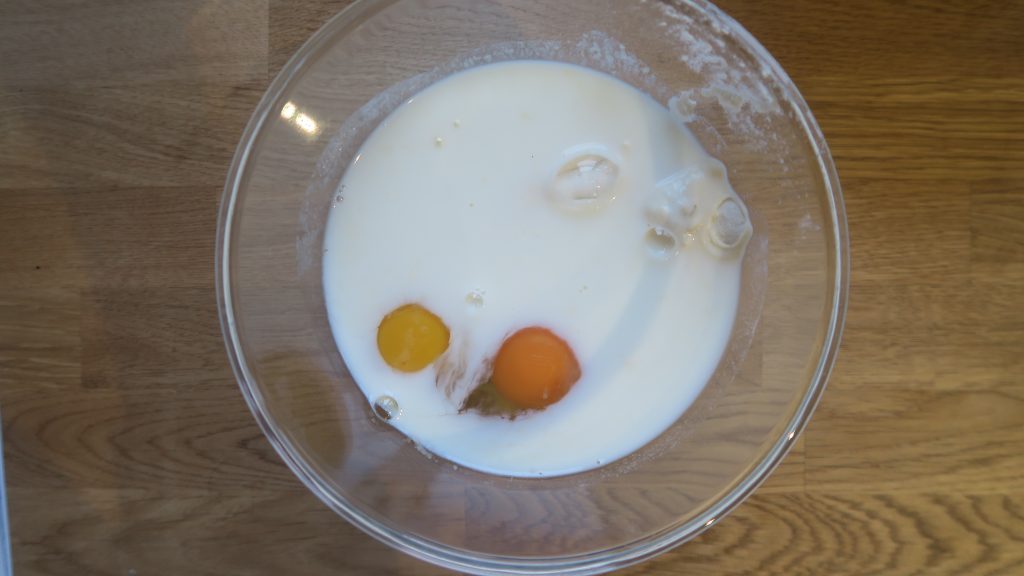 Frequently asked Questions
Is Frying Pan Toad In The Hole Suitable For Vegetarians?
No, unless you use veggie sausages.
Is Frying Pan Toad In The Hole Suitable For Vegans?
Unfortunately not. An egg replacer would need to be used and as I haven't tested one and I'm not familiar with them, I can't comment! If you're a whizz at vegan cooking and can make a vegan batter, then this recipe will work for you.
Is Toad In The Hole Gluten-Free?
Use gluten-free flour and sausages and the recipe will be gluten-free.
Can I re-heat toad in the hold?
Of course. I would suggest reheating in the oven to ensure the pudding remains crispy. To ensure it doesn't burn, heat the oven to 170 degrees and place foil over your dish. Re-heat for 25 mins or until the sausages are heated well (piping hot!) The microwave would not be recommended.
Food standards agency have some really useful info on how to reheat safely.
Can I freeze toad in the hole?
Yes you can. I'd recommend freezing in a suitable covered container and defrosting first before re-heating (as above).
How long can I keep toad in the hole?
Toad in the hole can be kept in a covered container in the fridge for a maximum of two days.
Tips
For a better batter, allow time to chill before using! Save time and make the night before, placing it in the fridge in a jug covered with cling-film or a beeswax wrap.
Frying Pan Toad in the Hole with Black Pudding
Black pudding and sausages encased in a spongy, yet crisp Yorkshire batter. Perfect served with gravy on a cold Autumnal eve.
Ingredients
100

g

plain flour

2

eggs

150

ml

semi-skimmed milk

1

onion

4

pork sausages

2

tbsp

vegetable oil

100

g

black pudding, sliced

Beef gravy for serving

I used Bisto gravy granules for quickness
Instructions
Make the batter: In a bowl, add the flour and season. Add the eggs and milk and whisk until smooth. Chill in the fridge.

Meanwhile, pre-heat oven to 200 degrees/190 fan. Heat oil in a 26cm diameter cast-iron frying pan. Fry the sausages until brown.

Slice the onion and add to the pan, a long with the black pudding. Fry until brown.

Once everything has browned, pour in the batter. Leave to cook until the batter starts crisping at the sides. It may still look uncooked in the middle. Once you see the sides coming in, transfer to the oven for 25-35 minutes or until brown and crisp. Serve with gravy.
Notes
Aga cooking – All my recipes are tested and made on an Aga. If you're an Aga user like me, I'd suggest starting your sausages off on the boiling plate, adding the onions and black pudding, then transferring to the floor of the roasting oven for 10-15 minutes until the sausages are cooked. Add in the batter, leave until the sides become crusty and then back into the roasting oven for 25-35 minutes. 
More midweek meal recipes
Cumin pan roasted cauliflower with halloumi
Chinese pork balls with a tropical sauce