Sardine, Lemon and Chilli Linguine
Sardine, lemon and chilli linguine brings back memories of trips to Italy in summer, with flavours that remind of the salty sea air. Sardines make for a very reasonable mid-week meal, as well as being a sustainable fish too!
Sardine, Lemon and Chilli Linguine
I've recently been trying to create some dishes using sustainable fish, as you will know from my Mackerel Salad post, that I've been trying to eat more sustainably. I was also lucky to be sent some yummy, sustainable tinned fish samples from the online ethical store, Traidcraft. They sent over the Fish4Ever Scottish Brisling Sardines in Spring Water which I used for this recipe, and I can totally recommend it (available on the site for only £1.75!)
Fish4Ever are a sustainable and organic tinned fish brand from the U.K. The great thing about is that you can trace the boat from where your fish was caught by typing in the code on the side of the can! I'm very annoyed that I threw my can away before realising this!
Why should I make this sardine linguine?
Sardine pasta is a quick, economical dinner for the whole family to enjoy!
Sardines are full of vitamin B-12 and omega-3 oils – a nutritious dinner too.
Can be ready in less than 15 minutes.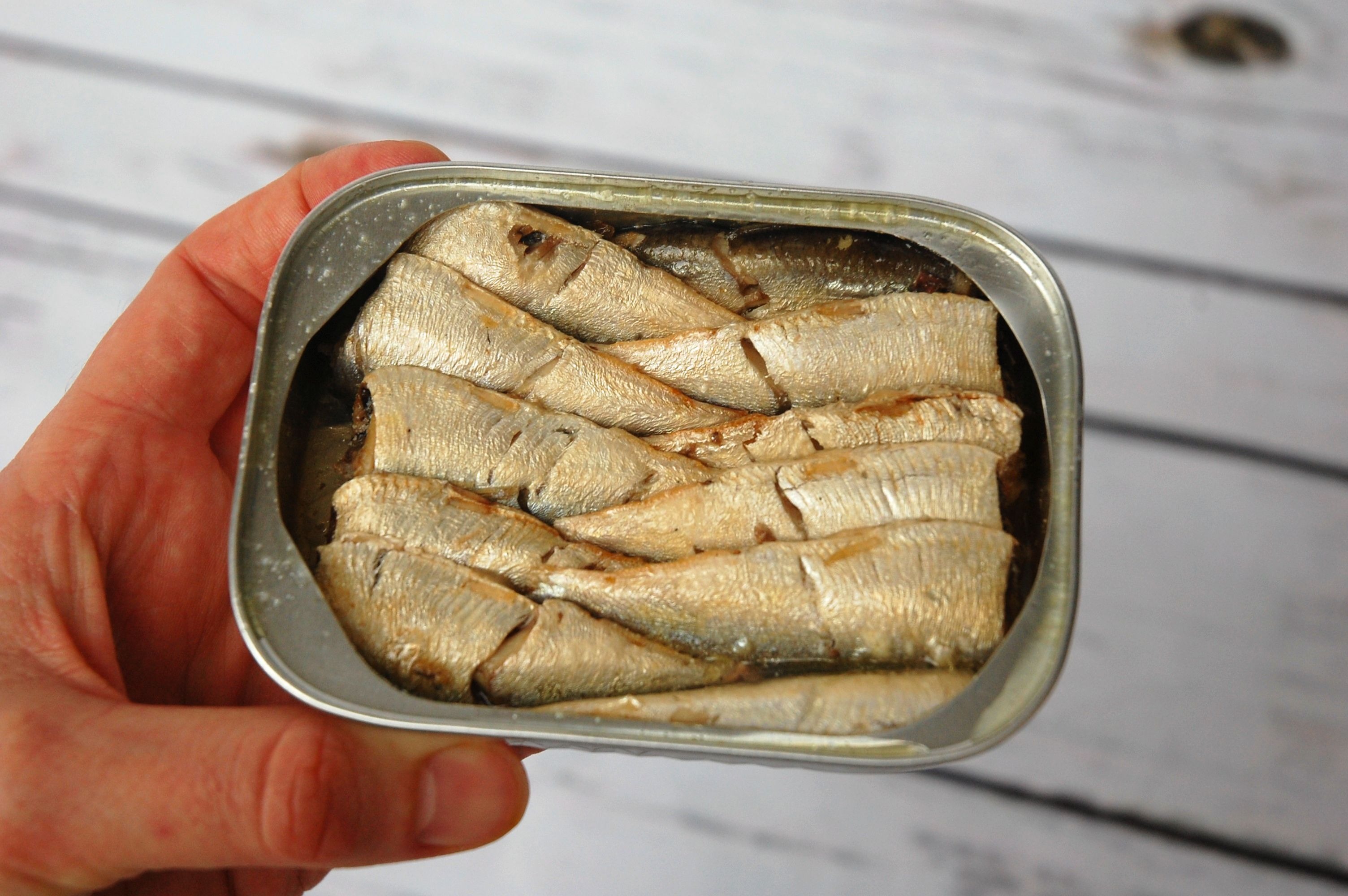 Fish4Ever Scottish Brisling Sardines in Spring Water
Ingredients for Fat Cakes
A tin of sardines in spring water (or oil if you can't find sardines in spring water) – a tin of sardines makes for an economical dinner. You could use fresh, if you prefer, however tinned is sufficient for this recipe.
Linguine pasta – if you're out of linguine, spaghetti is a good substitute.
Lemon juice – fresh lemon juice please!
Garlic cloves (or the frozen garlic from Waitrose) – I'm a huge fan of the frozen range at Waitrose. The frozen garlic is a lifesaver. It's what I've used in this re-make of this sardine pasta recipe.
Chilli flakes – use as much or as little as you like, depending on your chilli tolerance. I decided to portion up some for my little one first before stirring in the chilli flakes for my husband and I. Just an idea if you have children too!
Olive oil – you'll need enough for frying but also for drizzling over the pasta at the end, to create a lovely, silky texture. You could extra-virgin for this.
Fresh or dried basil (or again, the frozen basil from Waitrose – I love the stuff!) – you can't beat a sprinkle of freshly cut basil on top of a seafood pasta dish!
A pinch of sea salt – the sea salt brings a touch of the salty sea air to to this sardine dish!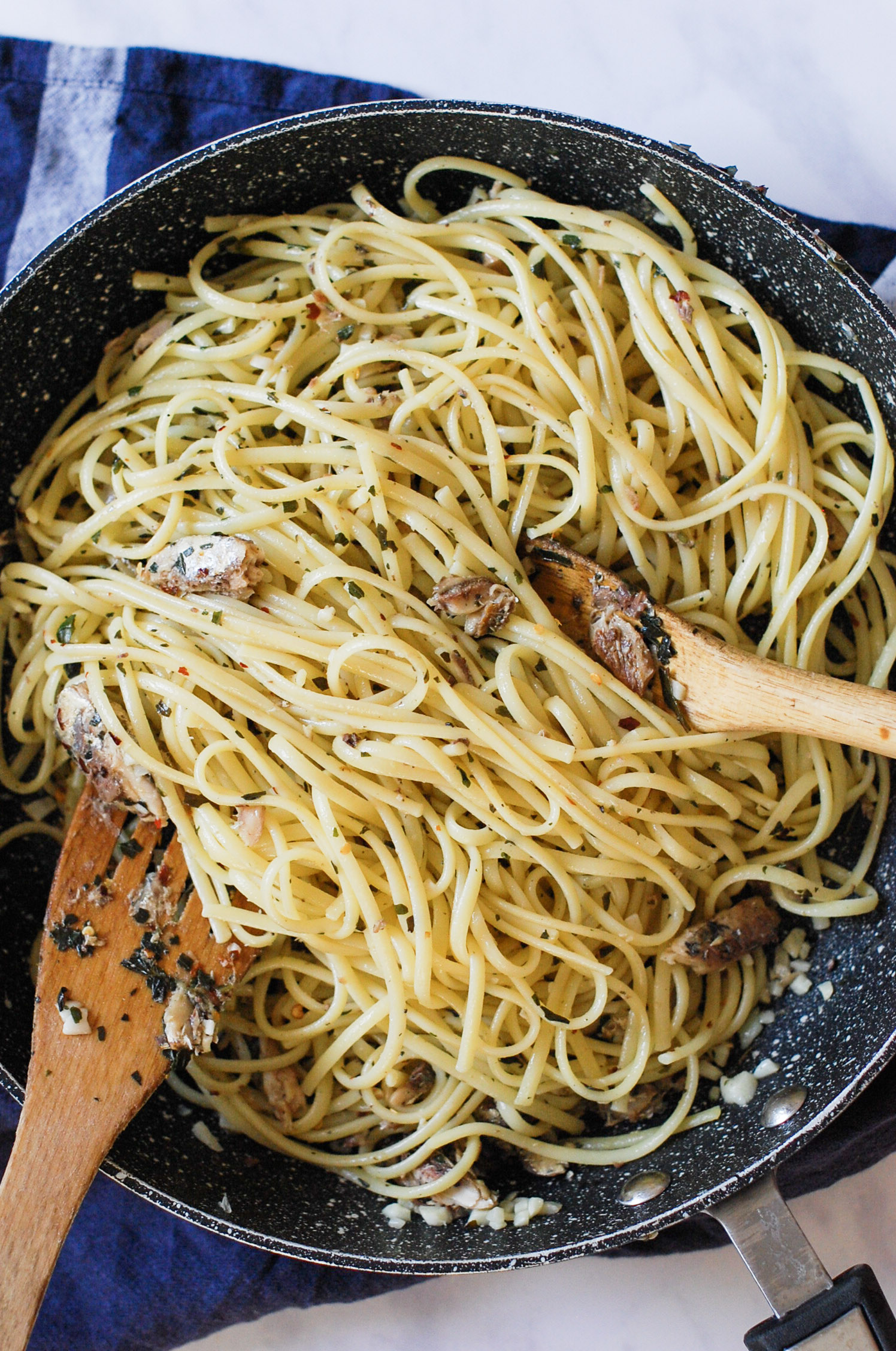 Equipment Needed
A medium-sized frying-pan
A medium sauce-pan
Measuring spoons
A sharp knife
A wooden spoon
Inspired by an Italian classic
So now onto how I came up with this sardine pasta dish! I loosely based this pasta dish on the Italian classic: aglio, olio and peperoncino (garlic, oil and chilli flakes). It's always a winner for a quick, easy mid-week meal!
I decided to add some lemon juice as it always goes well with fish, especially fish pasta dishes, as well as some basil to finish it off. Unfortunately my fresh basil plant died so I resorted to the dried stuff! I'm reallly not great at keeping plants alive! There's nothing wrong with using dried basil actually, as it makes the dish an even more reasonable mid-week meal!
In this updated version of the recipe, I actually used Waitrose's frozen basil. This stuff is so convenient, especially if it's winter and you're struggling to keep your basil plant alive, or you're simply out of either dried or fresh. I used around 2 tbsp to ensure I got a strong enough basil flavour.
Sardine linguine is perfect for two and like I said, a great meal to knock up in the middle of the week. It's also great to get those omega-3 oils in, which i'm sure most of us don't make the effort to do (I'm certainly one of them!)
Tips
For an extra, silky-smooth pasta, save a cupful of pasta water aside before draining and add to the pasta when mixing in with other ingredients in the frying-pan. You won't regret!
Sardine, Lemon and Chilli Linguine
Sardine, lemon and chilli linguine brings back memories of trips to Italy in summer, with flavours that remind of the salty sea air.
Ingredients
300

g

linguine pasta

or spaghetti

100

ml

pasta water

1

tbsp

extra virgin olive oil

1

tbsp

olive oil

1

tbsp

crushed garlic clove

or frozen garlic

1/2

juice of a lemon

2

tbsp

fresh basil, chopped

or frozen/dried

1

tin of sardines in spring water

1

tsp

chilli flakes
Instructions
Boil the linguine according to the packet instructions (about 8 minutes). Save 100ml (a small cupfull) of pasta water. Drain and drizzle extra-virgin olive oil into the pan. Give a good mix. This stops the pasta sticking together.

Heat 1 tbsp olive oil in a frying pan and add the crushed garlic. Fry for a minute. A squeeze of juice from 1/2 a lemon. Re-add the pasta back into the frying-pan and stir into the juice/garlic.

Sprinkle on the chopped basil and add the pieces of sardine. Mix and fry together for a minute. Add the chilli flakes (optional). Serve!
Notes
Leftovers?
I would not recommend having any leftovers of this recipe. It only serves 2-3, so I'm sure you can manage to eat it all!
It's the sort of recipe that is best made fresh. Long pasta doesn't do well re-heated. It becomes sticky and rubbery. I would not even recommend freezing this recipe. Both freezing and re-heating are of course possible, but I wouldn't do it personally. 
Nutrition
Serving:
1
g
Calories:
1420
kcal
Carbohydrates:
233
g
Protein:
44
g
Fat:
34
g
Saturated Fat:
5
g
Polyunsaturated Fat:
5
g
Monounsaturated Fat:
21
g
Cholesterol:
17
mg
Sodium:
120
mg
Potassium:
874
mg
Fiber:
12
g
Sugar:
10
g
Vitamin A:
830
IU
Vitamin C:
32
mg
Calcium:
154
mg
Iron:
5
mg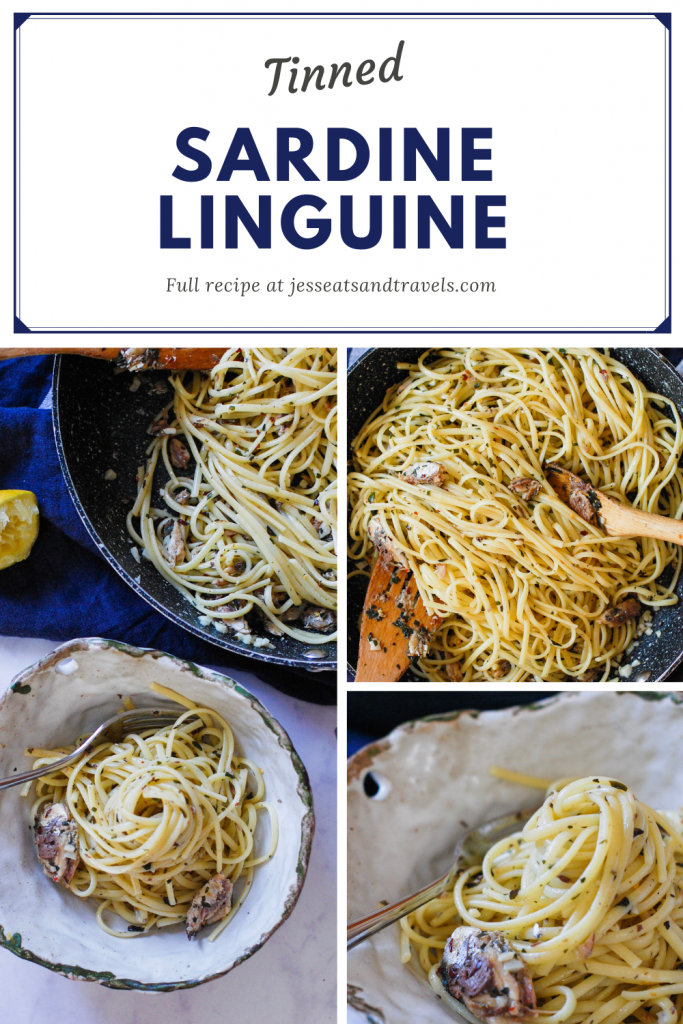 More fish recipes –
Fish ragout from Bahrain (with rice)
French butter sauce (great with salmon!)