How to: Beurre Blanc Sauce (French butter sauce)
Beurre blanc is a classic French butter sauce which is perfect served with fish and only takes 15 minutes to make! Learn how to make this creamy sauce and it'll change your way of serving fish forever.
HOW TO: BEURRE BLANC SAUCE
French cooking shouldn't be scary, especially when it comes to making sauces. Once you open yourself up to the world of French sauces, you'll be eager to learn more!
Beurre blanc is what is known as an emulsified sauce, originating from Nantes in the Western part of France. An emulsified sauce is created by making an emulsion. 
An emulsion happens when you mix two liquids together that wouldn't normally mix, like egg yolk and oil when making mayonnaise. An emulsion happens when an emulsifier helps the two liquids stay together, like lecithin found in egg yolk – it's soluble in fat and water. In beurre blanc, the emulsion is between the butter and vinegar/white wine mix.
Why should I make a beurre blanc sauce?
Gain the knowledge of a classical French sauce to impress your friends with
Quick and easy to prepare and make
Pairs wonderfully with salmon
Everyone should try this creamy butter sauce at least once
INGREDIENTS
Shallots
Dry white wine
Cider vinegar
Salted butter
WHAT EQUIPMENT WILL I NEED?
A knife for chopping the shallot
A small saucepan for making the sauce in
Measuring spoons
A whisk
ALTERNATIVE INGREDIENTS
Can I use a white onion instead of shallots?
Yes, as long as you cut it up finely. You won't get the same taste as from a shallot however I'm sure it would still taste great.
Does the wine have to be dry?
For it to be as close to the classical French sauce, then yes it should be. I think you could get away with using a normal white wine, however I would strongly suggest against using a sweet wine. This would be a whole different sauce altogether!
What's an alternative for cider vinegar?
The classical French sauce usually contains white wine vinegar however I chose to try out cider vinegar as an alternative and it was just as good! I'm not so sure about white malt vinegar but worth a shot?
Can I used unsalted butter?
Yes, of course. Unsalted butter give the sauce a taste that it's already seasoned. You could always add some salt as seasoning afterwards.
Frequently asked questions
Why does my beurre blanc separate?
Beurre blanc separates when the emulsion gets too hot. Allow the sauce to cool, add some water and whisk. You'll soon see the sauce comes back together.
Is beurre blanc suitable for vegetarians?
Yep – no meat here.
Is beurre blanc suitable for vegans?
No as it contains a lot of butter. You could try and make this with vegan spread. I'm pretty certain it would work.
Is beurre blanc gluten-free?
Yes, none of the ingredients contain any gluten.
Can I reheat beurre blanc?
I wouldn't suggest reheating butter sauce however it is possible. It will solidify in the fridge so reheat gently in a pan to avoid it separating. You could add some double cream at this point, to help bring it back together.
Can I freeze beurre blanc?
Yes, it is possible. I would recommend re-using fairly quickly though to avoid it crystallising too much. Reheat it gently in a pan and do as above (add a tiny bit of double cream).
Serving suggestions
Beurre blanc is best enjoyed served with fish, white or pink such as salmon or trout. I think a plate of salmon with beurre blanc would pair perfectly with a side of my crispy Belarusian Potato Pancakes. Heaven!
Tips
Avoid the sauce from separating by adding the butter in slowly and mixing well in between.
The Recipe
Beurre Blanc Sauce
Serves: 2
Difficulty: Easy
A delicious sauce for fish in 15 minutes! This creamy, buttery sauce is perfect served with salmon.
What you will need
1 shallot, chopped
75ml dry white wine
1 tbsp cider vinegar
100g salted butter (cold)
Method
1

1. Chop your shallot finely.

2

2. In a small saucepan, add your shallot, white wine and vinegar and bring to a boil. Lower the temp and reduce by half.

3

3. Once reduced, chop your butter into cubes and one by one, add to the pan, whisking in between. Season and serve straight away.
MORE CLASSICAL FRENCH RECIPES
CREME DIPLOMAT (FRENCH DIPLOMAT CREAM)
Don't forget to tag me in your all your bakes over on instagram and twitter! And pin this on Pinterest if you found it useful.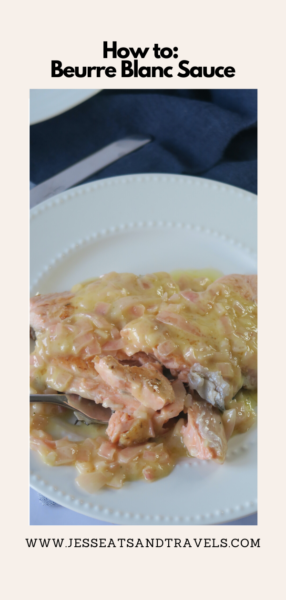 Want IN on a massive FREEBIE?
Join the Jess Eats mailing list and receive a FREE 7 Day Meal-Plan PLUS SEVEN RECIPES and a Shopping List!
Don't miss out!
By joining, you'll also receive my weekly newsletter with tips and tricks, world food extras + freebies in the future!