How to make sweet shortcrust pastry
A quick and easy method that will have you churning out pies and flans in no time at all. This sweet shortcrust pastry is my go-to method.
How to make sweet shortcrust pastry
I would easily say that I love making pastry more than I do cakes. I know, controversial! I can't quite say why but it might be down to the fact that it's hard to go far wrong once you've made the pastry. You just have to make sure it doesn't burn! Once you've made the pastry, the possibilities are endless!
One of my Cookery School basics, this pastry is such a simple method – you basically just throw it all in one bowl and mix! Yes, there's kneading involved but a bit of hard-grafting makes the end result much more pleasing, wouldn't you say?
Which do you prefer – making a cake batter or pastry? Let me know in the comments!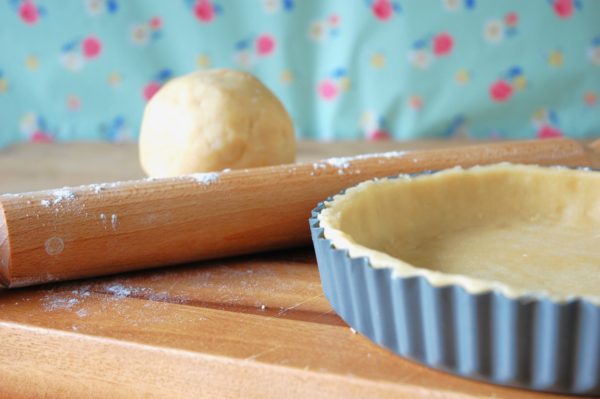 This recipe makes enough dough so that you'll have some leftover. You could freeze half for another day or if you're making a pie, the extra pastry could be the pie lid.
If you don't want two lots of pastry, just simply half the ingredients and proceed as normal.
SERVING SUGGESTIONS
How about making some pastry cream to fill your pie? It would go lovely with some chopped strawberries to make a summery tart.
Fill your pie with sweetened, roasted rhubarb. I've got a post all about how to cut and prepare rhubarb to start you off.
A simple Jam filling is always loved. Nutella is even better!
My Open Apple Pie is a quick and simple recipe which will easily impress guests.
YOU WILL NEED:
You'll need some cling film handy
You might find a d-scraper useful for working the dough. If not, use your hands or a wooden spoon.
*this link is an affiliate link, which means i'll receive a small profit if you decide to purchase the product.
THE NEXT STEP!
Now that you've made sweet shortcrust, how about trying my puff pastry recipe and try making some Classic French Croissants! You'll have a breakfast that will be well worth the wait and and a new pastry skill under your belt.
The Recipe
sweet shortcrust pastry
Serves: 2 flans or a pie base and lid
Difficulty: Easy
A quick and easy method to make sweet shortcrust pastry
What you will need
400g flour
200g cold butter
2 tbsp of caster sugar
2 eggs
A pinch of salt
2 tbsp of cold water
Method
1

In a bowl, add the sifted flour, sugar and salt.

2

Cut the cold butter into cubes and tip into the flour mix. Rub in the butter with your fingertips until it resembles breadcrumbs. This could take a few minutes.

3

In the centre, form a well using a spoon and add your eggs and water. You might need to add more water if your dough feels dry. Be careful not to add to much. Only add a tiny bit at a time, whilst working the dough with your d-scraper. Stop once the dough has fully combined.

4

Cut some cling film and place the dough ball on top. Flatten to from a rough circle and cover tightly with the cling film. Place in the fridge for 30 minutes until ready to use. To freeze, keep wrapped but place in a freezable container.
LET'S CARRY ON THE CONVERSATION!
Let's catch up over on my social media accounts (in the top, left of this post). Go over and follow me and we can chat about cake. Why not subscribe to this blog to never miss a post? It would make me a very happy bunny!