Vanilla Diplomat Cream Recipe (Creme Diplomat)
Creme Diplomat is the perfect pairing for strawberries. The light, creamy texture of diplomat cream also works well in sponge cakes and trifles. You'll be licking the spoon for sure!
How to make Crème Diplomate using Crème Pâttisière
I could quite easily eat vanilla diplomat cream straight from the bowl. It's that good! It's one of those recipes that you hear and think, "huh!?" It's actually easier than you think. Whip up a batch of pastry cream (or creme pat/custard) and lightly fold in some whipped cream. Simple!
Creme diplomat is the sibling of all the other French custard recipes and it's one of my favorite creams. It's often used as a filling in many popular French desserts, especially for choux pastry, like eclairs for example.
There are also many other types of custard recipes, such as the following:
Other Types of Custards
Crème Chantilly – A sweetened whipped cream with icing sugar or vanilla. Chantilly cream is a really yummy, light cream which goes so well with strawberries!
Creme Anglaise – It's French version of British custard! A thick sauce that can be poured over desserts.
Creme Patissiere – Very similar to creme anglaise, except creme pat is thickened with cornflour and is usually used as a filling for desserts such as Millefeuille.
Creme Bavarois (A.K.A Bavarian Cream) – Creme patissiere mixed with crème chantilly. It's a pudding more than a filling.
Crème Chiboust – Chiboust cream uses crème pâtissière and meringue to lighten it. It can also be flavoured with liqueur.
Mousseline Cream – Often used as more of a buttercream, crème mousseline is made of creme pat and unsalted butter.
Crème légère – very similar to creme diplomat. It's creme pat thickened with whipped cream to form a very light cream. I believe a lot more whipped cream is used to give its lighter colour.
How To Make Diplomat Cream – 3 simple steps!
Equipment For Diplomat Cream
1 x whisk
1 x rubber spatula
2 x medium mixing bowls
Plastic wrap
How to Make French Creme Diplomat
Step 1 – Knock back your portion of already prepared pastry cream by mixing with a whisk until it's no longer stiff.
Step 2 – Whisk your whipping cream to medium peaks in a separate bowl and gradually fold into your pastry cream. Be careful not to knock the air out. Now you're ready to serve!
How to Make Vanilla Pastry Cream
Please don't be put off by the amount of steps. It's an easy recipe if you follow the steps closely. Making pastry cream is not as hard as it looks. I do have a separate recipe here for the classic pastry cream but here are the general steps for making it.
Step 1 – Make the cream: Pour the milk into a pan and add the vanilla seeds (you could also use vanilla extract) and the fresh vanilla pod. Heat the milk mixture until almost boiling (you'll notice it steaming).
Step 2 – Beat together the egg yolks and sugar until pale. Whisk in the flour and cornstarch.
Step 3 – Once the milk starts to boil, pour half into the egg yolk mixture and whisk continuously to combine (tempering). Pour this mix back into the pan with the rest of the milk. On a medium heat, keep whisking until it thickens. This should take around 2 minutes. 
Step 4 – Once thickened, boil for 1 minute but make sure to keep whisking. Remove the vanilla pod. Cook for a further minute and whisking constantly.
Step 5 – Cool the cream: Pour the pastry cream onto a baking tray and cover tightly with cling film (press the film so it sticks to the cream to push out air bubbles), ensuring there's as little air bubbles as possible. Leave to cool to room temp.
Note – Before use, remove from the tray and whisk in a bowl to loosen. If not using straight away, remember to refrigerate (see below for how to store).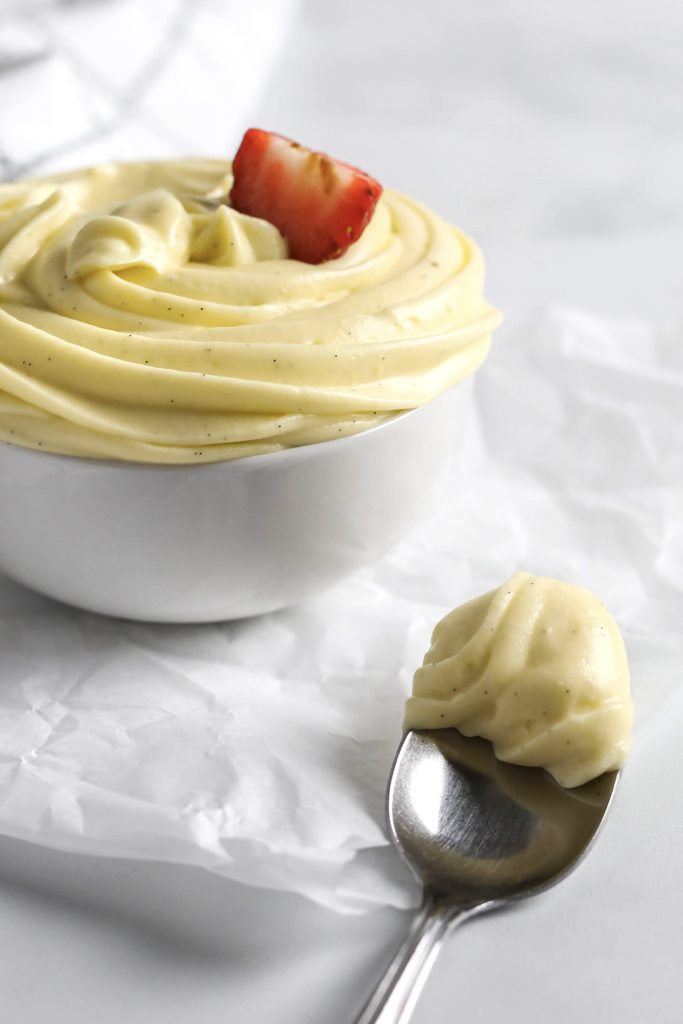 How to use Diplomat Cream
A topping for strawberries.
As a cake filling in the French Fraisier cake or any vanilla sponge cake.
To fill doughnuts, eclairs, choux buns etc..
A filling for the French pastry, Millefeuille, as a tart filling for strawberry jam and cream tarts or for fresh fruit tarts.
Cream puffs are perfect for being filled with a classic diplomat cream.
Why should I make creme diplomat?
This diplomat cream recipe is an excellent French recipe to have under your belt. Perfect for pulling out when entertaining in the summertime. You'll learn not only one but two techniques: creme patisserie as the base and creme diplomat once the whipping cream is folded in. It's versatile: goes well with all fruits as well as pastries and sponges.
Frequently asked questions
What is Creme Diplomat?
Diplomat cream is essentially:
Creme pattiserie (pastry cream) + whipping cream = creme diplomat. It's a much lighter, less jelly-like version of pastry cream.
If you know how to make pastry cream, then this will be easy peasy lemon squeezy. If you don't, check out my pastry cream recipe.
Why is it called 'diplomat cream'?
Diplomat cream is also known as Bavarois/Bavarian cream but was changed to 'diplomat cream' to honour the Bavarians in the 19th Century. How sweet!
What's the difference between pastry cream and custard?
Pastry cream is a lot thicker than custard (creme anglaise). Custard uses way less cornstarch to thicken and sometimes not at all. It also occasionally contains single or double cream.
Is creme diplomat suitable for vegetarians?
Yes, of course!
Is creme diplomat suitable for vegans?
No as it contains cow's milk and cream, as well as eggs. I would love to suggest a vegan alternative but I'm just not sure if plant-based milk would work. If you know how, let us know!
Is creme diplomat gluten-free?
If the pastry cream you are making uses gluten free flour and cornstarch, then it will be. The addition of the whipping cream makes it no less gluten-free.
Can I heat creme diplomat?
No way – it would melt.
Can I freeze creme diplomat?
I wouldn't recommend it. A fresh batch of creme diplomat is much nicer!
How long can I keep creme diplomat in the fridge?
You can keep creme diplomat in a sealed container for up to 3 days in the fridge, as long as your cream has a long date on it. I wouldn't keep it any longer than a day if the cream was about to expire.
Tips

on how to make the best diplomat cream
My expert tip would be to make your pastry cream the day before to get ahead, especially if you're using the cream as a filling for another bake (and you still have to make it!)
Be careful not to over whip your whipping cream. To get the best result, It's always good to stop whisking before you begin to think it's ready. It's so easy to think, just one more whisk and the next minute it's over-whipped. 
Creme Diplomat Recipe
A light cream made by whisking creme patissiere with whipped cream. The perfect filling for cakes, pies and trifles!
Equipment
1 x whisk

1 x spatula

2 x Medium Bowls
Instructions
Knock back your portion of pastry cream by mixing with a whisk until it's no longer stiff. Store in the fridge until ready to serve and add the cream below. It will keep for 2 days (see storage below).

Whisk your whipping cream to medium peaks in a separate bowl and gradually fold into your pastry cream. Be careful not to knock the air out. Now you're ready to serve!
Notes
Storage – The pastry cream will keep for a couple of days in the fridge, in a sealed container. I wouldn't recommend adding the whipped cream until ready to serve or else it won't hold as well. 
Nutrition
Calories:
1036
kcal
Carbohydrates:
9
g
Protein:
6
g
Fat:
111
g
Saturated Fat:
69
g
Polyunsaturated Fat:
4
g
Monounsaturated Fat:
32
g
Cholesterol:
412
mg
Sodium:
115
mg
Potassium:
227
mg
Sugar:
1
g
Vitamin A:
4412
IU
Vitamin C:
2
mg
Calcium:
196
mg
Iron:
1
mg
Try these recipes next –
How to make a beurre blanc sauce
Recipe published 05/07/20. Post updated 09/11/23.