Easy Strawberry Mille-feuille
Can you even have a summer without making the traditional French strawberry mille-feuille? It's basically summer in a puff-pastry sandwich! Light and fluffy cream and fresh strawberries encased in a crisp puff. This recipe is your quick and easy route to ensuring you eat one in the next hour!
MILLE-FEUILLE – A STRAWBERRY PUFF!
Mille-feuille in French stands for 'a thousand sheets' as often the original recipe appeared to have many layers and was more of a custard slice. This modern take on the mille-feuille has only one layer and is a lot simpler to make.
Traditionally the mille-feuille would be finished off with fondant icing and a stripy marble pattern created with chocolate piping. This modern version is simply sprinkled with icing sugar.
The origin of the recipe is unknown however it was Marie-Antoine Careme who was said to improve the recipe. It is sometimes also known as a Napoleon pastry.
Make a batch of this easy strawberry and cream puff cake and you'll have a dessert fit to serve at any summer garden party. Also great for picnics if the Tupperware is good enough!
Why should I made a strawberry mille-feuille?
Perfect to serve as dessert in the summer when entertaining.
Not as difficult as the name sounds – another French dessert under your belt.
My recipe uses ready-made puff pastry to save you time.
It's summer in a sandwich.
They are just that darn tasty!
INGREDIENTS
1 batch of my Creme Patisserie recipe
Ready-made puff pastry
Icing sugar
1 batch of my Creme Diplomat recipe
Strawberries
WHAT EQUIPMENT WILL I NEED?
All equipment for the creme pat and creme diplomat will be noted on the original post.
Baking sheet
Sieve
A knife
Piping bag
Star nozzle
Ingredient alternatives
Can I use flaky pastry instead of puff pastry?
Flaky pastry and puff pastry are both types of laminated pastries, meaning they both have several layers once baked. If would recommend using puff pastry to ensure you have a better rise, however if you happen to have some flaky pastry to hand, I wouldn't discount it. They may not turn out as risen as puff but I'm sure they will taste just as nice!
I don't have time to make a creme patisserie and creme diplomat, what else can I use?
If you really are short on time, I'd recommend making a quick Chantilly cream. Chantilly cream consists of whipping double cream to a medium peak and then adding a few spoons of icing sugar to sweeten. It really is the best substitute for the creme diplomat.
What other fruit can I use instead of strawberries?
Strawberry is the most traditional but of course you can use any fruit. I reckon raspberry would be a nice contrast to the sweetness of the cream, but also blackberries.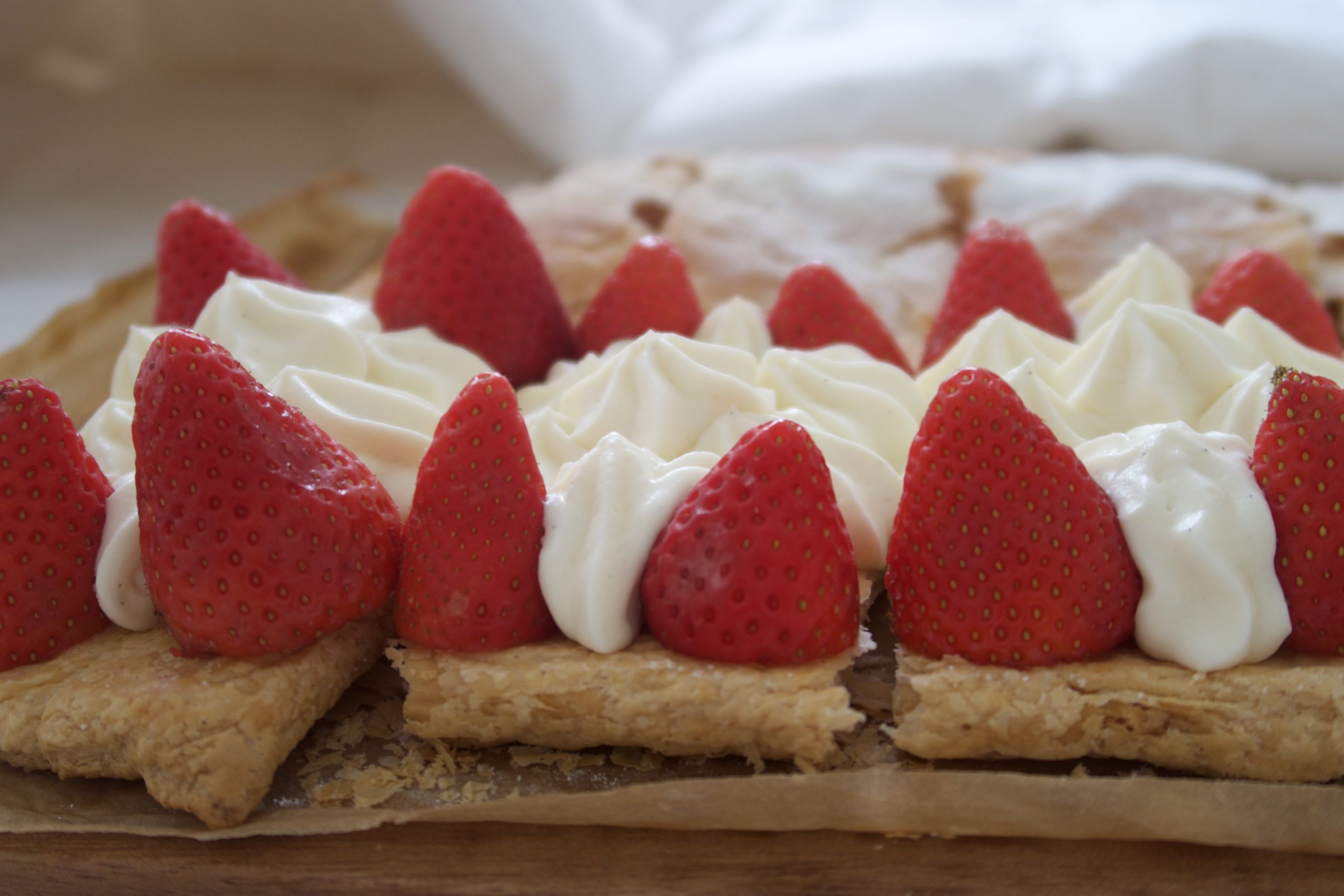 Frequently asked questions
How do you pronounce mille-feuille?
Mille feuille is pronounced 'meel-foy'.
How do you cut a mille-feuille?
I would cut my puff pastry before layering on the cream and fruit. Assembling your mille feuille after reduces the risk of them all falling apart!
Is mille-feuille suitable for vegetarians?
Yes – it's a sweet, no meat recipe.
Is mille-feuille suitable for vegans?
No as it contains cream.
Is mille-feuille gluten-free?
If you use a gluten-free ready-made pastry then yes.
Can I heat mille-feuille?
You can reheat the pastry if you want to crisp it again in the oven, but not once you've assembled it as the cream would melt.
Can I freeze mille-feuille?
I wouldn't recommend it as they would more and likely all fall apart.
How long can I keep mille-feuille in the fridge?
It's best to keep mille feuille for up to 3 days in the fridge.
Tips

– READ THIS BEFORE HEADING TO THE RECIPE CARD
Check out my Creme Patisserie and Creme Diplomat recipe for all you need to know to making the filling for this dessert.
Using ready-made puff pastry will cut your dessert-making time in half! Pre-make your creme pat to save more time too.
The Recipe
Easy Strawberry Mille-feuille
Serves: 4 large rectangles
Difficulty: Medium
A simpler version of the traditional mille-feuille. A great dessert for summertime.
What you will need
1 batch of my creme pat + Creme Diplomat recipe (see link in recipe)
300g ready-made puff pastry
A handful of icing sugar for dusting
250g strawberries
Method
1

1. Prepare your creme pat as per my recipe instructions and leave to cool.

2

2. Prepare your creme diplomat using the creme pat as per my recipe instructions. Leave aside.

3

3. Roll out your puff pastry to the size of a baking sheet and bake at 200 degrees (180 fan) for 20 mins or until golden and crisp. Leave to cool.

4

4. Once cool, cut your pastry into 8 equal rectangles (or smaller –

5

the size is up to you).

6

5. Fill a piping bag with your cream and roughly pipe 3 lines of cream using a star nozzle on 4 of the slices of pastry. Do the same for each square.

7

6. Cut the top of your strawberries and place them upside down on the slice, along the outside so they will be visible once the top slice is on.

8

7. Sandwich each slice in with the other 4 slices and dust with icing sugar. Serve!
MORE DESSERT RECIPES
Mini Strawberry Jam and Cream Tarts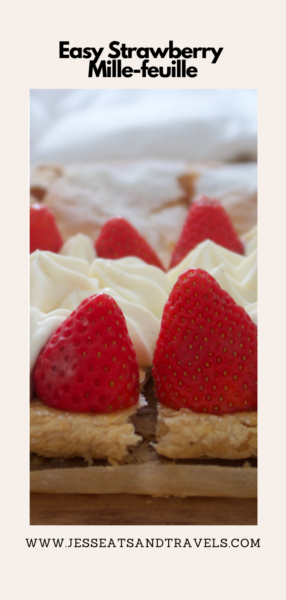 Don't forget to tag me in all your creations over on instagram and twitter. And why not pin this on Pinterest to save for later?