Mini strawberry jam and cream tarts
These cute mini strawberry jam and cream tarts are perfect for a valentines dessert or a summer afternoon tea. 
Strawberry Jam and Cream Tarts
It's valentines coming up this month, so why not treat your girlfriend/boyfriend/husband/wife with a batch of these yummy mini strawberry jam and cream tarts??
Honestly, they're really easy to make. Don't feel like you have to make the pastry yourself. I mean, if the Queen of baking herself, Mary Berry doesn't….
I think these would also be perfect on a summer's day for a picnic or afternoon tea. I could imagine eating these whilst laid down on a red, plaid picnic rug whilst staring dreamily into the bright, blue sky… just beware of the bees with all that sticky strawberry jam!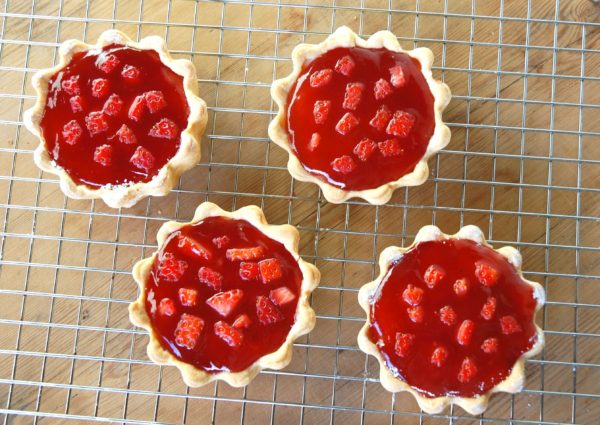 These are sorta a cross-between a jam tart and a patisserie-style strawberry tart with pastry cream. I've made it super simple by not asking you to make your own strawberry compote, as we're going to use strawberry jam instead.
The pastry recipe to use
I've not included the pastry recipe in this recipe as most people opt to use ready-made. If you want to make your own, here's my sweet shortcrust recipe how-to post. Make sure you half the ingredients for this recipe.
The pastry cream recipe to use
I've also made the decision not to include the pastry cream recipe either or else the recipe would come super longgggggg. To make your own pastry cream, please use my pastry cream how-to post and simply half the ingredients for this recipe.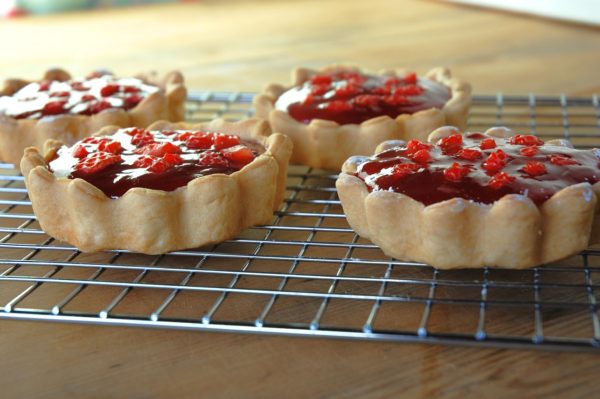 Mini strawberry jam and cream tarts
Things to consider before baking
You'll need a rolling pin for rolling the pastry
Make sure you have a tray to bake the tarts on + another tray to cool-down the pastry cream on
Some piping bags will be handy for piping the pastry cream into the tarts. These ones* are super cheap and are what I use
A star* or round nozzle* is good for piping the cream with
Four, 4-inch mini fluted tart tins. The ones I used were the brand Silverwood from Ocado.
*All links with an asterix are affiliate links, meaning I'll gain a small profit if you buy from it.
The Recipe
Mini Strawberry Jam and Cream Tarts
Serves: 4
Difficulty: Medium
These mini jam and cream tarts are perfect for a Valentines dessert or served at a picnic.
What you will need
200g shortcrust pastry (see my recipe link in post)
350g pastry cream (or half my recipe - see link in post)
200g strawberry jam
5 ripe strawberries
Method
1

Flour the surface and roll out the pastry to the thickness of a pound coin. Line the four mini tins and bake blind until golden brown (about 20 minutes). Cool on a rack.

2

Meanwhile make your pastry cream (see my post on how-to) and leave to cool on a tray covered with cling film.

3

Once both the tarts and pastry cream is cool, whisk the pastry cream to loosen and fill a piping bag fitted with your chosen nozzle. A trick to do this, is place the piping bag in a jug with the sides folded over the edge of the jug, then fill.

4

Pipe a layer into the bottom of each tart case. I pipe mine like a swirl as I find it easier. Smooth out with the back of a spoon.

5

Heat the jam on low in pan. Once the jam has loosened, leave to cool a little. In the meantime, chop up your strawberries into very small cubes, discarding any white parts.

6

Spoon the jam into the tart cases, covering all of the pastry cream. Top with the strawberry cubes, distributing evenly. Serve!
Will you be making these mini strawberry jam and cream tarts? Let me know in the comments!
MORE DESSERT RECIPES