A quick and easy recipe for your own homemade strawberry syrup to turn into the perfect summer cooler. Made with fresh strawberries, strawberry sharbat is a great pick-me-up on a hot, balmy day. 
Strawberry Sharbat
I've got two recipes for you this week – I know, don't say I don't spoil ya! First up we've got this strawberry sharbat recipe. What's a sharbat, I hear you ask? Sharbat, popular in Azerbaijan as well as Middle Eastern countries, is basically a syrup made from fresh fruits, which when added to ice and water, turns into a sweet, summery drink. The Arabs like to drink it during Ramadan at Iftar (the breaking of the fast) as the sugar provides an instant lift from the day of fasting.
Before I begin, the big question I've been asking myself is whether Azerbaijan is located in Europe or The Middle East? I decided to put it in the 'Europe' section in the blog purely because I see it more there than The Middle East. Let me know in the comments which you think it should go in!
Made from only four ingredients, strawberry sharbat is super easy to make! As you can see above, I put the syrup (left) into a dressing container (from Tiger) as I couldn't find anything else more suitable. You'll notice that it made about 200ml. I added 40ml of the syrup to 200ml of water but feel free to used your own ratio, depending on how sweet you like it. I'd say mine was not too sweet but not too watery. Don't forget that topping it up with ice with make it even more watery, so allow for that.
The Recipe
Strawberry Sharbat
Serves: 200ml of syrup
Difficulty: Easy
Make your own strawberry summer cooler from real strawberries in under 40 mins!
What you will need
290g Strawberries
150g Caster sugar
1 tbsp Lemon juice
100ml water
Method
1

Wash and cut the tops of the strawberries, then slice them into smaller pieces. Add them to a medium-sized pan a long with the caster sugar. Warm on a medium temperature (keep stirring) until the strawberries begin to soften.

2

Once the strawberries are soft, add the lemon juice and water. Leave on a low temp for 30 minutes until the strawberries have become completely mushy.

3

Strain the syrup into a bowl and leave to cool. Once ready to serve, pour the syrup into your chosen bottle. For extra finishing touches, dip the rim of your serving glass into a shallow bowl of water and then dip into a shallow bowl of sugar. This will give your glass a lovely, sugary rim.

4

With some ice in a glass, add as much as syrup as you like (I did 40ml) and top up with water (my glass held 200ml). Enjoy!
PIN ME! PLEASE?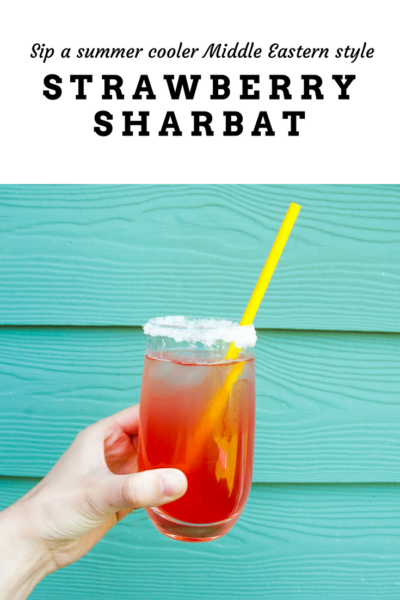 LET'S CARRY ON THE CONVERSATION!
Let's catch up over on my social media accounts (in the top, left of this post). Go over and follow me and we can chat about cake. Why not subscribe to this blog to never miss a post? It would make me a very happy bunny!
Last week we celebrated Austrian cuisine! Click here to see my delicious and super easy Pork Schnitzel recipe.