Pineapple and Orange Rum Slush
What's better than sipping a cocktail in the summer sun…an adult slush cocktail of course! If you think slushies are only for kids at the cinema then you've it all wrong and need to try this! It's revolutionary! A great one for Barbecues and pool parties, my Pineapple and Orange Rum Slush can be ready in under an hour!
Pineapple and Orange Rum Slush
I'd been wanting to trial an alcoholic slush for a while now. And this tropical drink, inspired-by flavours from the Bahamas is the perfect opportunity! This frozen rum drink is one of my best ideas yet!
The below contains affiliate links. See my privacy policy and disclosure for more info.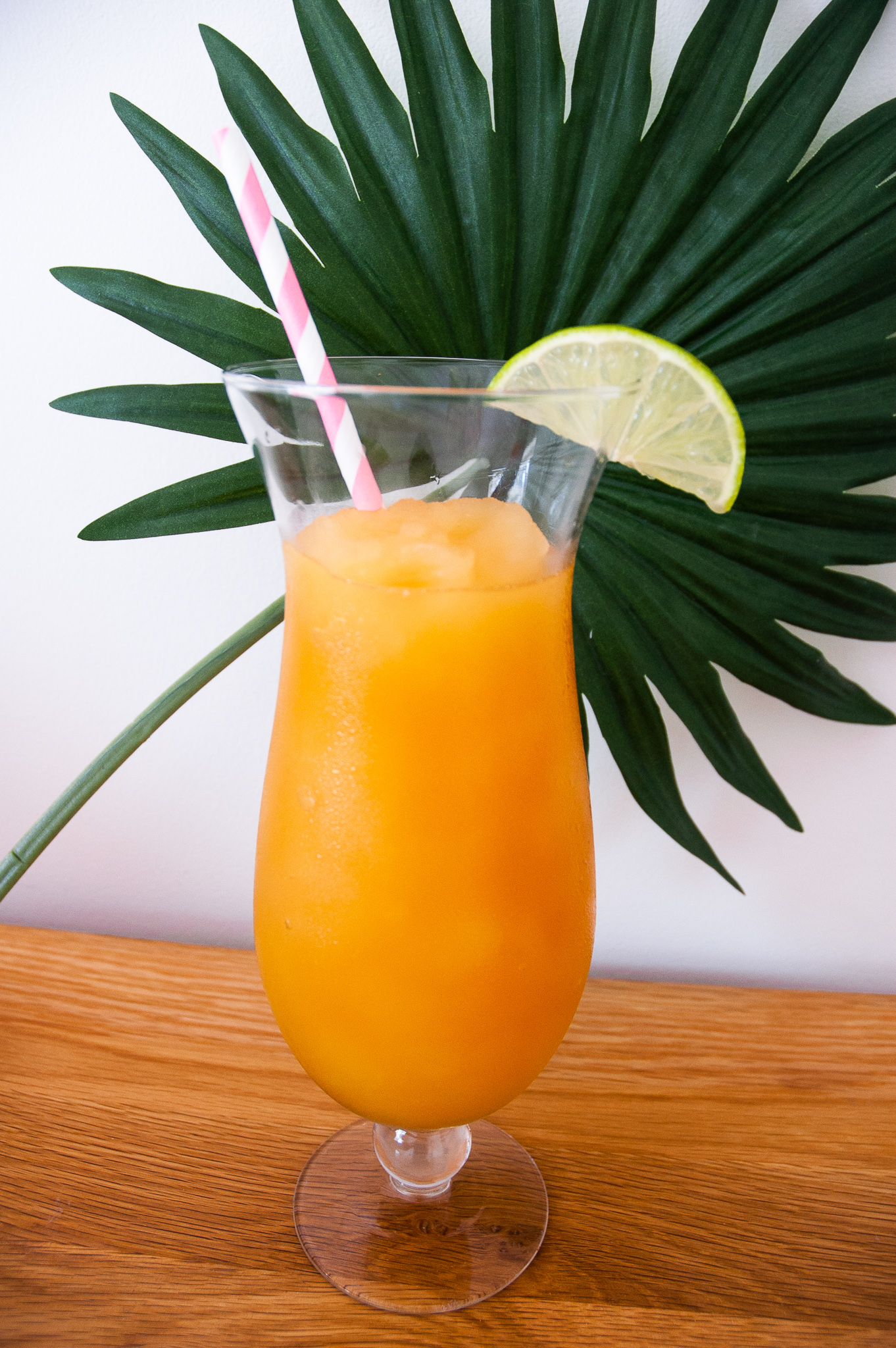 WHY SHOULD I MAKE THIS
It's a bit of fun!
An alcoholic slush is the perfect party-pleaser. You'll be the talk of the neighbourhood!
Ready in under an hour
Relive your childhood (minus the alcohol!)
RUM SLUSH INGREDIENTS
Pineapple juice – Juice from a carton is sufficient
Orange Juice
Coconut water
Spiced rum – I used my favourite Barbados rum from Mount Gay
Grenadine
Lime slices
WHAT EQUIPMENT WILL I NEED?
So, this Pineapple and Orange Slush is super simple to make but there's one thing you'll need first: an ice cream maker. I spoke about why I love my Cuisinart Gelato and Ice Cream Maker in my Roasted Banana Gelato post, so head on over there to learn more about how the machine works. Although I'm sure anything that chills and churns would suit this recipe, so any good ice cream maker would be fine.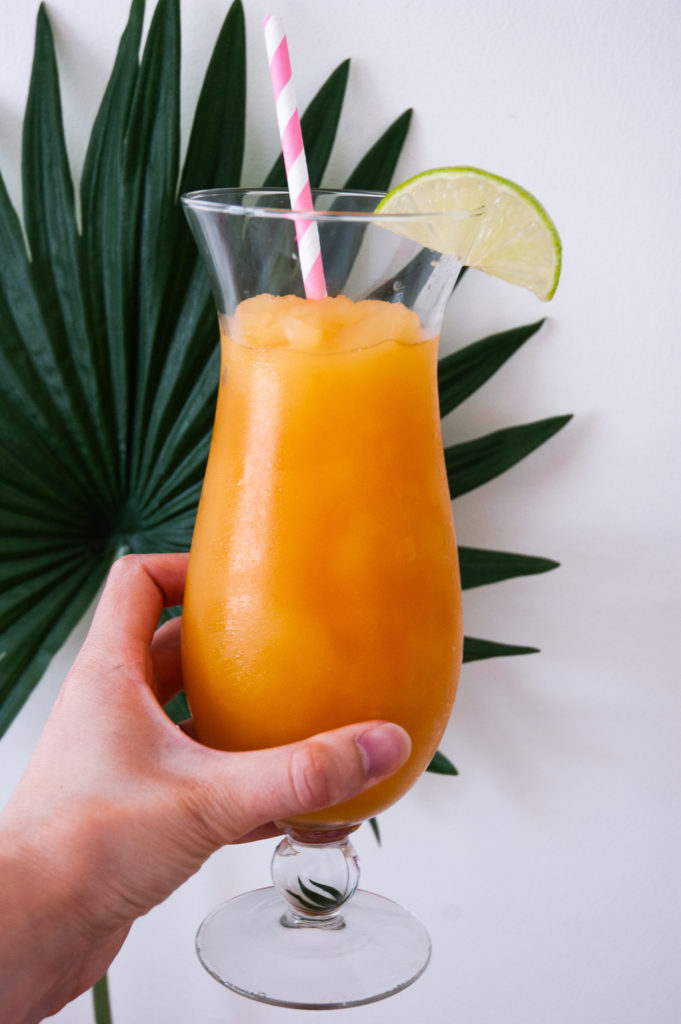 HOW TO SERVE THIS RUM SLUSH
I like to serve mine with a wedge of lime but you could also use orange or pineapple slices.
FREQUENTLY ASKED QUESTIONS
Here are there questions you've been asking, answered!
Can I make this slushie without a machine?
I've not tested the method myself but research tells me that you can use a blender and LOTS of ice. Simply pour the liquid and ice into a blender and blend until crushed. You'll need one that's powerful enough to do this. I'd maybe recommend the Ninja Multi-Serve Blender* which is more on the professional side. You could consider something for a fraction of the price like the Cooks Professional Slushie Maker.* The only downside is that you can only use this to make slushies.
*Please note that none of these products have been tested by myself. They are all recommended from my own research online.
Why did I add water to the slush?
Water is needed because alcohol doesn't freeze well. The addition of water helps the slushy become icy, and don't worry, it doesn't water down the cocktail.
The Recipe
Pineapple and Orange Rum Slush
Serves: 2
Difficulty: Easy
A super simple recipe for creating your own alcoholic slushie! A great one to serve up at barbecues and pool parties.
What you will need
200ml pineapple juice
200ml orange juice
100ml coconut water
80ml spiced rum
40ml grenadine
100ml cold water
2 lime slices
Method
1

First you'll need to pre-freeze your ice cream maker bowl. You don't need to do that if you have the Cuisinart machine.

2

In a jug, mix together the pineapple juice, orange juice, coconut water, spiced rum, grenadine and water.

3

Pour into the ice cream machine and churn for 40 minutes. Times may vary for different machines, so keep an eye on it. It won't over churn but it could under churn, meaning it won't be very icy. Keep checking it and serve once you're happy with it.

4

Pour into the glasses of your choice and decorate with a slice of lime! Cheers!