Tropical and Fruity Rum Punch + Best places for rum in Anguilla
Imagine you're on a tropical island, sipping one of these under the warm sun. This fruity rum punch has flavours inspired by the Caribbean: guava, orange and of course, pineapple. 
Caribbean Rum Punch
It wouldn't feel like a week of Caribbean-inspired posts without one featuring rum! And of course, a rum punch is the ultimate must-have when visiting the island. Beware though, this recipe is quite an easy drinker!
Also, I say 'end the celebrations' but don't worry, there's still going to be a 'how to eat like an Anguillan' post coming up + one extra exciting collab with Anguillan blogger, Bikini Sunset. Look out for those in the next couple of days!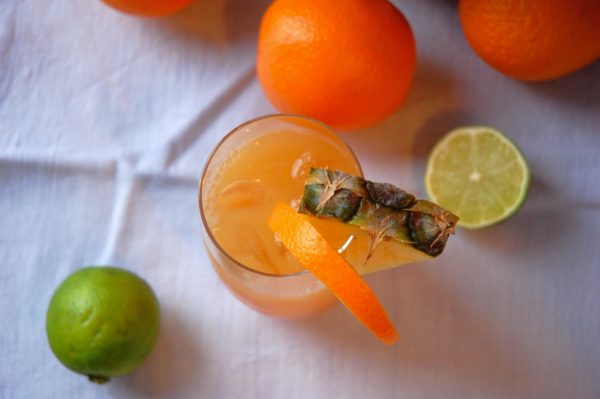 I'm not a massive alcohol drinker actually. For one, I think I'm allergic to the sulphites in wine, and so when I do drink, it'll be rum! I'm not a gin fan either (I KNOW). I think i'd definitely fit in well in the Caribbean! This recipe is so simple, it'll be ready in 5 and there's no need to strain or shake, you just need a big jug to put it in.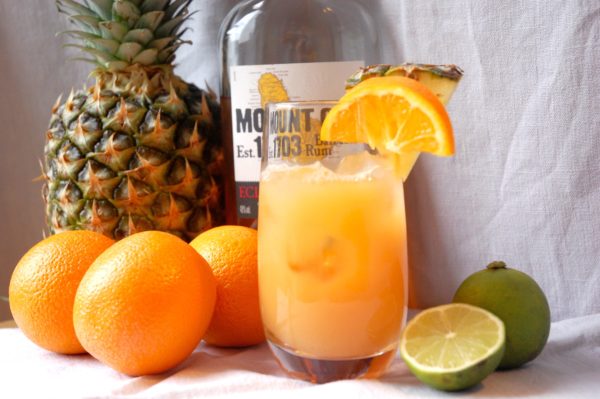 I'm definitely going to be making this again in the summertime! It's perfect for garden parties and BBQs!
Remember to drink responsibly!!
Visiting Anguilla?
Before you head to the recipe, Nori from Anguilla Beaches kindly suggested some of the best places to enjoy rum on the island! Here's her top choices:
Nori has two interesting posts with waaaay more information on rum spots, if you'd like to check them out:`
The Recipe
Tropical and Fruity Rum Punch
Serves: 4
Difficulty: Easy
The perfect tropical rum punch for garden parties, BBQs or perhaps just as a little reminder of the Caribbean.
What you will need
200ml orange juice
200ml pineapple juice
200ml guava juice
100ml Mount Gay rum
50ml grenadine
Ice cubes
Sliced orange and pineapple for decoration
Method
1

In a jug, add the juices, rum and grenadine. Give it a good stir.

2

Pour over a glass full of ice. Serve with a pineapple and orange slice.
MORE RUM-BASED RECIPES
If you're after another drink with rum, try my Pineapple and Orange Rum Slush; perfect for cooling off on a hot, summer's day. For something sweet, try my Antiguan Creamy and Buttery Rum Fudge.