The Creamiest Buttery Rum Fudge
The butteriest, creamiest fudge you might ever taste. A bite of this buttery rum fudge is like taking a sip of hot, buttered rum.
The following post contains affiliate links
Buttery Rum Fudge
This buttery rum fudge recipe is inspired by fudge you find when visiting the island of Antigua and Barbuda. Fudge is a common sweet on the island and comes in many interesting flavours! I went for a classic rum because, you know.. the Caribbean!
My buttered rum fudge is not strong tasting in rum. You get rum as a delightful aftertaste which helps alleviate the sweetness. The use of golden syrup and icing sugar was a must for this recipe as I wanted to create a really soft fudge.
Why you should make rum fudge?
It's fun to learn a new skill – everyone should make fudge once in their life!
All wrapped up in little food grade paper bags, fudge makes the perfect gift for any fellow sweet-tooth friends/family-members
Apart from eating them straight, fudge can be enjoyed in so many ways (see below)
Once you've learnt how to make this basic fudge recipe, the world is your oyster when it comes to experimentations! You could add dried raspberries, chocolate chips or raisins for a more traditional rum & raisin fudge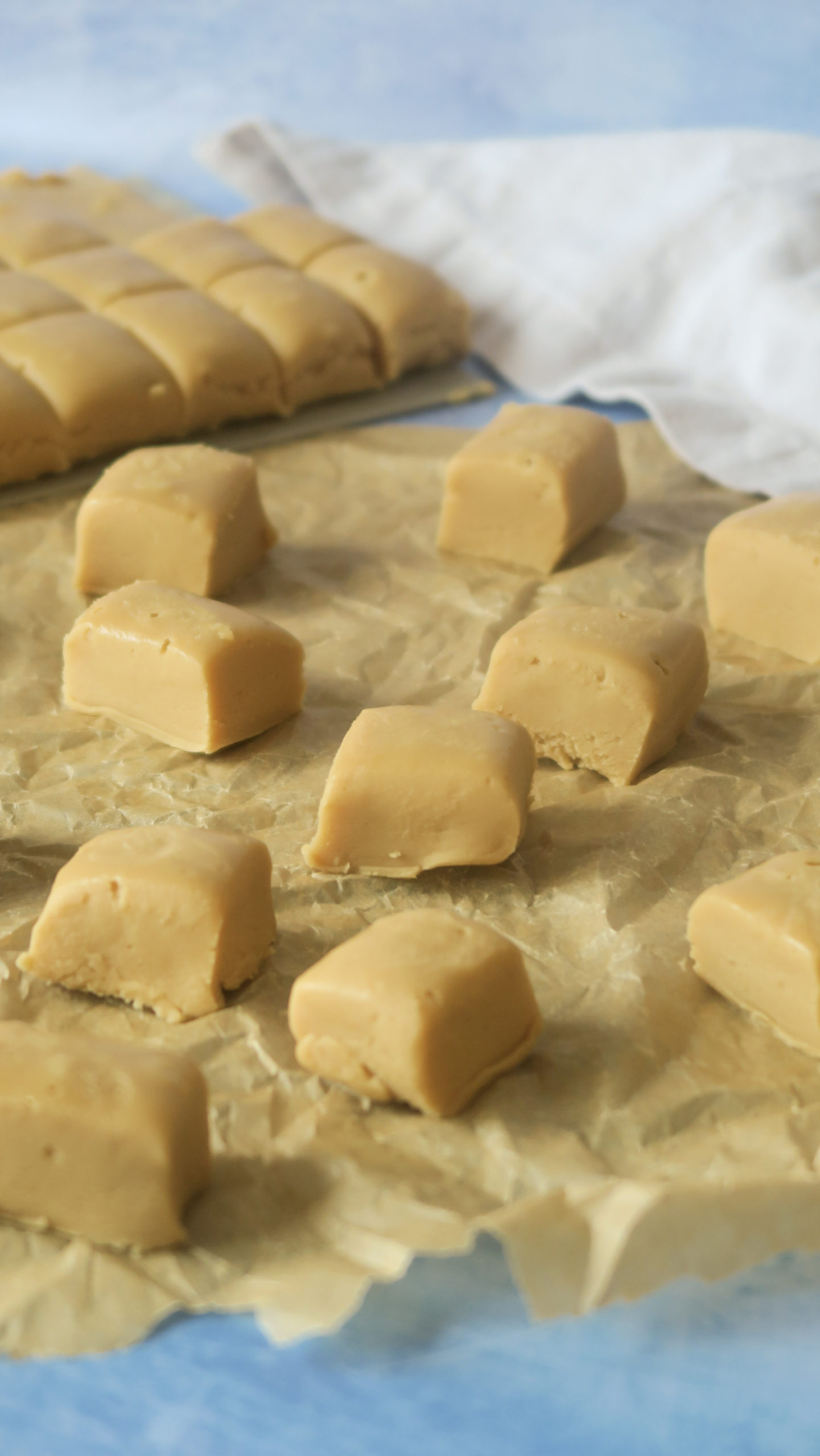 The science behind making fudge
Fudge is what is known as a crystalline confectionary. When you cook with sugar, it crystallises. When you cook fudge, you want to avoid complete crystallisation or else the fudge would turn out super hard! Of course you want the crystals to form slightly as these micro-crystals are what makes the fudge hold together. To avoid a grainy texture, you must cool the fudge slightly first before then stirring process. The stirring helps the seed crystals find each other and form tiny crystal pairings but also lets in air, helping to create a smooth non-grainy texture.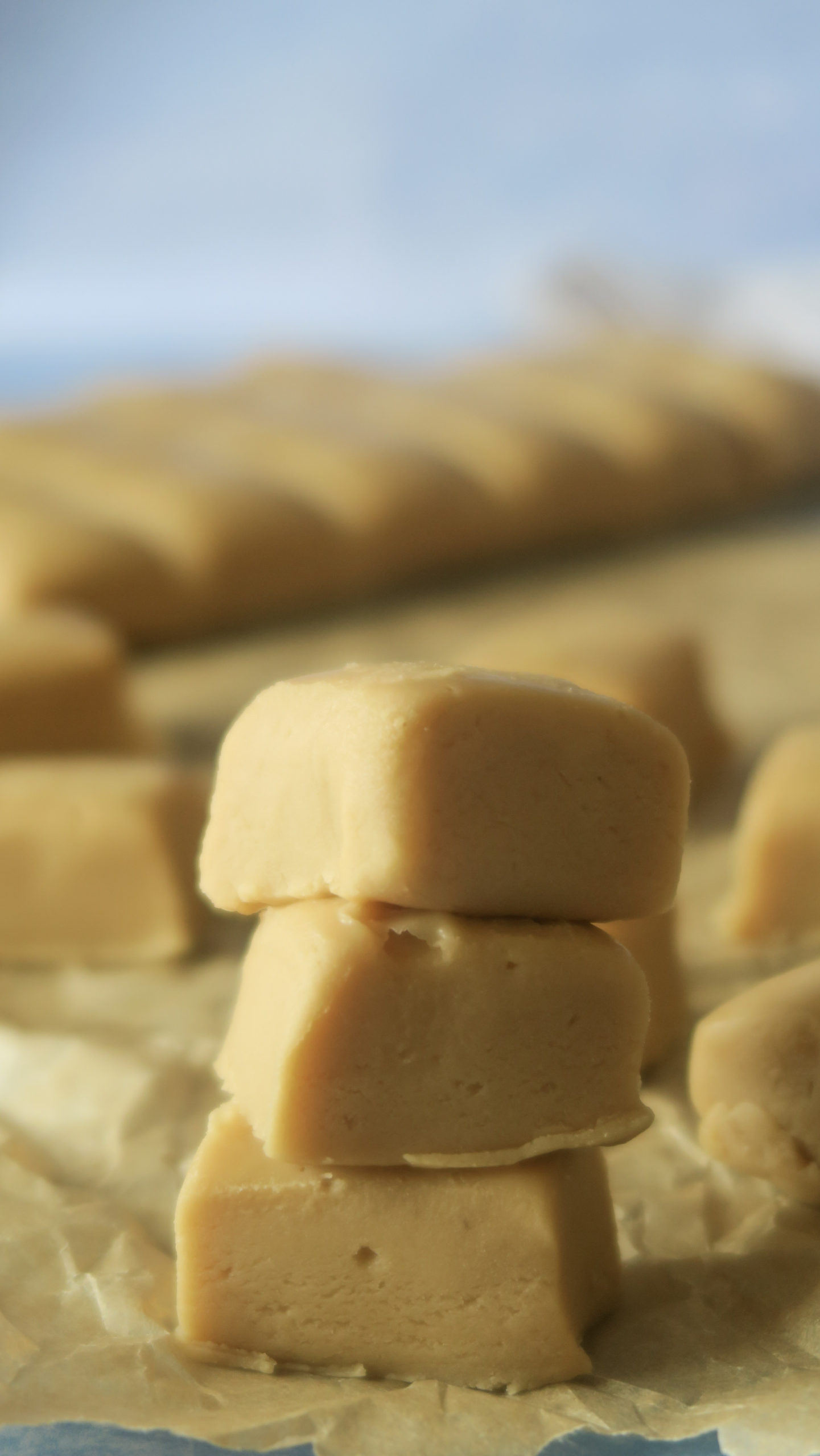 What should my fudge look like?
Your fudge should have a slightly soft texture but not be falling apart. It should hold when you take it out of the tin. It shouldn't be rock hard though. If it is, you've heated the sugar to a too high temperature.
Serving suggestions:
Cut the fudge into mini squares and serve a top my Roasted Banana Gelato – banana and rum, what an amazing combo!!
You could shave the fudge over a cake topped with buttercream – try my peanut cake with caramel buttercream
Fudge goes well on top of a delicious fudge hot chocolate (or any hot choc!)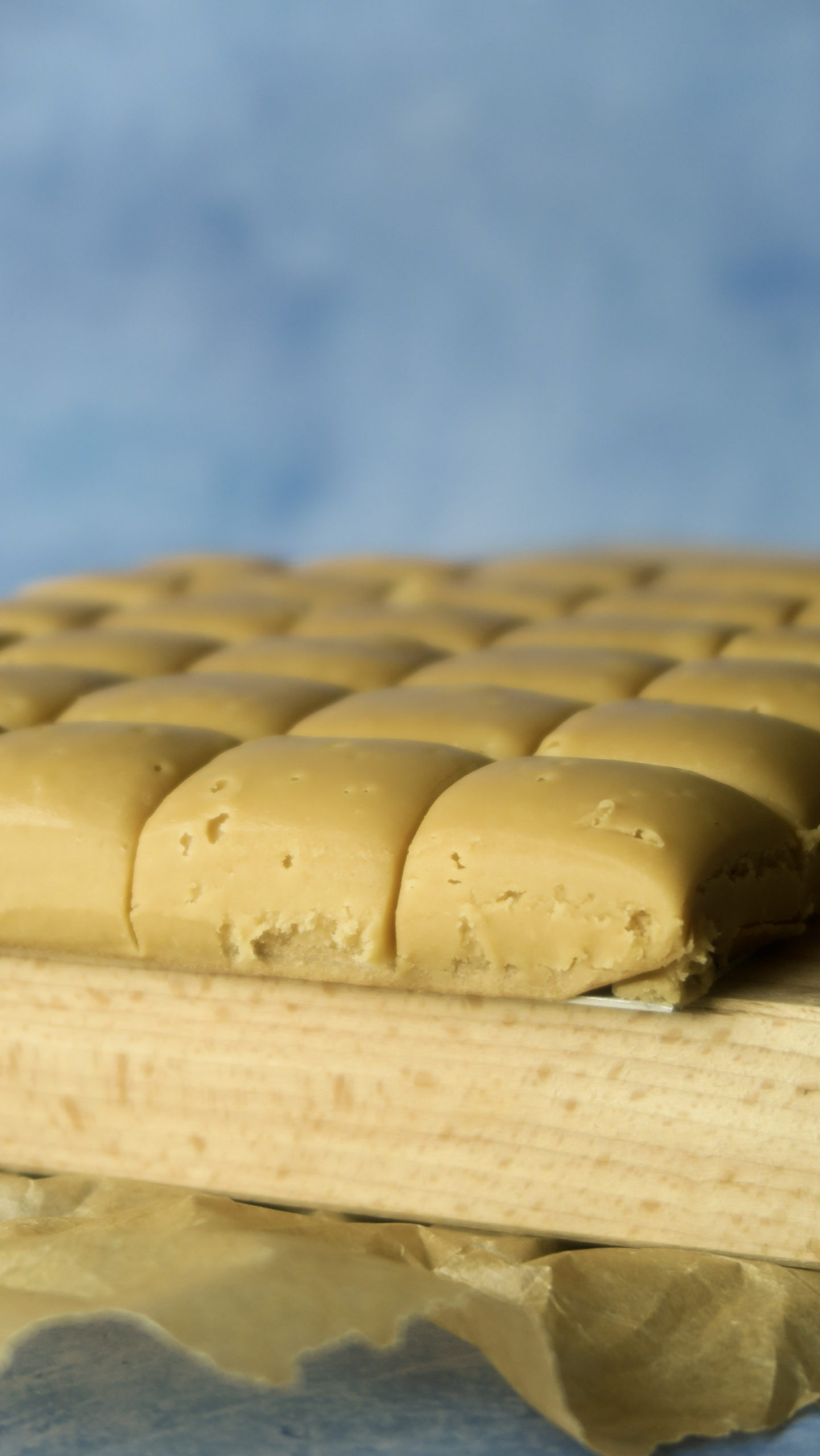 You will need:
A large saucepan
Sugar thermometer – You'll benefit from one with a probe on a long wire, like the one I've linked, as you'll be able to hang it over the pot and not end up having to leave your hand above the molten hot fudge!
A wooden spoon
23 x 23 cm square tin – this is the one I used
Grease-proof paper/baking paper
Ingredients:
550g Demerara sugar – the use of a brown sugar instead of white gives the fudge it's caramel-like flavour
200g Golden syrup – I used golden syrup as well after reading this Guardian article on making the perfect fudge, of which I based this recipe on. It gives the fudge a smoother texture
20g Icing sugar – The addition of icing sugar makes the texture even smoother
350ml Double cream – I wanted my fudge to be super creamy so it had to be double cream
100g Butter – to give that all buttery flavour!
1 tbsp Dark rum of your choice – to give the acquired buttery rum flavour
Recipe step-by-step:
1. Dissolve the sugars and dairy over a medium heat – no stirring!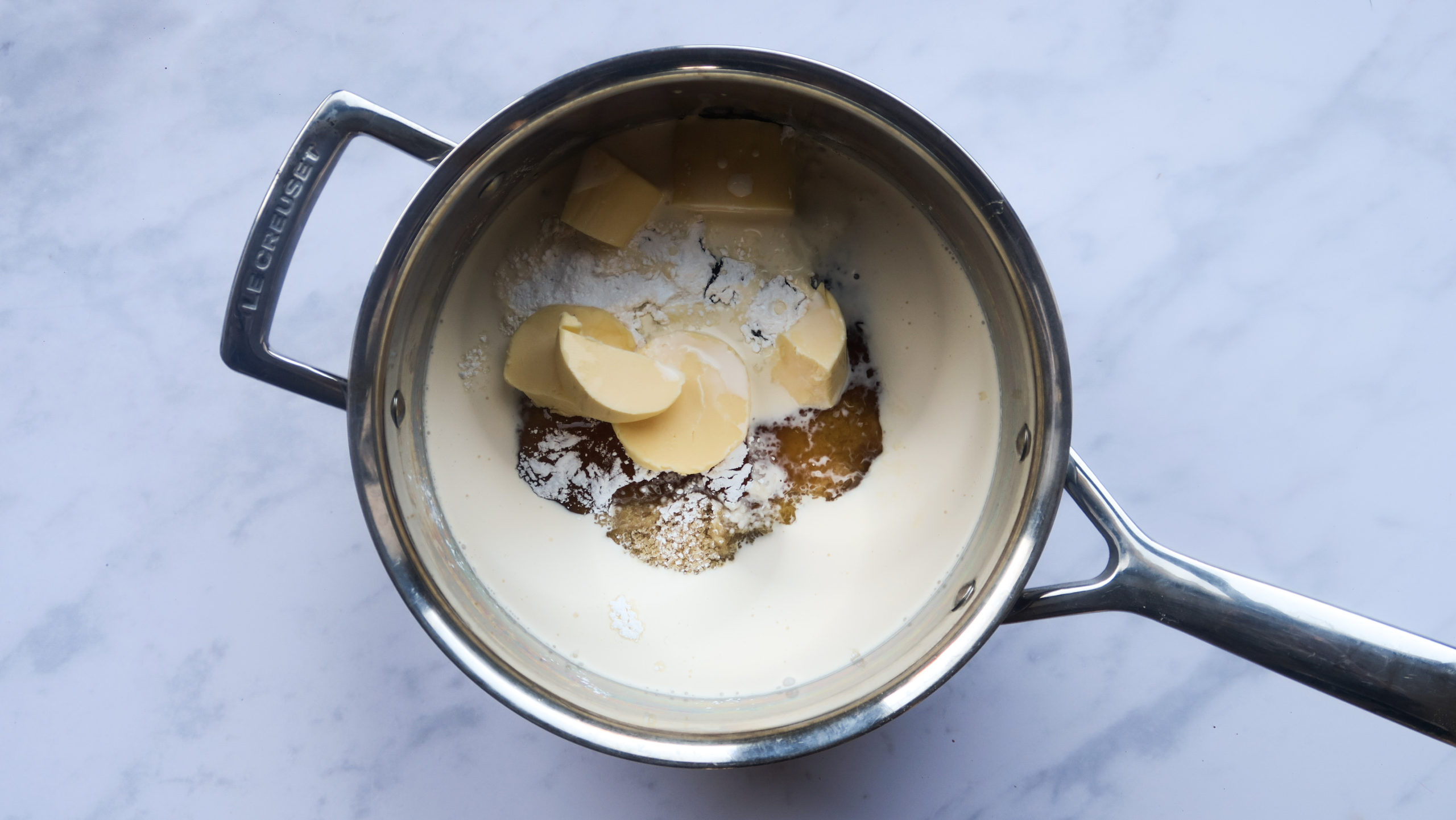 2. Bring to a boil and simmer until it reaches 116 degrees – you can stir occasionally to ensure it doesn't catch
3. Allow to cool slightly (about 5 mins) and then beat until the fudge has thickened and has lost it's shine, around 15 mins – trust me, it's worth the wait. Just keep stirring if you think it's not quite thick enough.
4. Pour into lined tin and leave to cool completely. Refrigerate.

Recipe tips:
Do not stir the fudge at the beginning or else it will crystallise too much.
The use of a sugar thermometer will ensure you don't go over 116 degrees and end up with a hard fudge.
Beat the fudge using a wooden spoon – it's easier and the traditional way.
Pour the fudge immediately after you've beaten it, or else it will cool in the pan and you won't get it back out!
Storage/Freezing
You can store your fudge in the fridge for 2-3 weeks. I haven't personally frozen my fudge but according to Nigella, you can freeze your fudge in a large block wrapped in cling film and foil, for around 6 weeks.
Let's get cooking!
Don't forget to tag me in your all your bakes over on instagram and twitter! And pin this on Pinterest if you loved it!
The Recipe
The Creamiest Buttery Rum Fudge
Serves: 30 pieces (roughly)
Difficulty: Medium
Just like taking a sip of buttery, hot rum - the creamiest, softest fudge you will ever make!
What you will need
550g Demerara sugar
200g Golden syrup
20g icing sugar
350ml Double cream
100g Butter
1 tbsp Rum
Method
1

1. Dissolve the Demerara, golden syrup, icing sugar, double cream and butter over a medium heat –

2

no stirring. Bring to boil and simmer until 'soft ball' –

3

116 degrees, stirring occasionally so it doesn't burn.

4

2. Let cool a tiny bit, about 5n mins, and then beat until it's thickened and lost shine. This can take a while –

5

15 mins roughly. Just keep beating until you know it's thick.

6

3. Pour into a 23 x 23 cm tin which is lined and leave to cool completely. Refrigerate.

7

4. Remove from pan one cold and the fudge has hardened and cut into desired shape.