Not any ordinary banana ice cream. This roasted banana gelato has an added depth of flavour from the roasting of three ripe bananas, that you wouldn't get from ordinary shop-bought ice cream. Imagine this served with caramel sauce? YUM!
Roasted Banana Gelato
Sooo, my thinking in this recipe is that Arubians LOVE roasted banana. They love it on the BBQ served with caramel sauce and omg I want to eat it right now! Since we've had some lovely weather recently (I don't know what's happened?!), banana ice cream seemed logical!
The below contains affiliate links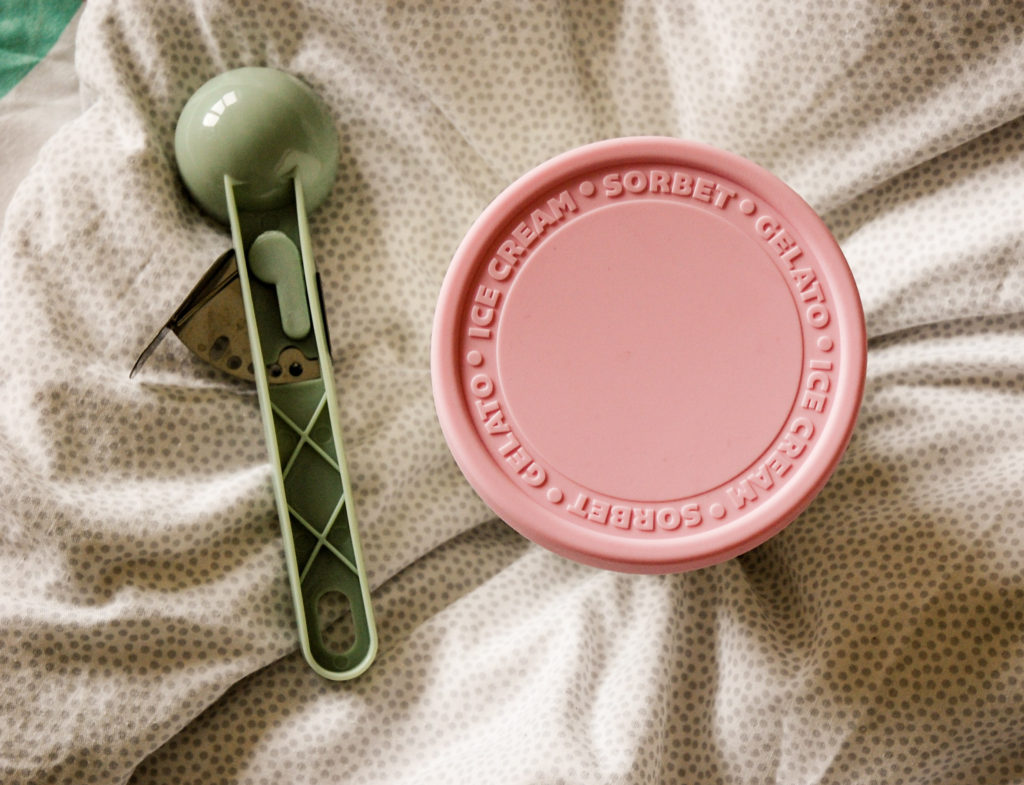 Once I'd planned to make ice cream, I knew I was going to need an ice cream tub to put it in. A few years ago when I made ice cream, I ended up putting it in Tupperware and it wasn't great. I spotted this super cute pink-lidded Tovolo ice cream tub on Amazon and fell in love instantly. It holds a litre, which was the perfect size for the ice cream I was planning to make! The cool thing is that it comes in yellow, green and red too! It's super durable, dishwasher safe and the silicone lid fits on tightly. For £12.95, its was a great find!
P.S I think the ice cream scoop came from Tiger. I couldn't find it online but I'm sure it's still available in the shops since it's almost summer season.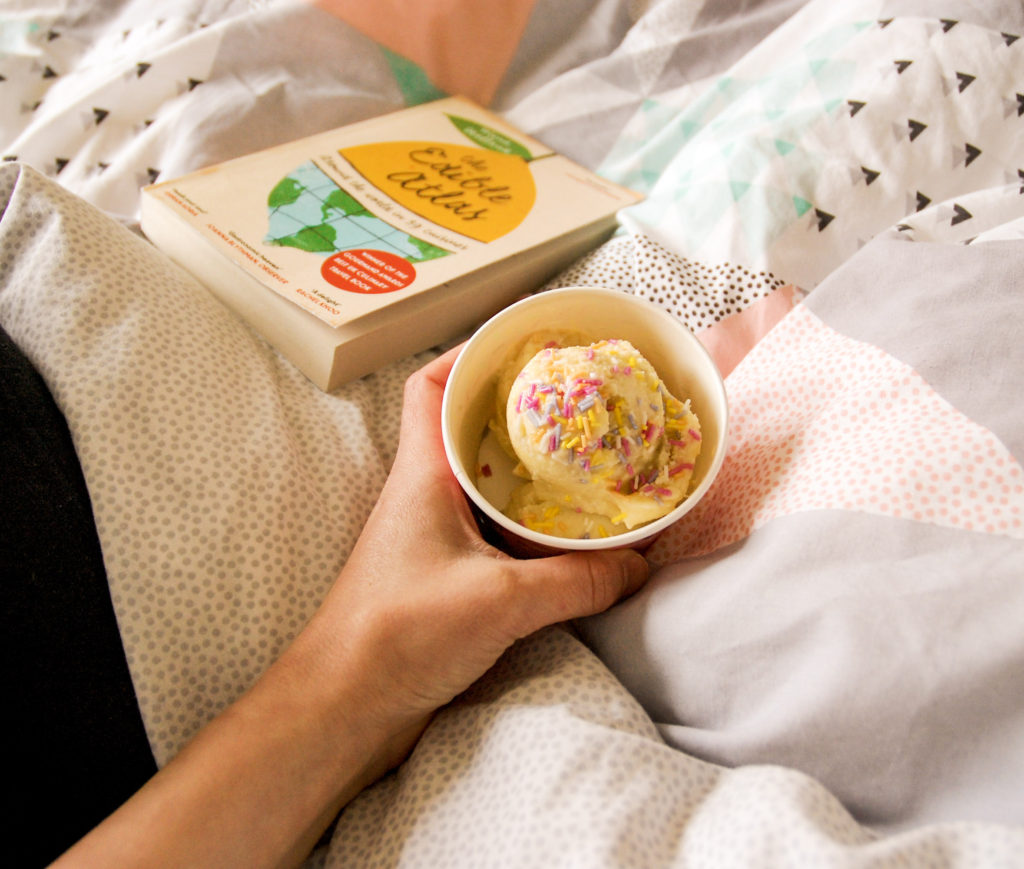 Now before you get too excited abut making this ice cream, I'll have to tell you now that I did use an ice cream machine. I don't in any way think this is cheating as it's all in the ice cream mix-making to be honest! Ice cream machines make your life SO much easier. You don't have to worry about mixing it by hand and the churning on the machine aerates the ice cream mix, giving you the softest gelato! I'm going to talk about my fave ice-cream machine, that I've had since 2015, below.
Why I love my ice cream machine
So I've had my Cuisinart Gelato and Ice Cream Maker since 2015. After studying for a Patisserie diploma at Le Cordon Bleu London, where we did learn a tiny bit about making ice cream, I had a sudden interest in it! I decided to invest a bit of money into a proper machine, not because i'm lazy but I just wanted to be able to create ice cream to the same standard as an ice cream shop, and to be able to experiment without the risk of it going wrong. PLUS, the chefs used an ice cream machine during the course, so that's what I had seen a demonstration on.
Here are a few reasons why investing in an ice-cream machine is worth it:
It cuts the time of making ice cream in half. You only have to worry about making the mix and you can let the machine do the rest of the manual work for you! The Cuisinart machine can make ice cream in about 30-40 mins.
No need to pre-freeze the bowl with the Cuisinart machine due to the 'professional compressor'. Obviously this cuts the time again.
The churning process of the machine with the paddle provided gives your ice-cream a lovely, airy texture!
Not only can you make ice cream and gelato, but it can also be used for sorbets, granitas and frozen yoghurt etc.
A five year guarantee is comes with the machine, which is a pretty good length.
I just love it! Can that be a reason? Yes, yes it can!
I know it's a bit of an investment at £224.95 but if you were to purchase one, I'd highly recommend the Cuisinart Ice cream and Gelato Machine. It's the machine I'm going to be using for any ice cream recipes you see on my blog. If you do purchase, I hope you love it as much as me! Actually, I know you will!
P.S the following post is not sponsored by Cuisinart; I just really, really like my machine!
The Recipe
Roasted Banana Gelato
Serves: 1 litre
Difficulty: Medium
A delicious banana ice cream with the added flavour from the roasting of the bananas. A good dessert to whip up and serve with caramel sauce on a hot day.
What you will need
3 bananas
3 egg yolks
150g granulated sugar
500ml whole milk
Ice cubes for cooling
Toppings of choice
Method
1

Pre-heat your oven to 190 degrees, 170 fan, gas mark 4. Meanwhile, line a tray with foil and place your bananas (skin on) on top. Bake in the oven for 15 minutes, until the skins are blackened and begin to pop open.

2

Discard the banana pulp into a bowl and mash. Leave aside to cool down.

3

Pour the milk into a medium saucepan with half the sugar. Heat the milk until boiling.

4

Meanwhile, whilst keeping an eye on the milk, combine the egg yolks with the other half of the sugar and whisk until pale and thick.

5

Once boiling, pour slowly into the yolk and sugar mix, whisking slowly whilst you pour. Pour the mix back into the saucepan.

6

Whilst stirring with a non-metallic spoon, heat until the custard (because that's what it is now, essentially) thickens and reaches 85 degrees. You can use a thermometer to check this, or you can just use your eye to know when it's thick. You'll know when it's thickened by doing the spoon test: dip spoon into custard and tilt it so the custard coats the spoon. If it coats well and/or if you draw a line with your finger across the spoon and it holds a clear line, you know it's ready.

7

Once thickened, remove from the heat. Have a large bowl of ice cubes filled with cold water ready. Rest your pan (or dispense into a separate bowl) in the cold water and stir the custard until cool.

8

Once cool, mix in the banana pulp. Turn on your ice cream machine. Pour the ice cream mix into the bowl and churn for 30 minutes. Once churned and is at an ice, thick, cream-like consistency, dispense into your container and put in the freezer until ready to eat! You can churn it for longer if you wish to eat straight away, but please don't over-churn. You'll know you've over-churned when you start to see little butter flecks in your ice cream.
MORE ICE CREAM RECIPES