Chocolate Honeycomb Candy (Hokey Pokey)
Chocolate dipped honeycomb candy – A.K.A hokey pokey in New Zealand, is so simple to make. Perfectly crunchy and very addictive.
Chocolate dipped honeycomb is DELISH
I'm SO glad I decided to make delve more into Oceanian recipes and bring back this retro classic – Hokey Pokey! You're probably thinking, wasn't that also a song? Well yes, in fact it is! But here in the UK we called it the 'Hokey Cokey' instead! "Knees bent, arms stretched, ra, ra, ra!'
I digress. So, hokey pokey, which is essentially honeycomb, in which I've decided to dip mine in dark chocolate. I went for dark chocolate as I wanted to balance out some of the sweetness from the honeycomb. Trust me, it's sweet but OH SO good.
This honeycomb toffee is really simple to make. It's made from four ingredients: granulated sugar, golden syrup, water and bicarbonate of soda. There are many variations though. Some choose to use brown sugar and even vinegar is sometimes added. This is my version. I hope you like it!
P.S Both this recipe and my delicious simple vanilla fudge & buttery rum fudge recipe make great homemade gift ideas!
Why should I make hokey pokey?
Crush and sprinkle over ice cream, like they do in New Zealand!
Honestly takes no time at all!
Tastes EXACTLY like a crunchie bar
A great introduction into making your own confectionary
Ingredients needed
Granulated sugar – obviously this sweet needs a sugar to caramelise. I chose granulated because 1. it's the most common found in pantries but also I didn't want the honeycomb to be too bitter, like if I'd chosen brown.
Golden syrup – honeycomb needs golden syrup to work! It's what helps prevent the sugar from crystallisation.
Water – also very useful for ensuring the candy sets really hard.
Bicarbonate of soda – what causes the chemical reaction and makes honeycomb what it is (see below for a science explanation!)
Chocolate for melting – dark or milk, whichever you fancy! I went for dark to cut through the sweetness of the honeycomb.
The science of honeycomb candy
In a nutshell, the sugar caramelises, the bicarbonate of soda breaks down and releases carbon dioxide which then creates those air bubbles we all love and look for in our honeycomb. But how? Let's see…
Why is golden syrup so desperately needed?
Golden syrup is what is known as an 'inverted sugar' as apposed to granulated which is crystallised sucrose. Golden syrup contains: inverted sugar, sucrose, water and salt. It helps prevent crystallisation in the granulated sugar, so therefore they are best buds in this experiment!
And why water?
Water is very useful if you want your candy to set really hard, like honeycomb should. Water helps with burning when the water in the sugar heats and evaporates. A low concentration of water is needed for a hard candy.
The main chemical reaction happens when the big guns gets added: bicarbonate of soda, a.k.a NaHCO3. The bicarb breaks down and releases the gas, carbon dioxide, which then gets trapped in the sugar, creating air bubbles.
Reference: Cake Chemistry
Equipment Needed
Small pan
Measuring spoons
Sugar thermometer
Wooden spoon
Whisk
18 x 18cm square cake tin (or something similar – the shape doesn't really matter as you'll be smashing the honeycomb!)
Baking paper
Rolling pin
Why is my honeycomb chewy?
So this happened to me on my first and second test of this honeycomb! It's an easy mistake to make and is easily corrected. Honeycomb doesn't set properly if the sugar hasn't been heated to the correct temperature of at least 140° C. You really must use a sugar thermometer. This was my mistake the second time round!
Hokey pokey recipe step-by-step
Tips
For thicker pieces of honeycomb, use a smaller pan! Double the mixture and make a few batches to give away as gifts!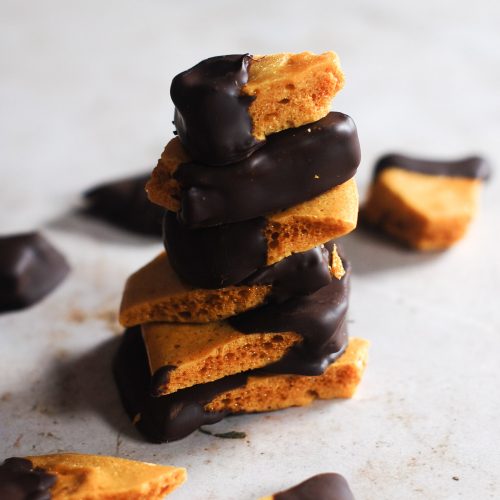 Honeycomb (Hokey Pokey)
Chocolate dipped honeycomb candy – A.K.A hokey pokey in New Zealand, is so simple to make. Perfectly crunchy and very addictive.
Ingredients
100

g

granulated sugar

2

tbsp

golden syrup

1

tbsp

water

1

tsp

bicarbonate of soda
Instructions
Line your required baking tin with baking paper – I used a 18 x 18cm square cake tin. Add the sugar, syrup and water into a pan on a medium heat. Heat until melted, slowly stirring if needed (you could always tilt the pan to evenly distribute the sugar).

Once melted, increase the temperature slightly and bring up to 140°c, using a sugar thermometer to check.

Once bubbling and at 140, take off the heat and add the bicarb. Whisk straight away – it will froth! Pour straight into the lined tin and leave in a cool place to set.

Once the honeycomb has set – it should be rock hard, take out of the pan and delicately smash (if that's even a thing!) into pieces with a rolling pin.

Melt some chocolate using a bain marie or a bowl over a pan of boiling water. Dip half of the honeycomb pieces into the chocolate. Leave to set on some baking paper. Enjoy!
Notes
Storage – it's best to store honeycomb in a sealed container but not in the fridge. They may stick together so try and keep as separate as possible. Ensure they are out of the heat or else they will go sticky. They should last about a month. 
Nutrition
Calories:
264
kcal
Carbohydrates:
67
g
Sodium:
548
mg
Potassium:
1
mg
Sugar:
67
g
Calcium:
1
mg
Iron:
1
mg
Serving suggestions
Honeycomb (hokey pokey) can be used in so many ways! Here are a few suggestions:
Crushed a sprinkled over ice cream – why not try my roasted banana gelato?
Sprinkle over iced cookies or add to a biscuit recipe!
Crush over warm pancakes with lots and lots of cream…delish.
Basically crush it over everything sweet!!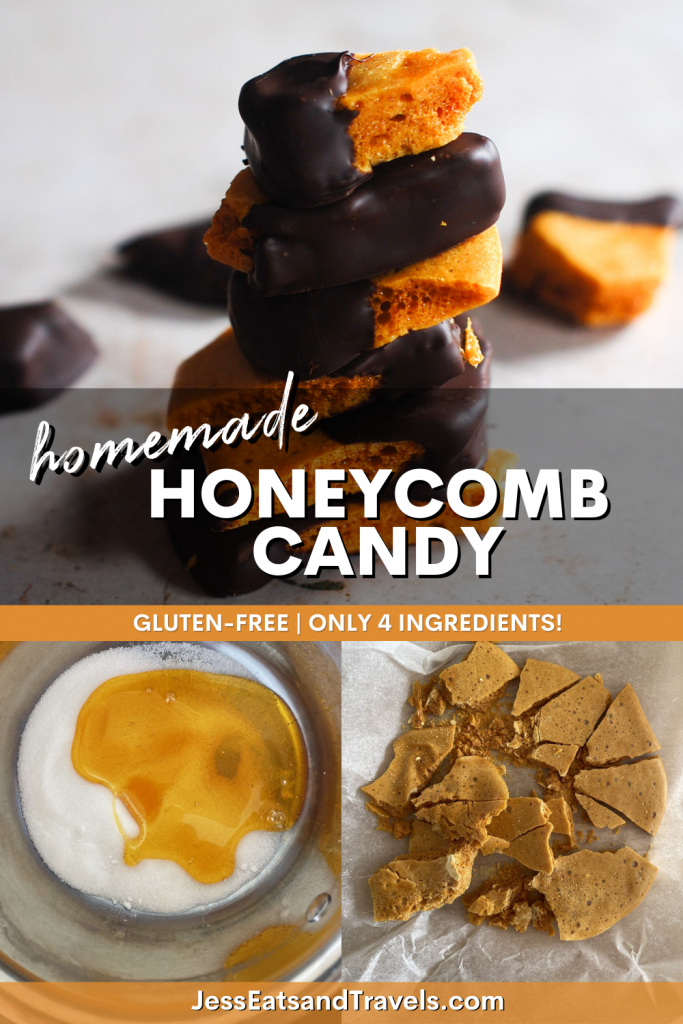 More sweets and confectionary recipes
All perfect to make as homemade gifts!
Creamy & buttery rum fudge (Caribbean)