Brown Butter Chocolate Chip Cookies
Crunchy and golden with a chewy inside; just the way cookies should be! These brown butter chocolate chip cookies are to die for.
Give me brown butter!
I'm a HUGE fan of brown butter anything. Brown butter pasta. Brown butter cakes. Anything with brown butter tastes better in my opinion! Brown butter chocolate chip cookies are no exception. The brown butter simple creates the most golden crust and deep, caramelised taste. It's quite simply, to die for! But please don't die!
P.S How many times did I say 'brown butter' just then?!
They are ridiculously easy to make. Don't let the brown butter part put you off. Brown butter is easy to do. It just means to cook the butter a little past the point that you normally would, in turn browning it and creating the most gorgeous, nutty flavour.
Why should I make these cookies?
The tastiest cookie you might ever try!
Super easy to make.
Crunchy and chewy in one cookie!
Double batch, freeze and save some dough for later.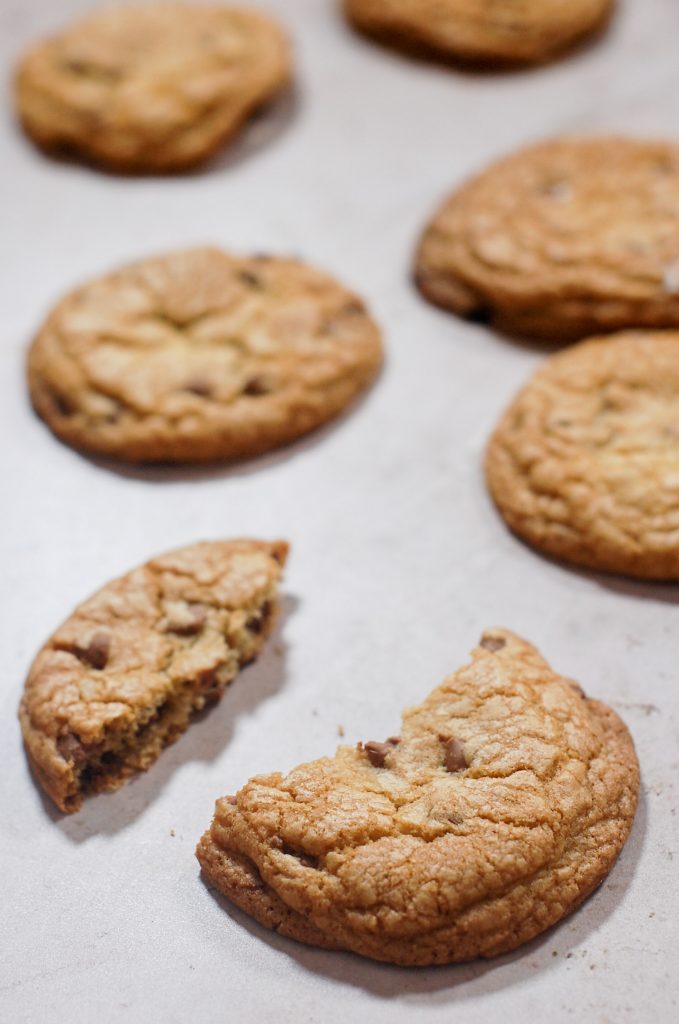 How do I get a chewy cookie?
My secret ingredient to achieving a chewy cookie is bread flour. Strong white bread flour to be precise. The gluten in the bread flour creates a lovely, chewy inside. Great news if you're out of plain and need an alternative!
How do I get a crunchy cookie?
The great thing about these chocolate chip biscuits is that they are both crunchy and chewy. The crunchiness is from the use of granulated white sugar. The more white sugar, the crunchier the biscuit. Melting butter also creates a crunchier biscuits as the melting process of the butter is already sped up, giving the cookies more a chance to caramelise and crisp.
If you were looking for a cake-like cookie, the method of creaming the sugar and butter would be your best bet.
Cookie science is such an interesting topic once you get into it. There are SO MANY possibilities, so many flavours and textures to explore. I recommend checking out Buzzfeed's post all about the ins and outs of cookie ingredients and what they contribute to the makings of the biscuit.
And if you're after a cake, why not try my chocolate fudge traybake?
Ingredients
115g unsalted butter
90g plain flour
50g bread flour
0.5 tsp bicarbonate of soda
1g sea salt
70g granulated sugar
70g light brown soft sugar
1 egg
1 tsp vanilla extract
100g chocolate chips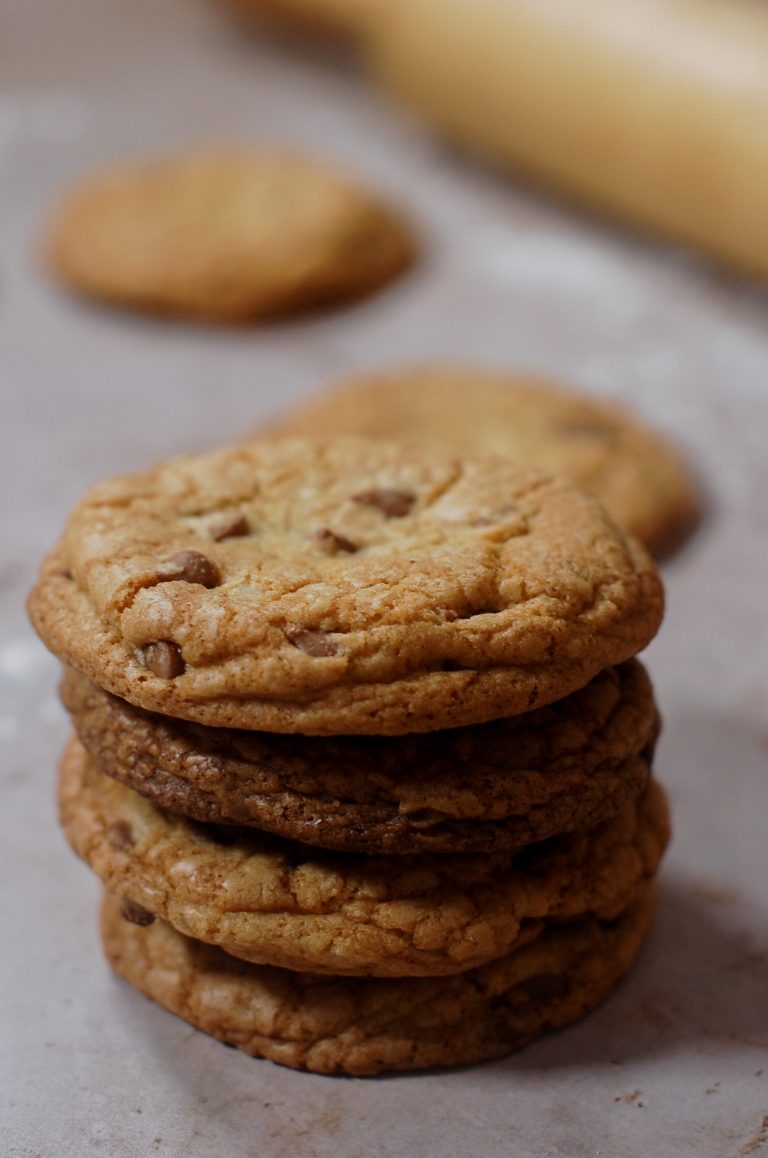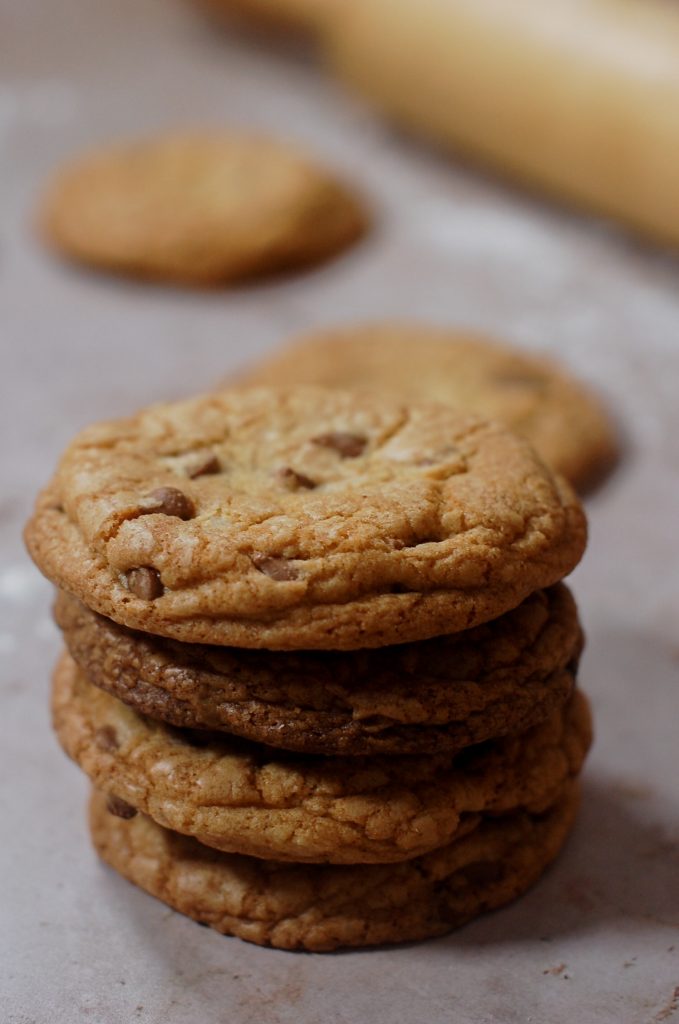 Equipment Needed
Small saucepan
A whisk
A spatula
Measuring spoons
Large baking tray
Greaseproof paper
A medium bowl
Do you often end up eating the actual cookie dough and don't make the cookies? Well I saw this post for edible cookie dough on Feel Good Foodie's instagram.. they're vegan and gluten-free too. I'm definitely going to give it a go!
Frequently Asked Questions
Can I use a different flour instead?
I've not tested self-raising flour but obviously this would have an affect on the cookies rise as it contains a raising agent. I would perhaps leave out the bicarbonate but like I said, I've not tested it myself with this recipe.
You could use all plain flour or all bread flour if you're out of one or the other!
Do I have to use two different sugar?
It won't make a huge difference if you use all granulated or all light brown soft sugar. Granulated will make your biscuit crunchier and brown will make them softer.
You can use dark brown soft sugar or muscovado for a darker cookie. Likewise, you could use golden granulated. I definitely would not recommend icing sugar!
Can I use dark or white chocolate chips?
A big fat YES!
Is this recipe suitable for vegans?
No these cookies are not suitable for vegans as they contain egg. I would recommend using an egg replacer. They also contain butter but you could easily use a vegan vegetable spread instead.
Are these cookies gluten-free?
No as it contains plain flour and bread flour, however there's nothing stopping you using gluten-free flour instead.
What do you use to scoop the cookie dough?
A lot of people use ice cream scoops to achieve the perfect round ball, however I don't think this is necessary. I like my cookies to have an odd, rough around the edge shape as I think it makes them look less mass-produced, so I use a spoon! I bet that's good news to your ears as that means one less thing to buy!
Think you can wait that long?
Brown Butter Chocolate Chip Cookies
Crunchy and golden with a chewy inside; just the way cookies should be! These brown butter chocolate chip cookies are to die for.
Ingredients
115

g

unsalted butter

90

g

plain flour

50

g

bread flour

1/2

tsp

bicarbonatre of soda

1

g

salt

70

g

granulated sugar

70

g

light brown soft sugar

1

egg

1

tsp

vanilla extract

100

g

chocolate chips
Instructions
Melt the butter until past melting point, until it turns brown. Leave aside to cool slightly.

Whisk the flours, bicarb and salt together in a bowl.

Whisk the granulated sugar, egg and vanilla in a separate bowl, until pale and thick.

Add the brown sugar and butter to egg mix and combine.

Pour in the flour mix and fold carefully. Add in the choc chips and fold.

Place a piece of cling film in a tupperware pot and put in the cookie dough. Cover with a lid and refridgerate for at least an hour.

Pre-heat the oven to 190°/170 fan. Roll a scoop of the cookie dough (about 2 tbsp volume) into a ball and place on a baking tray lined with baking parchment. Continue until you have filled the tray.

Bake in the oven for 10 minutes or until golden. Leave to cool on a wire rack.
Notes
Chocolate chips – the ones I used for this recipe and what I would like to use for all my bakes in the future, are the Guittard milk choc chips. They are American but you can buy them in Waitrose over here in the UK. They are the best as they keep their chunkiness and don't melt!
Baking trays – As I'm an Aga user, I use the full-sized enamelled steel tray. It's 46cm x 34.5cm. It fits on the runners however if you use a standard oven, check it fits first. Other than this one, I'd recommend a tray as flat as you can buy. This De Buyer non-stick baking tray looks perfect.
Aga cooking –  All my recipes are made using an Aga however I always make sure I write the recipe for a conventional oven user. If you also have an Aga, you will need to bake these cookies for the same time of 10 minutes on the floor of the baking oven. 
Servings – During testing of this recipe, it made 11 cookies. The second time round it made 14. It really depends how large you shape your balls of dough. I'd say somewhere around 10-14 people is safe.. although who's sharing these with that amount of people, really?!
Storage – I stored ours in a cake stand on our kitchen island as I wanted them to get eaten (although not really an issue!) but I'd recommend at least covering them with something and making sure the container is air-tight. You don't need to store them in the fridge. 
Freezing – I haven't frozen this dough yet but you can freeze it easily by forming into a log and wrapping tightly in cling-film. Sally's Baking Addiction says you can keep frozen cookie dough  for 3 months.
More biscuit flavours to try
Chocolate Peppermint Candy
Lemon and Poppy Seed
Walnut and Cardamon