Lemon and Poppy Seed Ghoriba biscuits
These crunchy little biscuits balls are bursting with lemon and go so well with a cuppa! Based on the traditional Algerian 'Ghoriba' recipe. 
Lemon Ghoriba Biscuits
Ghoriba biscuits are traditionally found in North Africa. Much like shortbread, they crumble when forming the dough but toughen up post-bake! I decided to flavour mine with lemon zest and top with a sprinkling of poppy seeds – no flavour in the latter – mainly for decoration!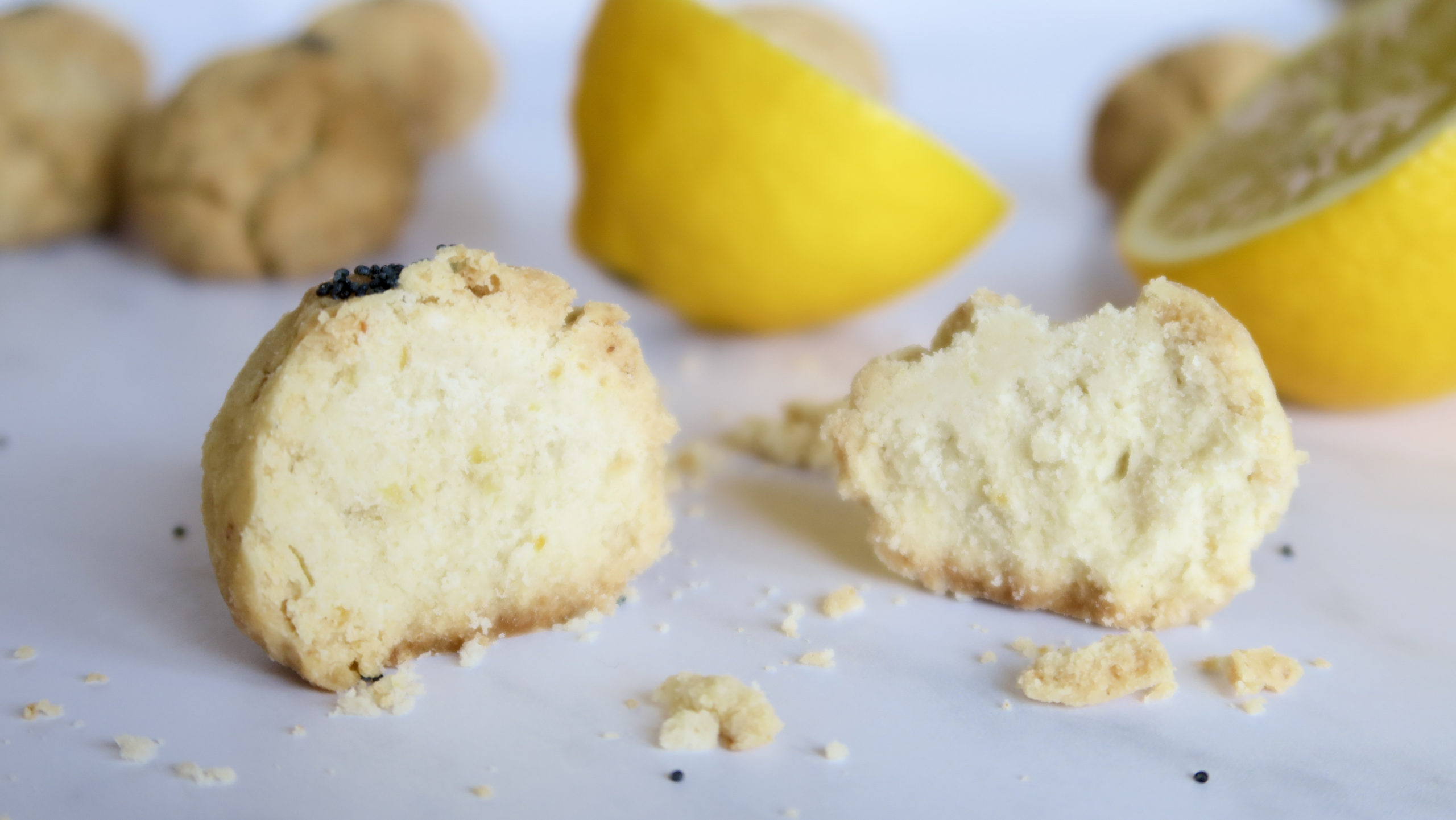 I'm a huge fan of shortbread so when I saw that these were similar, I knew I had to try. Although my memories of shortbread are more like a tin of the Scottish sort; plenty of sugar sprinkled on top! In Algeria I expect these would be teamed up with a cup of thick, black espresso – the way it's enjoyed out there!
My dough won't form a ball – it keeps crumbling!
Don't worry – this is normal. You have to ensure you squeeze the dough ever so carefully. Handle them with care but they will form. I thought the same too but eventually, after a bit of manipulating and hand warmth, they stuck. The mixture IS very crumbly but this ensures a nice, strong crunch once baked!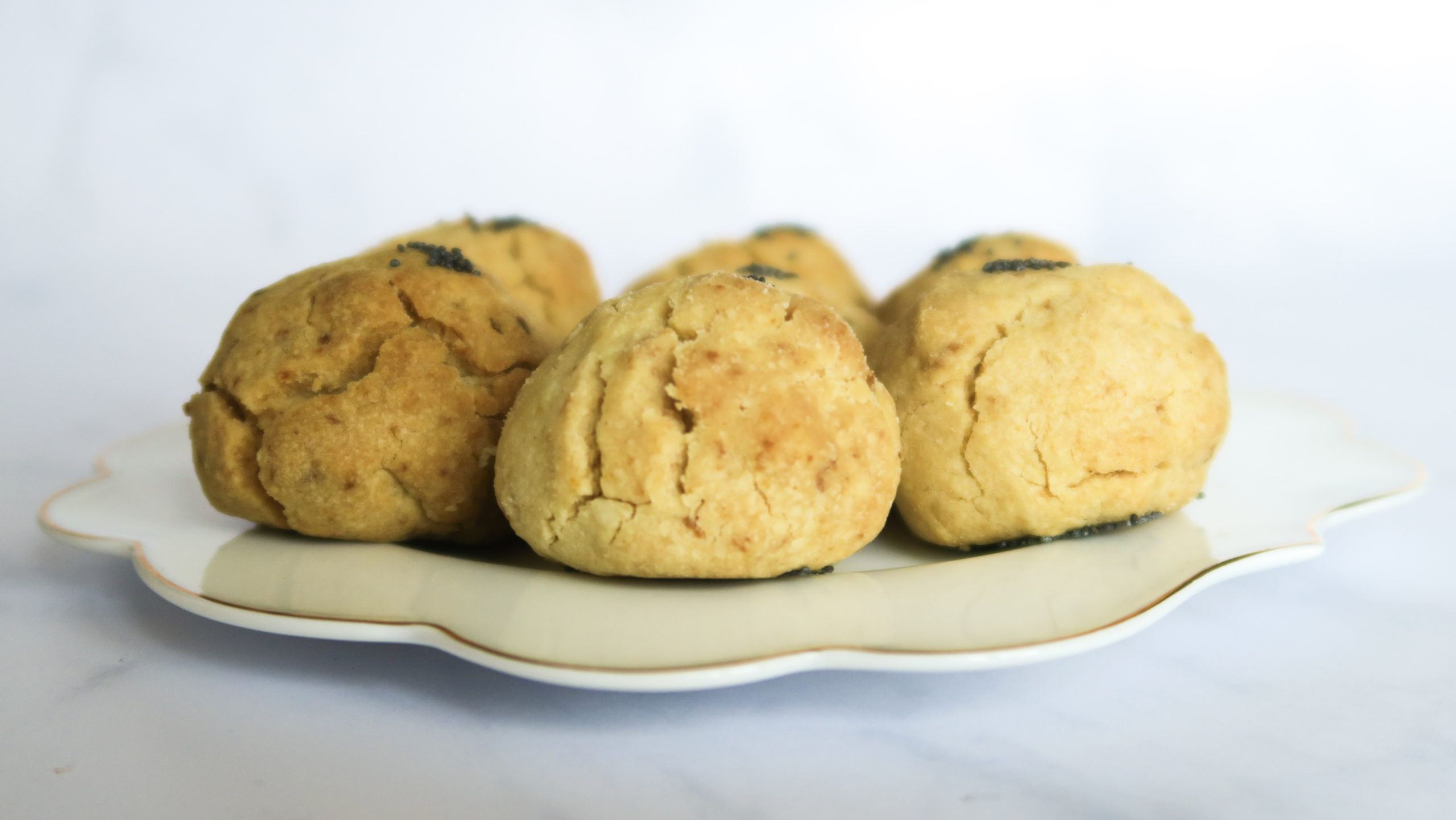 Once again, do let me know if you make these. Pop on over to my instagram account for more world cooking recipes and interesting insights into their dining culture. Tag me on insta using #jesseatsatoz
The Recipe
Lemon and Poppy Seed Ghoriba Biscuits
Serves: 10 biscuits
Difficulty: Medium
Zesty, lemon, crunch... perfect with a cuppa.
What you will need
200g plain flour
50g icing sugar
1 tsp vanilla extract
60ml sunflower oil
1 lemon zested
Poppy seeds for decoration
Method
1

1. Pre-heat oven to 180c fan/200c. In a bowl, mix the flour, vanilla extract and sugar. Slowly add the oil, forming a dough as you do so.

2

2. Take spoonfuls of dough about the size of a ping pong ball and squeeze the dough carefully into a ball shape. Roll carefully in your hands. Place on a lined baking sheet.

3

3. Top with a few poppy seeds, gently pressing them in –

4

not too hard or else your biscuit will collapse. Bake for 20 mins. Leave to cool.
Fancy eating Algerian for the day? Try these:
For lunch or dinner, try my lamb, chickpea and freekeh chilli.
For a delicious side, try my Algerian Semolina Bread
See my How to Eat like an Algerian post for more in-depth information on how you would eat in Algeria.
MORE BISCUIT RECIPES
If you liked these, try my Walnut and Cardamon Biscuits.