A Guide to Algerian Food, Background and Culture
All you need to know about Algeria. I'll cover its climate, its people, language and religion. Not forgetting Algerian food and culture (media and literature) as well as holidays and festivities. 
A Guide to Algeria
I expect like me, the closest you get to experiencing Algerian cuisine (unless you know someone Algerian!) is by making it yourself, which again, makes me so sad! Maybe one day it will be a safer country to visit. If you have visited Algeria and found it ok, please do let me know.
Algerian cuisine, like most cuisines, have influences from all over (see below) and is considered quite rich in flavour, as well as being quite meat-heavy. Bread is eaten with every dish (see my recommendation below!) and of course, being a Muslim country, pork is not consumed. It is part of the Maghreb cuisine, which includes Libya, Morocco and Tunisia; all countries situated a long the Mediterranean sea, influencing the dishes that come from these still very much African countries
Where is Algeria exactly?
Algeria is located in North-West Africa on the Mediterranean coast (I always forget how close Algeria is to places like Italy and France)
It has Tunisia, Libya, Morocco, the Western Saharan Territory, Mauritania, Mali and Niger as its neighbours (quite a lot!)
The capital is the city of Algiers
The official language is Arabic and Berber (French is also widely spoken)
It is an Islamic country
It's the 10th largest country in the world
What is the national dish?
The national dish of Algeria is in fact, couscous. Couscous is widely eaten in the country, with vegetables stirred in, as an accompaniment to a stew, meats… I think it's eaten with everything!
Algerian Cuisine has influences from –
Its location by the sea
The Berber culture
Andalusian culture
Ottoman culture
The Arabs
France
Jewish cuisine
What would I eat for breakfast?
Shakshouka, which is eggs baked in a tomato sauce along with fried vegetables
Bread would likely to be eaten perhaps with jam and butter for a lighter breakfast
You might eat something sweet and French in style, like French pastries, honey-soaked pancakes (baghrir), biscuits…
A doughnut similar to a churro, known as sfenj
A strong espresso coffee would be drank, probably spiced with cardamon or orange blossom water
What would I eat for lunch?
Algerians eat very similarly at lunch as they do for dinner: stews, soups, couscous
School children would eat the same, a long with dried fruits and fruit juices
Mint tea, the same type as Moroccan mint tea, is common in the afternoon with sweet pastries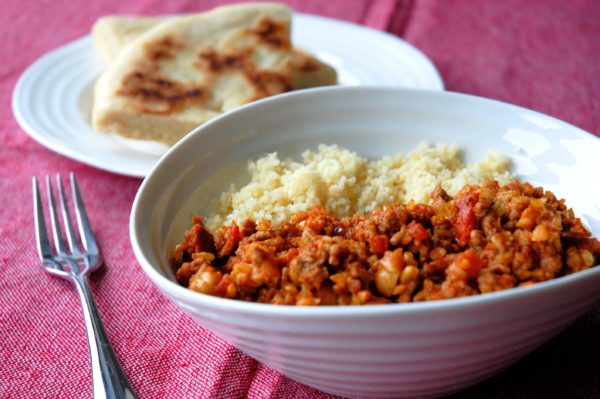 Lamb, chickpea and freekeh chilli is my take on chorba frik
What would I eat for dinner?
Most meals are of course eaten with couscous, the national ingredient!
Freekeh is a common ingredient too and is used in a lot of soups such as Chorba Frik, a spiced soup with lamb and freekeh (see above for my take on this recipe – lamb, chickpea and freekeh chilli)
Spit-roasted, spiced lamb is common (known as Mechoui) when there are guests
You might have heard of the merquez sausage before, made up of ground lamb, harissa and cumin
Tagines (a meat stew cooked in a special conical pot) are eaten a lot and are usually made with chicken, lamb, beef, vegetables and even fish; usually lightly spiced but also sweet due to the use of dates and dried fruits
Harira is another well-known soup usually eaten during Ramadan
Similar to what we associate with Morrocan cuisine, Algerians eat a lot of Kefta, which is a spiced meatball, as well as kebabs known as brochettes
Bread is eaten with every meal, so the most common you'll find is kesra, a flatbread made with semolina, as well as French breads such as fougasse and the baguette
Salad will also be eaten, usually containing beetroot and anchovies
A French frie baguette is a common street food, as well as the unusual chickpea omelette sandwich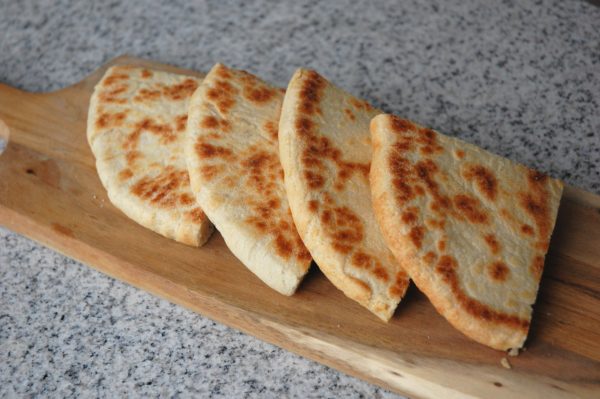 Kesra, the most commonly eaten bread in Algeria, made from semolina
What would I eat after dinner?
Fruit is common after a big meal
Algerians all have a sweet-tooth and absolutely love to eat sweet pastries for dessert such as Makroud, a semolina based dough filled with dates or figs
Sugar cookies are common too (Ghribia)
Most of the desserts you'll eat will be very sweet and usually contain dates, honey, semolina, rose water, orange blossom water and figs
Algerian eating culture and traditions
Algerians are very hospitable and will treat guests very well
Woman are still the cooks of the household in Algerian culture
Food is most commonly eaten on the floor and with your hands (always the right as the left is unclean – i'm left-handed so not sure how I could cope!)
LET'S CARRY ON THE CONVERSATION!
Let's catch up over on my social media accounts (in the top, left of this post). Go over and follow me and we can chat about cake. Why not subscribe to this blog to never miss a post? It would make me a very happy bunny!
Next week I'll be posting recipes from Andorran cuisine and how to eat like an Andorran! Subscribe so you don't miss out.
References
Food in every country
PIN ME! PLEASE?