A Guide to Angolan Food, Background and Culture
All you need to know about Angola. I'll cover its climate, its people, language and religion. Not forgetting Angolan food and culture (media and literature) as well as holidays and festivities. 
Angolan Food, Background and Culture
Where is Angola exactly?
Angola is actually officially known as The Republic of Angola and is situated in South-Central Africa
It has Namibia, Congo, Zambia and the Atlantic ocean as its neighbours
It is the 7th largest country in Africa
The capital is the city of Luanda
The official language is Portuguese (other spoken languages are Kikongo, Kimbundu and Umbundu)
The main religion is Christianity (Catholicism)
What is the national dish?
The national dish of Angola is considered to be either chicken muamba, a dish made with red palm oil, spices, tomatoes, sometimes peanut butter; served with rice, or funge which is what I gather, a mash made from the root cassava (actually made with cassava flour + water), which is eaten with fish, chicken or pork stews and is very common in most households.
Angolan cuisine has influences from –
What would I eat for breakfast?
Funge is popular throughout the day (imagine it like a porridge)
Fruit such as pineapple, banana, mango
Coffee is popular as it is in most places!
Bread made from fuba flour
Eggs
Tea
What would I eat for lunch?
Research has shown that traditional Angolan food is pretty much the same for both lunch and dinner
What would I eat for dinner?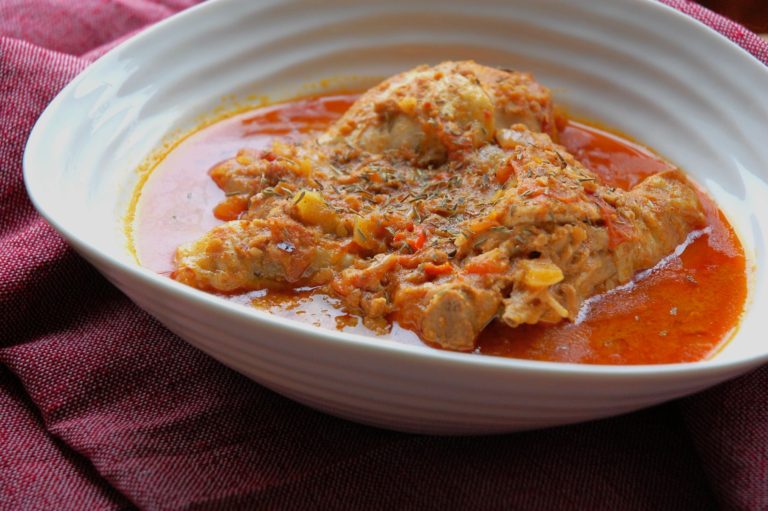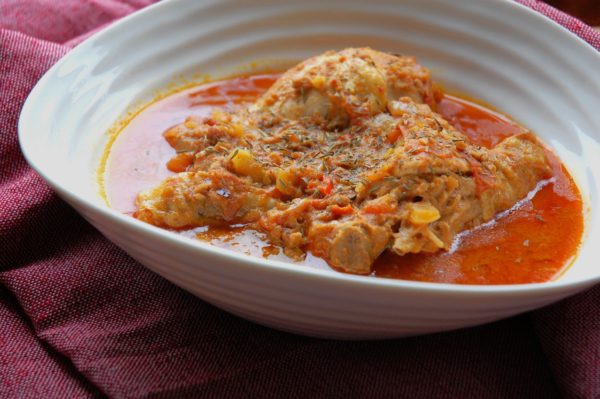 My take on Angola's national dish, chicken muamba
The national dish, chicken muamba (see my take on the dish in the image above)
Again, funge (cassava) would be served with most meals
Sweet potato, rice, corn and beans are also popular side dishes
Okra is a popular vegetable
Being situated on the coast, shrimp and lobster are popular, such as these delicious grilled shrimps from 196Flavours
Grilled chicken in a peri peri sauce (see the Portuguese influence.. i'm thinking Nandos haha)
Calulu which is a dried fish or meat cooked with tomatoes, okra and onion
Goat stew (mainly on special occasions)
Cabidela – a dish cooked in blood (usually chicken)
Bugs are normal to be eaten in Angola such as caterpillars and grasshoppers
Tilapia is a popular fish
Vegetable are not as easy to find as side dishes in restaurants (usually beans, chips etc)
What would I eat after dinner?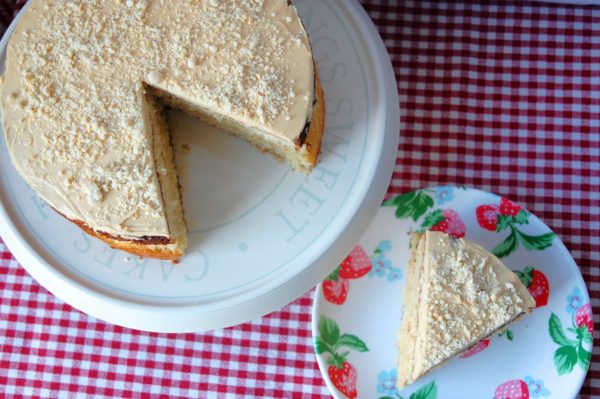 Bolo de Ginguba, a popular peanut sponge cake in Angola. I added caramel buttercream to mine!
Fresh fruit salads
Cocada Amarela, a dessert made from coconut and egg yolks
Muka, fruit dried from the baobab tree
Peanut candy
A peanut sponge cake known as Bolo de Ginguba (see my take above)
Homemade spirits are popular such as capatica, made from bananas and maluva made from palm tree juice
Homemade vodka (kapuka) and homemade whiskey (whiskey kota)
Kissangua is a popular alcoholic drink made from cornflour, believed to have healing rituals
Soft drinks such as cola, sprite, fanta and mirinda are popular
Mongozo is a beer speciality of Lundas and is made from palm nuts
Angolan eating culture and traditions
A goat is traditionally served up on special occasions, usually with a bean sauce
Food is extremely costly in Angola with most living on the breadline
References
Expo 2015
LET'S CARRY ON THE CONVERSATION!
Let's catch up over on my social media accounts (in the top, left of this post). Go over and follow me and we can chat about cake. Why not subscribe to this blog to never miss a post? It would make me a very happy bunny!
Next week I'll be posting recipes from Anguillan cuisine and how to eat like an Anguillan! Subscribe so you don't miss out.
PIN ME! PLEASE?