Walnut and Cardamon Biscuits / Mutaki
A traditional Azerbaijani pastry filled with a lightly cardamon-spiced, nutty paste. Walnut and cardamon biscuits are perfect for taking on picnics or accompanying a cup of coffee!
Walnut and Cardamon Biscuits
I hope you all enjoyed the recipe I shared earlier on in the week, another Azerbaijani favourite: strawberry sharbat. Today I've got for you something a little different. I'd never made anything like these Walnut and Cardamon Biscuits (known as mutaki in Azerbaijan) before but they sort of remind me of a fig roll!? They don't taste like one, I should just add!
These biscuits taste amazing straight from the oven but also good cold too! The cardamon spice lingering in the air during the bake, is just wonderful. Pastry cooking in the oven has got to be one of my fave smells.
In order to intensify the cardamon smell, I used freshly ground cardamon. For this, I popped the seeds out of the pods and ground them in my mortar and pestle. It only took a few minutes and really was worth it.
Don't worry if your mutaki biscuits don't look even or come out different sizes. Mine certainly were a mixture of all shapes and sizes! The taste is still as good despite this. Lightly dusted with icing sugar and you've got the perfect biscuit!
They also remind me of a mince pie but with a Azerbaijani twist! Perhaps a good one to make a Christmas time? (I know, i'm thinking waaaaay ahead here!)
The Recipe
Walnut and Cardamon Biscuits
Serves: Makes 20
Difficulty: Medium
These lightly spiced cardamon and walnut biscuits are perfect served with a cup of coffee, or packed away for a picnic.
What you will need
The pastry:
200g plain flour
1/4 tsp bicarbonate of soda
1/4 tsp sea salt
80g cold unsalted butter, cubed
60ml sour cream
1 1/2 tsp cold water
1/4 tsp vanilla extract
The dough:
140g walnut halves
50g caster sugar
50g raisins
1/4 tsp ground cardamon
1/4 tsp sea salt
1/4 tsp vanilla extract
2 medium egg whites + yolks seperated
Icing sugar for dusting
Method
1

In a medium bowl add 100g plain flour, bicarb and sea salt. Mix together. Add the butter and rub in with your fingers until a breadcrumb texture has formed. Add the sour cream, cold water, vanilla and 100g more of plain flour. Mix together until a dough forms.

2

Once you have a dough, tip onto a floured surface and knead into a ball. Slice the dough into two pieces and flatten. Wrap tightly with cling film and chill in the fridge for 2 hours.

3

Now to make the filling. In a blender, add the walnuts and pulse into a fine crumb. Tip into a bowl and add the sugar, raisins, cardamon, sea salt, vanilla and egg whites. Stir into a paste.

4

Pre-heat oven to 190 degrees/fan 170/gas mark 3. Line two baking trays with baking paper. Take out the dough and roll each piece into a thin circle shape, as wide as you can make it (15 inch diameter is ideal but not necessary). Cut into equal size wedges.

5

On the wide side of each wedge, at a spoonful of the walnut paste and spread evenly. Roll up the wedge, starting from the wide end (like a croissant). Place each on the baking tray. Add a tsp of water to the egg yolks and mix. Brush each biscuit with the egg yolk and bake in the oven for 20 mins until golden.

6

Remove from the oven and once cool, lightly dust with icing sugar. Serve with coffee!
MORE BISCUIT RECIPES
If you liked these, try my Lemon and Poppy Seed Ghoriba Biscuits or my Eggless Chocolate Chip Cookies.
PIN ME! PLEASE?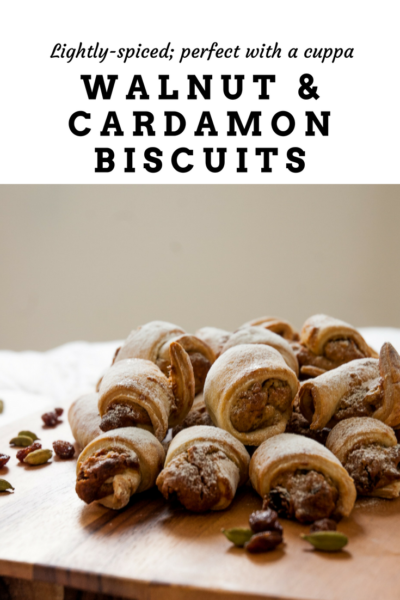 LET'S CARRY ON THE CONVERSATION!
Let's catch up over on my social media accounts (in the top, left of this post). Go over and follow me and we can chat about cake. Why not subscribe to this blog to never miss a post? It would make me a very happy bunny!