Easy Carrot and Walnut Cake
Incredibly moist and super easy carrot and walnut cake, spiced with cinnamon and topped with a cream cheese buttercream.
Easy Spiced Carrot and Walnut Cake
To be honest, I've not made a lot of carrot cakes myself. This was a dip into a bit of unknown territory however all turned out well, as you can see! Baking with carrots is easy and not scary at all – and no – the cake doesn't taste savoury!
This easy carrot cake is super moist and doesn't need any butter (apart from for the buttercream). It uses vegetable oil instead, as do most carrot cakes. So along as you have plenty of carrots and the rest of the ingredients, you're good to go!
The addition of adding walnuts to your carrot cake gives it that extra crunch factor. I like this as I am a fan of walnuts. You can probably tell since I added them on top as well! Don't feel like you have to although I think it's a nice touch.
You may wonder why the topping and filling buttercream are two different lots of ingredients. I wanted the filling to hold a lot better than the topping, so it uses more butter, cream cheese and plenty more icing sugar. The topping is a lot creamier and spreads easier. Don't let this throw you off! You can of course double up the filling ingredients and use it for both.
Why should I make this easy carrot cake?
Use up any carrots left in your fridge – no waste!
It's really easy to make, even if you haven't baked with carrot before.
A great one to serve for afternoon tea or as a birthday cake alternative.
It's maybe healthier than other cakes…(probs not haha).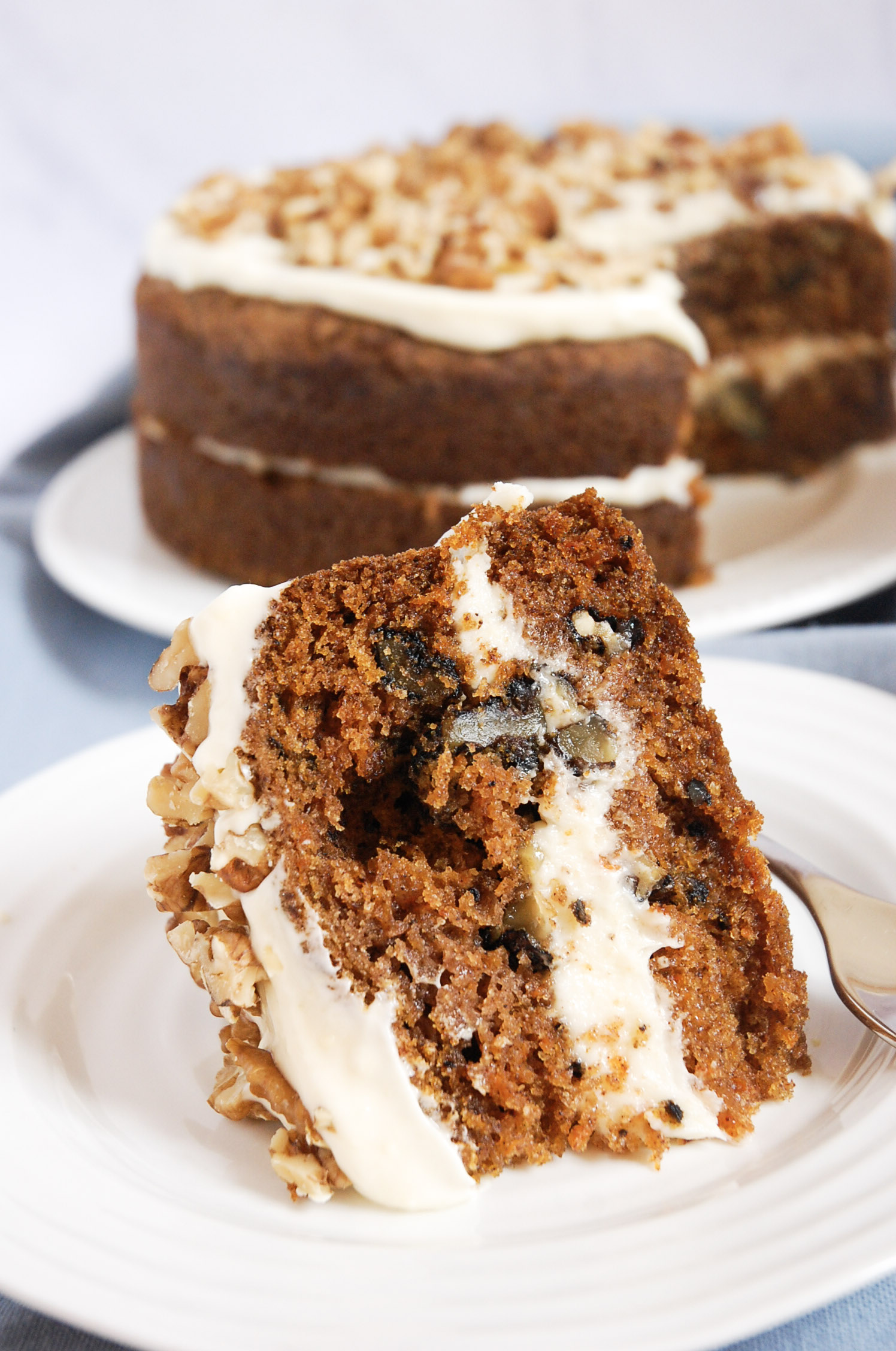 What ingredients do I need to make carrot cake?
For the cake –
Self-raising flour – flour will give the structure to your bakes. Self-raising flour has the added benefit of helping the cake rise better.
Carrots – of course essential for this recipe. You can opt to grate them or leave the skin on.
Vegetable oil – a recipe with no butter often leaves no better alternative but vegetable oil. This will help the cake stay moist as well as combine the ingredients.
Salt – a pinch of salt to offset the sweetness.
Bicarbonate of soda – a useful alkali, bicarb will help give the carrot cake a nice rise.
Mixed spice – I like using the Barts mixed spice as it contains all my faves spices: coriander, cinnamon, dill, ginger, caraway, orange peel, cloves and nutmeg.
Ground cinnamon – to add an extra kick of this wintery spice.
Walnuts – the perfect nut pairing for a carrot cake.
Eggs – eggs help structure the cake, along with the flour.
Caster sugar – to add some sweetness to the cake. A finer grain for a light and fluffy cake.
Baking powder – used along with the bicarb, baking powder will help the cake rise and give a nice, light texture. Using both bicarb and baking powder also helps the cake develop a brown colour. Read more about why bicarbonate and baking soda are sometimes used together, over on The Kitchn.
For the filling and topping –
Butter – to give the buttercream and smooth, glossy texture but also to help it set (the structure) and not be too runny.
Cream cheese – an essential but the cream also helps give a nice glossiness, just like the butter. It also gives a nice tang to the frosting. Am I weird but I also like the coolness of it?
Icing sugar – adds a sweetness to the cream.
Vanilla essence – a little drop of vanilla never hurts!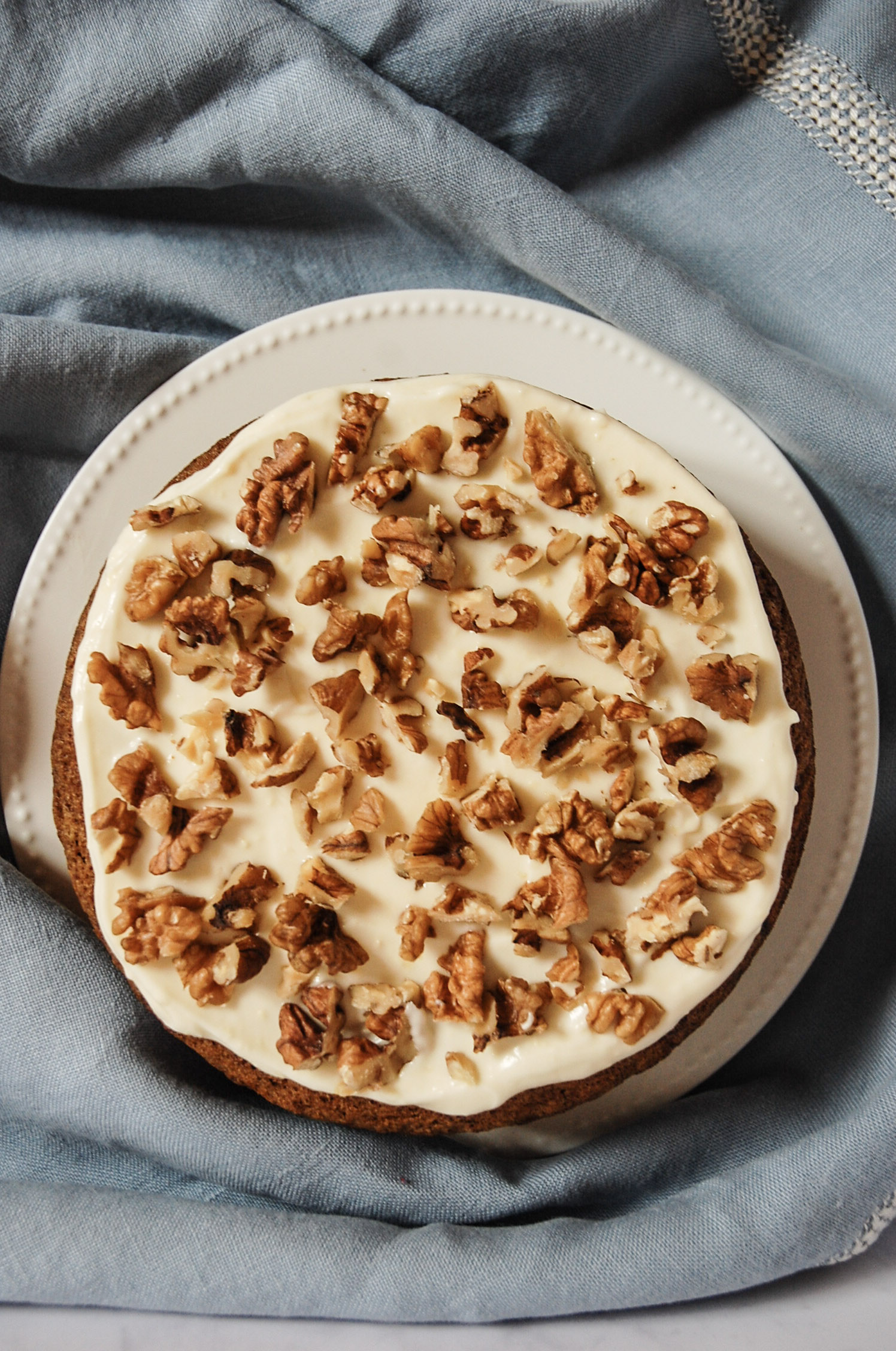 What equipment do I need to make this recipe?
Mixing bowl
Whisk
Sieve
Knife for chopping walnuts
Spatula for folding
Stand mixer for buttercream
Measuring spoons
Round 20cm/8inch deep cake tin
Greaseproof paper
Serrated knife for cutting the cake in half
Palette knife
Metal spoon
Frequently Asked Questions
Is Carrot Cake suitable for vegans and vegetarians?
This carrot cake recipe is suitable for vegetarians but not vegans due to the use of egg. You could use a flax egg as a substitute. I've not tried it but I'm sure it would work.
Should I peel the carrots?
I did but you don't have to! Simply wash and grate away!
Can I use any spice for a carrot cake?
Of course! Experiment as much as you like. How about trying ground ginger or even something like pumpkin spice? If you don't have mixed spice, you could either add micro-spoons of the spices individually (coriander, cinnamon, ginger, caraway, cloves and nutmeg) to make up the amount or just go for cinnamon, ginger, cloves and nutmeg.
Can I leave out the walnuts?
Yes you can. You don't have to add walnuts to your carrot cake. Of course there may be the possibility the sponge turns out differently to mine due to a smaller volume.
Is this carrot cake gluten-free?
No as I've used self-raising flour. I'd recommend substituting for gluten-free self-raising like this one from Doves Farm and opt for gluten-free baking powder and bicarbonate of soda. I can't say for sure how it will turn out as I haven't tried it myself.
Tip –
Got no caster sugar? You can make your own by blending granulated sugar to create a finer grain. Why not give it a go?
The Recipe
Easy Carrot and Walnut Cake
Serves: 8
Difficulty: Easy
An easy carrot and walnut cake topped and filled with a cream cheese buttercream.
What you will need
240ml vegetable oil
200g caster sugar
3 large eggs
250g self-raising flour
1.5 tsp bicarbonate of soda
1.5 tsp baking powder
2 tsp mixed spice
2 tsp ground cinammon
A pinch of salt
140g grated carrot
180g chopped walnuts plus extra for topping.
Method
1

1. Pre-heat oven to 170 degrees fan/190. In a bowl, beat together the oil and sugar until it'

2

s all combined and smooth.

3

2. One by one, add in the eggs, whisking to combine.

4

3. Sieve together the dry ingredients (flour, salt, baking powder, bicarb and spices). Pour into the oil mix and fold in carefully.

5

4. Add your carrot and chopped walnuts to the mix and fold together.

6

5. Pour into a 8inch/20cm round, deep cake tin, greased and lined with baking paper. Level off and bake in the oven for 35 minutes or until golden brown and a skewer comes out clean. Leave to cool for 5 mins in the tin and then push out and cool on a wire rack.

7

6. Meanwhile, prepare the filling. In a mixer, add the butter (softened), cream cheese, icing sugar and vanilla and beat until smooth.

8

7. Once the cake has cooled, with a serrated knife, cut the cake in half widthways to create two halves. Spoon the filling onto the two halves, spreading to the edges with a palette knife. Sandwich the two halves together.

9

8. Now prepare the topping: do the same as the above with the topping ingredients. Chop the walnuts finely (about a handful). Spoon on top of the cake and level out with a palette knife. Sprinkle with the walnuts.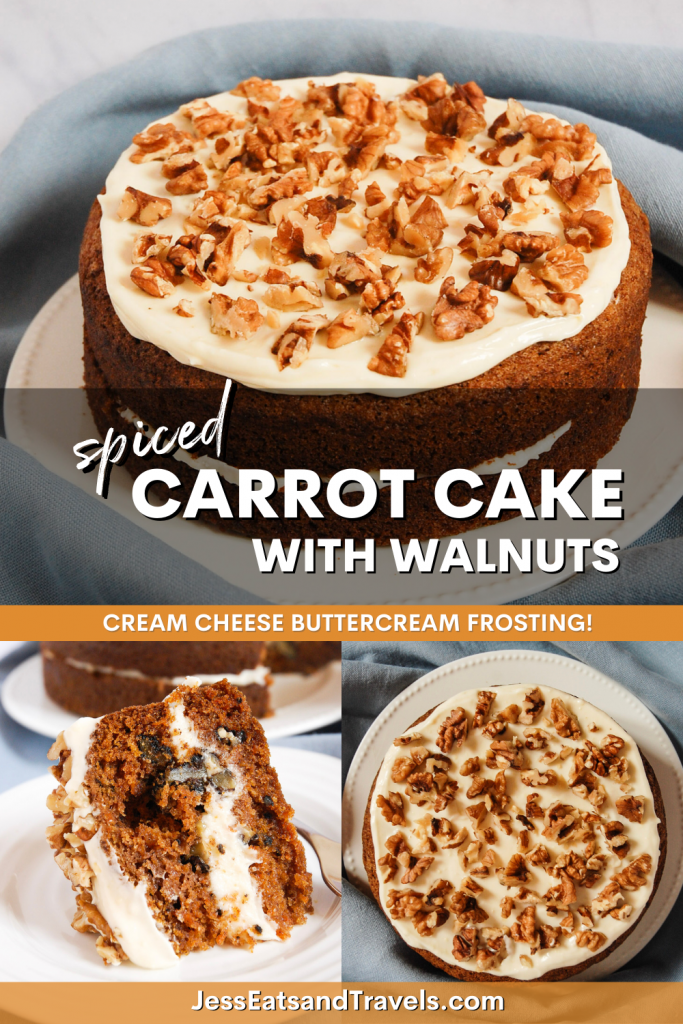 More cake recipes to try –
Dulce de Leche Cake with Milkduds