Quick and easy toffee sauce swirled into apple chunks in a golden, moist sponge. These toffee apple blondies are great for serving on Bonfire Night (or all year round!)
Toffee Apple Blondies
These toffee apple blondies all started because I wanted to try and bring out those flavours that surround Autumn. The iconic toffee apple, melted toffee sauce on a pudding; apple crumble.. I wanted to gather these all up and eat them in form of a cake!
I love brownies but I thought brownie's sister, blondie, might have to step to the challenge. It took a couple of tries but I finally got the results I was after: a moist sponge with soft apples pieces enveloped in toffee sauce. Autumn in cake form.
The sauce used in this recipe is also one of the simplest I've ever made, and I think I'll be making it again and again. It's a cheat's toffee sauce: melting hard toffee candies down in a pan and adding double cream to thicken. The most glorious results come from doing this. You'll see!
Why should I make Toffee Apple Blondies?
You'll make the quickest and easiest toffee sauce you've ever come across.

Perfect if you have a glut of apples in the Autumn-time.
A great sharing dessert for serving up on bonfire night.
Pure toffee deliciousness in one (or two, or three..) little square(s).
What ingredients do I need to make Toffee Apple Blondies?
Unsalted butter – essential for creating the lovely, moist sponge. Feel free to use salted if that's all you have.
Hard toffees – any small, hard toffee will do. I used these Waitrose Dairy Toffee's.
Double cream – helps to thicken up and create the toffee sauce. You can also use heavy cream. Single cream will create a much thinner sauce.
Dark brown soft sugar – I went for a dark brown sugar as I wanted the sponge to have a almost treacle-like taste, unlike caster which would give a much lighter flavour.
Eggs – help to give the cake structure and to bind the ingredients together.
Vanilla extract – you can use vanilla pod seeds, vanilla bean powder.. anything vanilla.
Plain flour – to help give the sponge structure.
Baking powder – to help give it that rise.
Apples – any variety will do!
Equipment list
Stand mixer or hand mixer
Small sauce pan for melting down the toffees
Whisk for whisking the sauce
Sieve
Two spatulas for folding in flour/levelling mix
Square tin 8cm x 8cm
Baking paper for lining the tin
Spoon for drizzling over sauce
Knife for swirling in the sauce
Frequently Asked Questions
Are Toffee Apple Blondies suitable for vegans and vegetarians?
Toffee apple blondies are suitable for vegetarians but this recipe isn't suitable for vegans. To adapt to become a vegan recipe, you could use a vegan spread in place of the butter. The same for the cream. You could also make your own caramel sauce instead by melting sugar in a pan, adding a splash of vegan cream to create a sauce. An egg replacer would need to be used too. I'd start with finding a vegan blondie recipe and then adapt it by adding in the apples and sauce.
Do I have to use a hard toffee?
No, you can use a soft toffee but just know that they will take less time to melt (a bonus!)
Can I use eating apples or do they have to be ones for cooking?
Eating apples or cooking apples are perfectly fine for toffee apple blondies. Eating apples are just a bit sweeter.
Tip –
Once you've finished making your toffee sauce, put a lid on pan to keep it all melty and ready for swirling.
The Recipe
Toffee Apple Blondies
Serves: 8 slices
Difficulty: Easy
Melted toffees, apple pieces in a golden sponge. Slice up and serve with coffee.
What you will need
170g unsalted butter
40g hard toffee
50ml double cream
100g dark brown soft sugar
1 egg
1 tsp vanilla extract
200g plain flour
1/2 tsp baking powder
2 apples, peeled and chopped smallish
Method
1

1. Preheat oven to 180 fan/200. Beat butter cut into small pieces (soften in microwave for few seconds to make it easier) and sugar until fluffy.

2

2. Meanwhile melt toffees in a pan along with the double cream to form a sauce (low heat). Keep stirring so it doesn'

3

t burn.

4

3. Add egg and vanilla to butter mix and beat until incorporated.

5

4. Sift in flour and baking powder and fold in carefully.

6

5. Fold in chopped apples.

7

6. Line baking tin and spoon the mix into it. Level with a spatula.

8

8. Drip the toffee sauce over and swirl in using a knife.

9

9. Bake in hot oven for 25 mins. Leave to cool for 5 mins and then carefully lift cake out of tin and cool on a wire rack.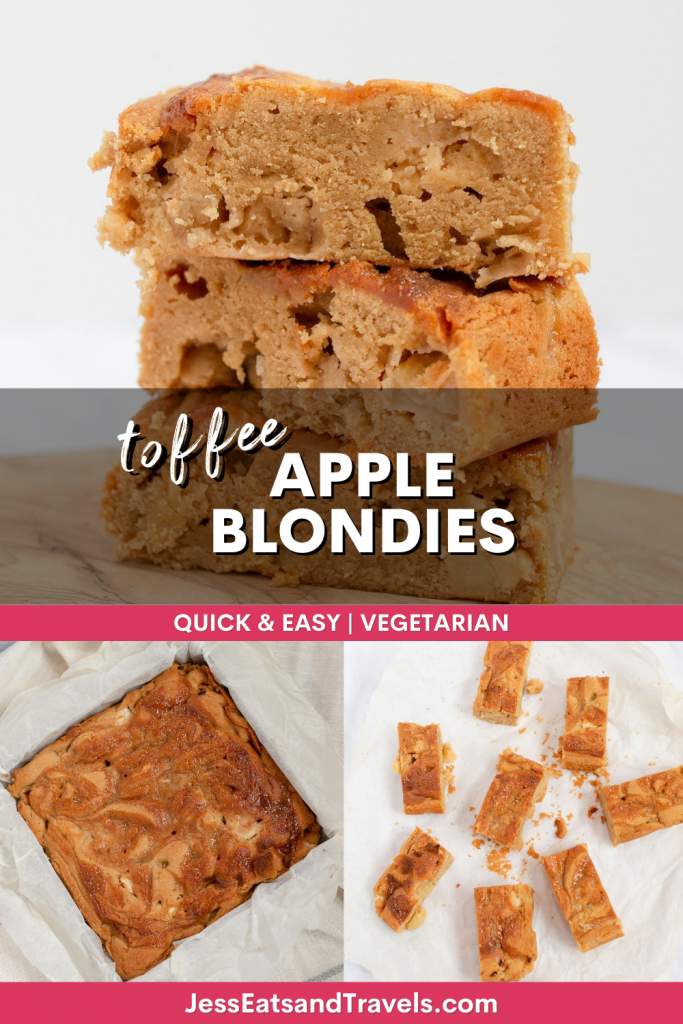 More cakes recipes to try –