Chocolate Sheet Cake with Fudge Pieces
This simple chocolate fudge traybake is super tasty and ridiculously easy! It's rich, moist and gooey with plenty of delicious chocolate fudge flavour!
Easy & Simple Chocolate Fudge Cake Traybake
In fact, this recipe is so good that instead of frosting or icing it just has gooey melted fudge – what could possibly be better than that? Plus, it's a traybake which means that the cake mixture is light and cakey with a gorgeous not-too-rich chocolate flavour. Who doesn't love a good traybake?
You can eat so many things as a traybake – from simnel cake to sticky chicken, traybakes really can do it all! And why shouldn't they? There are so many advantages!
For one, there's minimal washing up (of course) which everyone loves – there's nothing worse than a meal eaten while dreading having to sort out the mess that is currently your kitchen!
Also, they're specifically designed to be easy! Just look at this one-pot halloumi bake – you essentially just dump in everything except the halloumi and bake, then add the halloumi and carry on! And even the most obsessive chefs love a meal like that every once in a while – especially if it tastes as good as this chocolate fudge traybake! After all, everyone loves chocolate and fudge!
This chocolate fudge cake is particularly perfect for sending into school on your children's birthdays – kids just adore it! Especially if you decorate it with copious amounts of sprinkles and far more candles than any child should ever need.
Plus, lots of people don't love icing or frosting. Some find it too sickly sweet, while others dislike the texture. The melted fudge pieces on top really shine in these scenarios as they end up with a light crust on top where they've solidified, but when you get in through that thin, crackly layer they just ooze out – and everyone loves some good oozy fudge!
Of course, if you're a real baker, you could make the fudge yourself by using our traditional Caribbean Rum Fudge Recipe. Feel free to omit the rum for the non-alcoholic version!
Why should I make this chocolate fudge traybake?
Super simple to make and not many ingredients needed
The fudge topping will have you coming back for more. It's also a good alternative to white icing!
Great for children's parties
This recipes makes a small batch, perfect for times when you want to eat it all yourself!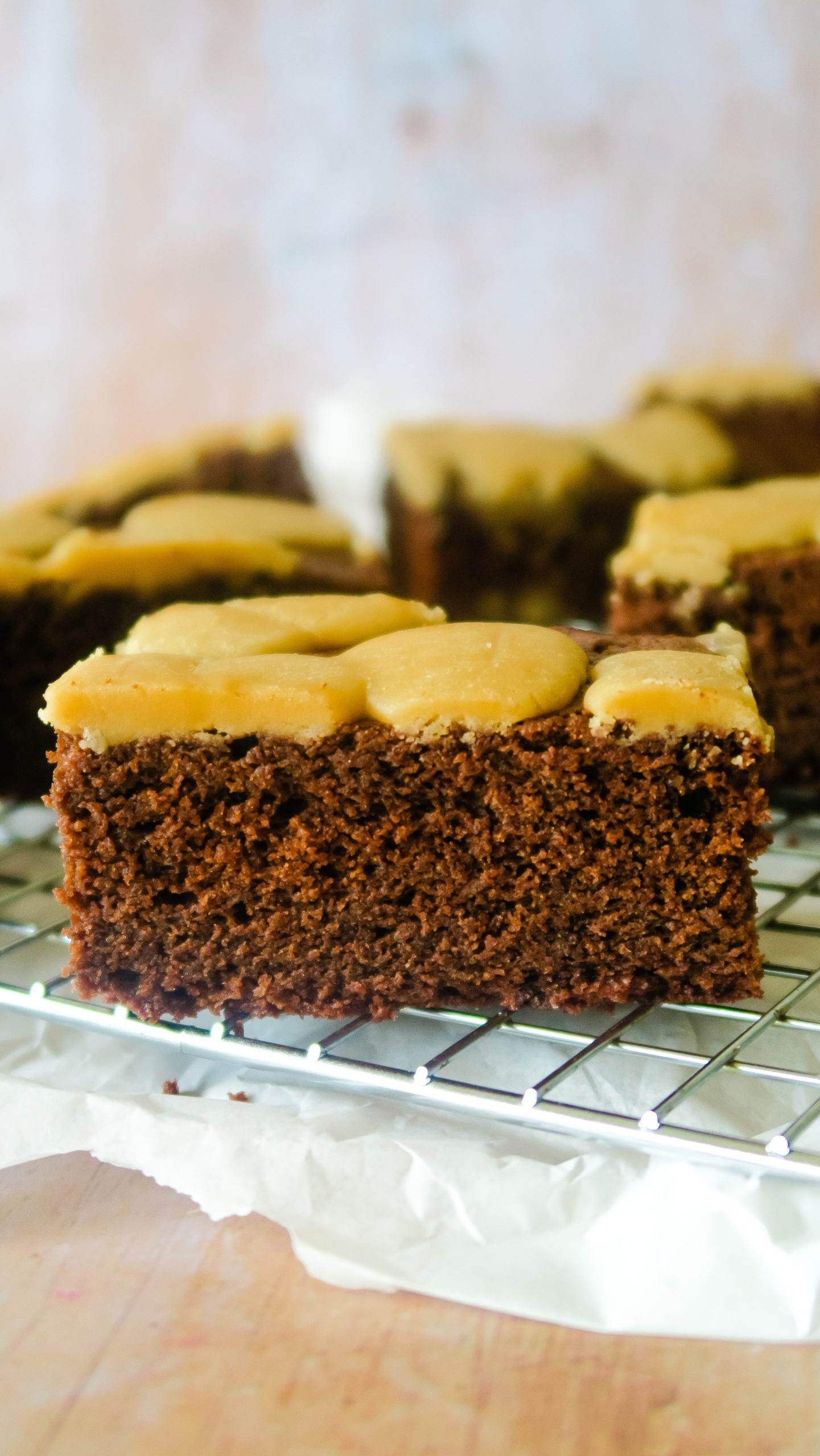 What do I need to make this simple chocolate fudge cake?
You don't need much, and certainly nothing rare here! The only thing you might have trouble finding are the fudge pieces.
You just need:
Unsalted butter, ideally at room temperature, but it doesn't matter too much because you're melting it anyway.
Light muscovado sugar. If you can't find this then light brown sugar is the best substitute for both flavour and texture.
Double cream. Sadly, in this case, single cream just won't cut it. You need the richness and creaminess here to bring the right texture to the chocolate fudge cake.
Cocoa powder. We use regular cocoa powder here instead of Dutch-process cocoa powder because the two are actually surprisingly different.
2 eggs. Ideally at room temperature, as per usual. We used medium eggs so make sure that you do too in order to get the best possible texture.
Self-raising flour – this helps to form the structure of the cake, as well as to let it rise and form those lovely little air bubbles!
Fudge pieces – Don't have any? Use our Rum Fudge Recipe to make a quick batch! Feel free to substitute according to the info below, though!
If you want a more rich, chocolatey cake: add an extra 5g of cocoa powder.
EQUIPMENT LIST
Baking paper
18 x 18cm square cake tin
Saucepan
Wooden spoon for mixing
Measuring spoons
Knife for chopping fudge
Cooling rack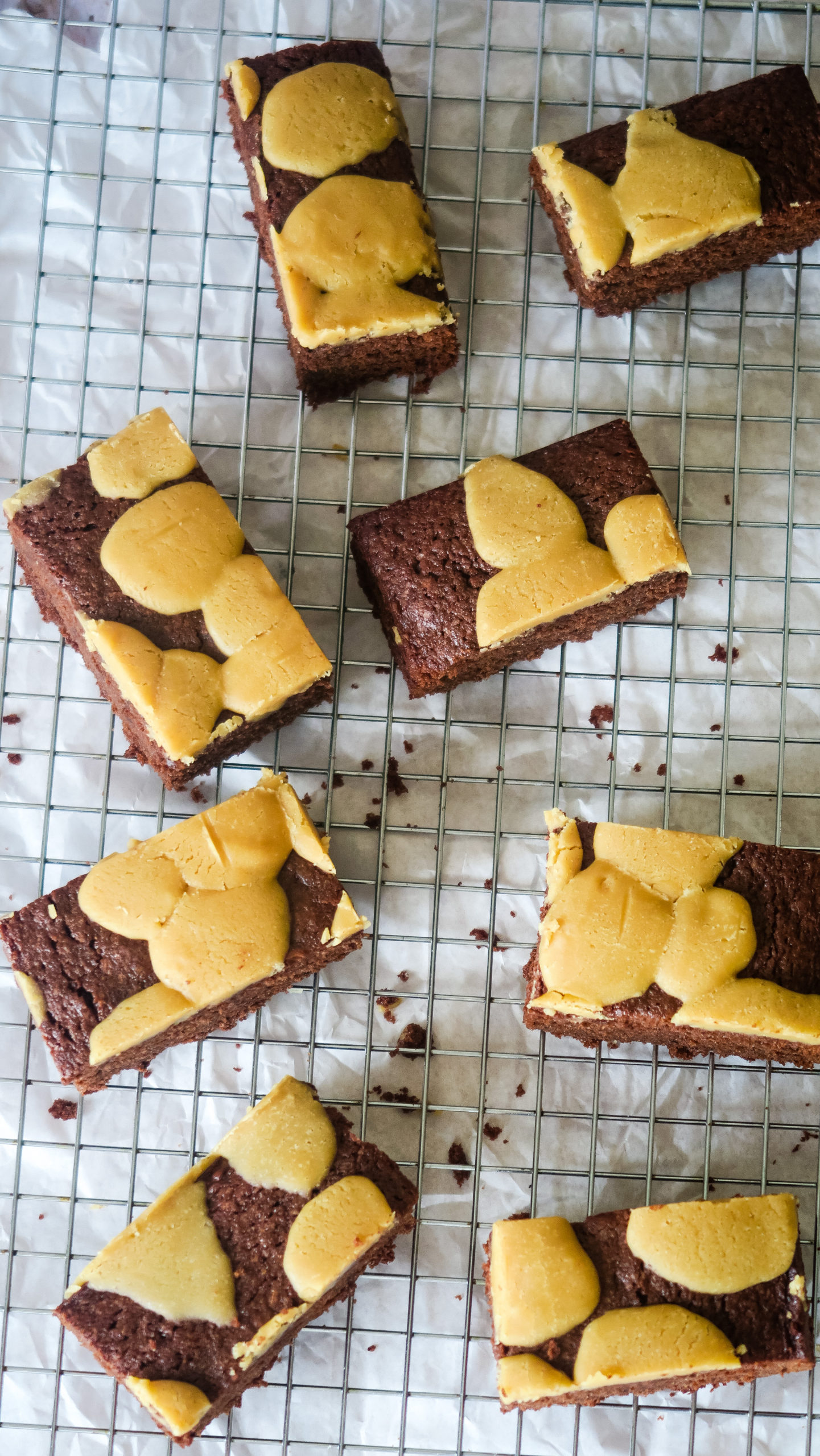 INGREDIENT ALTERNATIVES
Can I use a different egg size for this traybake cake?
If you don't have medium eggs, see this post for charts on how to convert between the different egg sizes. It's a very useful chart to have on hand!
Can I use a different flour?
If you don't have self-raising flour, feel free to use regular plain flour, but make sure you follow the instructions here to ensure that your traybake rises just the right amount!
What if I can't find any fudge or don't want to use it?
You'll find fudge pieces are usually next to chocolate chips and chunks in the baking aisle, but if you really can't find them then you can always use larger fudge squares or even toffee. Salted caramel also works wonderfully here as the salt also brings out the flavour of the chocolate cake!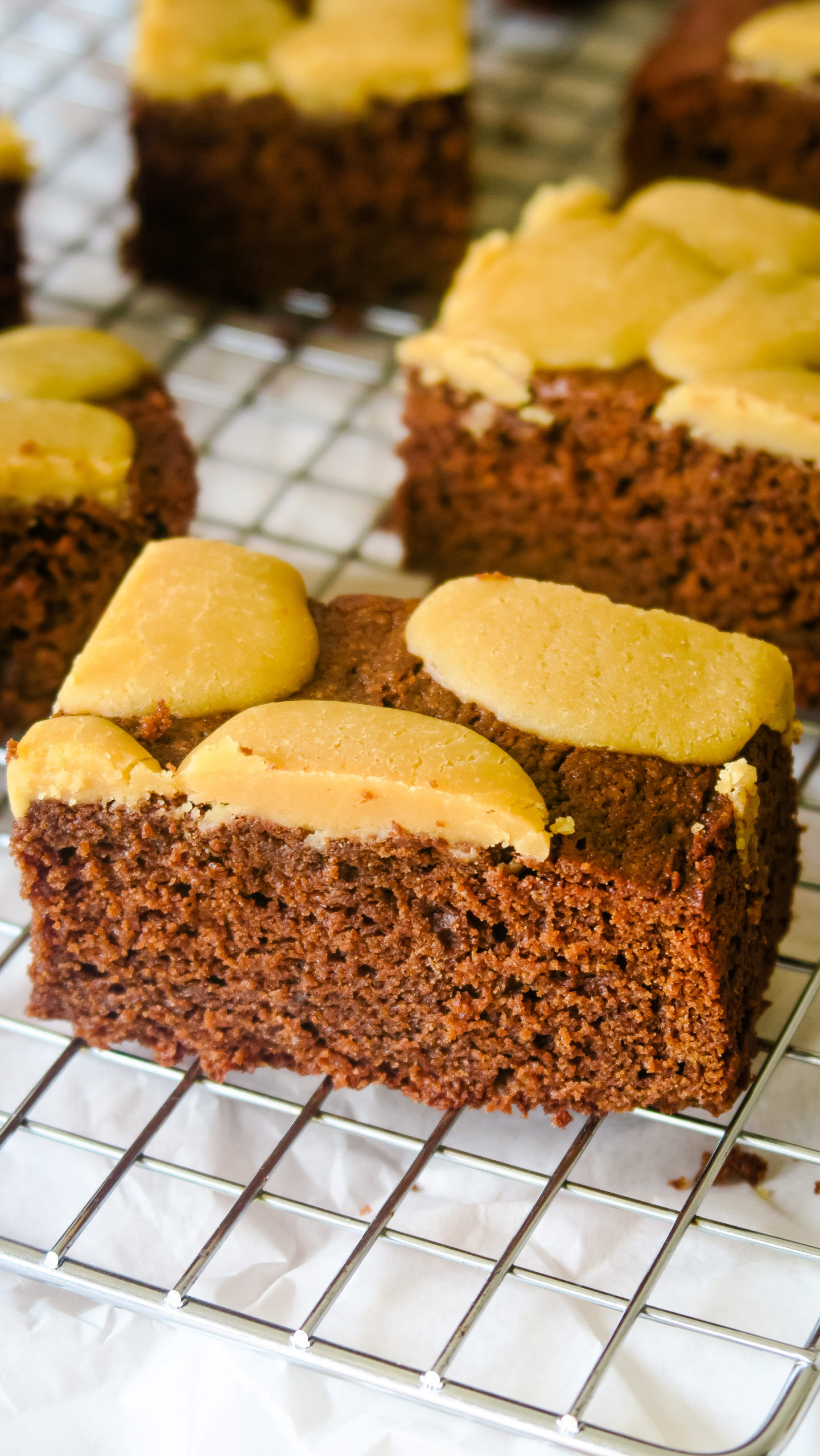 How do I make this chocolate fudge traybake?
This easy chocolate fudge cake is ridiculously easy to make, trust us! There are just 5 steps and one of them is to preheat the oven and line the tin with parchment paper!
The Recipe
Chocolate Fudge Traybake
Serves: 8 slices
Difficulty: Easy
A super simple chocolate cake made in one tray! Perfect for children's birthday parties.
What you will need
150g Unsalted butter
200g Light muscovado sugar
80ml Double cream
40g cocoa powder
1/2 tsp Vanilla extract
2 Eggs beaten
100g Self raising flour
70g Fudge pieces cut into small pieces
Method
1

1. Preheat the oven to 170 + line a 18 x 18cm tin with baking paper.

2

2. Melt the butter, sugar and cocoa powder along with the cream in a saucepan over a low heat. Mix to combine and then set aside to cool in a bowl.

3

3. Once cool, fold in the self-raising flour. You don't even need to sieve it!

4

4. Add the egg and vanilla, then mix in gently until just combined.

5

5. Pour into the tin and bake for 30 minutes.

6

6. Remove from the oven and scatter over the fudge pieces then bake until fully cooked and the fudge is melted (about 5 mins).

7

7. Leave to cool in the tin before cutting into squares or rectangles as desired.
See? Easy peasy! And super delicious and fudgy too!
What other easy sweet recipes should I try?
We have plenty of recipes for sweets and treats! How about any of these?
A more unusual option – fruit and nut chocolate salami! It's great served with coffee as a more mature version of a fridge or freezer cake!
Or, if you're feeding kids again, this no-bake chocolate M&M cheesecake is sure to go down a treat – and it's much easier than it looks!
Brown butter chocolate chip cookies should be on your must-try list!