Any M&M's fans will adore this no-bake M&M cheesecake as it's not only topped with the chocolate sweets of joy but they're also crushed and folded through the cheesecake mixture. Nutella is then melted down and lovingly poured over top. Not too sweet or indulgent but the perfect balance of tanginess and chocolate.
No-Bake M&M Cheesecake
I've had many a fail with cheesecakes in the past. I've had cheesecake mixtures collapsing and bases falling apart. I think it mainly comes down to the mixture and also the type of tin you use. I've finally found the best, fail-safe recipe, which I can't wait to share with you!
Why should I make this cheesecake?
You don't have to bake it in the oven since it's no-bake!
I mean it's coated in Nutella... need I say more?
It's a simple yet highly rewarding bake.
Easily adaptable recipe – the world is your oyster when it comes to changing it.
No-bake M&M
Cheesecake = HEAVEN!
I chose to do an M&M cheesecake specifically because my friend from home gave me a bag of them as part of my Birthday gift. I totally forgot how much I love them! They were gone in a flash! So when I was thinking about what type of cheesecake to make (I decided whilst wondering the sweet aisle of Morrisons, getting inspo – any other food blogger do this??), I clocked eyes with the M&M's and it wasn't a hard decision to make.
What ingredients do I need?
250g chocolate digestives
50g soft light brown sugar
140g melted unsalted butter
125g M&MS
500g cream cheese
85g icing sugar
1 tsp vanilla extract
300ml double cream
Not any ordinary base…
The base is also a tad special. It's not the ordinary digestive base but CHOCOLATE DIGESTIVES instead! The topping is also pimp squeak easy. It's just Nutella spread! Just melt it and pour!
Now this cheesecake base also lines the sides of the tin to ensure you get more of its deliciousness. It's not hard to do at all. It's all in the moulding when the mixture is soft.
Equipment Needed
Food processor for crushing the biscuits – I used my Nutri-bullet.
Saucepan
Medium bowl x 2
Spatula for folding
Mixer with whisk attachment (or just a whisk and a bowl)
Palette knife for spreading the topping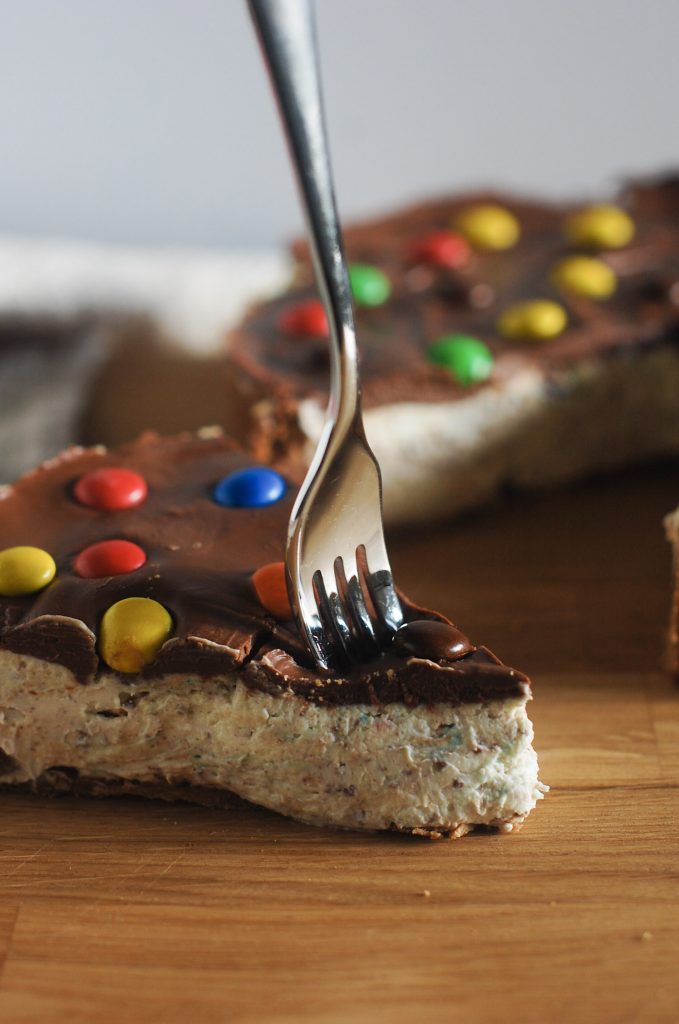 Recipe Variations
What other biscuits could I use?
You could use plain digestives or if in the US, a graham cracker would work well. Any hard biscuit would work, as long as it crushes well and it's cake-like. I reckon shortbread would work too.
Step-by-step method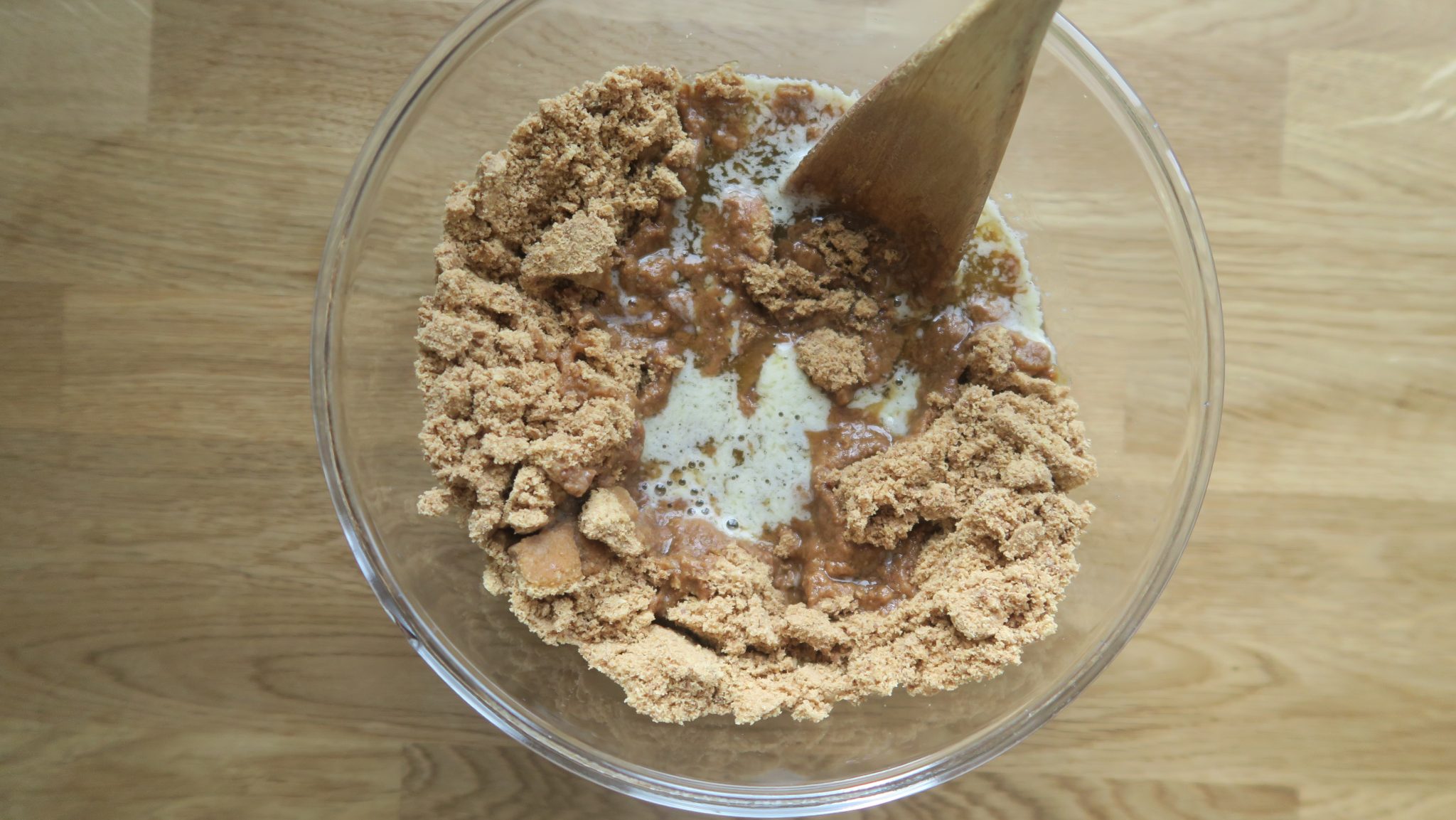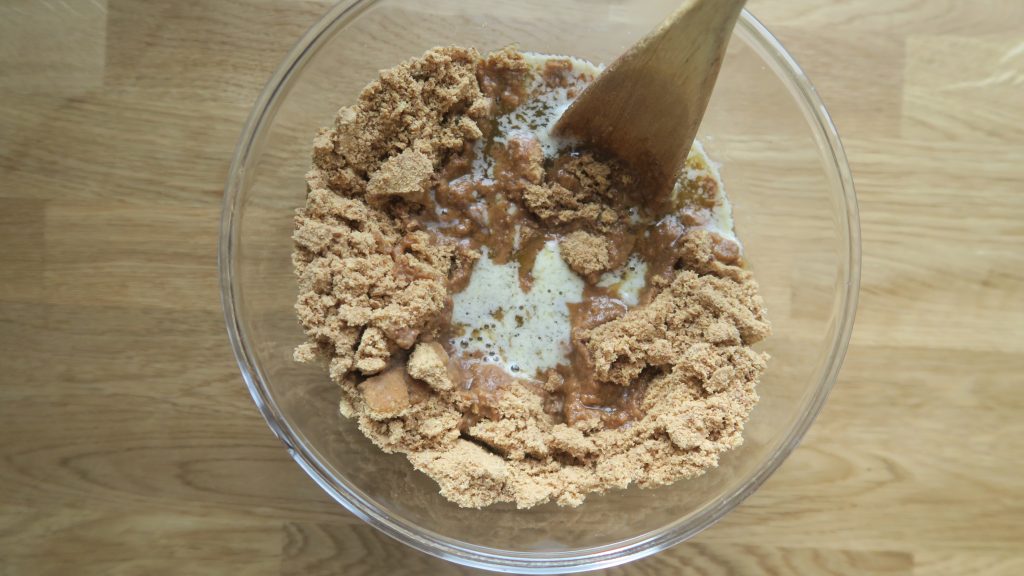 Tips
To avoid cheesecakes collapsing, don't over-whip the cream cheese and icing sugar. It causes the cream cheese to loosen too much and not keep its hold, even post refrigeration.
Don't forget that this recipe requires a good hour or so chilling. Overnight is best!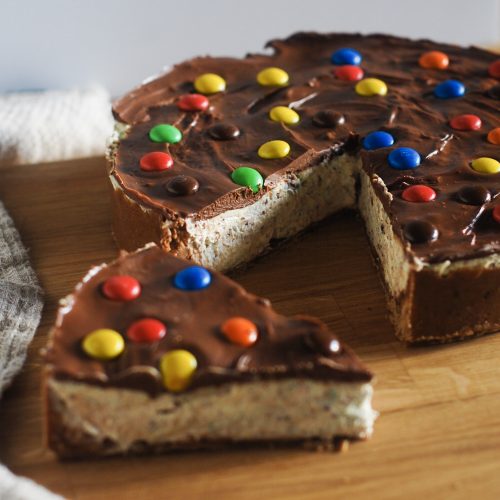 No-bake M&M Cheesecake
A no-bake cheesecake full of crunchy, chocolate M&Ms, topped with melted Nutella plus more M&MS! Indulgent to say the least.
Ingredients
250

g

chocolate digestives

50

g

dark brown soft sugar

140

g

unsalted butter

125

g

chocolate M&MS

500

g

cream cheese

85

g

icing sugar

1

tsp

vanilla extract

300

ml

double cream
Instructions
1. Melt the butter and blitz the biscuits in a blender. You can crush by hand if needed but ensure they are really well crushed.

2. Mix the biscuits with the butter and dark brown sugar. Press into your tin, ensure you press some up the sides as well (about 3/4 the way up). Place in freezer.

3. Blitz or crush 3/4 of your bag of M&Ms, ensuring some are left whole.

4. Fold together the cream cheese, icing sugar and vanilla. Don't mix too much as it'll loosen the mixture.

5. Whisk the double cream to medium peaks (not loose so it's dripping off the whisk but not really stiff). Be careful not to overwhisk.

6. Fold the cream cheese into the double cream. Fold in the M&Ms. Pour onto the frozen biscuit base and level. Refridgerate for at least an hour. Overnight is better.

7. Once refridgerated, melt down the nutella in a pan (low heat) and pour over the cheesecake. Level quickly as it may start to set. Decorate with leftover M&MS. Chill for 30 minutes and serve.
Notes
Recommended tin – I used a 9-inch springform cake tin as I find the cheesecake easy to get out that way. If you have a trusted tin which you always like to use for cheesecakes, feel free to use that instead. A 9-inch tin is recommended though.
Servings – depending on your portion sizes (especially where there's cheesecake concerned) but it probably serves around 8 people. 
Storage – store in your fridge on a plate, covered with cling film or in a Tupperware box, cake tin etc.. 
Freezing – I've never frozen cheesecake myself but I believe it can be frozen for up to 3 months according to Sally's Baking Addiction.
More cake recipes
Easy carrot and walnut cake
Chocolate sheet cake
Peanut cake with caramel buttercream
Apple and blackberry cake