How to Make Homemade Dulce de Leche
Argentinian dulce de leche is a very versatile, sweet sauce. It's easy to make too! You'll be lusting after it's gooey, caramel-like texture and be prepared to make batches and batches of the stuff! Just don't tell your friends!
Homemade Argentinian Dulce de Leche
The perfect sauce for drizzling…
Dulce de leche is perfect served as a topping on ice cream (can't beat a classic vanilla), as a cake filling or made into a buttercream (we have a recipe for this here), or drizzled on top of a cake. You can pretty much drizzle your homemade dulce de leche anywhere! One of the most traditional ways to serve it would be as a dip for churros, as is done in Argentina.
Traditional or 'the quick way'?
We decided to make our dulce de leche sauce with milk; a thick, creamy whole milk is necessary. We used a channel island milk which still had the cream on the top – what a delight. You can also make dulce de leche the quick way, and that would be with condensed milk. We prefer this traditional method at Jess Eat's HQ; it's more satisfying.
This Argentinian dulce leche sauce is a lovely one to eat in the Autumn when you're all cosied up on the sofa. All you need is something to dip! How would you eat yours?
Why should I make a dulce de leche sauce?
All it takes is one step and a bit of stirring and you've got yourself a sweet dip that just keeps on giving!
Gooey, caramel-like… is that not enough?
You'll be trying out something different, a recipe straight from Argentina.
Dulce de leche has so many uses – a topping, a sweetener, a dip…

You can make yourself this awesome dulce de leche cake!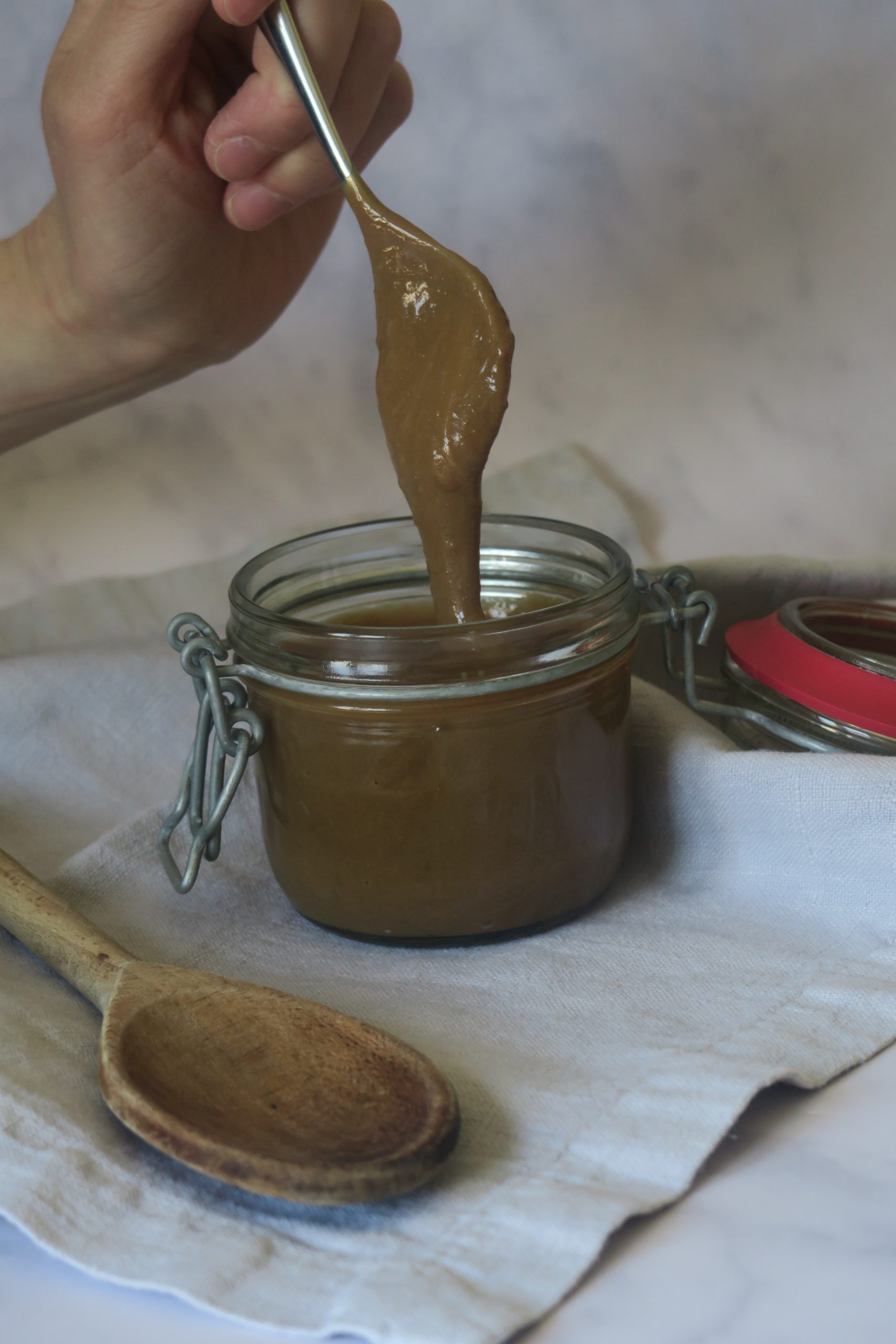 What do I need to make this sauce?
Whole milk – the thick, cream on top kind. We used a channel island whole milk found in Tesco.
Dark brown soft sugar to create a dark colouring for the sauce, and of course to help sweeten!
Bicarbonate of soda to help give the sauce it's brown colour by helping with the 'maillard reaction'. To read about the science, see what Giapo has to say.
Double cream (optional but also to help if the sauce forms lumps).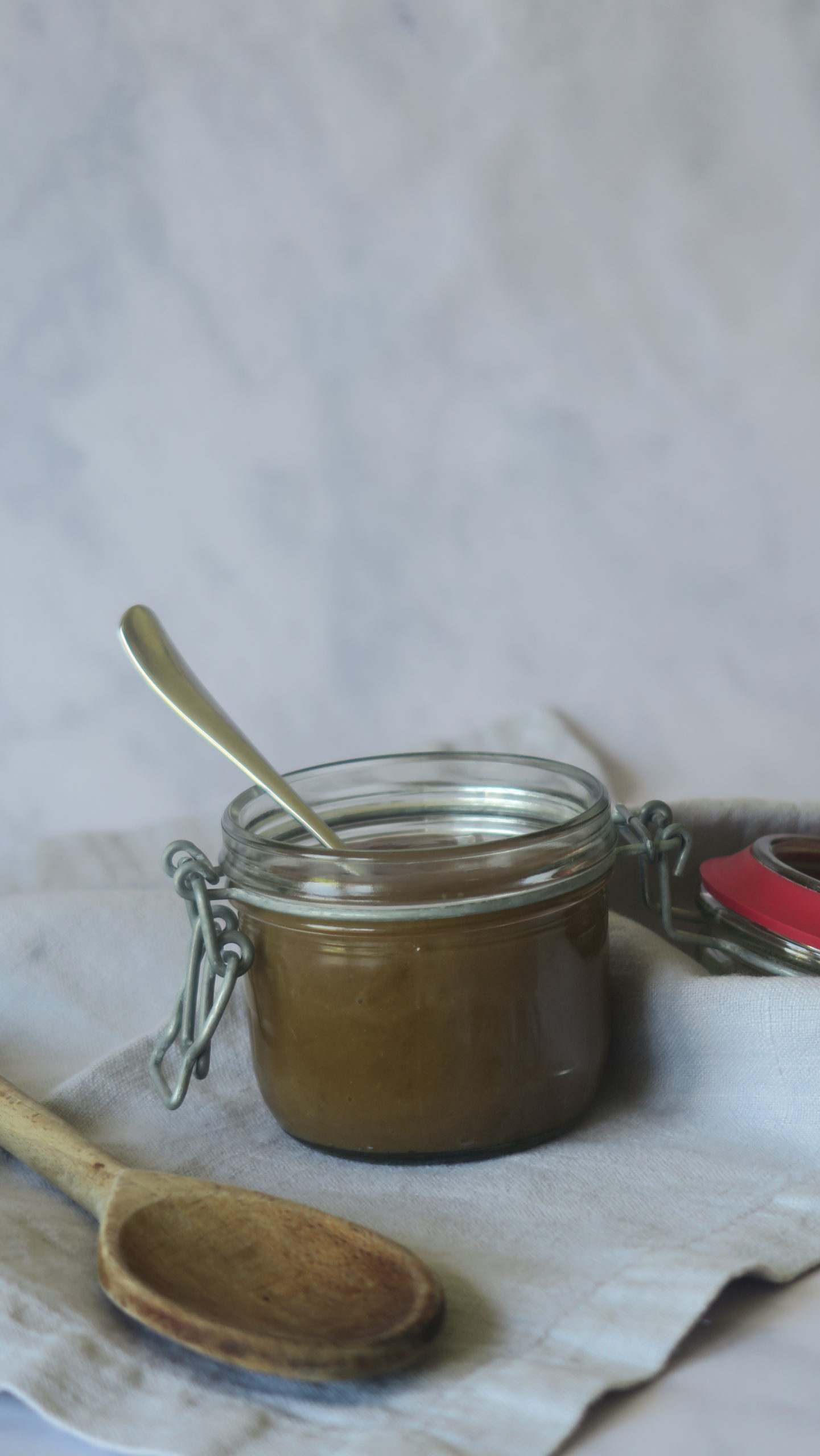 Equipment list
A large saucepan or pot to simmer the milk in.
A wooden spoon for stirring.
A blender in case some lumps form – we like to use a Nutri-bullet if we can, as it's a very efficient, little machine.
A jar to store the sauce in – a small Kilner jar will be your best bet!
How do I make a dulce de leche sauce?
The method for this sauce is really simple. There really is only one step and that's to simmer your milk until it's thick and caramel-like. It really is that easy!!
The Recipe
Traditional Dulce de Leche
Serves: A small jar
Difficulty: Medium
An Argentinian thick, caramel-like sauce, perfect for dipping!
What you will need
500ml whole milk (the creamiest you can find)
200g dark brown soft sugar
1/4 tsp of bicarbonate of soda
20ml double cream (optional/if there are lumps)
Method
1

1. In a large saucepan, add the milk, sugar and bicarb. Bring to the boil, stirring a little to stop any burning.

2

2. Simmer together until brown and golden –

3

about an hour and a half, or until thickened.

4

3. Pour into a bowl to cool down. If there are lumps, add 20ml of double cream and blend in a blender.

5

- You can keep dulce de leche in a fridge for 2 weeks. Good on hot choc, coffee, toast, ice cream.
The many ways to serve Dulce de Leche:
Our preferred way to serve dulce de leche is as a dip, with churros, breadsticks, toast.. you really can dip anything into it. Well, maybe not veggies… let us know if you try!
You can use dulce de leche to sweeten your hot chocolate or coffee, as a topping on ice cream – vanilla is best. A cake filling is also a good one. We have a delicious recipe for Dulce de Leche Cake with Milkduds, if you fancy it!
Dulce de leche buttercream is just dreamy, as well as sandwiched in-between two biscuits. Simple but pleasurable.
Let us know in the comments if you would serve yours differently!
MORE COOKERY SCHOOL RECIPES TO TEST YOUR SKILLS OUT WITH –
How to make creme diplomat (French Diplomat Cream)
How to cut and prepare rhubarb
How to make gnocchi without egg